British Airways and Iberia soar on Qantas-BA merger talks: European airline share prices
British Airways shares enjoyed their biggest one day gains since 2002 on confirmation it is discussing a merger with Qantas. Another merger target, Aer Lingus also enjoyed a strong day, rising 4.5% (as suitor Ryanair dipped 0.6%), while other acquisitive European carriers, Air France-KLM and Lufthansa, also gained from investors buoyed by M&A activity.
European selected airlines daily share price movements (% change): 02-Dec-08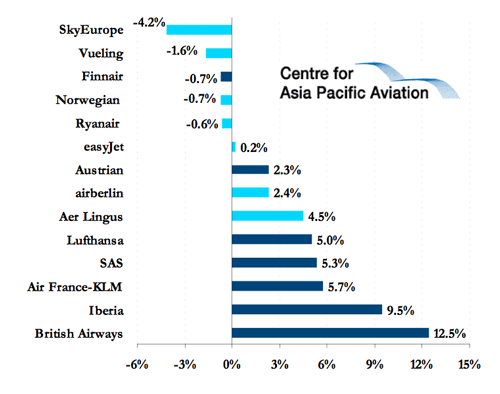 US Airways was yesterday's big winner on the Wall Street Casino, rising 17.2%, while Alaska Air also put on 10.2%.
North America selected airlines daily share price movements (% change): 02-Dec-08