Bristol Airport (UK): expansion plans halted for a second time
Analysis
During 2019 the focus was very much on environmental opposition to airport expansion as part of the response to 'climate change', and also on the air transport business' tardiness to react cohesively to spokespeople for the environment. In the space of a few short weeks this year the entire ball game has changed, as dodging the COVID-19 coronavirus has become the priority.
But environmental issues remain important, even while the travel and tourism industries are doing their best to stay in one piece and to avoid the loss of aviation companies – airlines, airports, supporting infrastructure – and of millions of jobs.
In some cases the environmental issues are paramount. One such place is Bristol, UK, where local councillors won't even let the airport build a new car park while public transport access is inadequate.
Summary
Bristol Airport's expansion plans have been rejected for a second time.
Councillors, MPs and rock bands are queuing up to disown the plans, which are for little more than a car park and a transport hub.
The future of the entire region's main airport is being decided by local politicians (but that is often par for the course in the UK).
Other airports are set to benefit, but what sort of industry will be left post-pandemic?
Heathrow's third runway appears to be lost
As if the air transport business hadn't got enough on its plate right now, the environmental lobby continues to exercise a firm grip on the business, emboldened no doubt by its success in scuppering the London Heathrow Airport third runway project, which is in fact something that possibly nothing further will be heard about. There is the impression that the Heathrow 'corner' is about to throw in the towel, and it's 'trainers' in the government seem keen to do that.
The North Somerset Council has confirmed that Bristol Airport's expansion plans were rejected on environmental grounds at a second meeting on 18-Mar-2020.
Before the second meeting Bristol Airport's solicitors submitted an email to the council stating that the reasons for refusal given were "wholly artificial" and unsupported by policy.
A local ward member said: "We reached a very conclusive and quite historic decision that we should refuse permission". The airport now has six months to decide whether to lodge an appeal, which would be heard at a public inquiry.
Bristol dominates its region – southwest England
Many people outside the UK, and even within it, remain unfamiliar with Bristol, which geographically is the equivalent of Bordeaux in France or Leipzig in Germany.
Bristol is the 10th largest UK city, but it dominates the southwest region of the country in the way few bigger cities dominate their region.
Economically, Bristol has a booming economy on its side, one that (alongside Manchester in the north) has been outperforming London by several economic measures, and its economy is built increasingly around creative media and electronics. It even has the largest circulating community currency in the UK, the Bristol Pound.
Consistent passenger growth over a decade
The airport's passenger traffic has grown consistently since 2010 but at varying rates, usually low ones apart from the period 2015 – 2017, and traffic has been falling during the last three years.
Bristol Airport passenger numbers: 2009 – 2019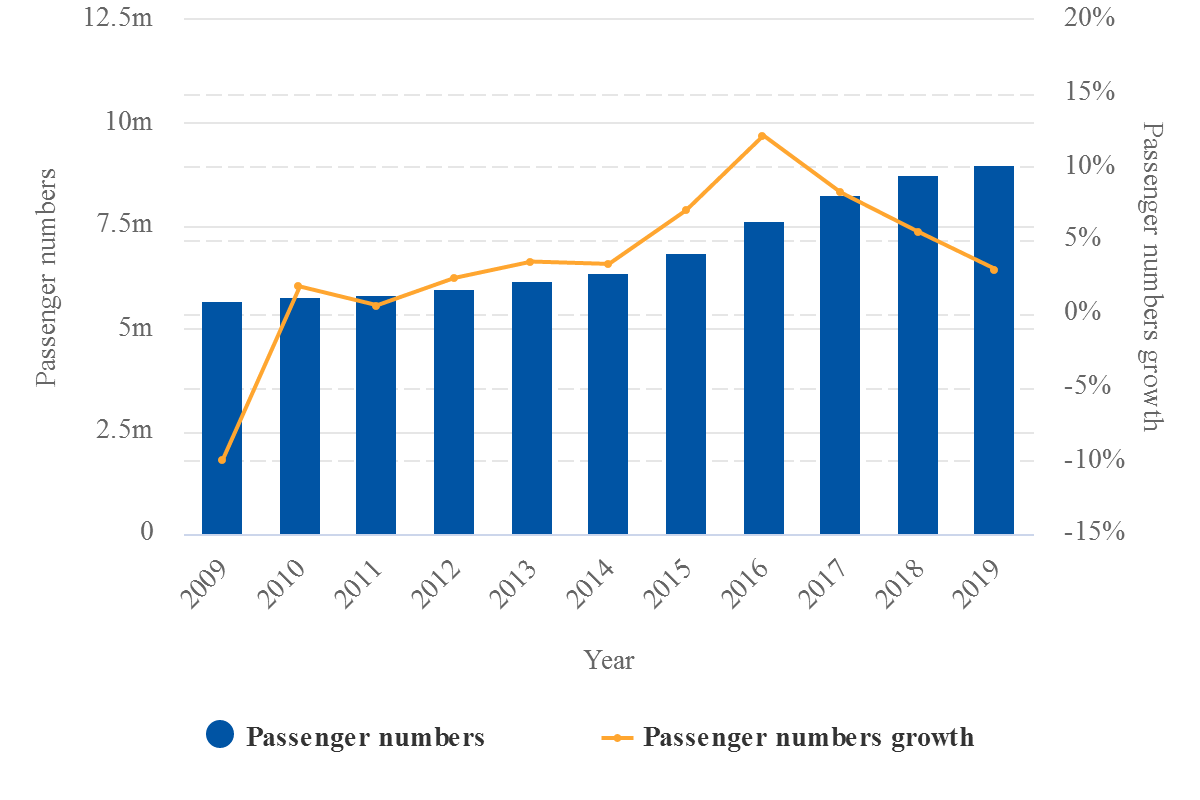 More of a 'low cost' airport than one might think
The airport is reliant on low cost scheduled and charter flights (93.5% of seats), with only 5.8% being 'full service' capacity, which is a little at odds with the region's economic status.
The dominant airline is easyJet, with more than 70% of capacity.
Bristol Airport seat capacity by airline: week commencing 16-Mar-2020
Long haul services are needed
Although there are Paris, Amsterdam and Brussels services (much sought after by all UK regional airports) at Bristol, there are no long haul flights at all – since Continental Airlines (now absorbed into United Airlines) ended its New York/Newark service in 2010.
While Bristol commands its region, its airport has always had plenty of competition – from Exeter, Southampton, Bournemouth, Cardiff, Birmingham, and even London Heathrow.
Until now, that is. Some of those airports face severe difficulties following the failure of Flybe.
See: https://centreforaviation.com/analysis/reports/flybe-part-2-demise-may-cause-some-airports-to-close-516522).
Location of Bristol Airport
The airport's 'rural' location may have inspired the desire to protect that locality
One of the problems the airport has is that although it is situated close to the main A38 road between the city and the Mendip Hills, there is no direct motorway access as there is with many other major airports. The M5 motorway at its closest is more than 5km away.
From opposition on environmental grounds, this has encouraged resistance to the further development of the airport or access to it and, as with London Stansted, while it is in private ownership (Canadian and Australian pension funds) its future can be decided, or at least influenced, by councils as low in the hierarchy as the 'parish' level.
The expansion plan is minimal, to say the least
In respect of Bristol Airport's master plan, on 14-May-2018 it launched a public consultation on the latest proposals for the long term development of the airport.
The 'Towards 2050' proposal included a Charter for Future Growth in five key areas, including aviation, economic impact, Green Belt, sustainable growth and surface access. The intention was to increase capacity to 12 million passengers per annum, which would be an increase of just two million ppa, and the scheme amounted to little more than a new transport hub and a car park – that is, it is not as if they wanted to build a new runway or terminal building.,
The application had 8,800 objections from members of the public and 2,400 messages of support.
Councillors initially voted 18-7, with one abstention, to reject it. Now the airport will reach capacity in 2021 (allowing for the impact of the coronavirus pandemic).
Application could be reconsidered, "When the airline industry has decarbonised"
Councillors said they might reconsider the application in a vague 'future' when public transport links to the airport are far stronger and when the airline industry has 'decarbonised' (!).
For all the efforts the industry has been making to do that, the councillors will be waiting a long time for it to happen to the level that they would consider satisfactory, and they should be more concerned that there will be no airline industry at all if things carry on as they are for much longer.
The local MP and an environment-leaning rock band support the objectors.
But those that are fixated on environmental issues rarely permit themselves to see the other side of the argument, let alone consider it. And it doesn't help that the local MP, Liam Fox, who is at a loose end since losing his Cabinet position in Jul-2019, has jumped on the bandwagon, along with the local band Massive Attack.
It is not unexpected that rock bands would oppose airport expansion. Massive Attack had already cut its use of aviation by 31% on its 2020 tour by using rail rather than air for transferring band, crew and equipment, and by declining to travel to North America and Australia altogether.
Until, that is, such opponents weigh up the cost of not being able to fly to foreign shows and festivals at all, as they cannot do now, and possibly will not be able to for up to a year.
Cardiff Airport could be the winner in this
It is not all bad news for the area.
After few difficult years, Cardiff Airport in Wales, Bristol's nearest competitor, has been growing at a greater pace than Bristol's. Cardiff has retained its long haul Doha service (Qatar Airways), which is continuing to take transfer passengers via that Middle East hub, but not point-to-point traffic because Qatar is closed to foreigners.
That fact alone will play into Cardiff's hands when normal service is resumed in the wake of the virus' massive outbreak, and possibly also those services from Birmingham and the south coast airports (assuming the latter survive).
The councillors' reluctance to let Bristol Airport grow will do more than just "put the brakes on" the future growth of the region that its CEO claims.
When capacity is reached (likely to be 2022 now) airlines will quickly look to other alternatives. And industry and commerce will soon follow.