Brazil's domestic aviation market remains stable despite macroeconomic uncertainty
Brazil's domestic airline market appears to remain in a rational state as the country continues to battle economic weakness. Its two largest airlines TAM and Gol are maintaining capacity discipline, which is helping each company's respective performance in the domestic market.

The country's other two main airlines, Avianca Brazil and Azul, are continuing their solid growth trajectories, but their supply expansion and traffic growth appear in line, which does not seem to be triggering a scenario of oversupply within Brazil.

Brazil's economy could take a slight upswing in CY2015 as its GDP growth is forecast at 2.7% versus a more sluggish 1.8% in CY2014, according to estimates from the IMF. If capacity remains rational in the market place, then Brazil's slightly more promising economy should create some positive momentum for the country's airlines.
Domestic airlines hold their own in Brazil as capacity remains essentially flat in 1H2014
Based on data from Brazil's ANAC, during 1H2014 domestic traffic in Brazil increased 7% on essentially flat capacity growth. TAM and Gol continued their respective capacity reductions have been occurring during the last year as each airline attempts to match supply and demand to preserve yield and unit revenue growth. TAM's domestic supply decreased 3% while Gol recorded a 2% reduction.

TAM's market share dropped 2ppt year-on-year in 1H2014 to 38%, and Gol's share notched down 1ppt to 36%. Avianca Brazil increased its share by roughly 1ppt to 8% and Azul grew its domestic market share by 5ppt to 17%; however, its results reflect the absorption of TRIP. Azul and TRIP completed their merger in 2013, and during the first six months of that year TRIP recorded a 4% market share.
Brazil domestic market share by airline: 1H2014 vs 1H203
With the full absorption of TRIP, Azul's domestic capacity growth was 44% in 1H2014; but it also recorded a similar level of traffic growth, and its load factor held steady at approximately 80%. Avianca Brazil posted 23% ASK growth in 1H2014 and traffic growth of roughly 27%, which lifted the airline's load factor by about 3ppt year-on-year to 84%. Those are healthy trends for each airline; however it is not apparent if Avianca Brazil and Azul are trading in load factor for yields, something Gol did for most of CY2013.

But Gol recorded both solid gains in yield and load factor during 1H2014. Its yield growth for that time period was 10% while unit revenues increased by 23%. Gol's domestic load factor for the first six months of 2014 jumped nearly 8ppt to 76%. During 1H2013 Gol's domestic load factor was essentially flat at 69%, and its yields increased by 13%. At the end of 3Q2013 Gol's management remarked that the company had been focussing on corporate travellers, and acknowledged that the opportunity to improve load factor was clearly available.

See related report: Gol has some encouraging results behind its overall 3Q2013 loss
TAM grew its domestic load factor 3ppt year-on-year in 1H2014 to 81% as its capacity fell 3% and traffic remained flat. Both TAM and Gol are planning to keep domestic capacity in check for CY2014. TAM's forecast is a range of flat to an increase of 2% and Gol expects its domestic supply to fall 1% to 3% for CY2014.
Gol sticks to is international aspirations as Azul creates a new threat
Gol is sticking to previous forecast of an 8% increase in international supply during CY2014. For the first six months of the year the airline recorded a 4% increase in international ASKs and a 24% jump in international traffic. Its load factor in international markets increased from 59% to 70% year-on-year.

At the end of 1Q2014 Gol estimated that in CY2013 international services represented roughly 8% of its USD395 million in revenues. It has a stated goal of international services representing 17% of of its total revenues in three years. During 2Q2014, Gol's international services represented nearly 11% of its 12M trailing revenues.
Gol's international revenue growth: 12M 1Q2012 to 12M 2Q2014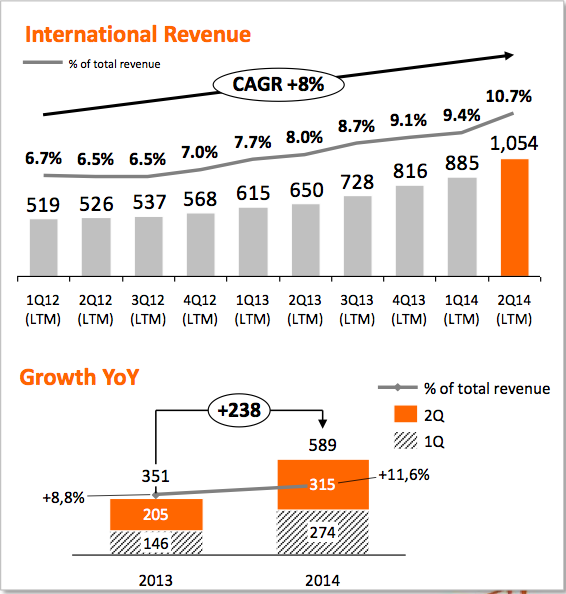 In late 2012 Gol resumed service to the US, and presently operates flights from Sao Paulo Guarulhos and Rio de Janeiro to Miami and Orlando via Santo Domingo. In Jul-2014 it introduced service from Azul's main base and stronghold Campinas Viracopos to Miami via Santo Domingo ahead of Azul's planned international debut in late 2014, when it plans to launch direct flights to Campinas to Fort Lauderdale and Orlando with Airbus A330s.

As previously reported by CAPA, Azul's direct service to the US with more spacious widebodies at a price point that is likely to be similar to Gol's creates significant competitive pressure for Gol, and at some point it may need to contemplate acquiring widebodies or exiting the US domestic market, which at the moment does not seem like a viable option given that there is general economic weakness in Latin America. The IMF forecasts 2.5% GDP growth for the region in CY2014 and a modest uptick of 3% in CY2015.

See related report: Azul shakes up Brazilian market with A330s & US routes, becoming the first long haul LCC From the Americas

TAM's international supply on markets from Brazil fell nearly 8% year-on-year in 1H2014 and its traffic remained essentially flat. But its load factor improved roughly 6ppt to 83%. One the drivers in TAM's decrease in ASKs is the decision by LATAM Airlines Group (of which TAM is a part of) to consolidate some long haul service at Sao Paulo Guarulhos. During the last year it has eliminated flights from Rio de Janeiro to Orlando, Frankfurt and Paris.

See related report: LATAM Airlines Group continues to battle pressure in long-haul and Brazilian domestic markets
Avianca Brazil's explosive growth slows as the market may dictate an international push
Despite recording robust supply growth during 1H2014 compared with TAM and Gol, with just an 8% share Avianca Brazil remains a small player in the Brazilian domestic market. Its 23% growth in ASKs during the first half of 2014 is actually slower than the 33% increase it recorded the year prior.

As previously reported by CAPA, Avianca launched its current expansion phase in 2010 when it began replacing its smaller gauge, 100-seat Fokker 100 fleet with 160-seat Airbus A320s, and six Airbus narrowbodies are scheduled to join the airline's fleet in 2014. According to the CAPA fleet database as of 29-Aug-2014 Avianca Brazil had a fleet of 11 Fokker F28s, 13 A320s, four A319s and 15 A318s.

During 2012 Avianca Brazil recorded significant growth, posting an 83% increase in ASKs. In 2013 its supply growth slowed to 35%, so it is not surprising that the airline is slowing growth in 2014 after recording such rapid increases during the last couple of years.

See related report: Avianca Brazil slows domestic growth. Perhaps time to expand into the international market

Even as Avianca Brazil's focus tilts more towards corporate customers, it has likely felt some pressure in yields during the last year as Gol and TAM have worked to maintain and ratchet up their corporate share, and the overall domestic environment has been somewhat weak.

The airline's parent company Synergy Group has 10 A350s on order due for delivery starting 2018, but given tenuous prospects in Brazil's domestic market in the short-term, Avianca Brazil may need to consider accelerating its widebody aspirations or consider regional markets within Latin America suitable for its Airbus narrowbodies.
Azul may need to revive its shelved IPO to support its widebody expansion
Azul has garnered the most attention in 2014 for its plans to bypass intra-regional international service within Latin America and instead opt to acquire widebodies for long-haul service to the US. But its network optimisation with TRIP within the domestic market continues, and it is adding new domestic service and increasing domestic frequencies in 2H2014.

Perhaps Azul's long haul evaluations were accelerated by softening demand within Brazil due to the country's weakening economy. Obvious questions are arising over how Azul will fund its ambitious widebody expansion, and recently the airline's founder and Chairman David Neeleman told news outlet Bloomberg that Azul's investors have "been in it for six years" noting that was a long timeframe for an equity investor. He indicated that Azul could engage in an IPO in late 2014 or 2015 after shelving similar plans in 2013. At that time Azul aimed to raise USD540 million from going public. But with six used A330s and five new A350s due to join its fleet, Azul may need to raise more cash to fund its expansion.

It is not clear that market conditions have improved since Azul opted to cancel is IPO; but the airline's investors may be getting impatient, and aim for returns prior to the airline's new phase of expansion.
Brazil's domestic market stability is positive; but Azul sparks new dynamics with US push
Overall it is encouraging that Brazil's domestic market seems relatively stable as a cloud of uncertainty hovers over the country's economic prospects. If the supply-demand balance remains rational, the country's four largest airlines should foster a peaceful co-existence in the short term. Azul's merger with TRIP and Gol's acquisition of Webjet in 2011 helped to reshape the domestic space as Brazil's economy started to weaken.

Azul's debut of new US flights in late 2014 adds a new competitive dynamic for both TAM and Gol which have been working during the last couple of years to refine their international networks to maximise profitability and revenue as as means combat softening demand in the domestic space.
In the short term Azul's entry could create some overall yield pressure, and if Azul can successfully execute its strategy, it could become a viable partner to US airlines looking to enlarge their networks in Latin America.
For now Azul's US market debut is creating interesting dynamics as the six year old airline works to carve out its place in Latin American aviation.