Bombardier aircraft: free cash flow a priority; sell-offs no surprise
Analysis
In many ways, Bombardier's decision to sell its Q400 turboprop programme and its business jet training segment was not surprising, given that it now only retains a minority stake in the CSeries (now the A220). The sell-off is part of a broader scheme by the company to improve its fortunes and bolster free cash flow in the near future.

Perhaps now the question is how much those changes, and Bombardier's evaluation of options for the CRJ programme, will affect the commercial aerospace landscape. And the answer is that there will be no shift in the pecking order.
Bombardier's decision to cede a 50% stake of the CSeries to Airbus and Boeing's pursuit of a commercial JV will only strengthen the dominance Airbus and Boeing have enjoyed in the commercial aircraft industry for decades.
Summary
Bombardier's recent moves in its commercial aircraft business are not unexpected and it is signalling that it is not beholden to the CRJ programme that elevated its stature in commercial aviation manufacturing.
All of the recent changes Bombardier has made are part of the company's efforts to improve its sagging performance in numerous financial metrics.
Even as Bombardier's changes have made headlines, Airbus' and Boeing's duopoly in commercial aircraft manufacturing remains rock solid.
Bombardier sells its Q400 programme, hints at other possible divestitures
Bombardier recently announced some major changes, including the elimination of 5,000 jobs, the sale of the Q400 programme to Viking parent Longview Aviation Capital, and the acquisition of its business aircraft flight and technical training arm by CAE.

The moves are part of years-long efforts by Bombardier to strengthen its financial performance, which has been hurt, in part, by hefty cost overruns on the CSeries that helped to push the company's debt levels to CAD9.5 billion.

Company executives recently declared that Bombardier was continuing to participate actively in the regional aircraft market with its "scope-compliant" CRJ platform. The maximum takeoff weight of the Embraer 175-E2 exceeds current limits in scope clauses – elements of pilot contracts at American, Delta and United that limit the gauge and weight of regional jets flown by the smaller partner carriers of those airlines. Bombardier's CRJ900 is compliant, and CAPA's fleet database shows that American and Delta have orders for 15 and 18 of the jets.

Bombardier is sending somewhat mixed messages about the CRJ programme. Its executives have stated that the company's goal is to reduce costs, increase volumes and improve customer service in its aftermarket business to support a base of 1,500 CRJs operating worldwide.

However, Bombardier's executives have conceded that the CRJ programme was losing money, and also said that the company was examining strategic options for the CRJ's future. "It's something that is always on the table," Bombardier recently explained.

As those evaluations progress, Bombardier have determined that there is a "need to see more movements from the suppliers" in terms of reducing costs on the CRJ programme.
Orders show Bombardier's commercial aviation position is dwindling
None of those declarations are startling. Part of Bombardier's rationale for the development of the CSeries was to become more relevant in the commercial aircraft segment. Although the aircraft generally attracts positive reviews from its customers, Bombardier had trouble gaining sales traction as questions have grown regarding the support network the manufacturer could offer for the aircraft.

Now that Airbus has essentially assumed control of the programme and rebranded the CSeries as the A220, Bombardier represents close to 7% of the global aircraft in service as of mid-Nov-2018, which is more or less the same level as its small aircraft rival Embraer (7.4%).
Percentage of aircraft in service by manufacturer as of mid-Nov-2018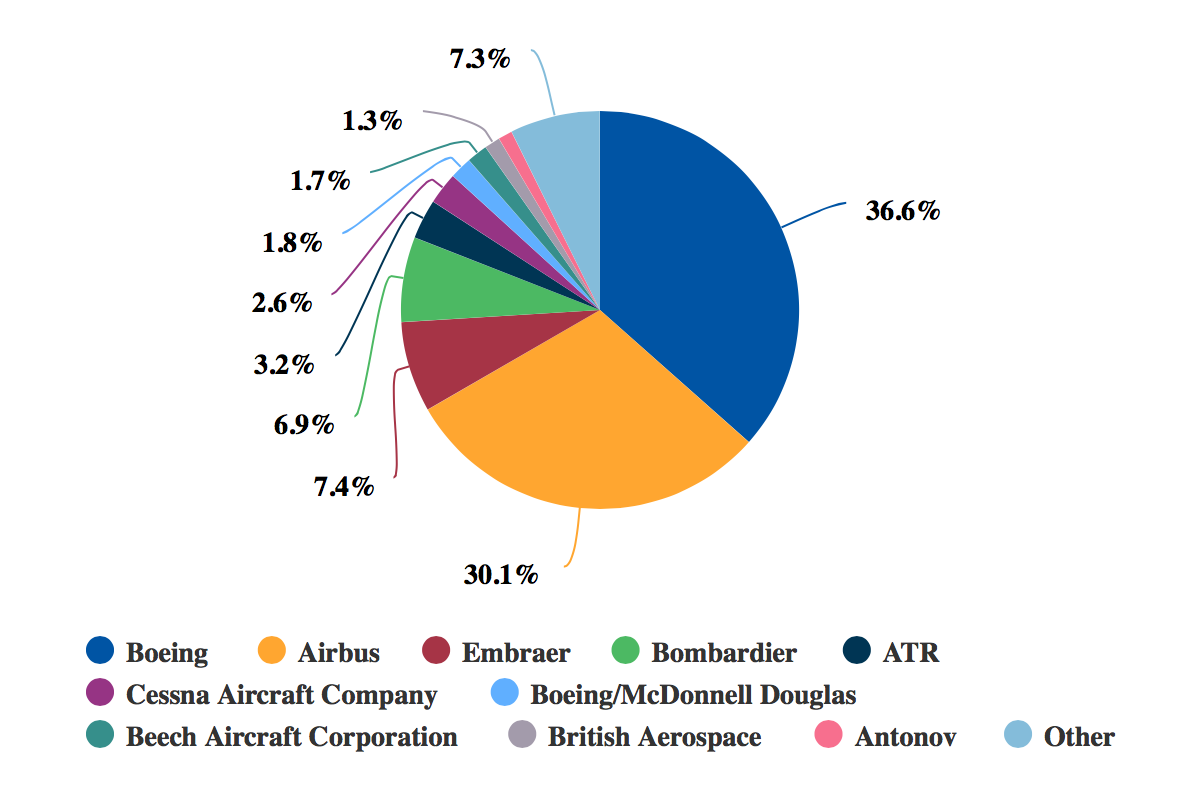 Bombardier represents just a fraction of global aircraft on order, with a 0.7% share. Combined, Boeing and Airbus hold almost 84% of the global aircraft on order.
Percentage of aircraft on order by manufacturer as of mid-Nov-2018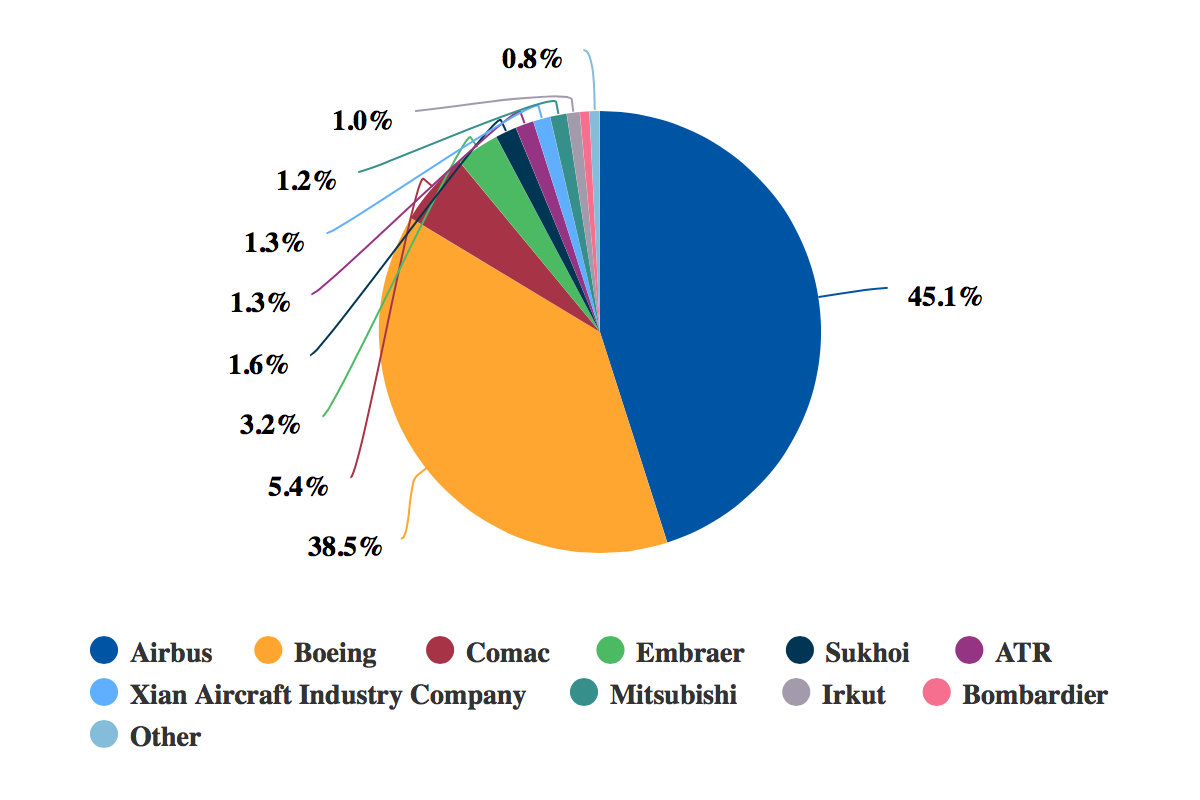 Winding down its position in the global aircraft segment is a logical move for Bombardier in order to shore up its financial position.
According to the news outlet Bloomberg, Bombardier only posted a single quarter of free cash flow from 4Q2016 to 3Q2018. The publication stated that Bombardier had a goal of break-even cash flow in 2019 of plus or minus CAD250 million, which includes an impact of restructuring charges from the job cuts and a contingency for working-capital volatility. According to the average of analyst estimates compiled by Bloomberg, the expectation was CAD439 million of free cash flow in 2019.
Brazil's president elect seems to hold a positive view of Boeing-Embraer JV
Bombardier's latest moves reflect a stage that was set in late 2017, when Airbus decided to take a stake in the CSeries programme and proceeded to log orders from the US start-up Moxy – whose founder is a long-time Airbus loyalist, David Neeleman – and JetBlue – another Airbus operator founded by Mr Neeleman.

It is a win-win for both Bombardier and Airbus. Bombardier garners Airbus' sales and service support and Airbus has an instantaneous product in the 100 to 130-seat aircraft segment.

Bombardier also gains an opportunity to move forward in its efforts to bolster its financial metrics, which is ultimately what needs to happen to satisfy shareholder demands.
But the company's ownership structure is somewhat complex. According to the Canadian news outlet The Globe and Mail, the Beaudoin family controls the company, with a special class of shares giving it 53% voting control despite their only owning 13% of the company's equity.

The sell-off of the Q400 programme or Bombardier's decision to potentially offload the CRJ programme has no bearing on Boeing and Embraer's pursuit of a commercial aircraft manufacturing joint venture. Boeing has cited opportunities to incorporate Embraer's lean manufacturing designs, and obviously the two can join forces to create more formidable sales and marketing campaigns more effectively for the E2 family to compete against the A220.

There is some uncertainty over how Brazil's President Elect Jair Bolsonaro – a far right, somewhat controversial candidate – will view the proposed tie-up. He is widely viewed as pro-business, and the news outlet Reuters has reported that Mr Bolsonaro's pick for defence minister, Augusto Heleno, has stated that the president elect has a positive view of the proposed tie-up, but more clarity should emerge as Boeing and Embraer work towards finalising the JV in 2019.
Bombardier has a history of acquiring aircraft platforms to build its base of commercial jet/turboprop platform. The CSeries was its first clean sheet design and for now, Bombardier's performance in the jet's development should be left for aviation historians to hash out.

Moreover, Airbus and Boeing have made all the necessary moves to preserve what appears to be their never-ending duopoly in commercial aircraft manufacturing.