bmibaby ceases Cardiff and Manchester operations to expand at Belfast, East Midlands, Birmingham
Analysis
The LCC attributed the decision to the "economic climate", adding it is "essential for bmibaby to focus on airports where the airline already has a strong market presence and where there are strong growth opportunities for the bmibaby business".
12 services from Manchester cancelled

bmibaby bases two aircraft at Manchester at present, with 12 of the carrier's 13 services to Manchester to be cancelled. The carrier is the 15th largest from the airport, with a 2.4% capacity share and 11,544 weekly seats. bmibaby destinations served from Manchester at present are Belfast, Bordeaux, Geneva, Jersey, Knock, Lisbon, Lourdes, Montepellier, Newquay, Palma, Perpignan, Prague and Toulouse at present. All services, with the exception of Belfast, will be cancelled. A total of 64 of the 97 positions at Manchester would be redeployed, the company said.
bmibaby network from Manchester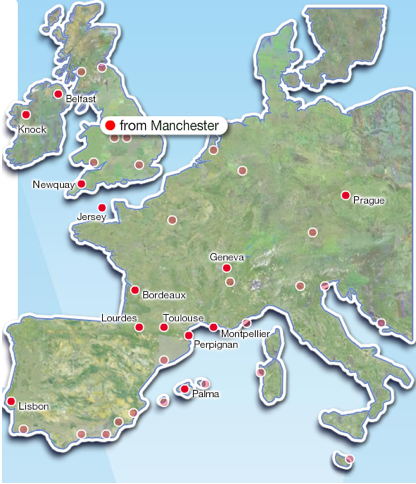 British Midland International will keep a significant presence at Manchester Airport and recently announced a new service to Frankfurt operated on behalf of Lufthansa. bmi has also recently launched a new service from Manchester to Basel in Switzerland. bmi regional operate frequent services from Manchester Airport to Aberdeen, Edinburgh and Lyon.
Manchester Airport managing director Andrew Harrison stated the airport "understands bmibaby's reasons for the decision" and stated the destinations will still be served by other carriers. "We continue to see strong growth from carriers such as Monarch, Ryanair, flybe, easyJet and Jet2.com at Manchester and are confident of a strong summer programme that will still include bmibaby. We'll also still see the airline group presence at Manchester with bmi keeping a significant presence and bmibaby will still be flying from one of our airports at East Midlands," he said.
From Cardiff, bmibaby operates to nine destinations: Alicante, Belfast, Faro, Geneva, Ibiza, Mahon, Malaga, Murcia and Palma. All of these services will be suspended. The airline, which first starting flying out of Cardiff in 2002, currently employs 69 staff at the airport. The airline said it would be offering redeployment options.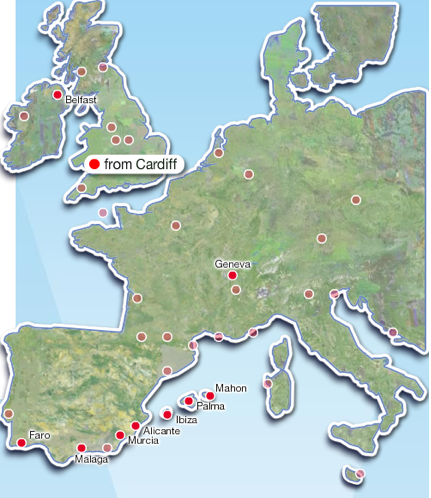 Cardiff Airport stated it is "disappointed albeit unsurprised at bmibaby's decision to withdraw from Wales altogether". The airport noted that since 2006/07 when bmibaby accounted for 34% of passenger volumes at Cardiff Airport, it has seen its market share decline to less than 14% in 2011, having a "huge impact" on overall passenger statistics.
"Since 2002 both Cardiff Airport and the Welsh Assembly Government has provided significant support for bmibaby to operate in Wales, as the nation's low cost carrier only to see this announcement appearing today. It is regrettable that Bmibaby has cited the economic climate as its reasons for withdrawing both in Manchester and Cardiff as both regions have demonstrated strong economic prospects. Cardiff Airport looks forward to working with other airlines and other partners in order to facilitate increased opportunities going forward. Last month saw the start of the Helvetic Airways four-weekly service to Zurich achieved through a joint partnership approach," the airport said.
Cardiff Airport reported a 14% decline in passenger numbers in 2010 to 1.4 million. The airport attributed the fall to capacity cuts by bmibaby, which carried 90% fewer passengers from Cardiff in 2010 over 2009. Other contributing factors include the ash cloud crisis and continued sluggish economic growth in the UK. Abertis has been criticised for imposing a series of new fees at the airport, in light of the passenger declines. bmibaby is the second largest carrier operating at Cardiff Airport after flybe.
Cardiff Airport capacity (seats per week, to/from) by carrier (11-Apr-2011 to 17-Apr-2011)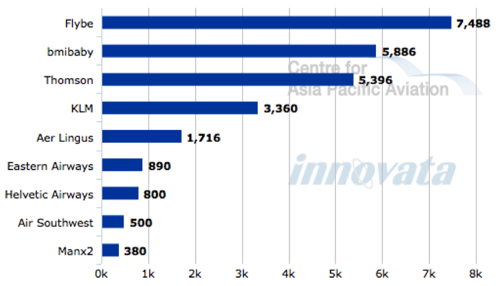 Two additional aircraft to base at Belfast City
bmibaby will base two additional aircraft at Belfast City Airport and offer seven new routes from the airport. The carrier will offer services to Malaga, Alicante, Palma, Faro and Ibiza for summer 2012, plus a new year round service to Amsterdam and new flights to Geneva for winter 2011. bmibaby will be the only LCC to operate these routes directly from Belfast City Airport, although Jet2.com and easyJet operates on some of these sectors from Belfast International. The most recent addition to the carrier's flying programme from Belfast City was new flights to London Stansted.
bmibaby routes from Belfast and competition with other airlines operating to/from Belfast International Airport or Belfast George Best International Airport
The expansion is occurring after bmibaby transferred all its domestic services from Belfast International Airport to Belfast City Airport Aat the beginning of 2011. This comprised four routes from its UK bases in Birmingham, Cardiff, East Midlands and Manchester with a total of 48 weekly departures. The airline's first flights to London Stansted began at the end of Mar-2011.
Announcing the latest route developments at the airport, bmibaby MD Julian Carr said: "We are committed to flying from Northern Ireland and will base two additional aircraft at Belfast City Airport in order to offer a more comprehensive flying programme. bmibaby will be the only low cost airline to operate the new routes directly from Belfast City Airport and this will make getting away for a sunshine, ski or city break more accessible from Northern Ireland. The new routes build on our recent launch of the Belfast City to Stansted service, and the relocation from Belfast International Airport to Belfast City Airport. Our new European flights perfectly complement our existing offering and bmi's strategically important Heathrow service."
Welcoming the bmibaby decision, Brian Ambrose, George Best Belfast City Airport's CEO, said: "This is the most significant announcement in Belfast City Airport's recent history and is a welcome reward to all the staff who work tirelessly to make this airport world class. Direct European routes have long been an ambition of this airport and we believe strongly that our growing customer base throughout Northern Ireland will avail of the bmibaby services. These are exciting times for Belfast City Airport and the wider tourism and local economy, especially ahead of the Titanic celebrations in 2012."
Bmibaby is the second largest carrier at Belfast George Best City Airport at present, after Flybe.
Belfast George Best City Airport capacity (seats per week, to/from) by carrier (11-Apr-2011 to 17-Apr-2011)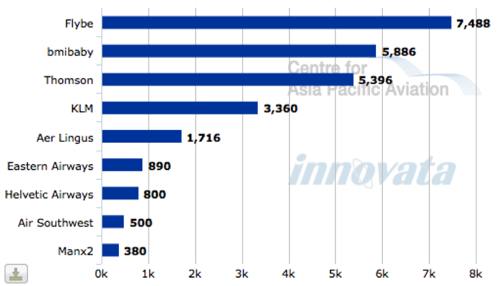 bmibaby has also announced further growth from East Midlands Airport and Birmingham Airport, with one additional aircraft at each base. The LCC will offer two new routes from East Midlands Airport to Toulouse and Chambery for winter 2011. bmibaby is the only low cost airline to operate flights to Toulouse from East Midlands Airport. Both Toulouse and Chambery are gateways to popular ski resorts including Soldeu, Arinsal, Les Trois Vallées and Val d'Isere. More new routes for summer 2012 from Birmingham and East Midlands Airport will be announced soon.
bmibaby is present the second largest carrier at East Midlands and the fifth largest carrier at Birmingham.
Nottingham East Midlands Airport capacity (seats per week, to/from) by carrier (11-Apr-2011 to 17-Apr-2011)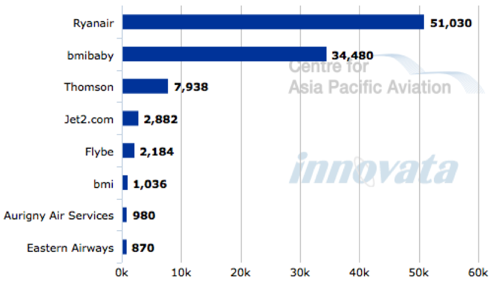 Birmingham International Airport capacity (seats per week, to/from) by carrier (11-Apr-2011 to 17-Apr-2011)