Birmingham Airport shows the value of marketing, to deliver the first UK non-London Chinese flights
Analysis
The UK's Birmingham Airport has won the race to be the first UK non-London airport to host direct flights to and from China.
The services will connect Birmingham and Beijing. They will be operated by China Southern Airlines, and while the modest programme may be charter only and operate over a short summer period, this victory for the UK's seventh largest airport by passenger numbers throws down the gauntlet to other regional airports to match its ambition.
The operation also goes some way to demonstrating that Birmingham's submission to the Airports Commission on future UK airport capacity, in which it perceived a greatly enhanced national role, has both teeth and legs, coming as it does on top of confirmation of other long haul route start ups that coincide with the opening of a runway extension in Apr-2014.
The China Southern charter flights will operate over two weeks from 22-Jul-2014 at the height of the UK's main holiday season, with three round trip flights (six rotations) using 248-seat A330-200 aircraft.
A good example of active marketing; most travel will be inbound
Birmingham Airport's marketing management is convinced that there is strong demand at both ends of the route, although it is anticipated that the balance will tip in favour of Chinese tourists who are keen to experience Britain's scenery and historical culture, much of which is more easily accessible from Birmingham than from London, as well as retail shopping opportunities.
Visitor numbers from China to the UK have doubled in the last five years and tourism executives hope they will treble again by 2020.
In securing the service, Birmingham Airport (BHX) management made multiple trips to China along with organisations such as Birmingham City Council, Marketing Birmingham, VisitBritain (the official tourist board) and Shakespeare's England in order to familiarise themselves with the market before signing a deal with specialised agencies at each end of the route - Caissa Travel management, one of China's biggest travel operators and United Travel, a local Birmingham company, specialising in outbound travel to China. All the seats have been presold through these agencies.
UK seeks to be "the most welcoming country on Earth" to the Chinese
BHX was assisted in its endeavours by the signing of VisitBritain's 'China Welcome' charter late last year, during the visit of British Chancellor George Osborne to China on a high profile trade mission.
This was the same mission that also witnessed Beijing Construction and Engineering Group's introduction as majority investor in the 'Airport City' at Manchester Airport. BHX is a founding member of the Great China Welcome Charter, which seeks to establish the UK as 'the most welcoming country on earth to the Chinese'.
Proposals include the provision of signage in Mandarin and other appropriate languages, Mandarin speaking staff and the availability of 'VAT returns' facilities whereby the sales tax on goods can be claimed back by non-resident passengers. BHX is investigating the provision of digital signage within the airport although it has not yet gone as far as considering the deployment of the 'holograms' that dispense security advice at airports such as Luton, Gatwick and Manchester. For their part supporting hotels, attractions, retailers and tour operators are expected to make themselves 'China-ready' by providing information in Chinese and adapting their products for the market.
As part of the package Birmingham Airport and Marketing Birmingham became two of the first 100 companies across the UK to be awarded a new Chartermark declaring they "are fit to welcome Chinese visitors."
Birmingham is not London - and many Chinese tourists like that
In a UK tourist environment that remains heavily weighted in favour of London as a gateway entry point and base it may be difficult at first for an inconnu to understand why Chinese tourists would want to avoid the London beat. But Chinese visitors are notoriously keen to soak up culture and Stratford upon Avon, the birthplace of playwright and poet William Shakespeare and visited by five million tourists each year, is located within 20 miles (32 km) of Birmingham Airport.
It is also as easy to access Oxford, another of the UK's most visited cities, from Birmingham as it is from London, also the Regency city of Bath in the West Country; Birmingham is, after all, close to the exact centre of England.
Marketing organisations around Birmingham, led by BHX, envisage a tourist 'loop' that encompasses some of these places as well as the Peak District, Snowdonia, English Lake District and York to the north, Cambridge to the east and even 'Bicester Village', a designer outlet shopping mall north of Oxford that is already in huge demand by Chinese visitors to the UK.
Sample British tour itinerary for foreign tourists out of a Birmingham base
Day

Place/tour

1

Arrive at Birmingham Airport. Visit Selfridges and Harvey Nichols (luxury shopping). Overnight stay

2

Drive via the Lake District. Overnight in Carlisle

3

Tour of Edinburgh and Edinburgh Castle. Overnight in Edinburgh

4

Drive via York for city tour. Overnight in Leeds

5

Leeds to London

Drive via Cambridge for orientation tour. Overnight in London

6

London

Tour of London and visit to Windsor Castle. Overnight in London

7

London to Birmingham

Drive via Stratford upon Avon for tour of Shakespeare's Birthplace, shopping at Bicester Village. Overnight in Birmingham

8

Tour of Cadbury chocolate factory. Transfer to Birmingham Airport. Depart UK
The 'loop' tour of Britain
All the World's a Stage, but London's only a bit-part player?
Unusually, this tourist loop for the first time places London on the periphery, as a side trip, although its creators stress that such a side trip, a round trip journey of less than 200 miles for sightseeing and theatre, is easily made from a local hotel base (and the hotels are considerably cheaper than in the capital, which is one of the world's most expensive to live in and to visit).
There is a certain logical rationale for introducing foreign long haul tourists into Britain in this manner. There is little congestion at Birmingham, which is operating at some 10 million ppa under capacity compared with Heathrow where it would be virtually impossible to obtain slots for such ad-hoc charters anyway, while Gatwick Airport is possibly situated too far south and on the 'wrong side' of London for tourists who will be undertaking much surface travel around the country. (A similar argument could be made in respect of the proposed Thames Estuary airport).
Realistically, BHX's only serious challenger in England for charter services such as this would be Manchester Airport and in that sense it has scored a major coup over its bigger rival (see below).
Whether or not the Beijing services are successful, this initiative can thus be regarded as ground-breaking. Essentially the Unique Selling Proposition is 'See Britain via Birmingham'.
Tourist map of Great Britain – primary tourist cities and national parks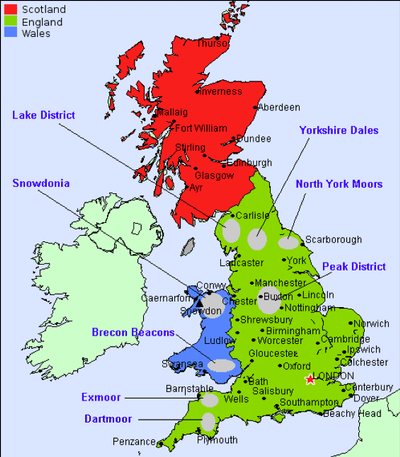 The runway extension is attracting other new long haul routes
The Chinese services are undoubtedly an eendorsement of the value of the runway extension but they are not the first.
Air India has been established since Aug-2013 with a Delhi service that uses a Boeing 787 on the only scheduled service in the UK outside of London to feature that model. Meanwhile, Biman Bangladesh will commence twice weekly Dhaka-Birmingham-New York services in Apr-2014 once the runway extension has opened. The Air India service can operate off the existing runway but the Biman service, using a Boeing 777, requires the extension to be functioning, as do the Beijing flights.
The runway extension was originally intended to be completed in time for the 2012 Olympic Games in London but construction (together with a new ATC tower) only began in 2011. The scheme was challenging as it involved the upgrade and re-routing of the trunk A45 Birmingham-Coventry road. The extension increases the runway length from the present 2,605 m (8,547 ft) to 3,003 m (9,852 ft) meaning that the airport can handle most commercial aircraft now in service with full loads, at an elevation of 330ft (100 m). The cost is GBP40 million.
The Beijing charter services are very much oriented towards leisure travellers at first and are regarded by all parties as a market tester.
Whether or not they will be extended to operate over a wider period of time in 2015 will depend on their success or otherwise and there is no indication yet that a year-round service is on the cards - let alone a scheduled service or the addition of charter services to other cities such as Shanghai or Guangzhou (another China Southern base).
But the BHX management remains bullish about prospects and is actively engaged in discussions with other carriers.
Equally, while the services are very much O&D 'standalone' charters and will not integrate with SkyTeam flights at BHX, the long-term potential for such alternative hub interaction in the future with scheduled services is apparent.
Local industrialists remain supportive of BHX despite failing to make the runway 'shortlist'
At the same time it is the case that industry and commerce in the West Midlands region – still one of the premier manufacturing regions in the country as it always has been – is very supportive of the airport's attempts to secure such services. Notably amongst companies located in the region is the venerable MG Motors, now owned by China's SAIC Motor, which is headquartered in Shanghai.
At the height of BHX's campaign to convince the Airports Commission of its case in respect of future UK airport capacity (including a second runway somewhere down the line), William Wang, the Managing Director of MG Motor UK took part in what became a billboard promotional campaign to question the need of industrialists in the region to travel to Heathrow (by road or rail, there is no air link from Birmingham) in order to access long haul services to key global cities.
Example of the Birmingham marketing campaign to promote direct air connections

It is believed that MG remains supportive of BHX's position despite the fact it did not make the Commission's short list for the next UK runway (which may not have been its principal objective in any case) and is watching developments closely.
China Southern Airlines is also aware of the potential for passenger traffic and freight that is related to the extensive industrial West Midlands conurbation.
More North Asian 'culture vultures' in BHX's sights
Might other countries be on BHX's radar for similar charter services? This is undoubtedly the case.
In North Asia alone both Japan, and to a lesser degree Korea, are also sources of tourism to the UK that is driven by the need to absorb culture. There is a growing realisation, brought about in part by VisitBritain's belated acceptance that its purpose is to promote the entire country and not just the capital, that tour programmes can be created where London plays a part but does not dominate proceedings.
Japanese tourists for example are reportedly especially keen on the author Beatrix Potter, who was domiciled in the Lake District, while just about every country on earth has Shakespearean societies that perform his works in a multitude of languages and for which Stratford is Xanadu.
In the world of sport there is intense interest throughout Asia in soccer clubs such as Manchester United and Liverpool – and a desire to visit them - although regrettably for BHX that degree of interest does not momentarily apply to soccer clubs in its immediate vicinity.
What is the degree of influence BHX exhibits as a result of beating rival airports at Manchester and Edinburgh to these first non-London Chinese services? Both those airports have also invested time and effort to attempt to secure Chinese services and equally to secure 'bragging rights'.
As recently as Mar-2014 Manchester Airport Group's CEO, Charles Cornish, revealed Manchester Airport to be in what he described as "advanced discussions" regarding a direct service to China, it being a case of the airlines putting it onto their programmes and waiting for aircraft to come available.
Whether that will be before the end of 2014 or into 2015, it "depends on when they can get these things done and in this world, it is difficult to narrow things down to a particular six month period." MAG will be especially keen to secure a Chinese service to and from Beijing as a result of the investment by Beijing Construction and Engineering Group into the Airport City at Manchester.
BHX does not have a strictly comparable airport city on the drawing board, but it does have its M42 Economic Gateway Project, centred on nearby Solihull, which seeks to build on the existing concentration of economic assets and growth drivers of national and regional significance: Birmingham Airport, the National Exhibition Centre (which has recently been put on the market by Birmingham City Council), Jaguar Land Rover, Birmingham Business Park, the Blythe Valley Regional Investment sites and Solihull Town Centre.
It is estimated to support more than 100,000 jobs (some reports say "up to 400,000") and to generate GBP5.1 billion in income. This gateway project runs close to the concept of an 'aerotropolis' or airport city, without actually being called one.
Edinburgh Airport meanwhile, which has already added three long haul services for 2014, has long coveted a China service, not only for (mainly inbound) tourism purposes but also because there are established Chinese trade interests in the city and further afield in Scotland. Edinburgh has already set a precedent for the sort of charter arrangement Birmingham favours by securing a single Japanese round trip charter service originating at Osaka Kansai airport on 02-Jul-2014 with the return journey on 09- Jul and using a B777-200. The service marks the Kansai airport's 20th year of operation.
London still dominates on China routes despite the 'lack of capacity' argument
But it is indisputably the case that London, and especially Heathrow, is still the focus for China-UK services, even if the consensus amongst those batting in favour of London at the Airports Commission (i.e. everyone from the Mayor of London down) is that there are insufficient air services from Heathrow to China and vice versa because of 'slot constraints'.
At present (the end of the Northern hemisphere winter season), five airlines operate between Heathrow and China (not counting the Special Administrative Region of Hong Kong), with these schedules:
| Airport | Airline | City | Frequency |
| --- | --- | --- | --- |
| | | | Daily |
| | | | Daily |
| | | Shanghai | 6 x weekly |
| | | | 3 x weekly |
| | | Shanghai | 5 x weekly |
| | | | 6 x weekly |
| | | Shanghai | Daily |
| | | | 4 x weekly |
The Gatwick-Beijing service by Air China commences on 30-Mar-2014. It previously operated from 2012 but was suspended during the winter of 2013/14, suggesting it may not yet be viable on a year-round basis.
All the services in the table above connect London with either Beijing or Shanghai with the exception of China Southern's Guangzhou-Heathrow flights, which connect it with southern China's largest city and the entire country's third most populated. Guangzhou is also more trade and industrially inclined.
Other airports are looking at long haul charters
What does this mean for long haul air travel between North Asia and the UK/Europe? Is there a sea-change taking place? It is early days but it should be noted that Birmingham is not alone in initiating long haul charters such as these. Apart from Edinburgh Airport's one-off Osaka flight, the Marseille Provence airport (MSP) in France is reported to be eyeing an expansion of service to long-haul leisure markets as potential targets for discussions with airlines as it seeks to expand its network.
The airport recently secured its first link to South Korea with an agreement with The Hanjin Travel Group and tour operator subsidiary Kaltour, in what sounds like a similar arrangement to that at Birmingham. The MSP management believes these first leisure flights from Asia may constitute a powerful traffic development lever in future years as "more and more tourists from emerging classes in Asia will want to discover the charms of the South of France, and Marseille-Provence is the perfect gateway for such trips".
The proportion of charter services at UK airports has been reducing steadily ever since the advent of the short haul low cost carrier but there are some indications of a nascent reversal in this trend.
Liverpool Airport for example has witnessed a resurgence of ad-hoc and even series charters since the turn of the year as it battles to stay in business, dominated as it is by easyJet and Ryanair, which are not as big a presence there as they once were.
Long haul charters remain a significant part of the overall portfolio at some UK airports; and it should not be forgotten that in the mid-1970s the penetration of charters into the North Atlantic marketplace was as high as 29% - almost one third of all flights, unimaginable now, with pull of the scheduled airline alliances. There is still a significant presence from the likes of Tui, Thomas Cook, and Condor et al. In other words, they may have had their day but they haven't gone away and that day could come again. And of course airlines now have at their disposal an economical aircraft perfectly suited to the demands of thinner, lesser frequently operated long distance charter routes – the B787 – with the A350 to come.
Birmingham Airport may have found itself in the vanguard of a game-changing movement with its ambitious China programme.
It is well to gain a first mover advantage. It is not so many years ago that the thought of the UK's regional airports hosting several daily widebody services was considered fantasy. How quickly the Gulf carriers changed all that as the new world of aviation dawned.
By the end of this decade, the new world of tourism will well and truly have arrived - and with it many millions more tourists from China. Birmingham will this summer receive its first ripples of what will inevitably soon become waves.