Beijing rings in the changes, but will they be enough to save China's airlines?
China's airline industry faces a financial challenge more pernicious than the Asian Financial Crisis and SARS combined. For Chinese aviation, the blows came earlier than most, starting with the vicious snow storms over the Lunar New Year holiday period almost 12 months ago. From there, the Tibet protests, Sichuan earthquakes, Olympics security crackdown, record fuel prices, yuan depreciation and now the global economic slowdown – including a rapid deceleration of the Chinese economy – have taken a heavy toll on the local airline industry.
Airline earnings have been punished, equity values have collapsed, debt levels have soared. Beijing, now refocused after the Olympics largesse, is confronted by an airline industry in crisis.
Following the bold decentralisation of the airline sector in the early 1980s, aviation in China was given the potential to grow for the first time. Reforms to allow more airline entry in the early 1990s ensured growth flourished, but it came at a heavy cost, in terms of air safety and financially for the government investors.
The monumental consolidation efforts of early this decade helped to dramatically improve the operational performance of the sector while coping with massive increases in air travel demand as China's economy blossomed.
But bedding down the enforced industry consolidation of the early years of this century has taken time. The consolidation exercise, based around three regional airlines and their respective hubs in Beijing, Shanghai and Guangzhou, were not done on a commercial basis, rather geo-political; the airlines concerned brought with them a cacophony of aircraft types and, as always, the need for an enormously complex rearrangement of political and commercial leadership.
The by-product has been a rise in inefficiency - a nasty legacy exposed by the cruel events of 2008.
The various paths to competitiveness
China's airlines - now some of the largest in the world - now enter a critical development phase: surviving the current market turmoil and achieving global competitiveness. This carries significant short, medium and long-term challenges.
Policy makers, ideally, will be keeping the longer term competitiveness issues in mind as they seek to address the short-term exigencies.
Throughout 2007, debate raged within China as to how this long-term competitiveness could be achieved. The then Chairman of Air China, Li Jiaxiang, called for the establishment of a Chinese "super carrier" with the size and scale equivalent to the behemoths emerging in Europe and North America.
Mr Li, who was promoted to the role of Director of the CAAC in the midst of the Singapore Airlines bid for China Eastern Airlines, contributed to the failure of that bid, which represented the alternative thesis for the restructuring and development of Chinese aviation; the involvement of foreign airline equity and management in the major passenger airlines.
Ironically, Air China, the year before, consummated a cross-equity deal with Cathay Pacific, to help untangle the web of airline interests in Hong Kong and exert greater influence there, while helping its IPO get off the ground.
China Eastern has since been left to wither on the vine and is effectively insolvent, kept alive by locally sourced bank loans. Potentially the most effective outcome to solve China's airline conundrum would be to let China Eastern fail - just as the failed Guangzhou investment arm GITIC was spectacularly cast adrift early this decade as an indication Beijing was prepared to embrace some market discipline.
But the failure of one of its big three airlines would be extremely unpalatable at any point, particularly in the present highly charged environment. The government is keen to avoid contributing to the growing unemployment problem, particularly in the financial hub of Shanghai, which has been hit hard by the global economic downturn.
Beijing gets out the Band-aids
Instead, policy makers in Beijing have instituted several measures, probably in the hope the traffic environment will quickly be restored. But as the global economic crisis deepens and the extent of Chinese airline losses becomes more apparent, Beijing's placebos will have to be replaced by the hard medicine.
These measures are summarised in the following table.
Stop-gap or solution? Chinese airline industry crisis measures: Dec-08
| Crisis measure | Details |
| --- | --- |
| Airport fees relief | CAAC will not collect overdue airport fees, worth USD583 million, in 1H09 and will refund payments from 2H08. |
| Capacity planning | Encouraging airlines to cancel or postpone aircraft due in 2009 as travel demand weakens (see separate section below for more information and analysis) |
| Fuel price reduction | NDRC cut the price of jet fuel by a third from 01-Jan-09. The government also delayed imposing a new tax on jet fuel |
| Fuel surcharges reduction | NDRC announced significant cuts in domestic fuel surcharges from 25-Dec-08 to help to continue the recovery in the price sensitive domestic market that started in Sep-08. |
| Restrictions on start-up carriers | CAAC released new draft airline regulations restricting the entry of start-up carriers at major domestic airports. A total of five airlines or so-called branch airlines are permitted at airports serving more than 10 million passengers p/a, while strict new branch carrier establishment rules have been announced. |
| Management shake-up at China Eastern Airlines | Chairman of China Southern Airlines, Liu Shaoyong, replaced China Eastern's chairman Li Fenghua. Also, Ma Xulun, Deputy General Manager of state-owned China National Aviation Holding Co. (CNAC), was appointed President, in place of Cao Jianxiong. CNAC also owns Beijing-based Air China. |
| Recapitalisation of China Southern Airlines and China Eastern Airlines | CNY4 billion capital injections to the parents of China Eastern and China Southern, in exchange for an issue of fresh shares - could signal the first round of restructuring of the country's ailing airline industry. |
But reports that China Eastern's parent was seeking a further USD1.5 billion in government support would be ringing some alarm bells in Beijing and add to the calls for sweeping structural change to the airline sector next year. There is no point pouring money into a bottomless hole.
Airline shakeup begins?
In mid-Dec-08 the leadership at China Eastern, the most troubled of all of China's airlines, was dumped, replaced by more experienced hands from China Southern and Air China's parent. Following multi-million dollar capital injections to it and China Southern earlier in the month, this could signal the first round of restructuring of the country's ailing airline industry.
The possible outcome is that China Eastern will now combine with China Southern or (as hinted consistently by the media) local competitor, Shanghai Airlines. But there is more happening beneath the surface in Beijing, where the shots are being called, so nothing can be safely forecast at the moment.
The concept of a clean line between government, politics and major airline management does not yet exist in China (in fact it doesn't in many countries) - especially not when the still-formative industry is in turmoil and several airlines are in financial trouble. There is a lot more to be done to get the country's airline industry to where it needs to be.
The financial equation is not good
But much of the financial problem is systemic. Even when growth was there, China Eastern in particular was losing money. And, as fuel prices mounted over the last year, disarray spread. Currency oscillations have also recently added to the fire.
Paradoxically, it can be hard to make money in a market where growth is consistently in the 15-20% range. Matching capacity to demand is a difficult task at the best of times, but this hyper-growth puts significant pressures on management.
Despite the reasonably profitable operations of Air China (linked too to Cathay Pacific and Dragonair), it too has slipped into negative territory in the past few months.
Chinese carriers' operating and net profit margins: 9 months to 30-Sep-08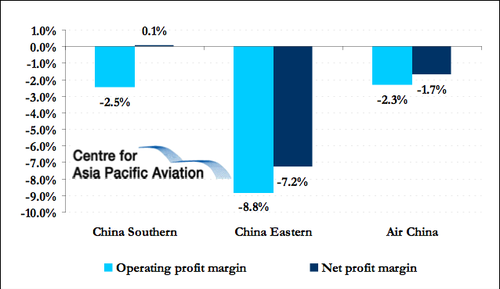 Conclusion: Beijing's headache for 2009
Fine tuning an entire aviation industry while a global economic hurricane is raging is not an easy task. As Beijing itself continues to adjust its own internal decision making team, the task is not made any simpler.
The chances are that a merger involving China Eastern Airlines - if that is in fact the intention - will not in fact resolve many short term survival or long-term competitiveness issues. Hopefully it will not simply lead to a bigger airline, with even bigger losses.
And, beyond China Eastern, there is still serious work to be done to ensure a long term sustainable industry. That will be a real challenge for an administration which is itself undergoing significant change.