Baggage fees climb, Continental introduces FareLock
Analysis
In what could blunt government criticism of the airline industry's alleged anti-consumer practices with ancillary fees, Continental has introduced 'FareLock' which promises to become a popular option for travelers.
Still, the new fee came as news broke that baggage fees are up 23% through the third quarter, causing at least one legislator to decry the increases. Meanwhile, change fees fell again in the third quarter by 3.8%.
For a fee between USD5-9, passengers can take between 72 hours and seven days to decide to purchase a ticket. The fee promises to increase passenger flexibility and avoid the risk of price increases or sold-out flights, said the airline, which is now part of United/Continental Holdings.
Whether they know it or not, passengers are now allowed 24 hours to purchase a ticket and the risk is that the 24-hour hold will disappear in favour of the new fee. Consumer advocates are already calling the Continental move a "good" fee, but indicate if the current practice of giving a passenger 24 hours to decide disappears, they say they will classify it as "just another bad fee". For now, Continental pledged to continue the 24-hour grace period.
The fee is available for bookings at continental.com with a 72-hour hold costing USD5 and a seven-day hold USD9.
"FareLock is an innovative option for customers who need extra time to plan their travel before purchasing a ticket," said Chris Amenechi, managing director of merchandising. "This new option is another way that Continental is giving our customers more choices and more control over their travel experience."
Raking in fees
The new fee comes at a time when airlines are expected to report not only record ancillary revenues, but record profits this year. Indeed, US Airways President Scott Kirby was blunt in saying that ancillary revenues accounted for all his airline's profits, despite USD9 billion in revenue through the third quarter.
The Department of Transportation's Bureau of Transportation Statistics released its third quarter report on US baggage fees showing Delta still in the lead of all US carriers in generating USD259.4 million in baggage fees, followed by American at USD151.1 million. During 3Q2009, the two took in USD129.4 million and USD119.4 million, respectively.
The entire industry pulled in nearly USD1 billion in baggage fees through the third quarter at USD906.3 million an increase of 23% compared to the USD739.7 million through 3Q-2009. Year to date, through September, the industry has earned USD2.5 billion in baggage fees, up sharply from the USD738.7 million earned in the 2009 period.
Its third quarter release of airline financial information based on Form 41 data, has been delayed but BTS did not say why.
Wednesday, the DOT-created Future of Aviation Committee (FAAC) recommended increased transparency on all fees as well as greater transparency of key airline performance metrics during its final meeting during which it presented the results of its eight-month-long deliberations to DOT Secretary Ray LaHood and Federal Aviation Administration Randy Babbitt. The report has yet to be drafted.
See related report: Wide-reaching recommendations from Future Aviation Advisory Committee - more studies and spending
Continental ranked fourth on baggage with USD90.4 million, while United ranked fifth at USD83.6 million with a year-to-date total for the combined airlines of USD500 million. This makes it unlikely that it will surpass Delta this year given its year-to-date baggage-fee total of USD733.1 million. US Airways ranked third with USD131.8 million.
US airline baggage fees through 3Q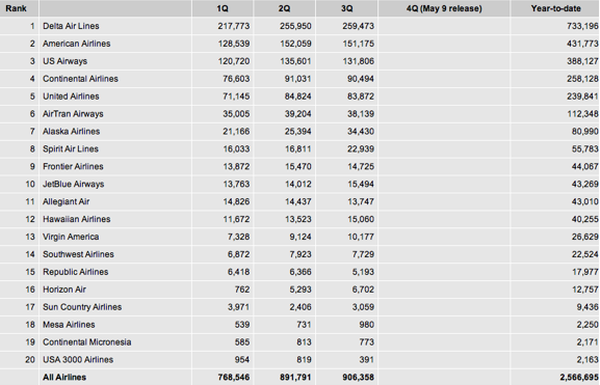 Cancellation fees fall
It also released data on cancellation fees which brought in USD1.737 billion through the third quarter, a drop from the USD2.373 billion in the 2009 period. Here again Delta and American led the pack at USD183.3 million and USD117.6 million, respectively in the third quarter. Meanwhile, United ranked third with USD84.7 million and Continental ranked USD60.9 million for the quarter. Year to date through September, the Delta and America posted change/cancellation fees of USD530.4 million, USD353 million, respectively, compared to a combined United/Continental at USD324 million.
US airline change/cancellation fees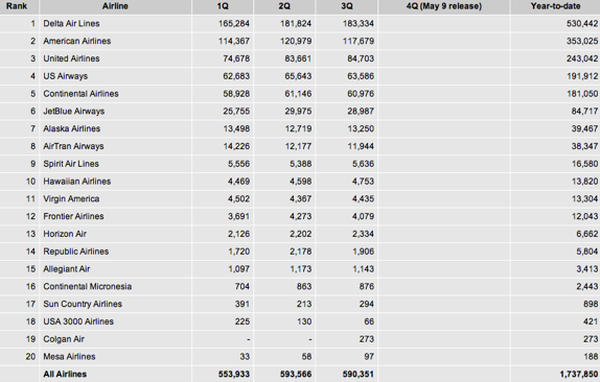 Final consumer rule may be in the offing
The Department is also poised to release a final decision on its new consumer rule which will likely call for more fee transparency - allowing the customer to see all fees to which they will be subject before they purchase. Given the wide-spread agreement of those who commented on the proposed rule that fares and fees be fully transparent that is likely to become part of the final rule. However, DOT reported a disagreement on exactly what should be included in marketing and advertising material. A final rule is not expected until Spring.
US airlines already support increased transparency on fees and fares. "We share the goal of making information easily available to consumers before they purchase a ticket," said the Air Transport Association when it filed its comments. "ATA members have been long committed to that principle, which is why in our comments we support the use of a hyperlink [to a carrier's web site] to disclose optional fees immediately and clearly. We find much in the DOT proposals that we can support or that with additional work could be feasible." The hyperlink idea came from the DOT.
Comments closed in September, but during the comment period, more online comments indicated they wanted DOT to regulate airlines "unbridled" pricing, especially advocating for requiring airlines to include at least one checked back in the price of the ticket, according to a DOT synopsis. The department indicated that respondents to the consumer notice of proposed rule making agreed that more transparency is needed in notifying passengers about various fees. The fee discussion during the comment period was the most lively except for responses to DOT's query as to whether peanuts should be banned from flights owing to the number of passengers suffering from peanut allergies.
The most frustrating fee seems to be the baggage fee, according to the discussion. Respondents want one checked bag free in addition to a carry-on bag, which would impact Spirit which also charges for carry-on bags in an effort to improve its on-time performance. Several said they do not oppose baggage fees as long as the first bag is free.
Some comments called baggage fees counterproductive, saying they encourage over stuffing of carry-on bags, creating delays in boarding and deplaning. They also cited the increase in carry-on luggage as a security threat, as contributing to increased injuries and increasing the stress on flight attendants and passengers.
While DOT's aim in the notice of proposed rulemaking was to increase transparency, it reported that respondents used the opportunity to discuss the best pricing model -- unbundled vs bundled. Respondents seemed to want airlines to post a full fare price that includes some or all fees but were evenly split on which price method was preferrable.
Those who favour unbundled pricing clearly bought airline arguments that it allows them to pick and choose the services they value. Some favored airlines posting a minimum price - with no fees - and a maximum price with all fees included. This seems counter-intuitive given the fact that DOT made a point of saying that most commenters really want a simplified fare structure.
Respondents also want DOT to regulate the pricing model and called for requiring a bundled price which includes all services that were traditional part of the fare including seat assignment, baggage, overhead space, bathrooms, fuel surcharges, blankets and pillows, and taxes and other fees. Some commenters also thought meals should be provided on flights over four hours.
Not surprisingly, third party ticket sellers - GDSs and travel agents - want a requirement calling on airlines to distribute all fare and fee information to them. The department said commenters want it to require detailed fee information on the websites of carriers and code-share partner, as well as on independent, aggregate websites. Others want this information posted on the websites of online travel services, as well as available from travel agents and traditional travel agencies.
Interestingly, while most want fees posted everywhere, they agreed that, at minimum, it only needs to be on the airline's web site and ticketing outlets, including ticketing services. Some said any requirement should be restricted to the airline's website. One respondent suggested that consumers be required to formally acknowledge their understanding of all fees before the ticket purchase can be processed.