Babcock, Aercap, Aircastle on the move. Are aircraft leasing companies oversold?
Leasing companies, Babcock and Brown (+1.7%), Aercap(+10.5%) and Aircastle (+7.2%) each enjoyed gains yesterday, as comments from the International Society of Transport Aircraft Trading Conference washed around the media. Babcock and Aircastle have experienced a very steep rise over the past week, with Babcock shares almost doubling.
Boeing (-2.2%) and Airbus/EADS (-2.8%) shares meanwhile lost some ground.
Selected Aviation suppliers daily share price movements (% change): 18-Mar-09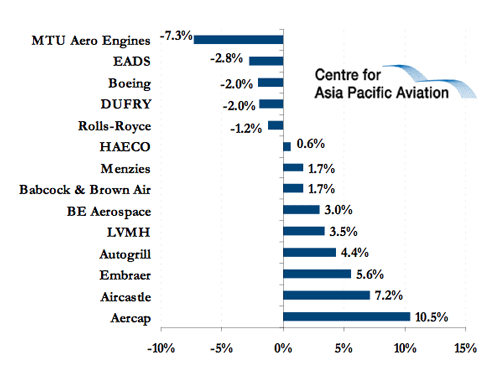 Aircraft prices are under stress as airlines reduce services and in many cases resort to grounding aircraft and/or delay aircraft orders. This helps explain the distressing falls in the major listed lessors since the middle of last year.

Aercap for example is trading at around one eighth of its share price in late Jul-08.
Aercap, Aircastle and Babcock and Brown Aviation share price: 01-Jun-08 to 18-Mar-09
But in recent days, as some airline stocks in the US have rebounded as Wall Street showed signs of life, so investor sentiment - towards some lessors at least - has warmed.
For daily updates on American aviation stock prices and a complete wrap of the day's breaking news, sign up now for a complimentary subscription to America Airline Daily.
Aercap, Aircastle and Babcock and Brown Aviation share price: 01-Jun-08 to 18-Mar-09
Much of the lessors angst relates to the rate at which the aircraft manufacturers - eager to maintain deliveries - reduce production. Too many aircraft mean softer prices and a weaker market for the lessors.
This tension is what led ILFC CEO, Steven Udvar-Hazy, to say at the conference: "When a bomb explodes, the light flash travels a lot faster than the sound. The flash occurred in September, but the sound hasn't reached Seattle and Toulouse yet."
ILFC, part of the AIG empire, is currently under the hammer, as the insurance giant is obliged to sell down its assets. ILFC is expected to achieve a price somewhere in the range of USD4-10 billion. But in today's credit-squeezed market, a forced sale is a difficult proposition.
A week's rally on Wall Street does not necessarily mean it is spring yet and, although the leasing companies have tumbled a long way from last year's levels, the current revival may be short lived, as aircraft supply and pricing tensions are unravelled.