BAA sees "underlying improvement" in traffic volumes
Analysis
BAA stated its UK airports last month had their "best underlying group figures since September 2008", with Heathrow's network strength "remaining evident". BAA's UK airports handled a total of 12.7 million passengers in Jun-2009, down 5.9% year-on-year, the highest figure for nine months, setting aside the distortion in April and March due to the timing of Easter.
The airport operator stated that although all key markets were lower in June than a year earlier, all markets (except European Charter) improved on their performance for the last six months. Domestic traffic was 8.1% down in June and European Scheduled by 2.8%. North Atlantic traffic was 9.4% lower, but Other Long Haul was almost level with last year at -0.2%.
Of the individual airports, Heathrow recorded a decline of 3.1%, stronger than the other airports "because of its hub status and the resultant growth in transfer passengers". Gatwick traffic was 7.6% down year-on-year, while Stansted's passenger traffic was down 11.5%.
Heathrow, Gatwick and Stansted airports passenger number growth: Jul-2008 to Jun-2009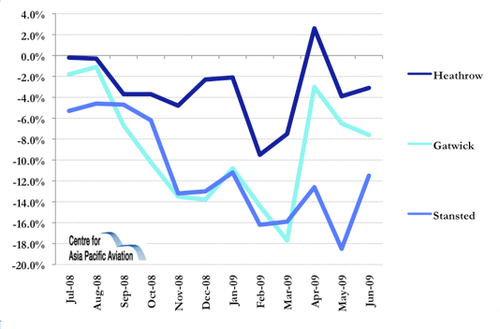 Cargo falls moderate
In total, the number of air transport movements at BAA's UK airports was 6.3% lower in June. The decline in cargo activity continued, falling 13.7% in Jun-2009 year-on-year, but for the second month in succession there was a "marked shrinkage in the rate of decrease", according to BAA.