Australia's Queensland airports mine the resources boom
Analysis
The mining resources sector has boosted demand to many regional airports, among them two airport groups in Queensland, Australia which have experienced significant growth in the decade since the start of the mining boom. Queensland Airports and North Queensland Airports operate four ports in the state including strategic gateways of Cairns, Gold Coast and Mackay. The state capital city's Brisbane Airport is separately owned and run.
But high maintenance costs associated with ageing airport infrastructure combined with various government taxes and airport fees often result in high fares and a challenging environment for airlines to generate demand from many regional ports.
However, a pending capacity battle between Tigerair Australia and Jetstar may bring some pricing relief on larger regional routes.
Mackay Airport is in the "sweet spot" of Australia's coal mining industry
Queensland's Mackay Airport considers itself to be in the "sweet spot" for coal mining. The airport's convenient access to the Bowen and Galilee basins has made it one of the busiest airports in Queensland with more than one million passengers passing through per year, the vast majority of which travel to and from Brisbane.
The Bowen basin has 47 operating coal mines employing nearly 30,000 full time equivalent staff.
Mackay Airport domestic routes (seats): 12-Aug-2013 to 18-Aug-2013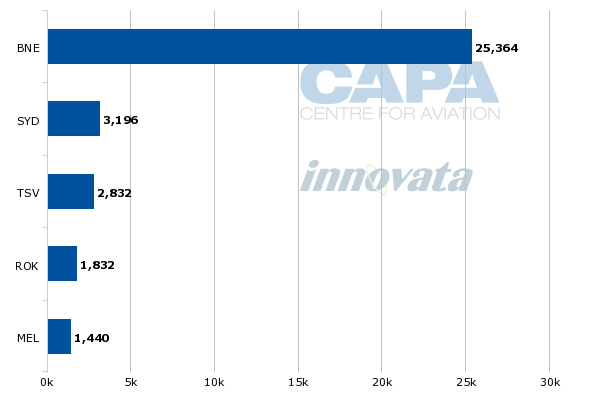 More than 40% of the airport's traffic is resource industry related and an increasing number are commuting from the Gold Coast to Brisbane for FIFO (fly-in-fly-out, where workers spend a fixed period of weeks on site then fly back to their homes for a similar period) flights to Mackay.
As a result Gold Coast is high on Mackay's list of priorities for direct services, which in turn will help reduce congestion at Brisbane Airport, whose aircraft movements increased a remarkable 30% last year, mostly FIFO related, with little change in passenger numbers.
Virgin Australia dominates Mackay's capacity owing to the carriers Brisbane base. The carrier operates 37 weekly frequencies to Brisbane and seven time weekly to Sydney using a mix of 737 and E190 equipment. Virgin Australia competes with Jetstar which operates 25 frequencies per week from Brisbane.
Qantas operates 26 weekly frequencies to Brisbane, 23 times weekly to Townsville and double daily to Rockhampton.
Virgin Australia new stable mate, Tigerair Australia operates to Mackay four times weekly from both Sydney and Melbourne.
Mackay Airport total capacity (seats) per week by carrier: 12-Aug-2013 to 18-Aug-2013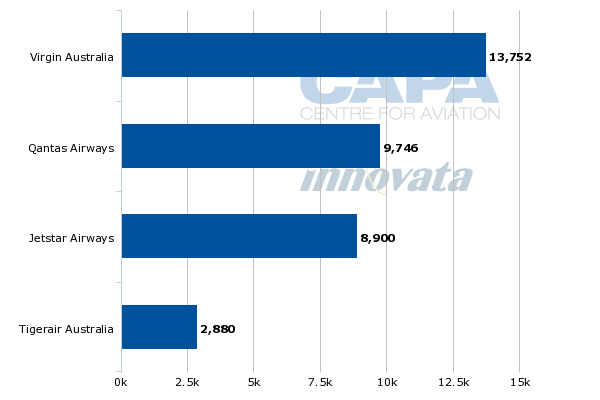 Mackay along with Cairns Airport is owned by North Queensland Airports, a consortium comprising IIF Cairns Mackay Investment which holds a 50% stake in the group, Auckland International Airport (25%), The Infrastructure Fund (20%) and Perron Investments (5%).
North Queensland Airports group ownership structure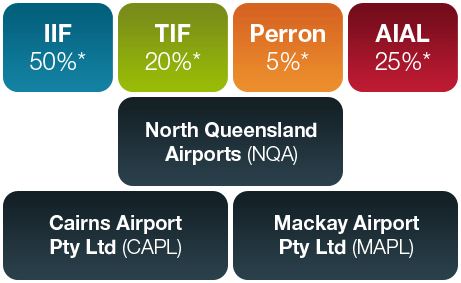 North Queensland Airports' Cairns Airport is Australia's major northern gateway with international links to Japan, China and New Zealand, as well as an extensive domestic network covering all the state capitals with the exception of Canberra.
Domestic passenger numbers increased 8.2% in 2012 to 3.4 million while international traffic was down 4.2% to 744,000.
Cairns Airport's China ambitions were dealt a blow with the cancellation of China Eastern Airlines' direct service from Shanghai, effective 13-Aug-2013, citing low passenger yields. The carrier stated it lacked confidence that the route was sustainable, but a final decision on whether to resume services, possibly in Nov-2013 is yet to be made. Profitability on the route had suffered due to nearly all passengers on the service being low yielding group tours compared to an amount of higher yielding business passengers on its services to Sydney and Melbourne.
China Southern is also still to make a decision whether to commence scheduled services from Guangzhou to Cairns or via Brisbane, building on its seasonal charter flights to Cairns during the Chinese New Year period.
Cairns Airport plans to invest AUD1 billion (USD912 million) in redevelopment projects over the next 20 years, including an "aviation economic precinct", though there are no plans for construction of a second runway.
Qantas and Jetstar provide the backbone of capacity at Cairns Airport
Qantas and Jetstar dominate capacity at Cairns with a collective 82,400 seats in the week of 12-Aug-2013 to 18-Aug-2013. Of this Jetstar provides the bulk, including daily services to Tokyo Narita and Osaka, as well as domestic services to Adelaide, Brisbane, Darwin, Gold Coast Melbourne and Sydney.
Apart from links to Brisbane, Melbourne and Sydney, Qantas operates regional services to a number of points in Queensland and the Northern Territory, including Darwin, Ayers Rock and Townsville, but not into the Queensland interior, which it operates primarily from Brisbane. The carrier also flies to 12-times weekly to Port Moresby with a Q400.
Cairns' direct links to the central Queensland resource sector are limited to Skytrans operations to Mount Isa, Elrose Mine and Mount Gordon Mine. Virgin Australia has stated it will launch services to the mining town of Weipa on the upper western side of the Cape York Peninsula when the route is deregulated in 2014. The route is currently operated by Qantas and Skytrans. Virgin Australia will subsequently operate the route with ATR-72 aircraft and promises to lower fares and increase business and tourism travel.
Tigerair Australia launched services between Sydney and Cairns in Apr-2013, initially four times per week and increasing to daily from Jun-2013.
Cairns Airport capacity (seats) per week by all carriers: 12-Aug-2013 to 18-Aug-2013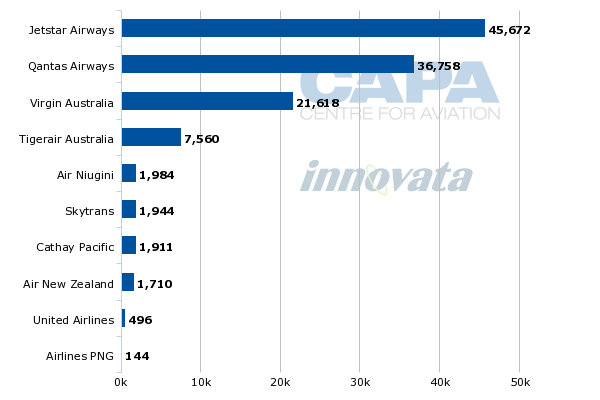 Queensland Airports (QAL) was established in 1998 with the acquisition of Gold Coast Airport when it was privatised. It subsequently acquired the Commonwealth government leases for Townsville and Mount Isa airports and earlier in 2013 acquired a 99-year lease of Longreach airport from the Longreach regional council for AUD2.5 million (USD2.28 million) in Oct-2012. The group of airports handled a total of 7.8 million passengers in FY2013 to 30-Jun-2013, up 6.8%. Of that Gold Coast accounted for 5.8 million, which was an increase of 9% on the FY2012. Domestic traffic increased 7.3% to 4.9 million while international passenger numbers were 19.3% to 912,000.
Traffic on long haul services from Singapore, Kuala Lumpur and Japan was up 32%, while New Zealand traffic gained 1.9% for the year.
Passenger numbers at the group's second largest airport, Townsville Airport reduced by 2% in FY2013 to 1.66 million which the company attributed to "a slowdown in the resources sector and cost reduction initiatives at the state and federal government level".
Townsville Airport has seen significant growth in passenger numbers since the start of the mining boom in 2004, becoming a major port for FIFO traffic.
The airport has direct links to Brisbane, Melbourne, Sydney, Cairns, Mackay, Mount Isa, Darwin, Hughenden, Richmond, Julia Creek, Cloncurry, Longreach, Winton and Moranbah, as well as various mining charter operations. Townsville Airport traffic is evenly spread between business and leisure, while the itinerant population generates strong VFR traffic.
Mount Isa Airport gained 9% in traffic to 269,000 while Longreach accounted for 27,000 passengers for the eight months that the airport was under QAL control. Longreach has connections to Brisbane, Townsville and Winton.
Mount Isa Airport is the gateway to outback North Queensland and located in the heart of the vast mineral mining region. The airport provides services to Brisbane, Townsville, Cairns, Darwin and the Gold Coast, as well as a number of outback communities.
Mount Isa Airport has undergone substantial redevelopment and upgrading of facilities since being acquired by QAL in 2005, including terminal and runway facilities.
QAL MD Denis Chant said at the CAPA Australia Pacific Aviation Summit in Sydney on 09-Aug-2013 that many of the small regional airports like Mount Isa and Longreach had lacked investment by their local government owners and there was a role for the private sector to work with local authorities to develop the airports ahead of the upcoming "infrastructure crunch". A new terminal was opened at Longreach in Sep-2012.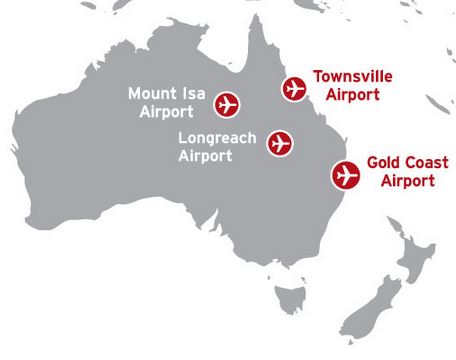 Mr Chant said that the economies of scale generated by the airport group structure allowed larger more profitable airports to subsidise smaller regional ports which would otherwise not be sustainable.
Gold Coast Airport is Australia's largest regional airport by passenger number and completed a AUD100 million (USD91.3 million) LCC terminal redevelopment in 2010 which now serves international services by LCC carriers AirAsia X, Jetstar and most recently Scoot. The three LCC carriers account for about 76% of the airport's international capacity by seats.
While Gold Coast Airport was experiencing an increase in one stop travel from Asia, there was little "appetite" from carriers looking to enter secondary markets such as Townsville, Newcastle or Sunshine Coast, Mr Chant said.
Gold Coast Airport international capacity (seats per week) by all carriers: 12-Aug-2013 to 18-Aug-2013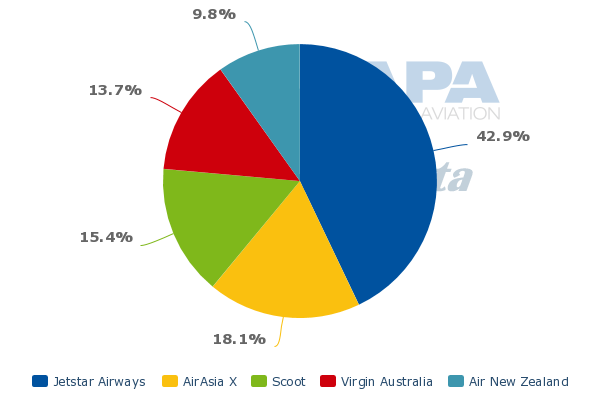 The airport has evolved into a strong competitor to neighbouring Brisbane Airport and now attracts international services from Asia including Japan, Malaysia and Singapore. But it was the trans-Tasman market that was "vital" to transforming Gold Coast Airport into the fifth busiest airport in Australia.
Services from New Zealand account for 37% of international capacity at the airport, which is working closely with Air New Zealand and other partners to stimulate low-season demand. The strong NZD versus the AUD has encouraged more New Zealanders to opt for an Australian holiday more often.
Looming capacity battle between Tigerair Australia and Jetstar is likely to benefit regional airports
Regional and secondary airports are also likely to benefit from Tigerair Australia's planned expansion over the next year, with the carrier forecast to add 20% capacity overall in 2014 as it takes delivery of another two A320s over the next six months, taking the fleet to 13.
To achieve critical mass to compete with much larger Jetstar, Tigerair Australia will need to increase its fleet to between 20 and 22 A320. Further expansion plans have not yet been spelled out and are part of a strategic review being conducted in conjunction with new 60% owner Virgin Australia.
Tiger Australia CEO Rob Sharp stated at the Sydney CAPA Summit that growth is one of the levers the carrier will use to gain a sustainable position in the market. He described Tiger Australia as "half pregnant" referring to the airline being about half way to achieving the necessary scale needed to drive the efficiencies required of an LCC.
While much of that capacity initially is likely to be directed at thickening up the golden triangle routes between Sydney, Melbourne and Brisbane, larger regional ports should also benefit from increased competition.
See related reports:
Jetstar is confident that it has the strength to deal with a resurgent Tigerair Australia. Jetstar group chief commercial officer David Koczkar pointed to Jetstar's growth at Newcastle since 2004 as evidence that "there is plenty of growth in the market".
Since Jetstar entered the Newcastle route traffic at the airport has grown from about 20,000 a year to 1.2 million in 2012.
The looming battle between Tiger Australia and Jetstar using A320 aircraft is unlikely to impact Virgin Australia's regional subsidiary which operates a mix of ATR72 turboprops and Fokker 100 and Fokker 50 regional jets in both the East and West of the country.
Virgin Australia acquired Western Australian regional carrier Skywest in Apr-2013 and folded it into a new nationwide regional subsidiary to better compete with Qantas across the domestic and FIFO mining charter markets.
Virgin Australia Regional Airlines is using the ATR fleet to enter new markets in Queensland and Western Australia, in some cases ending monopoly services and growing demand. But according to Virgin Australia Regional Airlines group executive Merren McArthur, high airport charges resulting from infrastructure investment being spread across a small number of passengers meant fares were higher, particularly to remote destinations.
See related reports:
Virgin Australia moves to integrate Skywest and challenge Qantas' regional domination
Skywest leads Virgin Australia regional expansion and into lucrative mining charter operations
Regional Express experiences slowing regional demand, focused on consolidating existing routes
Regional Express (REX) operates throughout Eastern and southern Australia with a fleet of 47 Saab340s, including to five destinations in the Queensland interior from its Townsville hub to Mount Isa, Julia Creek, Winton, Longreach and Hughenden.
REX COO Garry Filmer said while the Australian BITRE data shows there has been reasonable growth in passenger numbers to regional airports in recent years, that growth has been driven by the resource sector in Queensland and Western Australia.
By comparison REX passenger numbers have been steadily declining in the past three years to regional and bush airports. As a result Rex is not increasing capacity and is instead focusing on consolidating existing services to ensure they are being operated as efficiently as possible.
Mr Filmer said regional governments treated airports as sources of revenue rather than essential infrastructure. The cost of infrastructure together with security and passenger charges meant that fares were often "way higher than they should be". REX took the view that an airport, as an essential service, should not be treated differently to a road or a bridge leading into a town.
Airports, however, argue that the cost of maintaining ageing infrastructure at regional ports is becoming disproportionately higher than the revenue able to be generated, requiring many to turn to state and federal governments for funding to ensure air services are maintained.
The resources boom has led to improved airport infrastructure and greater community access to air services
Queensland's airports and their communities have benefited from the resources boom in their back yard, which has also served to improve airport infrastructure, including new terminals and made regional destinations more accessible to tourism and business through increased air services.
While some in the industry caution regional airports against over-investing in infrastructure in response to what may be short-term growth in passenger traffic driven by mining operations, forecasts suggest that the resources sector will provide long term sustainable demand.