Australian domestic airlines promote state border openings
Analysis
Quarantines and other restrictions imposed on travel between certain states in Australia have forced airlines to cut back many of their domestic services. While this has stifled the recovery of the country's most important domestic traffic flows, it has also boosted the importance of routes that do not cross state borders.
Capacity has returned to match or exceed pre-COVID levels on some of these routes within states (intrastate). With most out-of-state – and international – destinations out of reach, Australians have been looking closer to home for leisure travel options.
These markets have provided a welcome trickle of revenue for Australia's airlines. But for a meaningful domestic recovery, they need the high-volume interstate routes to return.
Qantas and the other major airlines have been lobbying hard for state border restrictions to be eased where it makes sense, and for a more targeted and standardised, predictable method for isolating any future outbreaks. Other sectors of the travel industry are also aligned in this effort, putting immense pressure on state governments.
As states get infection levels under control, this pressure seems to be paying off. In the week to 24-Sep-2020 some important state borders have been opened, and airlines have responded by resuming more flights in these markets. Some borders – most notably those involving Victoria, which is now getting an outbreak under control – will remain closed in the immediate future. But elsewhere there appears to be growing momentum to ease interstate restrictions.
Summary:
Intrastate flights are dominating domestic route rankings
Traditional trunk routes have fallen down the list due to border closures
Momentum is beginning to build as infection numbers fall and more states remove restrictions
Qantas and Virgin Australia are responding quickly with more flights
Flights within states are now the busiest in Australia
The current dominance of intrastate flights is underlined by the rankings list for Australia's top routes by seat capacity for the week of 21-Sep-2020. All of the seven top city pairs (14 routes) are for routes within states.
The highest-ranked route between states is Sydney-Melbourne at 21st (11th city pair), which is traditionally not just the busiest route in Australia, but also one of the busiest domestic routes in the world. However, both Sydney and Melbourne are notably missing from this chart, reflecting the impact of the border closures.
Ranking Australian routes by seat capacity (systemwide), for week of 21-Sep-2020

A year earlier, the list (below) looked dramatically different.
All of the top seven city pairs (14 routes) were between state capitals, aside from two city pairs linking to the Gold Coast. The highest-ranked international route was Auckland-Sydney at 17th, and then Singapore-Melbourne at 21st. The top domestic route that did not cross state lines was Cairns-Brisbane at 29th.
Ranking Australian routes by seat capacity (systemwide), for week of 23-Sept-2019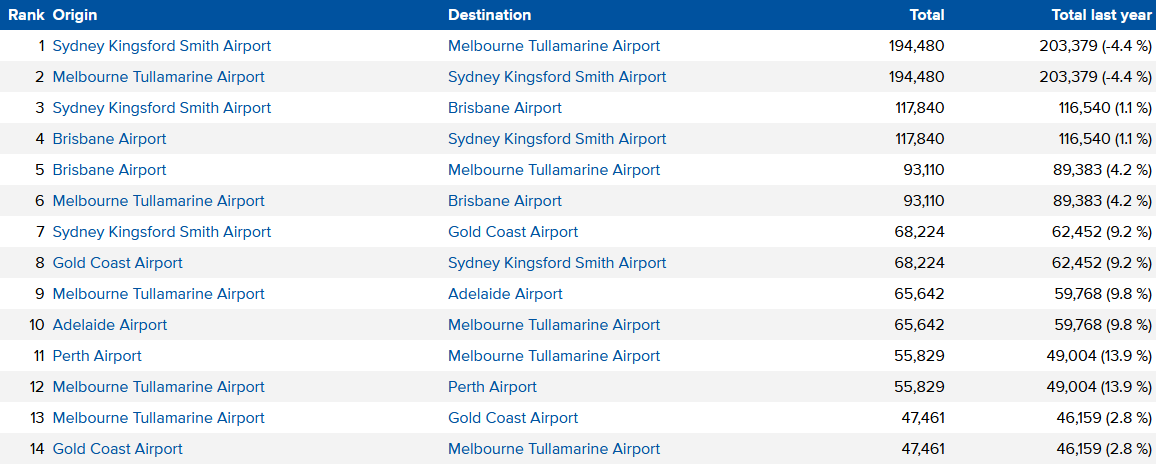 Intrastate flights overshadow interstate routes for Qantas
This trend is generally supported by airline-specific data. Looking at the Qantas Group's top 10 routes for the week of 21-Sep-2020 shows that seven – including the first six – are flights within states.
The only interstate route on this list is Brisbane-Adelaide. Interestingly, two of Jetstar's New Zealand domestic routes also feature (from Auckland to Queenstown and Christchurch).
Qantas Group top 10 routes systemwide, ranked by seats, week of 21-Sep-2020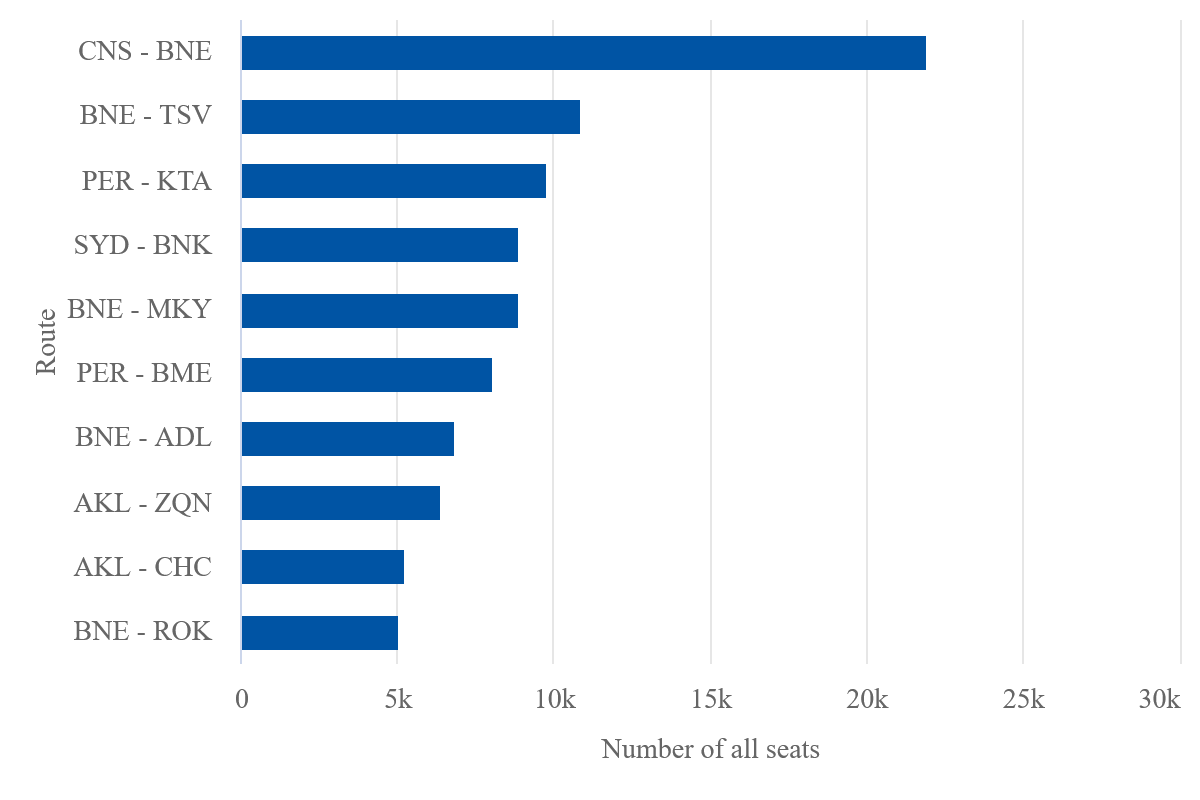 In some cases Qantas is putting more capacity on the routes within states than before the pandemic, Qantas CEO Alan Joyce said during the carrier's fiscal year results briefing on 20-Aug-2020. This highlights that there is "pent-up demand for travel" for Australians, which adds confidence that interstate demand will also be high once state borders are reopened, Mr. Joyce said.
According to data from CAPA and OAG, Qantas Airways (not group) capacity between Brisbane and Cairns is up 16% year-on-year for the week of 21-Sep-2020, with Perth-Broome capacity up 48% and Brisbane-Mackay up by 14.5%. Contrast that with Qantas trunk routes to Brisbane, Melbourne and Perth which are down by 95%, 97% and 88% respectively.
Virgin Australia is also relying heavily on intrastate flying
Virgin Australia's top 10 routes demonstrate a similar pattern. All of the top 10 are intrastate flights, aside from one interstate route (Brisbane-Adelaide). As with Qantas, the route between Brisbane and Cairns is the busiest route in the entire Virgin Australian system.
Virgin Australia Group top routes systemwide, ranked by seats, week of 21-Sept-2020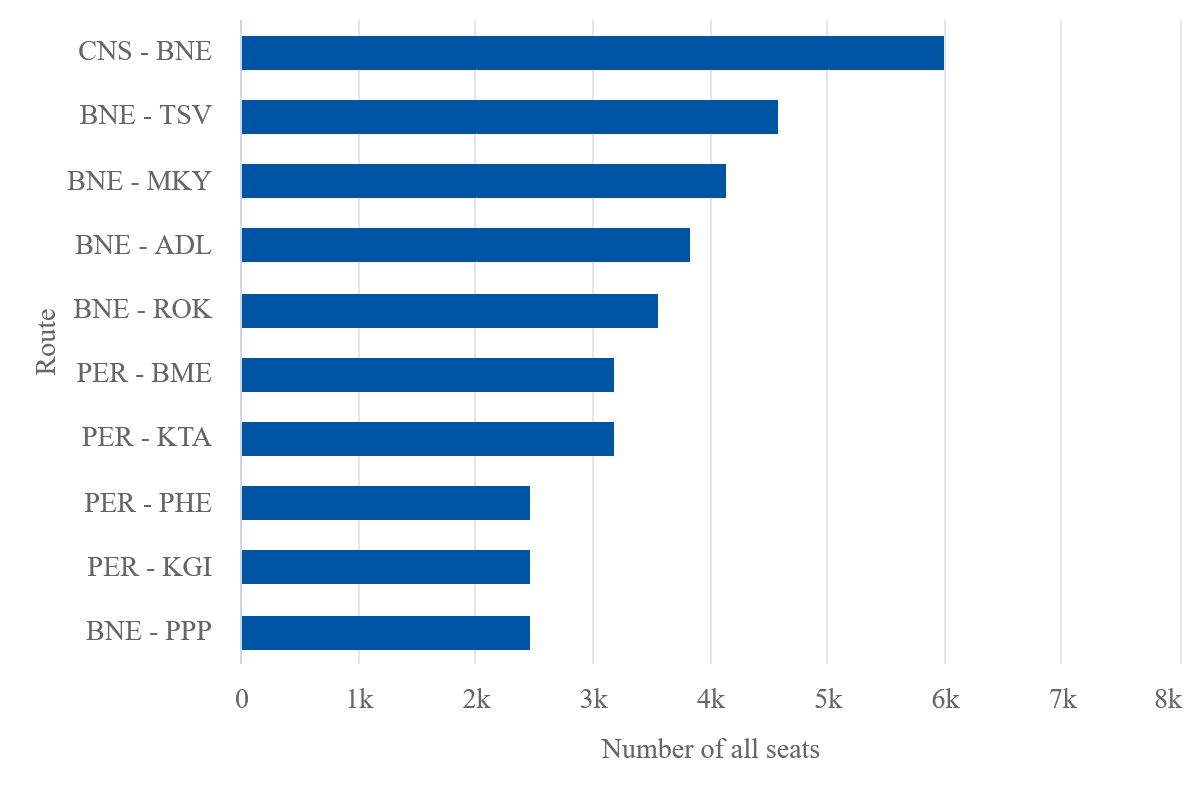 The Virgin top 10 routes are generally down substantially from last year in terms of capacity, aside from Perth-Karratha which is up fractionally. Perth-Broome saw the smallest drop of 7%. However, once again these routes are performing far better than Virgin's trunk routes between Sydney and Brisbane, Melbourne and Perth, which are each down by about 90% or more.

The contrasting fortunes of intrastate and interstate flights is underlined by the two graphs below. While overall capacity on Brisbane-Cairns has rebounded well, Brisbane-Sydney remains in the doldrums.
Capacity between Brisbane and Sydney was starting to show some signs of improvement in Jun- and Jul-2020, but the second wave of coronavirus and restrictions on interstate flights caused the recovery to stall and go into reverse.
Brisbane-Cairns weekly one-way seat capacity, all airlines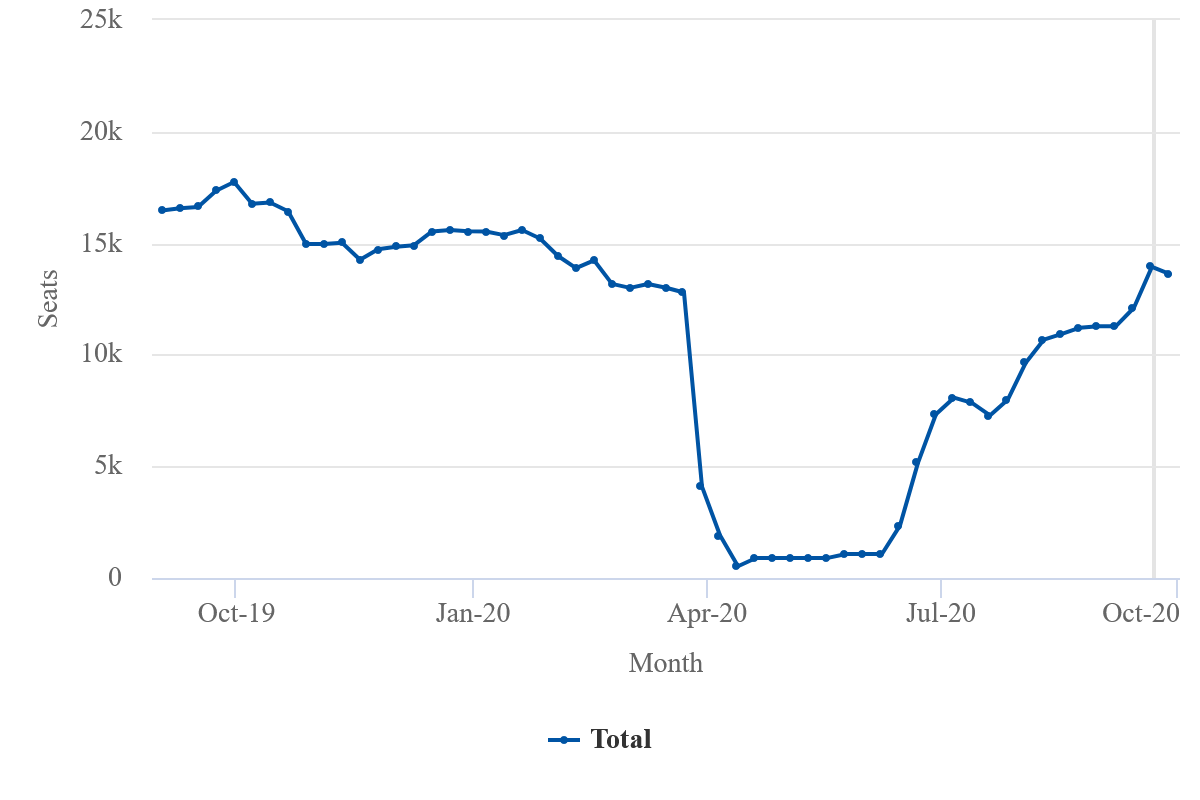 Brisbane-Sydney weekly one-way seat capacity, all airlines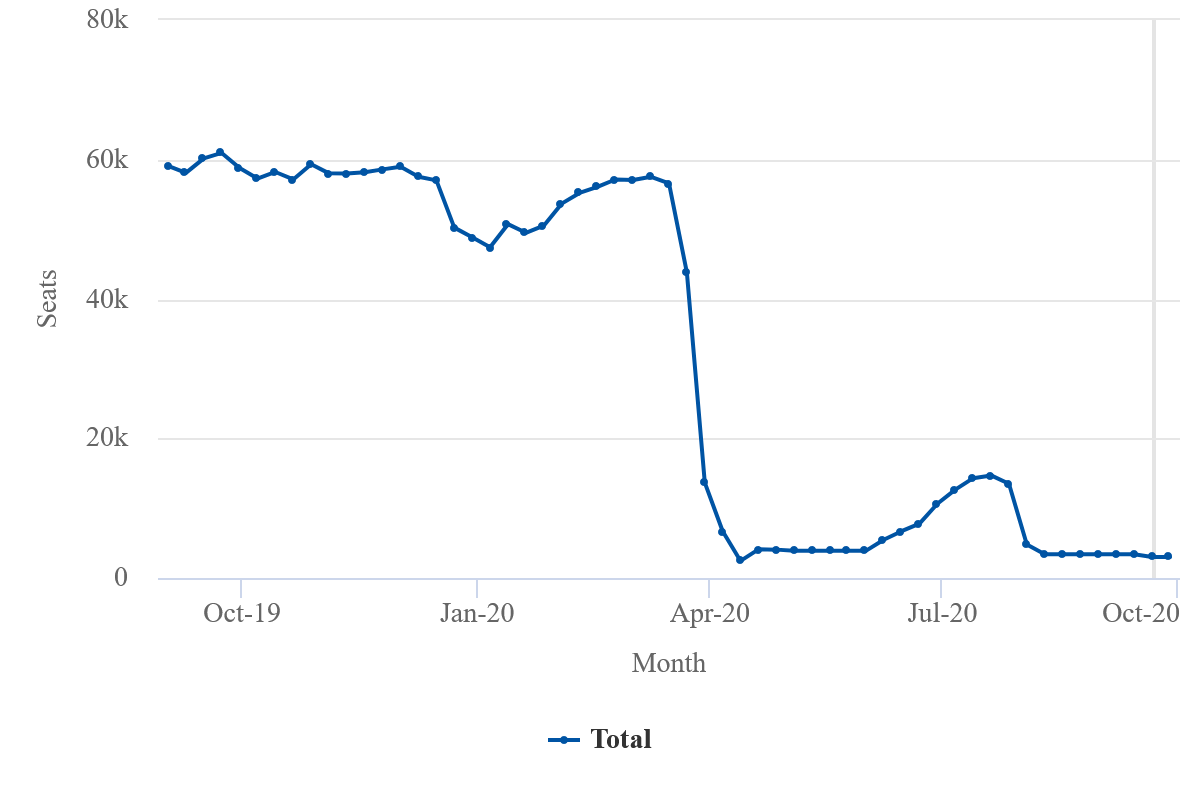 Interstate routes are set to rise in the rankings
The picture could begin changing quickly for interstate travel as some borders reopen. This will lead to the reinstatement of more domestic flights by Australian carriers, and trunk routes between states will start climbing up the rankings again.
Prime Minister Scott Morrison has been pushing for states to reopen borders. Following a national cabinet (with the PM and premiers of each state and territory) meeting on 4-Sept-2020 he announced an agreement-in-principle with seven state and territory governments to work toward reopening by Christmas and the summer peak season. Only Western Australia declined to commit to this timeline.
The seven states also agreed to adopt a "hotspot" approach to travel restrictions, which would set standards for more targeted and localized measures rather than closing state borders. While more work is required to refine these common rules, gaining broad consensus from almost all of the state governments was a major step forward.
States are beginning to roll back border restrictions
There has been a flurry of activity recently, as some states remove quarantine restrictions or other blocks that applied to inbound travel from certain other states.
Travellers from the Australian Capital Territory (ACT - Canberra), where there have been no cases for some weeks, were allowed into South Australia (SA) from 16-Sept-2020, and they will also be able to visit Queensland from 25-Sept-2020. Both of these states have also either had no new cases or single digit, traceable, cases for several weeks.
On 22-Sept-2020 there were significant announcements regarding New South Wales (NSW). SA said it will reopen to NSW travellers from midnight on 23-Sep-2020. Queensland will add five NSW local government areas into its border zone from 1-Oct-2020, allowing residents to apply for a border pass and travel within Queensland.
The Tourism & Transport Forum (TTF) welcomed these steps, and cited new polling showing that 63% of Australians want to see borders completely open by Christmas. "We are beginning to turn the corner and prove that tourism can operate and reopen in a COVID-safe manner … we just need continued momentum from policymakers to allow [other] states to do the same so Australians can plan friends and family visits in the lead-up to Christmas," said TTF CEO Margy Osmond on 18-Sep-2020.
Airlines respond quickly by adding back services
The state moves have spurred airlines to resume some routes or increase frequencies in the markets affected by the border openings.
Qantas said it would reintroduce daily Sydney-Adelaide flights from 24-Sep-2020. It has not operated this route since Jul-2020. LCC subsidiary Jetstar will boost its flights between these two cities from five times per week to twice daily from 1-Oct-2020, and to three times daily from 1-Nov-2020.
Qantas has previously announced it will boost flights between Canberra and Brisbane from four per week to 14. It will also introduce seasonal service between Canberra and the Gold Coast for the first time, operating four weekly flights for four weeks, from 25-Sep-2020.
Virgin Australia said it will restart three weekly Canberra-Adelaide flights from 12-Oct-2020, a route that has been suspended since the end of Mar-2020 due to the pandemic. Adelaide-Sydney flights will increase from three times per week to daily from 2-Oct-2020, and to double daily from 2-Nov-2020.
By the end of Oct-2020, Virgin's Brisbane-Canberra flights will increase from three per week to daily, and Canberra-Gold Coast flights will rise from two to five times per week.
Industry leaders highlight need for new approach by states
Many leading airline and travel industry executives advocated for changes to state border policies during CAPA's Australia Pacific Aviation Summit on 2-Sep-2020. Focusing on COVID hotspots for travel restrictions would be better than the "blunt instrument" of shutting down an entire state, said John Hart, executive chair for tourism of the Australian Chamber of Commerce and Industry.
Qantas CEO Alan Joyce has been among the most vocal critics of existing state border closure policies. During a Q&A at the CAPA conference, Mr. Joyce reiterated his view that state border closures have not been based on scientific or fact-based criteria. He urged the development of nationally agreed standards to determine when COVID restrictions should be removed for travel between states or applied in more specific localities. "Business doesn't like uncertainty," he stressed.
While Qantas has enough liquidity to survive state border closures for some time if necessary, the same is not true for smaller tourist operators, said Mr. Joyce. He noted that if the tourist ecosystem disappears in some areas, it will be a big blow for leisure travel and the local economy.
Virgin Australia CEO Paul Scurrah said he agrees with Mr Joyce's calls for "medical [and] fact-based decision making" regarding state borders. He said it "doesn't make sense" when cities with low COVID rates cannot be connected. There should be more of a "market-by-market decision process," Mr. Scurrah said.
Airlines have a role to play in demonstrating benefits of border openings
It is obviously in the airlines' interest to push for state borders to reopen. But there are many other sectors of the economy that need this to happen as well. Nobody can argue that Victoria should remain isolated for now, as it brings its sharp outbreak under control. However, there are other instances where restrictions could be eased or applied more selectively.
Decisions about state border closures have predictably been influenced by political factors, although to a much lesser extent than they have been in other parts of the world. This is why a more objective and predictable approach is an essential step.
Airlines can help reinforce the desirability of opening borders by immediately boosting flights in markets where restrictions are removed. And they have been doing this, providing a stark illustration of the benefits of this approach which politicians and the public cannot fail to notice. This could provide a nudge to other state governments as they consider the remaining domestic restrictions.