Austin Airport prepares for additional routes in 2015 after 2014's big win with British Airways
Analysis
Austin-Bergstrom Airport capped off 2014 by recording 7% passenger growth after reaching a milestone in Mar-2014 with the debut of its first trans-Atlantic service by British Airways on flights to London Heathrow.

Although it is not a hub for any major airline, Austin does have numerous favourable elements that make it ripe for continued growth, including a strong economy, an unemployment rate lower than the US national average and a relatively young population.

Obviously the airport aims to expand its long-haul offerings; but that could prove difficult in the short term given weak macroeconomic conditions in some trans-Atlantic regions. But during 2015 Austin is regaining transborder flights from Air Canada with flights to Toronto, while US domestic airlines also plan some expansion at the airport.
Austin posts strong growth in 2014 as BA records favourable loads on London flights
After breaking the 10 million passenger mark in 2013, Austin's passenger numbers increased by 7% in 2014 to 10.7 million, the largest annual increase since 2011.
Austin-Bergstrom International Airport annual passenger numbers: 2011 to 2014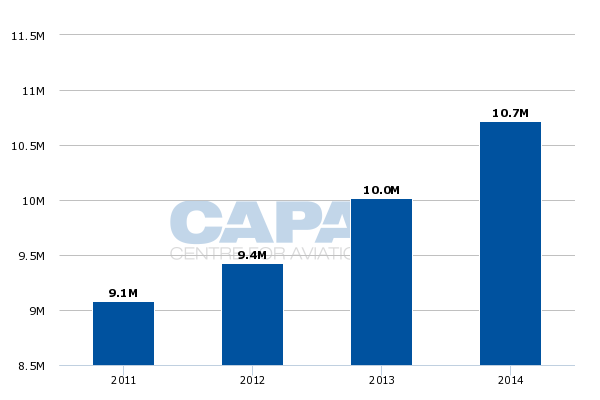 Austin-Bergstrom International Airport annual passenger growth: 2011 to 2014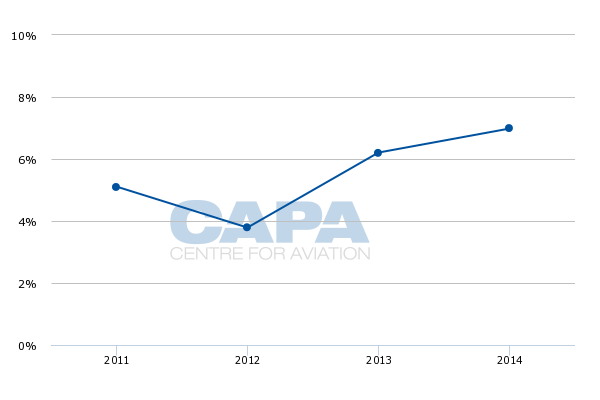 British Airways debuted daily round-trip service from Austin to London-Heathrow in Mar-2014, and the airport estimated that between Mar-2014 and Dec-2014, some 96,973 passenger travelled on the pairing, which represents nearly 14% of the total 700,896 passenger increase reported by Austin for 2014.

The airline placed Boeing 787-8 aircraft on the route, which seemed like an ideal pairing for the 214-seat widebody. At the time it launched flights, British Airways told news outlet USA Today that the 787 offered the unit cost efficiencies of larger aircraft with less capacity, making some markets more viable than they would have been in the past.
Data from CAPA and the US Bureau of Transportation show that between Mar-2014 and Jul-2014, British Airways recorded strong loads on the flights, always above 70% and peaking at nearly 92% in Jul-2014.
British Airways Load Factor from London Heathrow to Austin-Bergstrom International: Mar-2015 to Jul-2014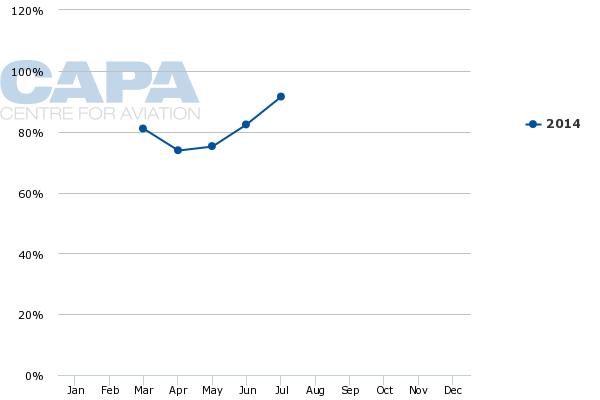 Airline Route in Oct-2014 reported that British Airways plans to place Boeing 777-200ER on the Heathrow-Austin route in Mar-2015 (although BA's schedule filed with OAG shows the 787 continuing into the summer). The airline's 777-200ER widebodies can operate with up to 280 passengers. Perhaps the strong loads on the route warrant a larger aircraft for the pairing, and could signal that the route could reach a certain level of maturity fairly quickly.
BA's partnership with American also helps the viability of Austin flights
Another factor in British Airways' decision to add service Austin, which is a smaller market than some of its North American destinations, was an ability to leverage its relationship with fellow oneworld member and trans-Atlantic joint venture partner American Airlines. Data from CAPA and OAG show for the week of 9-Feb-2015 to 15-Feb-2015 American is the second largest airline at Austin-Bergstrom measured by seats – 17.5% and ASMs – 14.8%.
Austin-Bergstrom International Airport capacity by airline (% of seats): 9-Feb-2015 to 15-Feb-2015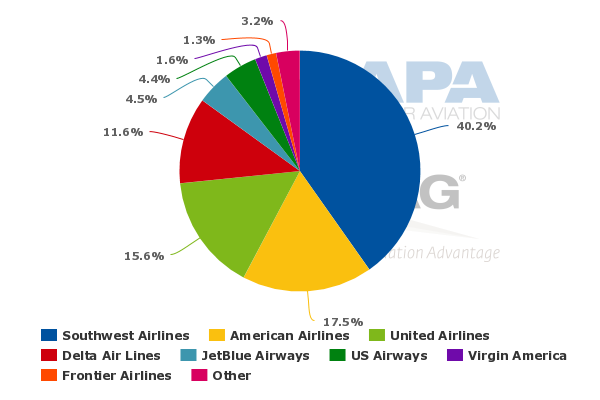 Austin-Bergstrom International Airport capacity (% of ASMs): 9-Feb-2015 to 15-Feb-2015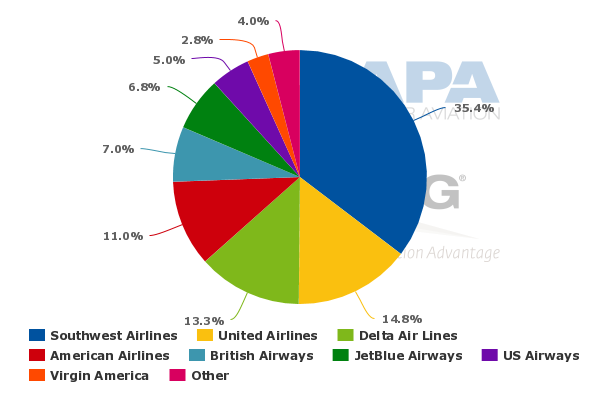 At the time of the Austin launch, British Airways explained to USA Today that going into a market where American has a strong presence helps its performance. American serves its major hubs from Austin – Dallas/Fort Worth, Chicago O'Hare, Los Angeles and New York JFK. It is introducing service to its Miami hub from Austin in Mar-2015.
All of those destinations are served directly by British Airways, but with its level of frequencies American can offer British Airways a certain amount of network utility to presumably provide a good mix of O&D and connecting traffic. US Airways, which is merging with American, also serves Austin from its Phoenix and Charlotte hubs.

British Airways and American can now also market Austin to passengers throughout BA's global network for one-stop connections through Heathrow.
Aside from the long-haul service operated by British Airways to London Heathrow, Austin's other international offering for the week of 9-Feb-2015 to 15-Feb-2015 is service to Cancun operated by Southwest Airlines. Air Canada is returning to Austin with roundtrip flight from its Toronto hub to Austin in May-2015 with 75-seat Bombardier CRJ705 regional jets.

Air Canada's new service follows the establishment of a "music city alliance" between Austin and Toronto in 2013, and should generate a fair amount of O&D traffic. The airline ended flights it previously operated between Austin and Toronto after little more than a year in Sep-2009, citing weak demand driven by poor economic conditions. But with the strong US economy Air Canada can likely generate strong point-of-sale for the latest service to Austin, and leverage connections throughout Canada including some of its larger destinations including Montreal, Ottawa and Calgary.
Austin also gains some additional service from ULCCs Allegiant and Frontier
In addition to new service from American and Air Canada to Miami and Toronto in 2015, Austin is also gaining new flights from Allegiant Air to Orlando Sanford after it launched service to its Las Vegas base from Austin in Oct-2013. Previously, Allegiant has explained that even as it competes with Southwest on the Austin-to Las Vegas pairing, it has actually stimulated traffic in the market, and its presence has not really created pressure for Southwest.

See related report: Allegiant Air works to exploit opportunities created by consolidation in medium sized markets

No other airline offers direct service to Orlando Sanford, but Southwest and JetBlue operate service from Austin to Orlando International. But Allegiant in its typical low frequency fashion is only offering two weekly flights in the pairing, which obviously should not create a market disruption.

Austin's largest airline Southwest is also adding new flights to St Louis and Orange County in Jun-2015. ULCC Frontier is also adding flights from Austin to Atlanta in Mar-2015, adding ultra low-cost competition for Southwest and Delta. Frontier also operates flights from Austin to Denver.
Austin's strong passenger growth is supported by a strong economy
As other small-to-medium size airports have seen their roles altered after consolidation among the US major airlines, Austin has maintained a favourable mix of service from full-service airlines (all the US majors), hybrids (Alaska, JetBlue), ULCCs (Frontier and Allegiant) and the hard to categorise Southwest.

One of the main reasons for Austin's ability to grow is the strong economy of the city's metro region. The city took the top spot for the fourth year in a row during 2014 in Forbes' rankings of fastest growing American cities with 2.5% population growth in 2013. Its economy also expanded nearly 6% in 2013. According to data from the US government, Austin's unemployment rate of 3.2% in Sep-2014 was lower than the average of 5.2% for the state of Texas and 6% for the US.

US government data shows that Travis County, the region where Austin is located, has a median age of 32.6 years. A fairly young population, coupled with a strong economy means that a fair number of Austin's residents have decent levels of disposable income for travel.
Could Austin gain additional service to Mexico?
Obviously Austin aims to land more direct long-haul international service, and in some ways the 787 has proven its mission on the flights from London Heathrow to the airport. But that type of service is years in the making, and other airlines are likely looking at a longer window to gauge the performance of British Airways' long-haul flights.

But in the meantime Austin is still adding service from domestic airlines, and it has good odds of gaining more transborder service if Air Canada's flights to Toronto are successful the second time around. Mexican low-cost airline VivaAerobus served Austin for about year before dropping flights in 2009, citing the H1N1 outbreak. Austin could garner interest from other Mexican airlines as they look to diversify their domestic networks as Mexico's economy is recovering from some weakness during the last couple of years.

Southwest has operated seasonal flights from Austin to Los Cabos, and could consider adding other destinations in the Caribbean and Mexico over the medium to long term as it works to slowly grow its international footprint. However, most of its attention at the moment is focused on the opening of a new international terminal at Houston Hobby in late 2015.
Austin proves that some airports can grow in the post consolidation environment
Austin has charted solid growth during the last couple of years and gained all-important long-haul service. As it works to attract more international and domestic service it has some attributes that make it a reasonably attractive candidate – most notably a strong economy that should be a strong driver for air passenger growth.

Competition for new service remains fierce. But Austin is a strong O&D market that holds good prospects for continued growth, and proves that some non-hub airports have the potential to thrive in a post-consolidated market place.