Atlasjet order for CSeries continues Bombardier's push into new growth markets
Altasjet has become Bombardier's 10th CSeries customer, announcing a Letter of Intent (LoI) for 10 of the larger CS300 variant at this week's Dubai Airshow. The announcement is another fillip for Bombardier's CSeries sales campaign and a strong order from the relatively small Turkish regional carrier. The LoI also includes options for five more CSeries aircraft. The LoI is expected to be firmed up within the next two months.
The LoI is Bombardier's first sales success for the CSeries in Eastern Europe. Bombardier has been pursuing sales among European regional carriers, but the economic climate in Europe has not been conducive to aircraft orders. Slowness in the US economy has also had an affect on regional jet ordering. As a result, more than 50% of CSeries orders have been placed by airlines outside of North America and Western Europe.
Bombardier is also pursuing sales in China, where the domestic air traffic market is expected to hit close to 500 million passengers p/a by 2016. Earlier this year, Bombardier and Beijing-based ICBC Financial Leasing Co signed an agreement under which ICBC will provide Bombardier's customers with advance payment financing, delivery financing and leasing solutions for the Q-Series, CRJ Series and CSeries commercial aircraft. The capital available from ICBC Leasing totals up to USD8 billion for both domestic and international transactions. In Oct-2011, Bombardier and an unidentified Chinese customer announced an order for six CRJ900 regional jets. China Eastern, China Express Arlines, China Ocean, Shandong Airliens, Shanghai Airlines and China United Airlines all already operate CRJ aircraft.
Atlasjet to continue regional expansion
Atlasjet is based at Istanbul's Atatürk International Airport, but also has hubs at Izmir and Antalya. The carrier is operated and managed by Ersoy Turistik Servisleri, a conglomerate of travel companies. It operates a fleet of 17 aircraft, a mix of A320-family, A330 and B757 aircraft on scheduled and charter services.
The company expects to add 15 new aircraft to its fleet within the next five years. The CSeries aircraft are reportedly due for delivery from early 2016, and will supplement the larger aircraft by allowing the carrier to open up routes to secondary airports and smaller regional destinations.
Atlasjet is also involved in the expanding pilot training market in Eastern Europe. In cooperation with Anadolu University, it provides pilot training programmes at the Atlantic Flight Academy (AFA). The carrier hopes to build AFA into the largest pilot training centre in Turkey over the next few years, operating 20 training aircraft by the end of 2020.
Turkey continues to experience exceptional traffic growth, averaging double-digit expansion in passenger demand and airline capacity since 2008. Turkish airspace is expected to add close to 500 extra flights per day between 2010 and 2017, an average growth of 6% p/a – more than double the European average. However, growth in the Turkish domestic market is expected to slow somewhat from 2012, as a result of easing economic growth in the country.
Turkey commercial airlines seats per week (% change): 2002 to 2010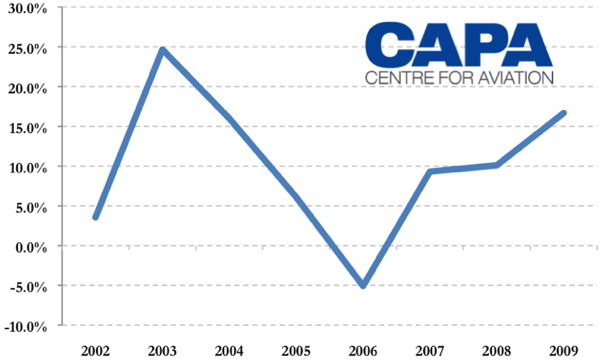 Atlasjet has significant plans not only for Turkey, but for nearby countries. It has been involved in efforts to set up airlines in Iraq and Russia. In May-2011 Atlasjet announced that it was close to acquiring two companies to establish two new subsidiaries – Atlasjet Russia and Atlasjet Iraq – before the end of the year. The carriers are expected to be operational next year.
In 2010, the carrier announced a JV agreement in Russia with NPO Mostovik and the Omsk Regional Governorate situated in Siberia. Under the JV, Atlasjet would invest up to USD110 million to develop an airline and participate in the construction of Omsk-Fedorovka International Airport, which commenced initial development work in Aug-2011 and is due to be opened in 2013. The airport will initially have a capacity of one million passengers, which could be expanded depending on future demand.
Bombardier: Reason to be optimistic for 2012
Bombardier will be entering 2012 with mixed feelings for its CSeries narrowbody. On one hand, it faces renewed competition. Airbus has its wildly successful A320neo and Boeing its newer B737 MAX, whose specifications have not been confirmed. Between them, they have gathered more than 2100 orders and commitments in less than 12 months. Getting into the narrowbody market is clearly a tough proposition and Airbus and Boeing have shown they are willing to aggressively defend their market space.
The CSeries programme is also clearly under threat of delays, a fact of life that appears almost inescapable for major aircraft development programmes of recent years. Bombardier has eaten deep into the contingency margins for the aircraft programme, yet it is adamant the first aircraft will enter service in late 2013. Bombardier admits the timeframe is a "challenge" and it is "up against the wall" for the schedule, and has even hinted that it may have to juggle some plans to ensure the aircraft debuts on time.
At the same time, the CSeries has had its most successful year for sales. 2011 has seen 73 aircraft orders and commitments from seven different customers. This is a major change from 2010, when just one customer, Republic Airways, ordered the type, albeit for 40 aircraft, the largest single order for the CSeries to date.
Bombardier CSeries orders and commitments
| Firm orders | Orders/commitments | CS100 | CS300 |
| --- | --- | --- | --- |
| Braathens Aviation/Malmo | 10 | 5 | 5 |
| | 30 | 30 | 0 |
| | 10 | 0 | 10 |
| Lease Corporation International | 20 | 3 | 17 |
| | 40 | 0 | 40 |
| Undisclosed | 23 | 23 | 0 |
| Commitments | | | |
| Ilyushin Finance | 10 | 3 | 7 |
| | 10 | | 10 |
Embraer's announcement that it will not develop a competing product but instead will concentrate on a "second generation" to its popular E-Jet family, adding a new wing and engines and possibly stretching the type to around 130 seats, has a mixed outlook for Bombardier. Bombardier does not face the outlook of competing with an all-new aircraft type – although a new type would not enter service for a number of years until after the CSeries. But Embrarer's re-engining will close the gap between the CSeries and the E-jet, potentially limiting sales for the CSeries.
While Bombardier has not had the triple-digit sales success of Airbus or Boeing, the CSeries is beginning to make an impression. With more customers in the CSeries order book and sales success slowly building – Garuda Indonesia and Gulf Air are being lined up as customers – the company has reason to be optimistic that it can hit its target of 300 orders before the first aircraft enters service.