Asiana could join ANA in having a second LCC subsidiary. While complicated, it could work
Analysis
Dual-brand strategies are most prevalent in Asia, and remain largely a regional phenomenon. As Asiana Airlines considers establishing a low-cost carrier in Seoul, a second trend begins to emerge: carriers with two short-haul LCCs in the same country. Asiana's proposed Seoul carrier would join Busan-based Air Busan, and Asiana would imitate All Nippon Airways, which has Osaka-based Peach and Tokyo-based Vanilla Air.
These are not ideal outcomes given the loss of synergies and scale. But they are also very complex situations that do not permit the same strategic response as might be found in another market. For both Asiana and ANA to have two short-haul LCCs may be considered extreme, but perhaps useful if Asiana is at last to participate effectively in Seoul's low-cost market, where independent Jeju Air has become Seoul's third-largest international carrier. Starting fresh, rather than expanding Air Busan, may be the only solution.
Asia's airlines operate many brands, not always for good reasons
Most Asian full-service carriers have a dual-brand strategy involving a short-haul low-cost airline. The major exceptions are Cathay Pacific and Malaysia Airlines, as well as Chinese carriers (although this is quickly changing). Some carriers even extend their dual-brand strategy to the long-haul spectrum: Singapore Airlines has Scoot and Thai Airways an indirect stake in Thai-based JV, NokScoot.
Here the strategy is relatively easily understood as capturing (or better capturing) a section of the market the full-service carrier cannot. The LCC brand can also stimulate growth for an airline group.
But there is often a gap between having a dual brand and having a clear dual brand strategy. That is not necessarily a failing. In the volatile and fast-changing Asian market, experimentation is an essential part of ensuring a future place in the market, especially as that market increasingly consists of much larger proportions of (i) short haul and (ii) low price-tolerant travellers than in the past. The high quality (and often high cost) brands that most Asian network airlines have established over the years are rarely adequate to cater for these new markets.

Where the situation becomes cloudy is in the case of overlap. Examples in Thailand and Japan provide a comparison. Thai Airways established narrowbody operator Thai Smile with the objective of it being a hybrid carrier and opening new routes for the group, as well as taking over routes where its cost base and proposition was more appropriate. Internationally Thai Airways only operated widebody aircraft.
But Thai Smile never achieved a low enough cost base and has effectively become a short-haul quasi-full-service extension of Thai Airways. There is space for Thai Smile, and the carrier is not entirely a folly. But this has nonetheless left the Thai Airways group without a short-haul international carrier, which the group may seek to fill. Thai has only a minority stake in Nok, which prefers to concentrate on Thailand's domestic market. Meanwhile Thai AirAsia, Thai Lion and possible Thai VietJet are happy to grow Thailand's short-haul international market.
In Japan, ANA's two LCCs are a byproduct of complicated situations and local culture. ANA's first LCC, Peach, was established with a minority interest from ANA to finally give it a role in the short-haul LCC market, which it had been "studying" for some time. (There were meanwhile also talks between competitor Japan Airlines and the Jetstar Group.)
ANA's second LCC, then-AirAsia Japan, came about when the AirAsia Group came close to signing an agreement with Skymark Airlines. ANA effectively decided it was better to have two LCCs then give an aggressive domestic competitor open access. There was some strategy at play as Peach was based in Osaka Kansai and AirAsia Japan would be based at Tokyo Narita, although eventual overlap was likely. ANA took a majority 51% stake.
As the ANA-AirAsia Group relationship soured, ANA bought out AirAsia's stake in AirAsia Japan, taking full control of the airline and re-launching it as Vanilla Air. While there was some consideration of having Peach take over the operation, no agreement materialised. Peach was running a tight show and wanted to keep ANA's involvement at arm's length. ANA meanwhile did not want to simply end its LCC experiment. Doing so would have meant failure, an emotional topic locally. Exiting would also leave the Tokyo market for the partially JAL-owned Jetstar Japan.
Neither the Thai Airways nor ANA scenario is ideal and would be unlikely to occur in Europe or North America, where emotion takes second seat to strategy and pragmatism - although not necessarily better strategic thinking.
Asiana's existing LCC, Air Busan, may not be worth re-structuring
The looming scenario at Asiana Airlines is different from ANA, but with the same basic themes: corporate pride and complicated relationships.
Korea was home to North Asia's first LCC movement, with a number of carriers establishing themselves in the mid-2000s. This comprised independent carriers as well as low-cost units from Korean Air (Jin Air) and Asiana (Air Busan).
Air Busan has had a difficult existence. It is only 46% owned by Asiana, with the rest largely held by the Busan government as well as Busan businesses. Promoting air service to Busan was the obvious objective; Air Busan does not fly internationally from Seoul, Korea's capital and largest market by far.
Air Busan operates a mixed fleet of Airbus and Boeing narrowbodies, but with only a handful of each, limiting scale.
Air Busan Fleet Summary: as at 28-Apr-2014
All of Korea's LCCs are primarily domestic carriers, with at least 60% of their passengers being domestic in 2013, according to Korean data. Routes are few but mainly comprise services to Jeju, a popular island off the coast of Korea that is not served by Korea's efficient KTX high-speed rail.
Korean LCC passenger share between domestic and international markets: 2013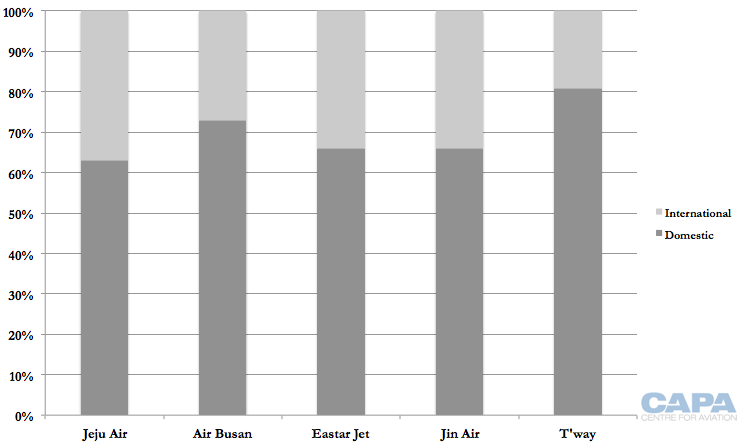 Air Busan has the highest exposure to the domestic market of Korea's largest LCCs. About 73% of its passengers in 2013 were domestic. T'way had a higher share of domestic passengers at 81%, but its fleet was about a third smaller.
Korean LCC fleet: 31-Dec-2013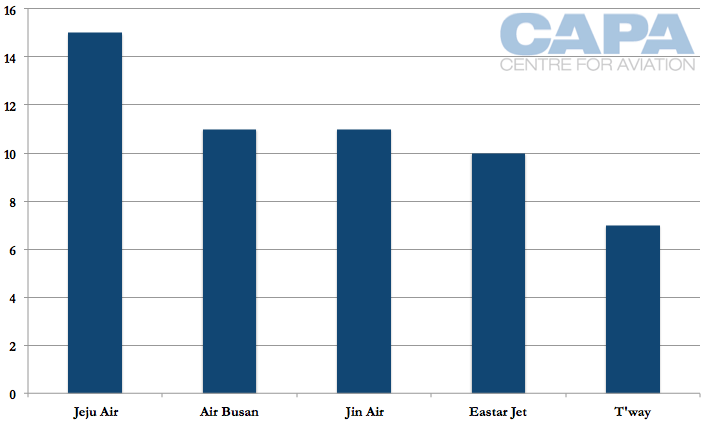 Air Busan plies the Busan-Seoul route that became unprofitable for Asiana since the Korea Train Express (KTX) launched service. High-speed rail between Busan and Seoul is typically faster, cheaper and more convenient. None of Korea's other LCCs serves domestic routes that do not go to/from Jeju.
Given Air Busan's needed re-structuring, and complicated ownership that is understandably biased towards the Busan market, Asiana has likely decided that it is easier to start afresh in its plans to serve the Seoul market. The strategic outlook presumably comes from Asiana's new CEO, Kim Soo Cheon, who was previously the CEO of Air Busan. The proposed Seoul-based LCC largely marks his first major strategic initiative.
Indeed, such is the slow pace of change in Korea and at Asiana, the proposed LCC is one of Asiana's more notable occurrences in recent years.
See related report: Korean aviation in flux. Asiana's new CEO comes from LCC Air Busan; AirAsia Korea files application
Asiana is absent from the LCC market in Seoul; Jeju Air is the third-largest carrier in Incheon
While Air Busan ended 2013 as Korea's second-largest LCC, this was mainly due to unprofitable Busan-Seoul services.
Korean LCC passengers (millions) by market: 2013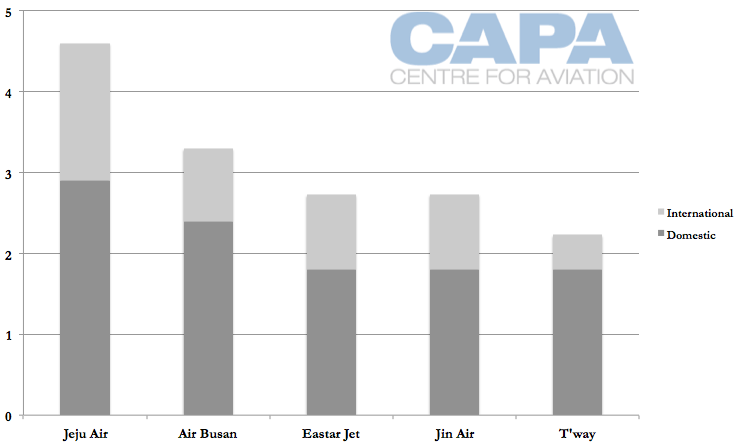 Georgia, 'Times New Roman', Times, serif;">Source: CAPA – Centre for Aviation and MOLTGeorgia, 'Times New Roman', Times, serif;">
More critically, Air Busan is absent from Seoul's international market. Jeju Air has shown this to be a large market for LCCs. Jeju Air in 2013 was Seoul Incheon's third largest carrier by passenger volume, placing Jeju Air behind Korean Air and Asiana.
While there is a large gap between Jeju and Korea's two full-service carriers, Jeju's position as third-largest is an improvement over its 2012 ranking as seventh-largest carrier.
Seoul Incheon's top 10 carriers ranked on passenger volume: 2012-2013
Rank

2013

Rank

2012

1

13,874,114

1

14,058,318

2

10,155,042

2

9,602,680

3

1,322,668

3

1,158,424

4

1,268,583

4

1,046,374

5

1,052,491

5

977,691

6

1,024,227

6

Thai

855,970

7

Thai

903,796

7

790,976

8

849,580

8

753,201

9

Jinair

753,958

9

Jinair

654,555

10

Eastarjet

643,615

10

598,304
From Seoul Incheon, Jeju in Mar-2014 offered about 14 daily scheduled international flights, comprising Bangkok (double daily), Cebu (daily), Fukuoka (double daily), Guam (double daily), Hong Kong (daily), Manila (daily), Nagoya (daily), Osaka Kansai (daily) Qingdao (daily), Tokyo Narita (double daily), Weihai (3x weekly).
In North Asia's laggard LCC environment here are considerable opportunities to stimulate traffic, as Jeju and foreign LCCs like Peach and Vanilla Air have shown. The Chinese market holds huge potential given the leisure and short-haul nature of demand. But there are limitations in bilateral agreements and increasingly on "charter" services. (Korea's LCCs offer numerous charter services to China.)
The challenge for Korean carriers is to prevent foreign LCCs from dominating. The threat of AirAsia being interested in a local Korean operation is a jolt, even if its approval chances in the near future are limited.
For Asiana, it faces the additional challenge of not even having a low-cost presence in its country's largest city. Instead, an independent Jeju Air has successfully manoeuvred and captured demand out of Seoul, although there is undoubtedly much growth remaining to be unlocked. Whatever the past reason was as to why Asiana did not have a low-cost presence in Seoul (presumably concerns about self-cannibalisation), that thinking has clearly changed.
Asiana is also in transition as it seeks to reduce its exposure to short-haul flights (which are competitive with LCCs) and instead to have more exposure to the long-haul market. Asiana has already implemented an all-economy configuration on some A320s to better compete locally. An LCC in Seoul would allow Asiana to compete like-for-like.
See related report: Asiana Airlines prepares for A380 deployment to increase its proportion of long-haul flights
The challenge is for Asiana to create a genuinely successful LCC. Cost bases are currently not low enough at Korean LCCs. There is much room for efficiency and for increasing ancillary revenues, even at Jeju Air. There are some arguments that Korean consumers are not ready or do not want low-cost service. But the same has been consistently wrongly said of past markets, and the growing presence of foreign LCCs indicates otherwise.
So the Korean LCC environment is not easy, and yet Asiana will face the additional challenge of balancing a dual-brand strategy, which is no small task. There are more examples of dual-brand failures than dual-brand successes. Asiana's dual-brand strategy will contrast to Korean Air's apparent approach of suppressing its LCC, Jin Air, in favour of Korean Air's full-service operation.
LCCs are the fastest-growing carriers in Korea
Korea is home to the world's largest city pair route (by seats), Seoul-Jeju. This city-pair dominates the domestic market, which in 2013 increased 3.5% to 22.4 million passengers. Both Asiana and Korean Air grew below this average while Korea's LCCs grew 5-7% (albeit from a lower base).
Korean carrier domestic passengers carried and growth: 2013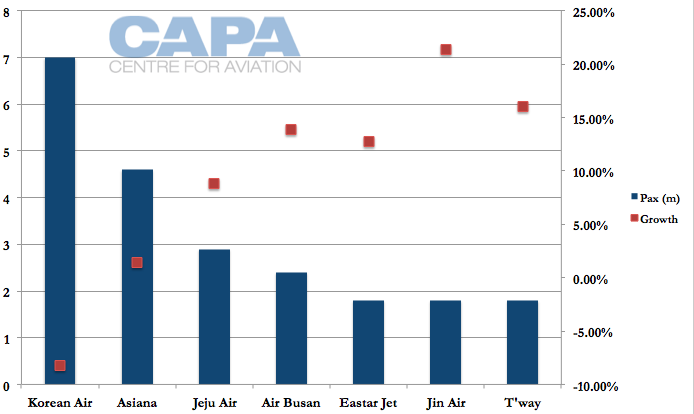 Georgia, 'Times New Roman', Times, serif;">Source: CAPA – Centre for Aviation and MOLTGeorgia, 'Times New Roman', Times, serif;">
LCCs accounted for just under 50% of Korea's domestic market, showing a further 5ppt gain from 2012's 44% figure. In 2007 LCCs accounted for only 7% of seats.
Korea domestic market share (passengers flown) by carrier: 2013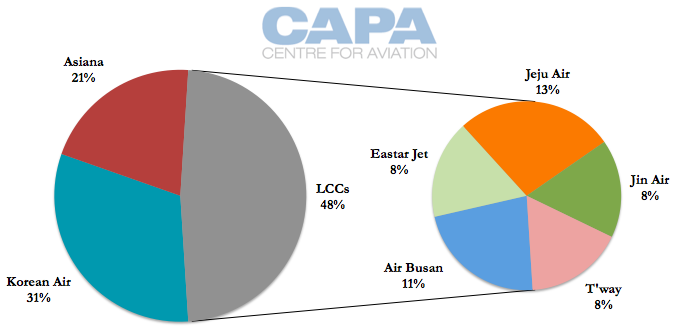 Georgia, 'Times New Roman', Times, serif;">Source: CAPA – Centre for Aviation and MOLTGeorgia, 'Times New Roman', Times, serif;">
Korea domestic market LCC penetration rate (passengers flown): 2007-2013

Korea's international market in 2013 grew a much faster 6.9% to 51 million passengers. Growth varied considerably by carrier. Foreign carriers grew 11.5% to carry 17.7 million passengers, or about a 35% share of the market - an extremely low level by international standards, where the proportions tend to be reversed.
Korean airlines on average grew 4.6% to 33.3 million passengers. But as with the domestic market, Asiana and Korean Air growth rates were below average (in fact, Korean Air shrank 2%) while the LCCs grew on average 36.9%. This is the average between Jin Air's more modest 12.6% growth and the 44.6% growth from Jeju Air. (Air Busan and Eastar Jet had higher international growth rates, but from a much lower base.)
Korean market international passengers carried (millions) and growth by carrier type: 2013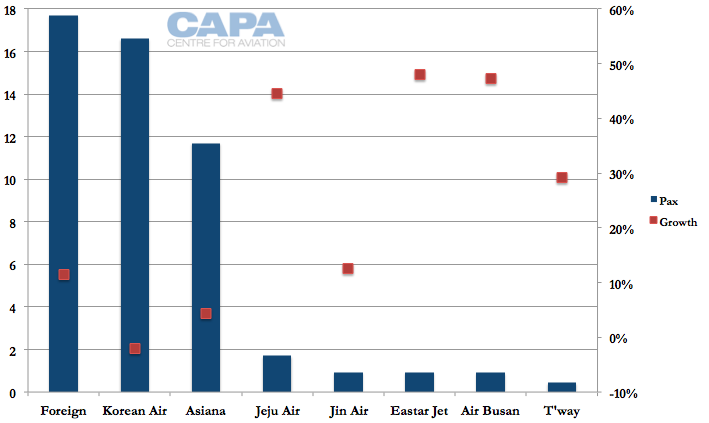 Georgia, 'Times New Roman', Times, serif;">Source: CAPA – Centre for Aviation and MOLTGeorgia, 'Times New Roman', Times, serif;">
In the international market Korea's LCCs accounted for only 10% of passengers (this excludes foreign LCCs). This is a 2ppt gain from 2012, and an increase from the 2% figure of 2010.
Korea international market share (passengers flown) by carrier: 2013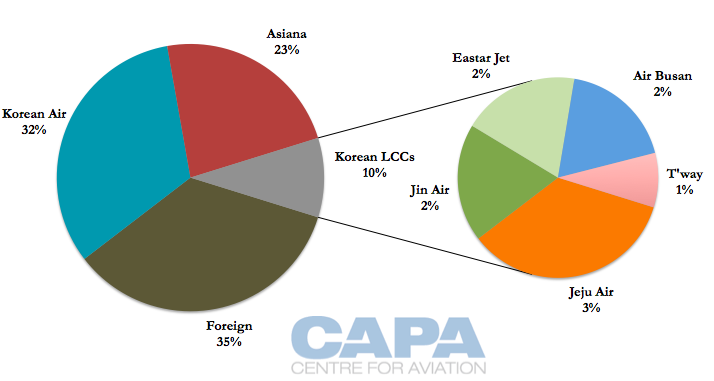 Georgia, 'Times New Roman', Times, serif;">Source: CAPA – Centre for Aviation and MOLTGeorgia, 'Times New Roman', Times, serif;">
Korea international market Korean LCC penetration rate (passengers flown): 2007-2013

Korea embarks on the next phase of LCC evolution - with lessons to be learned
North Asia comes late to the global trend to LCC adoption. By contrast, Southeast Asia has easily the largest proportion of (genuinely) international LCC operations in the world. In the process of evolution to the south, several key pointers can be deciphered. Unfortunately most have so far been ignored as they translated to the North.
One has been the lesson that timidity in establishing only part-owned LCCs can easily backfire on legacy airlines. Singapore Airlines for example was only prepared to dip its toe into the water with Singapore based LCC Tiger Airways (now Tigerair), taking only a minority share and progressively increasing its role in the airline since then - including in Tigerair's Australian entity, where it is being used to help cement a relationship with Virgin Australia (in Tigerair Australia's case, SIA has decreased its indirect stake). Thai Airways has vacillated among subsidiaries and part-subsidiaries; for example Thai established a minority share in LCC Nok Airways. And there are lessons to be learned from the Japanese experience with minority shareholdings and various partnership formulae.
With the announcement of a wholly owned - and potentially genuinely low cost - LCC, Mr Kim is apparently reading the signs accurately.
Korea's LCCs have yet to hit saturation internationally, where there is potentially a much larger market than domestically, which is very competitive and ultimately needs rationalisation.
International markets also hold higher growth prospects, and Seoul remains Korea's flagship attraction, from which Asiana has been absent. While a presence with a second LCC brand may be complicated, Asiana could make it work. Indeed, there may not be another plausible solution given the unique circumstances. There will be implications for Air Busan, but these are minor, especially considering the larger picture of quiet and conservative Asiana finally taking a more prominent role in Asia's growth.
There is another priority too. Korea has been singularly successful in rejecting advances of foreign LCCs anxious to establish in the country with JVs. This will not continue forever and given Korea's very low foreign airline penetration, Asiana will be aware that it is time to grasp the nettle and move beyond the more timid moves into this sector that it and Korean have so far taken.