Asiana Airlines' losses continue in 1Q2014 as capacity growth drags down yields despite fuel savings
Analysis
Asiana Airlines continues to diverge from Korean Air, which cut capacity and grew revenue while returning to the black. Not so for Asiana, which in 1Q2014 grew capacity but reported a 4.1% international yield decrease. While its situation improved, Asiana remained in the red. Lack of stability in the Korea-China and Korea-Japan markets, large in overall size and yield, continue to impact Asiana.
Asiana benefitted from reduced fuel costs, but unlike Korean Air did not display large cost discipline in other areas of its business.
Further changes do not paint a rosy picture as North Asia-Southeast Asia and North America-Asia competition increase. Asiana wants to reduce its exposure to short-haul traffic, requiring growth in long-haul services as well as to Southeast Asia for transfer traffic. Incremental long-haul expansion is occurring to Istanbul, Paris and Seattle while Asiana's recently-delivered A380 will help accelerate long-haul growth.
Asiana Airlines improves operating loss in 1Q2014
Although Asiana Airlines' 1Q2014 non-consolidated revenue saw a 0.4% decrease, costs decreased by a faster 1.5%, leading to an reduced operating loss of KRW17200 million (USD16 million). This represents a negative 1.3% operating margin, a 1.1ppt improvement from 1Q2013's negative 2.4% operating margin.
Asiana Airlines summary: 1Q2014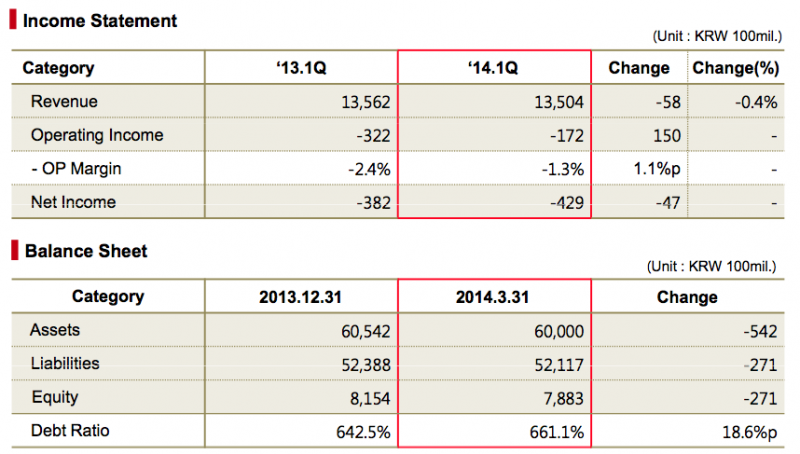 Asiana's peer Korean Air also reported an improvement in 1Q2014. But unlike Asiana, Korean Air returned to the black, although at an operating margin under 1%.
See related report: Korean Air returns to profit in 1Q2014 on the back of yield recovery and cost discipline
Reduced fuel bill leads to cost improvement
Asiana's lower operating costs in 1Q2014 is notable given the carrier's capacity expansion. Continuing a current theme of aviation, Asiana is benefitting from lower fuel prices. Asiana's 1Q2014 fuel consumption increased 1.5%, but a 4.3% drop in Asiana's average fuel price helped see overall costs decrease.
Asiana Airlines fuel cost and consumption: 1Q2014 (KRW100 million)

Lower fuel prices are the key cost improvement at Asiana, but other cost areas saw improvement: labour and lease rental increased below capacity expansion while sales commission decreased despite the increased capacity and load.
There were large changes in depreciation/amortisation and maintenance, but these polar swings are generally consistent with fleet changes; in Asiana's case they nearly balance each other out.
Asiana Airlines cost breakdown: 1Q2014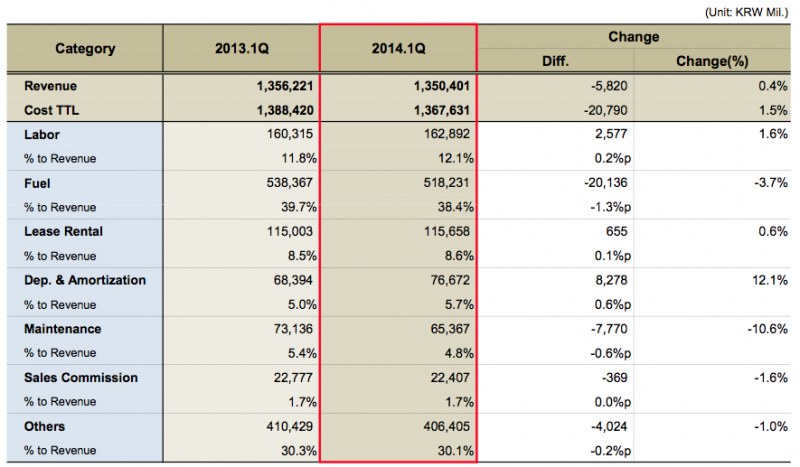 Again comparing Asiana to Korean Air, Asiana's cost discipline was less noticeable compared to Korean Air. Korean Air decreased its staff costs almost by a comparable amount to its fuel price reduction.
Passengers contribute two-thirds of revenue
Asiana in 1Q2014 saw about two-thirds of its revenue come from passenger divisions. This is the same from 1Q2013 but with a change in mixture as domestic passengers decreased their share by 1ppt while domestic increased by 0.9ppt.
Asiana revenue breakdown: 1Q2014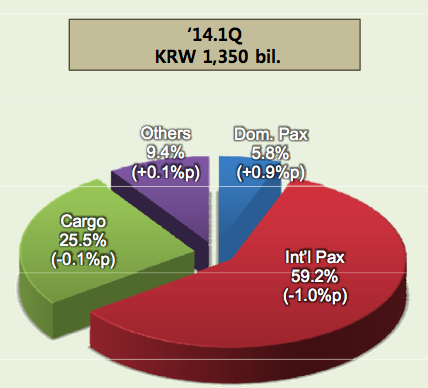 Cargo held about flat with a 26% contribution to the business, a high and worrying exposure given the continued under-performance of the cargo sector in Asia.
Asiana's international result drags down performance
The largest difference between Asiana and Korean Air is in the international market. Korean Air practiced capacity discipline with an overall 2% reduction in ASKs but 0.3% increase in revenue – the right side of the fence to be on. Asiana, however, increased ASKs by 2.4% in the international market and saw a 4.1% decrease in yield.
Asiana Airlines international performance: 1Q2014

Asiana continues to take a long-term view that it must re-focus its business by reducing its exposure in short-haul markets. Asiana sees the short-haul markets of Japan becoming over-competitive. LCCs are entering while the yen's depreciation and won's gain makes it more expensive for Japanese to travel abroad. Further, there are political tensions that are reducing travel demand even more. This is all impacting Asiana's service to Japan's smaller cities that are primarily outbound markets.
To address these smaller markets in Japan, Asiana in 2013 introduced a single-class A320 that removed business class seats. Asiana has mentioned an unspecified revenue benefit from this change, implemented on eight aircraft.
Asiana's re-direction is to long-haul markets, Oceania but mainly North America where Seoul Incheon is a convenient hub for North America-Asia traffic flows. Asiana does not report traffic figures by region, but using OAG data we can construct an approximate share of Asiana's capacity and year-on-year changes. Both North America and Europe saw capacity gains. However, North American revenue decreased for Asiana while European revenue increased faster than capacity gains. Korean Air saw North American revenue fall in line with decreased capacity while European revenue grew significantly above capacity growth.
Korean Air generally reported good trends amongst its revenue and capacity balance. But not so for Asiana. China (a large market), domestic Korea and the CIS (a very small market) saw revenue growth above capacity changes, although Chinese yields are recovering from previous lows. Oceania saw a decrease in revenue despite increase in capacity while Japan's revenue contribution fell twice as fast as the decrease in capacity, worrying considering the high yields in the Korea-Japan market.
The big worry is in Southeast Asia where a nearly 4% increase in revenue was significantly below the approximately 18% increase in capacity. The short-term prospects are not encouraging. New Southeast Asian LCCs like Thai AirAsia X and NokScoot will target Korea. At the same time, Asia's full-service carriers are competing in North Asia-Southeast Asia traffic flows.
Asiana Airlines revenue and capacity change by region: 1Q2014
| | | |
| --- | --- | --- |
| Region | Revenue Change | Capacity Change |
| SE Asia | 3.8% | 17.8% |
| | -10.4% | 1.9% |
| | 9.6% | 3.5% |
| | -20.5% | -8.9% |
| Domestic | 18.0% | 16.5% |
| | 11.8% | 6.8% |
| Oceania | -3.3% | 7.9% |
| CIS | 9.4% | 1.6% |
And all signs point to developments close to home as Korean Air's LCC Jin Air is likely to launch long-haul low-cost flights. The concern is Asiana's development in long-haul traffic and required Southeast Asian transfer flights is coming too late. Asiana will have to bed down its Southeast Asian performance at the same time there are significant structural changes in the market.
Cargo volume increases but at the expense of yield and load factor
Asiana's cargo division saw mixed performance. Asiana expanded ATKs by 1.8% and saw a 1.4% increase in RTKs, leading to a 0.3ppt decrease in load factor. Yields declined 1.6%, continuing the cargo trend of reasonable demand but over-supply leading to weak yields and load factors.
Asiana Airlines cargo operating performance: 1Q2014

Asiana is encouraged that its two largest cargo segments – machinery and electronics – saw tonnage grow by 11.4% and 5.5% respectively.
Asiana Airlines cargo uplift by commodity: 1Q2014

Within these two categories, car parts increased by 26%, TV parts by 103% and wireless goods by 31%. Car parts are part of Asiana's machinery category while TV and wireless goods are part of the electronics category in the graph above.
Asiana Airlines cargo improvement by select item: 1Q2014

Asiana saw decreases in commodity type, such as chemicals and textiles. For the short-term Asiana will end its Penang cargo operation while looking to extend its cargo network through alliances with other airlines. Asiana hopes to increase carriage of mobile and UHD TV parts while also accommodating temperature-sensitive goods such as medicine and fresh food, although this is a strategy being followed by multiple airlines.
Asiana will mount a long-haul expansion
On the passenger side, Asiana will add one frequency to Istanbul (going to five weekly services), one to Paris CDG (also to be five weekly) and two weekly flights to Seattle (to offer a daily service). Limited charter service will be introduced to Barcelona. Growth in China is through new and expanded scheduled flights as well as charter flights.
However, the recent expansion of the Korea-China bilateral agreement achieved less than hoped for on Korea's side. In Southeast Asia Asiana is adding two weekly flights to Kalibo and three weekly flights to Hanoi. No growth projections have been given. Asiana has extended its partnership with Star partner Singapore Airlines to cover Asiana's Seoul-North America flights, but this is expected to deliver a small increase in passenger numbers.
Asiana in 1Q2014 took delivery of its first A380, which will help Asiana expand its long-haul presence. Asiana ended 1Q2014 with 72 aircraft.
See related reports:
Asiana Airlines fleet: as at 31-Mar-2014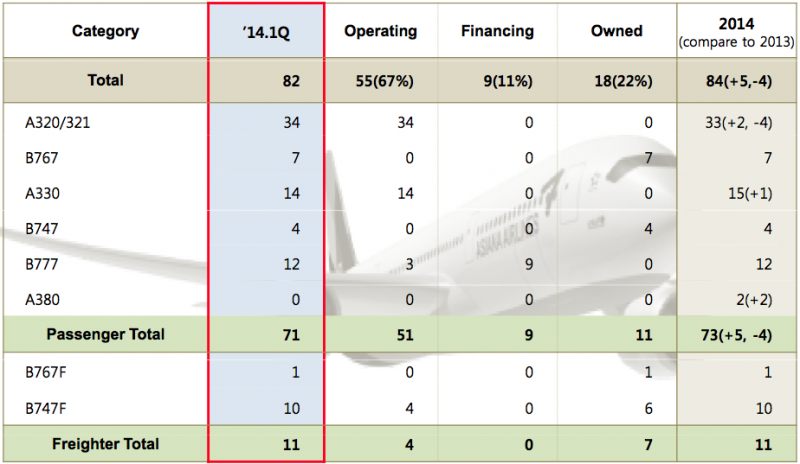 Outlook: Asiana remains focused on the long-term
Asiana Airlines continues to bear the short-term pain of a long-term business plan change, as short-haul market disruption continues.
Capacity guidance is unclear, suggesting the situation could get worse before it gets better as North Asia-to-Southeast Asia competition increases while North America-Asia capacity expands ahead of demand.
Asiana has never been at the forefront of change, and having to play catch up will continue to create considerable challenges for the airline.