Asiana Airlines CEO embarks on restructuring programme: "We're in a desperate situation"
Analysis
Asiana Airlines is embarking on Northeast Asia's largest airline restructuring programme since the 2009 bankruptcy of Japan Airlines. Asiana will need to prove that it is not too little, too late. It has failed to seize growth opportunities and is a distant second place competitor to Korean Air. This is unlike two of its peer Northeast Asian markets: previously second place All Nippon Airways has surpassed JAL, while in Taiwan EVA Air rivals or exceeds flag carrier China Airlines in certain segments. "We're in a desperate situation where an intensive overhaul is necessary not as a temporary prescription but for our survival," Asiana Airlines CEO Kim Soo-cheon said.
Asiana attributes its situation to growing LCC competition, but this is only part of the problem. Asiana has been too dependent on full service regional traffic. It neglected the Seoul LCC market and is less than half the size of Korean Air's long haul operation. Its regional schedule is weaker than that of its competitors, its corporate culture too rigid, and Korea's regulator has shown concern with Asiana's recent safety incidents. Asiana's new Seoul-based LCC Air Seoul, which appears to have a limited remit, and the suspension of two regional flights hardly amount to an "intensive overhaul", let alone to measures that will result in Asiana realising its potential as a stronger challenger in Korea and Asia. There is much opportunity. Failing to grasp it risks Asiana being entrenched as a lower tier player.
Asiana's warning is unusually direct – perhaps intended to get unions onboard
Northeast Asia's airlines often keep a low profile (perhaps too low). They portray themselves as constant, steady ships where everything (as far as the public should be concerned) is fine. It was thus a particular shock when Asiana Airlines CEO Kim Soo-cheon, in announcing a restructure, said: "We're in a desperate situation where an intensive overhaul is necessary not as a temporary prescription but for our survival... If we turn our mentality and attitude back to when we were a start-up and put all our efforts in, by the time our normalisation measures come to an end in 2017, we will be a company that has secured sustainable growth with regained competitiveness."
Theatrics may have been intended. There could be reasons. Mr Kim may want the public's support, in general and in an advance response to push-back from employees. The words could also have been intentionally strong (or even an exaggeration) in order to bring labour to the negotiating table.
Shortly after the restructuring was announced, the Asiana Airlines Labor Union (representing cabin crews and other employees) criticised their management. There was a sit-in protest at Seoul Gimpo airport. Local media have been covering the developments.
Union statements have sought to divert attention away from the airline and towards the larger chaebol of which Asiana is a part, although some union statements do specifically blame the airline - just the management, and not front-line or rank-and-file employees.
"Asiana's problems resulted from its parent group's failed takeover of Daewoo Engineering & Construction and Korea Express," the Labor Union said, as reported by the Korea Times. "The carrier's debt-to-equity ratio was about 200 percent before it was forced to borrow money to help finance the acquisition of the two entities in the late 2000s. After that, the ratio soared to 700 percent....The CEO and senior executives, not workers, must make sacrifices to get the company back on track."
The Kumho Asiana Group is complex, with various issues and a recent ownership change. However, as this report will discuss, irrespective of group matters Asiana has a structural strategic disadvantage that must be reversed to ensure it does not become a permanent second tier airline.
The restructuring plan is not strong. But it should be
Asiana is hardly on the brink of collapse, and its situation does not come close to comparing with what JAL experienced last decade, or the situation that some airlines in Southeast Asia and Europe currently find themselves in. But Asiana does need to change and seize opportunities it has routinely passed up. Contrary to what may be implied by Mr Kim's remarks, the restructuring plan is not the "intensive overhaul" it needs to be.
The restructuring plan so far consists of the following core measures: a new Seoul-based LCC to serve the LCC market that Asiana has ignored from Korea's largest city; removing first class from all aircraft except A380s; finally committing to lie-flat business class seats (not on all long haul aircraft), and exiting three regional routes (Bali Denpasar, Vladivostok and Yangon).
See related report: Asiana Airlines Part 1: Air Seoul approval received. Asiana has a window to regain LCC initiative
Asiana has not directly commented on links between its situation and MERS, but some Korean media reports have. It is true that Korea experienced a significant dip over the peak summer travelling season due to overblown fears about MERS (and the country's mismanagement of it). Jun-2015 visitor arrivals dipped to 2010 levels, while Jul-2015 figures dipped to 2009 levels.
By Oct-2015, visitor arrivals were back to record levels, even if growth (based on just two months: Oct-2015 and Nov-2015) is not as fast as before. If slow growth continues, it is likely because visitors are finding Japan – with a decreasing exchange rate and increasing seat capacity – a more alluring market. (This hypothetical argument ignores the outbound Korean market, a larger segment for Asiana, although the won is weakening.)
As this report will examine, Asiana's predicament is not the result of a few months of a situation that has now passed; it is the consequence of years of slow strategic change. There is proof when comparing Asiana with Korean Air: Korean Air's 3Q2015 was its best third quarter ever.
South Korea monthly tourist arrivals: 2008-2015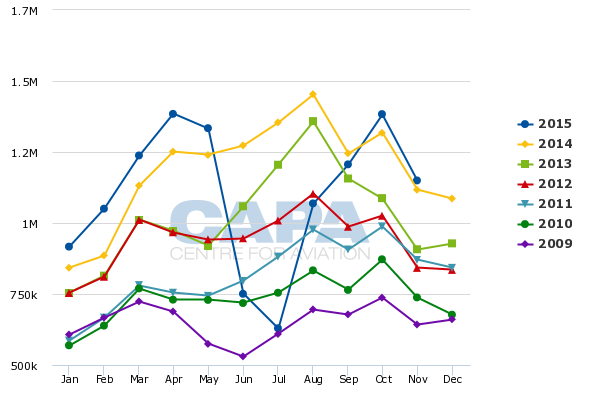 Asiana financial performance falling behind Korean Air
Asiana's non-consolidated operating profit has fallen behind Korean Air's. Some difference is to be allowed given their different size, all other things being equal. But in recent years it is evident that Asiana's performance has slipped well behind Korean Air's
Asiana and Korean Air non-consolidated operating profit (loss) (KRW millions): 1Q2008-3Q2015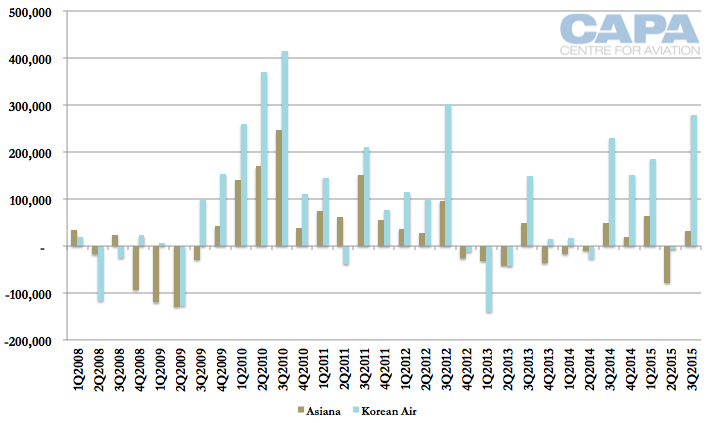 To remove the bias of size, consider operating margins. In 2010 and 2011, Asiana's operating margins surpassed those of Korean Air. Until mid-2014, Korean Air was slightly outperforming Asiana. From that point onwards, Asiana's performance has slipped, not only relative to Korean Air (posting some of its best performance in recent years) but also to Asiana's own historical performance – this despite record low fuel prices. Asiana's 2.3% operating margin in 2Q2013 compares with Korean Air's 9.5% margin. This is Korean's highest third quarter margin since it posted 13.5% in 2010, a banner year for the sector (and with far higher fuel prices). In 3Q2010, Korean Air's 13.5% margin was beaten by Asiana's 17.9%. In 2015 Asiana's third quarter margin is its worst since the global financial crisis (-2.8% in 3Q2009).
With Korean Air on the up and Asiana down, having undergone a steady decline, this is the result of structural changes.
Asiana and Korean Air non-consolidated operating profit margin: 1Q2008-3Q2015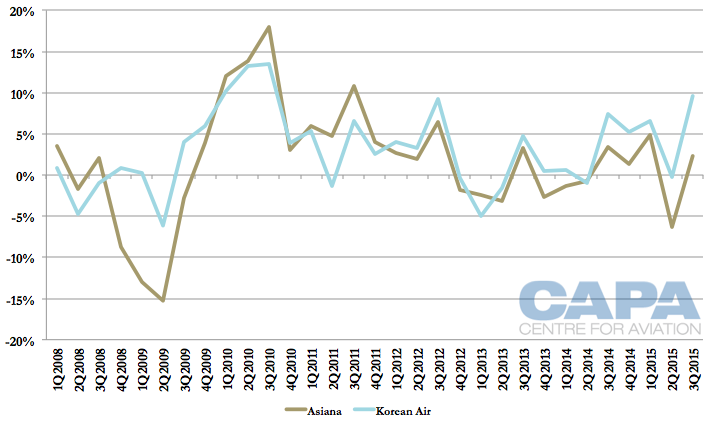 Asiana is overexposed on short haul traffic
One of Asiana's core challenges is that it has overrelied on short haul full service traffic. 79% of its international seats are within Asia compared with 70% at Korean Air. The true impact is bigger. Overall, Asiana's international seat capacity is around two thirds the size of Korean Air's. But Asiana is 10% larger than Korean Air in mainland China. This is significant, as Korean Air pulls traffic from China to connecting markets beyond Seoul, namely North America. Asiana is imbalanced: it has more capacity into China than Korean Air but a smaller long haul network, limiting city pair combinations. Asiana sells itself short.
Asiana international seat capacity by region: 11-Jan-2016 to 17-Jan-2016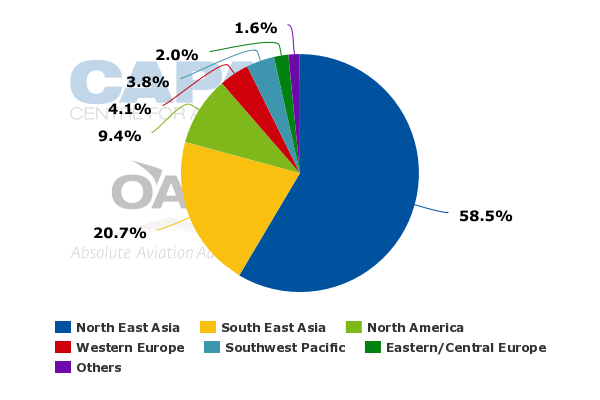 Korean Air international seat capacity by region: 11-Jan-2016 to 17-Jan-2016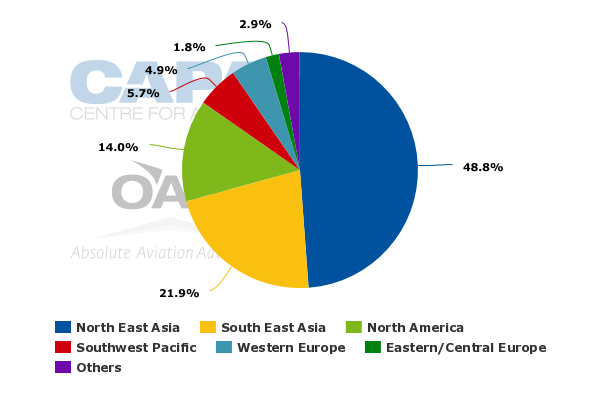 Regional Asia traffic was historically handsomely profitable – more so than long haul – but the influx of LCCs changed that, as has occurred elsewhere in the world. LCCs have gone from accounting for 5% of South Korea's international seat capacity in 2011 to 21% in Jan-2016. This figure is for all international seats, including long haul markets that LCCs are largely not competing in. Thus the LCC penetration rate for regional Asia capacity is even higher.
LCC capacity share (%) of international seats to/from South Korea: 2003 to 2016 Jan*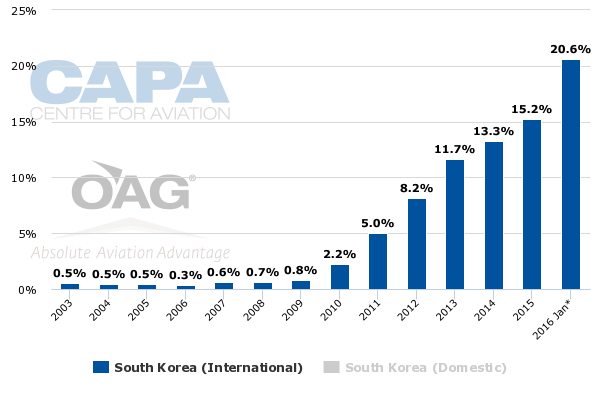 The growth on the trans-Pacific to North America in recent years has been ahead of demand, leading to reduced yields. This explains why Korean Air has put the brakes on growth. But Korean Air is in the market with a position of strength: it is the largest Asian airline to North America, and larger than most North American airlines. As will be explored later, other Asian airlines are using this period to establish a long-term presence in North America and Europe. While the short term may be financially challenging, ignoring long markets now will make it harder – or perhaps impossible – to establish a presence later. China Eastern and Hainan Airlines, two mainland airlines hardly on anyone's long haul register eight years ago, are now on Asiana's heels.
See related report: Korean Air Part 1:Ignores trans-Pacific expansion to lift profits. Future service with 747-8 & 787-9
Asiana has five mainland North American passenger destinations compared with Korean Air's 12 (6 and 13 if including Hawaii). Likewise in Europe: Asiana has eight destinations to Korean Air's 13. Yet Asiana has almost the same number of Asia-Pacific destinations as Korean Air.
Asiana and Korean Air passenger destination comparison: 18-Jan-2016 to 24-Jan-2016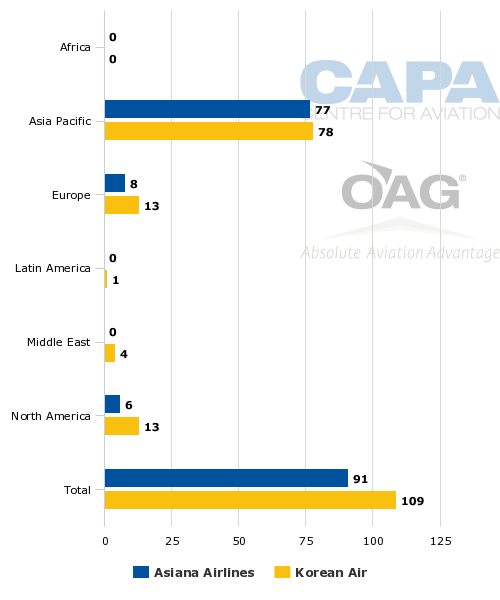 Seat capacity also shows imbalances. Asiana has 72% of Korean Air's Asia-Pacific seat capacity but only 44% as much in North America, and 58% as much European seat capacity, showing Asiana's imbalance between long and short haul markets.
Asiana and Korean Air passenger seat capacity comparison: 18-Jan-2016 to 24-Jan-2016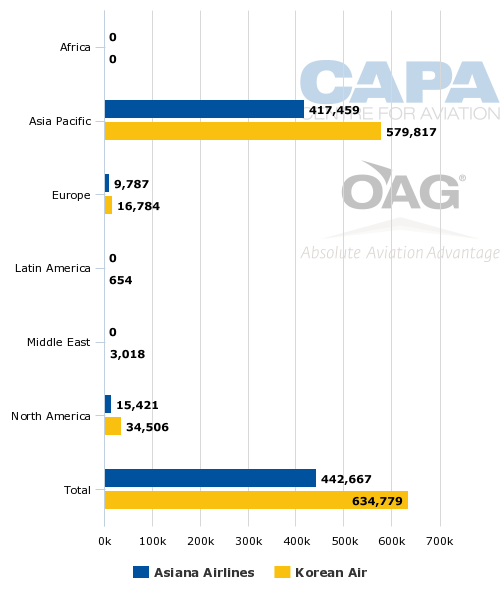 Asiana has ignored LCC competition in Seoul. Air Seoul may not be enough
One of Asiana's proposed measures is to launch a new LCC based in Seoul, Air Seoul. Asiana's first LCC, Air Busan, has focused on its namesake Busan market and has not flown internationally from Seoul. This has left the Seoul market to independent Jeju Air, Jin Air (effectively Korean Air's LCC) and foreign competitors. Although a very late move, it is better late than never for Asiana to enter the Seoul LCC market.
However, initial details for Air Seoul are discouraging. Asiana says that it plans to transfer secondary Japanese markets from Asiana to Air Seoul, and then deploy Air Seoul on some China and Southeast Asia services. As CAPA has previously examined, Asiana's secondary Japanese cities are monopoly routes. Transferring a route from Asiana to Air Seoul could generate a better return (although the viability of these small markets in a declining population is questionable). Air Seoul will have only three aircraft in its first year. Much of Air Seoul's capacity will apparently be utilised by taking Asiana's hand-me-down routes. This risks distracting Air Seoul from primary LCC markets.
Of Asiana's 10 largest international routes ranked on seat capacity, nine are regional Asia routes (the exception is Los Angeles). All but one (Beijing) of the regional routes have LCC competition. LCC penetration rate at Shanghai is a small 3%, but on the other routes LCCs account for 15-50% of seat capacity. Korean Air's Jin Air serves four of Asiana's top nine regional routes, including Asiana's largest route (Hong Kong).
LCC competitive summary on Asiana's 10 largest international routes ranked on available seat capacity: w/c 10-Jan-2016
See related report: LCCs rapidly grow to account for 30% of Japan-Korea market. Full-service airlines need new strategy
It is sometimes expected that an airline will ignore the trend of a foreign LCC or a local independent LCC, perhaps (wrongly) perceived as insignificant and not a threat. But when an airline's larger and more able competitor deploys an LCC in top markets as Korean Air has done with Jin Air, and overall LCC penetration rates are growing, there is a structural shift that needs a response.
Even excluding a regulatory delay to Air Seoul's approval, Asiana's response has been slow. This a theme that permeates other areas of Asiana's business and generates challenges (an underdeveloped long haul network, inferior on-board product). Mr Kim does not acknowledge specific elements, but noted that Asiana needs to "turn our mentality and attitude back to when we were a start-up and put all our efforts in" so it can have "regained competitiveness".
Air Seoul's tardy launch could be forgiven, but it falls short of potential. Air Seoul may even have more of a flavour of "Asiana Lite" than an aggressive LCC, which Asiana needs. In Asiana's defence, it took some time for Korean Air to be comfortable with Jin Air and allow Jin Air larger scope. But the two had the benefit of Jin Air launching in 2008 – eight years prior to Air Seoul. There is now a wealth of examples (threats) for Asiana and Air Seoul to learn from in order to have a relentless "start-up" culture in which Asiana puts "all our efforts in".
Asiana's withdrawal from Bali and Yangon exemplifies its regional Asia challenges
Asiana announced that it would suspend service to Vladivostok in Feb-2016 and Bali Denpasar and Yangon in Mar-2016. The cancellation of Vladivostok, in far eastern Russia, can likely be attributed to the declining Russian economy. Bali and Yangon, however, give tidy summaries of Asiana's regional Asia challenges. Asiana served each of the markets only twice weekly. This was not enough to compete: to Bali Korean Air offers 11 weekly flights while Garuda offers six weekly. To Yangon Korean Air is typically daily.
Seoul Incheon International Airport to Bali Denpasar Ngurah Rai Airport (seats per week, one way): 19-Sep-2011 to 26-Jun-2016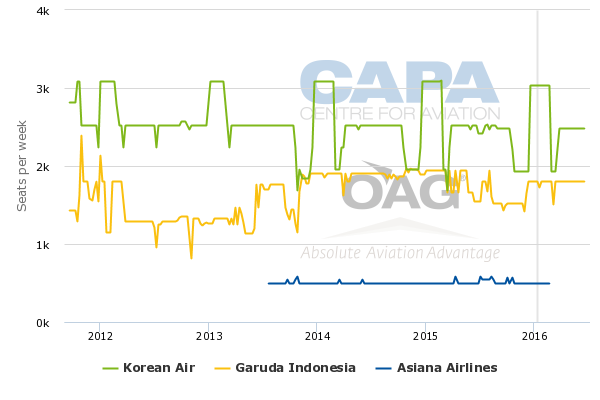 The markets would have experienced local demand but also connections from Asiana's network, notably North America. As will be later discussed, Asiana's North American offering is underwhelming and short of Asiana's potential. This limits inbound feed, and is further complicated by Asiana having a small offering to Bali and Denpasar. Sixth freedom competitors have a more robust offering: ANA and Cathay (including Dragonair) have a daily flight to Yangon, and at least daily to Denpasar. EVA Air has five weekly flights to Bali (Southeast Asian connections account for approximately half of its North American traffic) while emerging sixth freedom airline China Eastern is at least daily. Asiana was not winning on any side of the market.
Hong Kong is another oddity for Asiana. Asiana and Korean Air each typically have four flights a day. Korean Air's are spread throughout the day while Asiana's are in two clusters: one flight departs Seoul at 09:00 and then another at 10:00. There is not another departure until 19:40 and then another a half hour later at 20:10. Cathay has five flights throughout the day while LCC HK Express has three narrowbody flights, giving it lower capacity than Asiana, but offering flights at more times during the day than what are effectively Asiana's two departure periods. A spot check on fares shows Cathay and Korean Air commanding a significantly higher yield than Asiana.
Asiana is underdeveloped in North America. Growing Chinese airlines are surpassing it
Not only has Asiana overrelied on short haul traffic, the long haul network it does have is not robust. This is especially so for North America, its key long haul market. Not only is North America the largest long haul market for Korean Air, but Korean Air is the largest Asian airline in the segment. In Oct-2015, Asiana had five North American destinations (excluding Hawaii), putting ii below the pack. (Gulf airlines are included, as they compete in certain markets from Southeast Asia to North America.)
Asiana's five points are the same number as from China Eastern and Hainan Airlines – but these two Chinese airlines are relatively new; Hainan has been flying long haul for under a decade. Further, they are quickly growing. China Eastern's Chicago launch later in 2016 will bring its North American network count to six. Hainan opened a sixth North American point (Los Angeles) in Jan-2016, and could open three additional North American points (Las Vegas, Vancouver and New York JFK) later in 2016.
Asia-North America destinations by airline: North American destinations for Asian and Gulf airlines (red and tan), Asian destinations for North American airlines (blue): 12-Oct-2015 to 18-Oct-2015
In terms of frequency per destination, Asiana averages 7.6 weekly flights per North American destination. This is low compared with peers. On average Asiana has slightly more frequency than Korean Air. But Korean Air's network consists of double daily service to key markets (where Asiana is often no more than daily), and less than daily service to smaller North American markets (such as Las Vegas) that no other Asian airline serves.
Asia-North America average weekly frequencies per destination by airline: North American average frequency for Asian and Gulf airlines (red and tan), Asian average weekly frequency for North American airlines (blue): 12-Oct-2015 to 18-Oct-2015
As the chart below shows, in none of its North American markets is Asiana the leader, or has the second best proposition in terms of frequency.
Weekly frequency comparison of major Asian competitors in Asiana's North American points: 03-Jul-2016 to 09-Jul-2016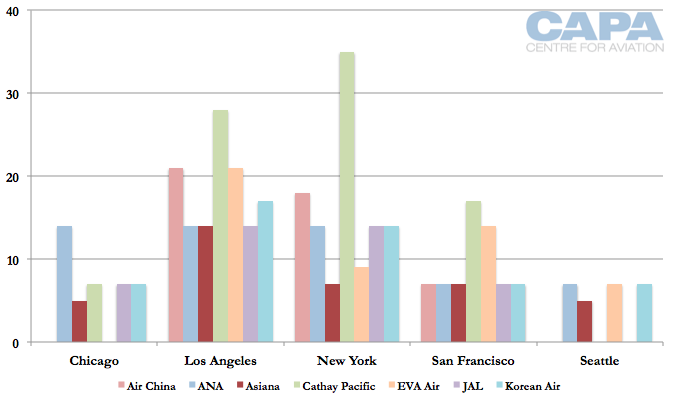 Asiana is further hindered by an underdeveloped reputation and underwhelming product; it is one of the last to fly without lie-flat business class seats. (Korean Air actually was slow to change as well, but had a strength of market size that gave it passenger volumes.) Asiana needs a stronger North American network, although the best timing for this is unclear, given current high competition and Asiana's aircraft delivery plan. Besides two A380s, Asiana has orders for 30 A350s of all variants, including the -800 that Airbus appears intent not to produce. However, many A350s will be needed to replace ageing aircraft.
Asiana Airlines projected delivery dates for aircraft purchased from OEMs and leased from lessors new aircraft order pipelines as at 21-Jan-2016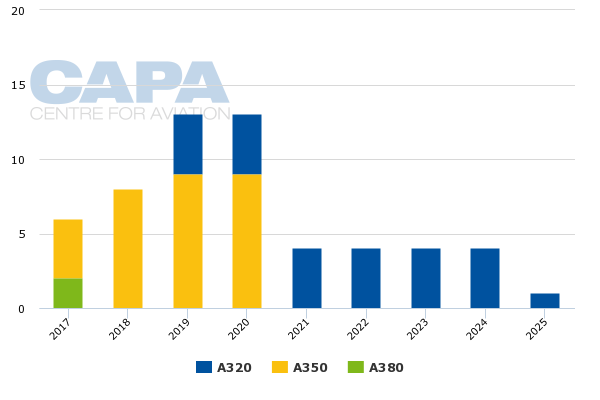 Outlook: Asiana must not just restructure, but also have a vision for the future
There is a strong future for Asiana if it can implement a deep restructure and embark on a new strategy. This future, unions will be happy to know, is one of large growth.
In saying Asiana needs to refocus and be reinvigorated, Mr Kim has the right words. His challenge is to transform a culture and deliver. The routes, aircraft, seats and marketing plans flagged under the restructuring plan are not bold, despite being overdue, and in response to the "desperate" situation Mr Kim says Asiana is in.
The changes outlined will require work, yet are easy to overhaul compared with the bigger challenge that Asiana, like other airlines, faces: changing mindsets. It is not enough to ask staff to change for the sake of it; they must be made to feel a part of the airline's future. Where other airlines have lofty plans, outlined in PowerPoints with acronyms and corny titles that border on the contrived, Asiana appears on the other end of the spectrum, feeling distant and dry. A vision for Asiana is lacking, despite the many opportunities it sits on.