Asian airports 2016 traffic: Planning infrastructure growth ahead of the market becomes essential
Analysis
Northeast Asia dominated the developments of East Asian airport growth in 2016. Beijing Capital, Asia's largest and the world's second biggest, further narrowed the gap with first place Atlanta. Yet with some Beijing Capital traffic due to start moving to the second airport Beijing Daxing in mid 2019, Beijing Capital may not overtake Atlanta in the near future.
Asia's second largest airport, Tokyo Haneda, is undergoing steady growth ahead of a slot increase to support more international visitors for the 2020 Olympic Games in Tokyo. Asia's third largest airport, Hong Kong, could soon be overtaken by Shanghai Pudong, which has had a dramatic growth story, especially in the last two years. Seoul Incheon has also grown rapidly and benefits from infrastructure developments.
Bangkok Suvarnabhumi posted record traffic, despite some traffic having moved to Don Mueang a few years ago. That initiative to make room for more growth gave only a few years of breathing room.
Asia's largest airports continue to be defined by pent up demand waiting for a combination of more runways, slots, terminals and air space.
Adding a second major hub airport to Beijing was favoured over expanding Beijing Capital further. Guangzhou, facing a similar capacity predicament as Beijing, is of the view that (after approximately 100 million passengers) it is better to add a second airport than keep expanding the first facility, which may start losing efficiency even when some replication of services across two sites is factored in.
Beijing Capital has long been congested but has managed to eke out its growth, including frequency expansion and higher passenger throughput due to upgauging. Beijing Capital had passenger traffic of 94.4 million passengers in 2016. This was 4.9% growth, the highest in percentage terms since 2011's 6.4% growth. The net 4.6 million additional passengers in 2016 versus 2015 was the highest increase since 2011's 4.7 million additional passengers.
Beijing Capital had been expected to overtake Atlanta as the world's largest airport. But Beijing's growth slowed from 2012, whereas Atlanta made strong gains in passenger traffic from 2014. Atlanta remains the world's largest airport on passenger throughput, with Beijing Capital second.
In 2015 the gap between them widened for the first time in recent history, but in 2016 the gap has again been narrowed and Beijing Capital is as close to Atlanta as at any time before, with a difference of 9.9 million passengers.
But with 2018 expected to be the last full year of normal sized operations at Beijing Capital before airlines start moving to Beijing Daxing, it seems unlikely that Beijing Capital will overtake Atlanta any time in the foreseeable future, unless Beijing has a late growth streak and Atlanta stops growing. Beijing Capital does, however, could have a chance of surpassing 100 million passengers before some airlines move to Beijing Daxing.
Comparison of annual passengers at Atlanta and Beijing Capital and annual difference in passenger numbers: 2007-2016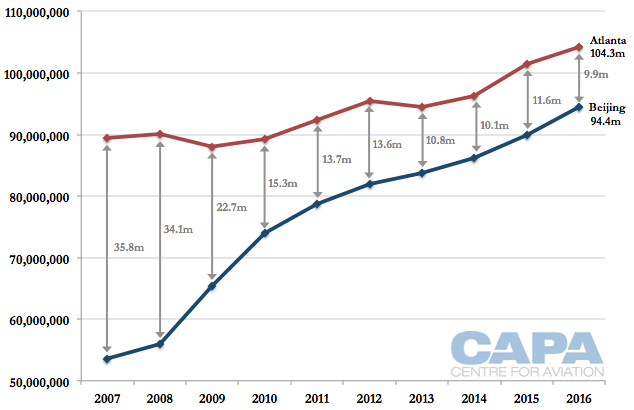 In the data to 2016 Beijing Capital has remained Asia's largest hub by far, followed by Tokyo Haneda, which had a decent lead ahead of Hong Kong, which in turn had a lead – but a narrowing one – on Shanghai Pudong.
Beijing Capital remains Asia's largest – but Tokyo Haneda could briefly take the lead
There has been no going back for Beijing Capital since 2009 when it overtook Tokyo Haneda airport as Asia's largest airport. In 2009 Beijing Capital handled an additional 9.7 million passengers compared to 2008.
In 2009 there was a dip in Haneda traffic that was not recovered until 2012, when Haneda set a new record of 68.7 million passengers – but by then Beijing Capital was handling 83.7 million passengers.
Annual passenger throughput (millions) at major Northeast/Southeast Asian airports: 2008-2016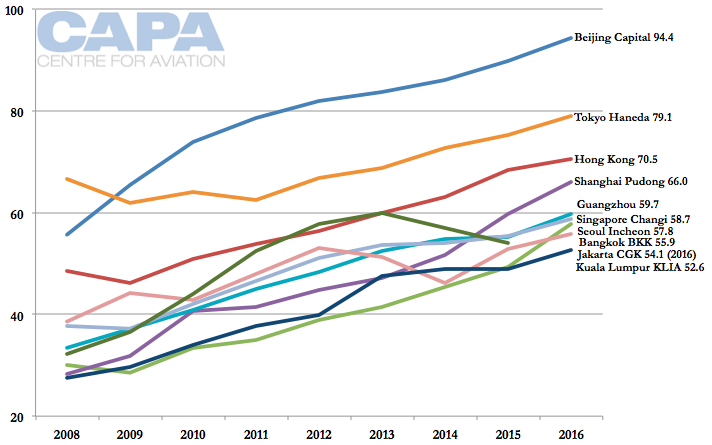 There is a chance that Tokyo Haneda might briefly regain the spot as Asia's largest airport. Beijing will open its second main airport at Daxing in mid 2019. This is the first time a Chinese city will have two major international airports. Beijing already has a second airport, but this is the small Beijing Nanyuan, used only by China United. Shanghai has Pudong, as well as the mostly domestic Hongqiao.
Air China and Star Alliance partners will remain at Beijing Capital while SkyTeam and some other airlines move to Beijing Daxing. Those airlines that are moving account for over a third of slots and capacity at Capital. As CAPA's Feb-2017 analysis about Beijing Daxing highlighted, as these airlines move from Beijing Capital to Beijing Daxing their slots at Beijing Capital will become available to other airlines.
See related report: Beijing's second airport at Daxing: risk of unproductive competition, China Eastern the big winner
It is unclear how quickly the capacity will be backfilled. Airlines will be given a few years to move from Capital to Daxing, and if airlines implement a gradual move their slots may be gradually released as well. But if airlines move in a short time frame it is expected some of their slots will be held and released over a few years, to ensure steady growth.
A scenario that could unfold is that throughput at Beijing Capital decreases as airlines move to Beijing Daxing and their capacity is not immediately backfilled. At the same time, Tokyo Haneda will have modest growth in passenger throughput as additional international slots are created in the lead up to the 2020 Olympic Games in Tokyo.
See related report: Beijing Airport splits traffic: Hong Kong, Seoul, Shanghai race to be Asia's 100 million pax airport
Even if Haneda overtakes Beijing Capital during this transition period, Beijing Capital will inevitably regain the title as Asia's largest airport – and if more growth can be squeezed out, Beijing Capital could overtake Atlanta as the world's largest.
After Beijing Capital and Tokyo Haneda, Asia's third largest airport is Hong Kong, but this ranking appears unlikely to last long. Shanghai Pudong is growing fast. In 2008 Shanghai Pudong was one of Asia's smaller hubs, with 28 million passengers. Over the next seven years it overtook Seoul Incheon, Bangkok Suvarnabhumi, Singapore Changi, Jakarta Soekarno-Hatta and Guangzhou.
Pudong's ascent has been a more recent development: Pudong added 19 million passengers in the five years between 2008 and 2013, and then added another 19 million passengers in just the three years between 2013 and 2016. Most of the growth has been since 2015, when a new runway was opened: Pudong added 8 million passengers in 2015 and a further 6.3 million passengers in 2016. This demonstrates the pent up demand in China's key gateways that materialises once new infrastructure is in place.
Since 2004 Hong Kong and Pudong have been separated by about 12 million passengers (in 2010, when Pudong had a GFC rebound, the difference was only 10.3 million). This gap narrowed to 8.8 million in 2015, and then to a dramatically smaller 4.5 million in 2016.
Annual passenger throughput (millions) at Hong Kong and Shanghai Pudong airports: 2004-2016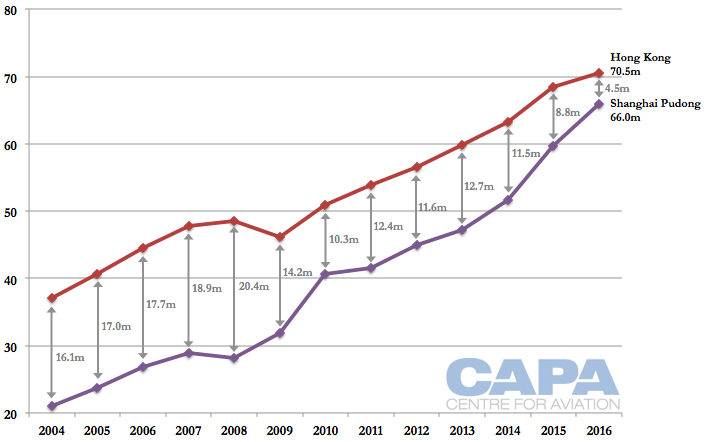 707" height="442" />
If Pudong can repeat the growth of 2015 and 2016 in 2017 it could take Hong Kong over as Asia's third largest airport. Pudong has intentionally been holding slots for gradual release, although it is unclear exactly how much growth will be created in 2017.
Further, Hong Kong underperformed in 2016, as an air traffic control technology switch resulted in decreased movements. That switch should support new slots being generated, but the exact number is also unclear. If Pudong can sustain growth while Hong Kong manages lacklustre slot creation, Pudong could overtake Hong Kong – a thought many would have considered implausible even five years ago, when Guangzhou, Bangkok, Singapore and Jakarta were all larger than Pudong.
Seoul Incheon overtook Kuala Lumpur and Bangkok Suvarnabhumi in 2016 and reported throughput of approximately 58 million passengers – just behind Changi's 59 million and Guangzhou's 60 million.
Incheon's performance is notable, given slot constraints at peak hours that will soon be alleviated with additional capacity. Subdued growth at Singapore and Guangzhou could mean that Incheon overtakes those airports and becomes Asia's fifth largest airport – an accomplishment in short time, since until 2016 Incheon was the smallest of the major airports in Northeast and Southeast Asia.
In Southeast Asia, Bangkok Suvarnabhumi stands out. It peaked with 53 million passengers in 2012 but then in 2013 Bangkok Don Mueang reopened to alleviate congestion and facilitate growth, particularly for low cost airlines. Traffic decreased to 51 million passengers in 2013 and then 46 million in 2014.
However, traffic has grown, and in 2016 Suvarnabhumi posted record passenger throughput of 56 million passengers – more than 2012, when just Suvarnabhumi was in operation.
Seoul Incheon and Kuala Lumpur are exceptions in Asia in that they have capacity available (although not always at all periods) and infrastructure capability. Asia's other largest airports are defined less by market developments than they are by available infrastructure.
As slots, terminals and airspace open up, growth increases, but as congestion becomes more constraining, growth plateaus.
Until more airports plan sufficient infrastructure ahead of demand, it is difficult to evaluate savvy marketing and airline-airport-government partnerships. It is Asia's smaller airports that are excelling on that, and will inspire major airports one day when they no longer have an unending queue of growth.
Yet even with more demand than supply, airports, airlines and governments would be wise to consider smart growth, and asking which growth options from airlines generate the highest value.