Asian airlines watch Lufthansa's short-haul transformation, wanting change to their own services
Analysis
Asia's full-service carriers have seen the effects, to varying degrees, of low-cost carriers for over a decade now. While many full-service airlines have formed successful low-cost off-shoots, the full-service legacy model has largely continued in some size unabated. But momentum is starting to build that even where airlines have an LCC, the full-service model cannot continue in its present form. Those airlines without an LCC are under even greater pressure.
Across Asia, airlines are closely watching the transformation Lufthansa is making to its short-haul network, moving flights to wholly-owned lower-cost vehicle Germanwings, which will be heavily hybridised. The plans so far from Lufthansa are efficient replication of proven strategies elsewhere.
What the plan may lack in new innovation, which is not necessarily bad, it offers confidence: Asian carriers have seen new short-haul strategies from countless airlines, but none is perceived as having its house in as much order as Lufthansa. So when the stalwart changes, the industry takes note. Whisper it quietly, but short-haul services on full-service Asian airlines are declining, if not unprofitable. A number of airlines would like a new strategy. Lufthansa may provide the spark.
Is there a future for profitable full-service short-haul in Asia?
Sustaining full-service short-haul service is possible if airlines are willing to have it subsidised by long-haul services. The question is if Asian airlines see a profitable future for full-service short-haul flights in their present form. A clear answer will take some years to come.
The global suggestion is no. Europe was one of the last holdouts until its major full-service carriers, within the space of a year, decided they would no longer let long-haul flights subsidise their short-haul ones. (This domino effect will be important in Asia too, but likely on a slower pace given the region's typical inertia.)
As the troughs of this infamously cyclical industry become more high-risk and competition larger, there is less appetite to tolerate routes that are "strategic" or only marginally profitable in the best of times. Qantas' international network delivered its cost of capital in three of the past 15 years before the carrier in 2011 decided to bring it to profitability. At Iberia, a mere eight of 24 long-haul routes are profitable. The risk is that whatever is profitable could become unprofitable, and whatever is unprofitable could degrade to toxicity.
Competition in the shape of LCCs is a driver and knows no limits: incumbent legacy Asian carriers have taken quiet shots at Chinese carriers, accusing them of degrading yields with their artificially low cost base. But some Chinese carriers have seen their services to Southeast Asia become unprofitable at certain times of the year because of LCCs. When the Chinese carriers and their perceived low cost bases (often less impressive than touted) are affected, it becomes a wake up call that Asia is changing and airlines need to respond.
Short-haul flights in Asia are a growing challenge to profitability
Asia is not the goldmine of profits it was once perceived to be. The affect is varying but largely correlates to LCC penetration. LCCs are one of typically two main structural changes. Some passengers – or their corporate expense account – will always be devoted to full-service carriers. Others want the lowest fare and will shift to LCCs if they have the lower fare, which they typically (but as the media likes to remind, not always) do. Others in the middle are elastic and often swaying them to LCCs is the typically second structural change: high fuel prices, largely outside an airline's control.
As fuel prices go up, the full-service ticket is not as low as they used to be. Where the ticket is the same price or comparable, the airline is generally unprofitable, its margin lower or service has been cut. Some airlines have been able to offer competitive pricing compared to yesteryears without much publicly apparent cost reduction, but they are the exception. Ironically, the reaction of many airlines to LCCs is to cut service, which dilutes the value equation and gives more compelling reasons for passengers to switch to LCCs, which in turn further grow and create more pain for full-service carriers. A few, like Qantas, have managed to enhance value at the full-service end (although this was complemented by having a low-cost subsidiary).
In the heart of the first wave of LCCs, in Southeast Asia, Malaysia Airlines was impacted the most as an aggressive and smart AirAsia brought to higher attention the many inefficiencies in Malaysia Airlines and its substantially growing losses. Well-maintained Singapore Airlines was able for some time to keep its image as first rate, but in recent times with economic pressure its own inefficiencies, on a lesser scale, have also been exposed as the carrier posted a rare quarterly loss.
See related article: Outlook for Asia's full-service sector dims as Singapore Airlines reports rare quarterly loss
North Asia has seen less pressure as LCCs have been fewer to form, but a tremendous push in Japan with three new LCCs having launched in 2012 has finally given North Asia the LCC revolution it has needed. LCCs have existed for some years in South Korea, and the example there is a troubling one for stagnating legacy carriers. In four years LCCs went from being non-existent to representing a quarter of South Korea's small domestic market. The change was fuelled by independent Jeju Air – South Korea's third airline at the time of its formation – which clawed enough of a single-digit marketshare that incumbents Asian and Korean Air responded with their own LCCs, Air Busan and Jin Air, respectively. Additional independent LCCs launched, too.
LCC capacity share (%) of total South Korea domestic seats: 2001 - 2012*
The argument is often made that LCCs attract new business and do notdivert traffic from full-service carriers. LCCs thus sound non-threatening to full-service incumbents while squashing speculative public fears a full-service carrier could, if it wanted to, take the passengers back (an entirely over-simplistic view, and one that has seldom been proved possible). The full-service carrier, meanwhile, likes to brush off LCCs as being in an entirely different space and so not a concern.
South Korea has been a first mover in North Asian LCC expansion
Market overlap of course is a reality; some airlines are up front about it, others need to be pressed to give an admission. Using South Korea as an example, LCCs typically increase their market share not because they are growing faster than full-service carriers but because they are growing while full-service carriers shrink or see flat growth.
South Korea available scheduled domestic seat capacity by carrier type: 2002-2012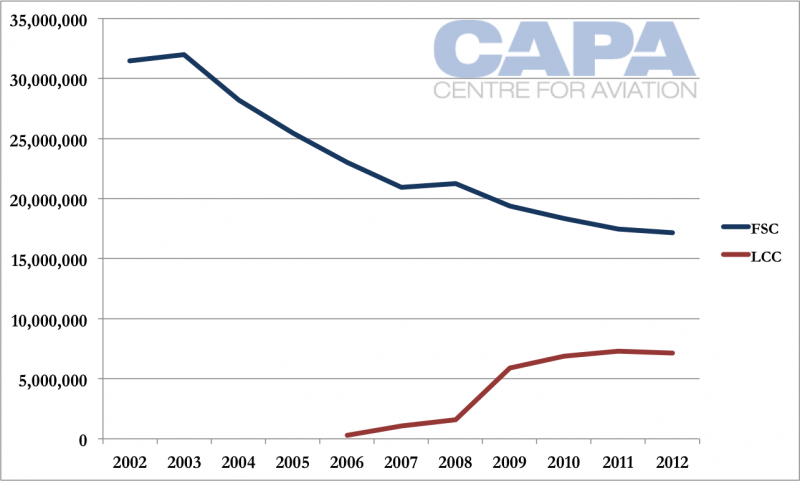 Source: CAPA – Centre for Aviation & OAG
The South Korean domestic airline market had been in significant decline prior to the entry of LCCs, although this was largely the result of more efficient high-speed rail (HSR) services being launched in the mid-2000s. South Korea is a compact country where HSR holds considerable advantages. Once the core HSR routes were complete, full-service carrier (FSC) traffic levelled off, then declined as LCCs grew. In some instances this was organic and elsewhere the result of route transfers, such as from Asiana to its low-cost unit Air Busan.
Malaysia was Asia's first big LCC market; Australia and Thailand offer different lessons
In Malaysia, birthplace of AirAsia, LCCs saw tremendous growth while FSCs declined. In 2012 FSC capacity was close to levels in 2002, when AirAsia was still young, but this was only a result of Malaysia Airlines' subsidiary Firefly converting from a LCC to regional FSC; without that, the FSC decline would be marked.
Malaysia available scheduled domestic seat capacity by carrier type: 2002-2012
The Malaysia example is similar to Australia, where FSC growth was flat until 2012 owing to Virgin Australia that year fully becoming a FSC instead of a LCC, thus shifting its capacity from the LCC to FSC category.
Australia available scheduled domestic seat capacity by carrier type: 2002-2012
Thailand offers a stark example.
At first look, FSC capacity (including Thai Airways) is flat, but this is obscured by the numerous FSCs that have come and gone with various distribution: sometimes their services are scheduled and the capacity becomes recorded while other times they are charter carriers and the capacity not recorded. But looking only at the FSC capacity from Thai Airways shows a clear trend: LCCs like Thai AirAsia and Nok (partially owned by Thai) grew at the expense of the legacy carrier.
Thailand available scheduled domestic seat capacity by carrier type: 2002-2012
The prospect of a decade of stagnation, decline or missing out on a major growth opportunity would not bode well for any airline board, yet recognising this trend – and more importantly, the need for change – is difficult. Some airlines simply do not know any way but to be a FSC. Others are concerned about prestige and do not want to be in the business of charging for water. Ignorance is a general problem: airlines are deeply enmeshed in their own operation and impressively know every detail but seldom have the opportunity to look around the industry.
The trends are clear. LCCs are growing, and their growth is a challenge.
Where numbers – profit or capacity – shield any apparent declines, incalculable components are on the wane: seat pitch, quality of service, and assistance available, to name a few.
Airlines have responded in various ways. On the small end, Malaysia Airlines' lowest economy fares no longer include seat selection. In the larger initiative category, airlines have formed multiple brand strategies and, unlike elsewhere in the world, demonstrated success. But the mood for a short while has been that this is not enough, but a clear way forward was lacking. And then Lufthansa came along.
The response of many Asian airlines to LCCs has been to launch their own, creating a low-cost, low-service brand and a high-value full-service one. The segmentation was clear. But in recent years many LCCs have started to chase yields rather than be dogmatic about having the lowest possible cost base. The reason is that a slightly higher cost base can produce disproportionately higher yields. As airlines pursue this, or hybridise, the LCC can become closer to a FSC if the passenger is willing to pay more. That potentially gives an airline a new vehicle to address the low-cost sector and the declining full-service sector.
America's JetBlue and Spain's Vueling are fully hybrid and successful airlines. Yet the concept is still young in Asia. LCCs are actively chasing yields: Tiger Airways was once the staunchest supporter of focusing on cost at all expense but is now even permitting interlines with Scoot, amongst other initiatives. The closest hybrid example is Thai Smile, a unit of Thai Airways (it operates under Thai's TG code and AOC).
The carrier is meant to replace Thai's ageing 737s on domestic services as well as open new destinations with its A320 narrowbody aircraft that Thai Airways cannot open with its widebodies (its 737s are being retired). While the narrowbody versus widebody relationship between Thai Smile and Thai Airways has a hint of that between SilkAir and Singapore Airlines (SilkAir operates Airbus narrowbodies while SIA is an all-widebody operator), Thai Smile is focused on also competing with the lower-cost segments of its market: pitch is a bit smaller and business class is European-style (although this will change). Initial projections were that 20-30% of Thai Smile passengers would be connecting from Thai Airways routes while the rest would be O&D, and thus comparing Thai Smile to other domestic carriers, namely LCCs.
See related articles:
Fully hybridised Germanwings will take over much of Lufthansa's short-haul network
So Lufthansa's transformation of Germanwings delivers a nicely packaged hybrid airline that peers can understand and, since it originates from Lufthansa, have confidence that the plan is sound.
The broad capital plan, announced in Dec-2012, is that Lufthansa will move 52 aircraft to Germanwings for service from 01-Jul-2013. The move will nearly triple Germanwings' current fleet from 32 to nearly 90 aircraft. From 01-Jul-2013, Germanwings will gradually take control of Lufthansa's continental routes outside its main hubs in Frankfurt and Munich over a two-year transitioning period. Frankfurt and Munich are seen as the hubs that can sustain a dedicated full-service Lufthansa presence while other cities will be best served with the hybrid Germanwings.
The aircraft to be transferred includes 29 A319s and A320s from Lufthansa mainline fleet and 23 Bombardier CRJ900s. The regional jets are, and will continue to be, operated by Lufthansa's regional subsidiary Eurowings. Germanwings' fleet will thus grow to around 90 aircraft, with the number of travellers set to increase to around 16 million p/a. This would be around 20% of Lufthansa's passenger volume, while Germanwings is expected to generate around EUR1.8 billion in revenues, about 10% of the mainline carrier's turnover. Lufthansa expects, optimistically, Germanwings to offer a CASK 20% lower than Lufthansa mainline.
The finer details – the execution – are what will be of interest to airlines looking to improve their own position.
Look for new routes, or give the LCC hand-me-downs?
With aircraft being handed from Lufthansa to Germanwings, routes will be handed over too. Lufthansa's short-haul presence in Germany outside of Frankfurt and Munich – referred to as "decentralised areas" – will be given to Germanwings, which will undergo a branding and product change. Lufthansa has already made efforts to reduce complexity in its domestic operation, which will culminate with the Lufthansa and Germanwings fleets being amalgamated in relevant cities.
Evolution of Lufthansa Group presence in Germany: 2009 (left) to 2012 (right)
Lufthansa did get off to a false start, promising in Nov-2011 to expand with its mainline brand in Berlin like "never before" with a promise of lower costs. But torrents of losses against the challenge of taking costs out of a FSC proved too overpowering to continue on this course (the number of success stories is small), so the story of expanding in Berlin with Lufthansa has shifted to Germanwings.
See related article: Lufthansa responds to Air Berlin at new Berlin airport, but success far from guaranteed
Route transfers are not unusual in multiple brand strategies. Qantas' now very hybrid Jetstar took over many of Qantas' and former subsidiary Australian Airlines' Japan services as well as all flights to/from the Gold Coast, a perceived low-yield destination (although Qantas has re-entered in 2012 due to mounting competition from full-service Virgin Australia).
Thai Smile is initially operating alongside Thai Airways in the domestic market but over time is expected to take over routes. Iberia Express inherited its network from Iberia, the two being so close together that Iberia Express' network was not announced until days before the Mar-2012 launch.
Singapore Airlines' long-haul LCC subsidiary Scoot offers a different example. Scoot was initially not going to take any SIA routes in a bid to have Scoot open new destinations SIA could not reach. Scoot operates alongside SIA to Bangkok, Sydney and Taipei but not at the expense of any SIA capacity. (Scoot also serves Tokyo Narita, but via Taipei, making the service less comparable to SIA's direct Singapore-Tokyo Narita flights.)
Scoot was informed in advance of when SIA decided to pull out of certain markets, effectively offering the routes to Scoot, but Scoot elected not to take the flights up. Coordination between the two carriers is limited and Scoot is still focused on opening new routes to the SIA Group. Scoot has opened the Gold Coast and Tianjin and intends to launch service to Qingdao and Shenyang, all of which are new to the SIA Group.
The Jetstar-Qantas Group behaves difefrently, with so-called "Flying Committees" to determine which brand should fly where. The relationship extends between Jetstar and Qantas, as well as between Jetstar Japan and Japan Airlines, which owns part of Jetstar Japan. While flying committees can ruffle feathers between each airline, seeking the best for itself and not the larger group, a constantly repeated concern over handling aircraft and/or routes is upsetting staff.
In Asia this is less of an issue where employees are non-unionised. In unionised countries, employees can derail plans and shed market confidence. (Although ironically many subsidiaries are launched because airlines cannot achieve required cost cutting under union-controlled fleets.)
Union influence reached a climax in 2011, with Qantas grounding itself due to issues with its unions while Iberia has poor relations, as does Air France, while SAS starved off a near collapse. The concern, and it most typically from relatively well paid pilots, is that airlines are looking to cut costs and use new subsidiaires to employ staff on lesser terms and without union representation. Employees see this as a threat to unions as well as their own individual future.
Lufthansa staff transferred to Germanwings will reportedly maintain their salary but will need to adhere to Germanwings' higher productivity requirements. Communication is critical. Lufthansa learned this the hard way when, fearing press leaks, it avoided written communication on cost restructuring preferring instead meetings with employees. But the meetings took time to materialise, which allowed distrust to build.
Iberia Express transferred aircraft with routes whereas Scoot transferred aircraft without routes. Scoot's 777-200s from SIA were due to leave the full service parent's fleet as newer aircraft replaced them. Shifting aircraft can be cost-effective and convenient, enabling a quick launch: Scoot went from a concept to first flight in a year. Germanwings' relationship with Lufthansa will enable it to grow rapidly.
Should low-cost and full-service brands be partners or be ring fenced?
One alternative to route transfer is coordination between the low-cost and full-service brands. If the FSC is transferring routes to a LCC and wants to maintain a virtual presence, it can sell the LCC's routes. If the LCCs is opening new destinations, the FSC gains a larger network by partnering with the LCC. Among all this noise, it is easy to overlook the fact that the main game is to stimulate economic business and to compete effectively with aggressive third parties.
Lufthansa sells Germanwings tickets on its own website but only using the Germanwings 4U code and not a Lufthansa LH codeshare.
The proposed shape of the post-transformation relationship is not clear, but certain Germanwings fares will offer Lufthansa programme miles, including elite-qualifying. Accumulation of frequent flyer points can be a key driver in pursuing codeshares between FSCs and LCCs.
Qantas has a close relationship with Jetstar, codesharing on flights, while Iberia codeshares on Iberia Express. Thai Smile, being a unit of Thai Airways, already operates under the TG code. Thai Smile has its own website with booking platform (sporting minor modification from Thai's).
The new LCC subsidiaries in Japan that launched in 2012 give additional views on cooperation. As CAPA previously wrote:
Jetstar Japan prior to its launch disclosed it was in discussions with JAL about the latter placing its code on Jetstar Japan. The agreement would find traction, especially in regional Japanese markets that are not profitable to JAL. Transferring service from JAL to Jetstar would improve profitability (JAL has a 33.3% stake of Jetstar Japan) while the codeshare will enable JAL to sell the destination directly and, as a secondary benefit, offer frequent flyer miles, a critical appeal for the corporate market. Jetstar itself has no loyalty programme and in other markets sells Qantas points.

This strategic move will require close cooperation between JAL and Jetstar Japan. The two have replicated the "Flying Committee" of Qantas and (Australian) Jetstar in which representatives from both sides conduct network planning, a proposition that sounds better on paper. Ms Suzuki said Flying Committees are "not all honky-dory, peaceful affairs but allow you to knock out what's good for the market and balance sheets".

The committee's prominence in Australia has waned in recent years as Jetstar has taken a sizeable position in the country and overlaps with Qantas on 30 routes. JAL and Jetstar overlap, although the overlap is not as direct as in Australia owing to JAL primarily having domestic operations at Tokyo Haneda and Osaka Itami while Jetstar Japan will be at Tokyo Narita and Osaka Kansai. But that will not always force one of the two out of a market if the other wants to operate. "Sometimes overlapping routes are a good thing," Ms Suzuki said, as doing so enables the carriers to "squeeze competition".

The opposite of this type of cooperation is the lack of a relationship between British Airways and its former LCC subsidiary Go in which BA learned of Go routes when publicly announced. This is how AirAsia and Peach claim to operate from their common airline shareholder, All Nippon Airways, which has a 67% stake of AirAsia Japan and a 33.4% stake of Peach. That minority shareholding was intentional, Peach corporate advisor Patrick Murphy said during a CAPA conference in Macau in Sep-2012. The "first thing to ensure was that ANA doesn't have majority shareholding," Mr Murphy said.

...

The relationship between AirAsia Japan and ANA is opaque, with ANA not giving formal approvals or rejections but needing coaxing and discussion. As for codeshares, the two are firm they will not code with each other. AirAsia is more tight-knit whereas Jetstar, owing to its Qantas heritage, is externally-focused and has relationships with 20 carriers, including with Air France-KLM.
See related article: As new Japanese LCCs – AirAsia, Jetstar and Peach – settle in, strategy differences become apparent
Some of the newest thoughts in Asia come from SIA and Scoot. While Scoot from day one has left itself opening to working with LCCs, SIA has been unusually adamant, and recently so, that SIA and Scoot would not cooperate, seeing the brands as different and in need of separation.
But in Dec-2012 Scoot's website briefly showed what appeared to be testing of Scoot selling Singapore Airlines and SilkAir tickets on certain city pairs, including selling SIA/SilkAir connections on destinations served by LCC Tiger Airways (such as Kuala Lumpur), which Scoot has announced a partnership with. This may have been a mistake and a SIA spokesman emphasises that there was no such intention. Given the complexity of booking systems as well as time and effort require to load such flights, such a slip is unusual at best. The fares, which were zeroed out and unavailable for purchase, have since been pulled.
Scoot's web booking engine testing of SIA and SilkAir interlines: Dec-2012
To bundle or not to bundle fares?
Hybridisation can be used in partnerships to broaden the airline offering, but typically a central motive is to chase yields. These are partially gained from ancillaries, so how an airline sells tickets is a critical discussion matter. There are generally two formats: the first is a simple seat-only fare with all other ancillaries being selected via á la carte pricing. This is increasingly less common but used by AirAsia.
Then there are bundles, where a flight may have upwards of four fare options ranging from just a seat to a seat with luggage, meals and other perks. An advantage here is that each bundle can have its own fare bucket in GDS for carriers that wish to distribute their product over GDSs.
Navitaire, the go-to software for LCCs, supports both styles. As with fare structure, booking platforms are critical. A lower-cost platform can mean the difference between a profit and a loss on a ticket. Thai Smile has found it lacks distribution opportunities by sharing Thai's TG code.
The unit may therefore look to be a standalone airline with its own AOC, which will enable more efficient use of booking systems.
Germanwings uses a three-bundle option and plans post-Jul-2013 to use three options as well - but with some changes.
Germanwings fare structure: Dec-2012
Germanwings proposed fare structure: Jul-2012
Scoot and Peach amongst others use similar fare bundles while Jetstar's are add-ons to a basic fare.
Jetstar sample booking: Dec-2012
The bundle structure is not limited to LCCs. Air Canada last decade was one of the first to make an early attempt, but it took some time for airlines to learn how to effectively and cleanly convey the information to passengers.
Many fare bundles have names that do not immediately convey what the bundle consists of. Air New Zealand made headway with effective and simplistic names like "Seat" and "Seat + Bag".
Air New Zealand also summarises underneath the name what is in each bundle. For other airlines, this information can only be learned by clicking on the product, or is displayed after a fare is selected, making for a distracted booking experience.
Air New Zealand short-haul fare structure: Dec-2012
Europe's major airlines are all re-vamping short-haul networks
"2013 is the year of change," Germanwings proclaimed. That may be true for Germanwings, but 2012 has been a year of change for Europe overall. Iberia launched Iberia Express while Air France announced its plans to expand Transavia and Finnair to out-source its flying.
The plans vary but the message is the same: unprofitable short-haul flying in Europe can no longer be tolerated.
See related articles:
Starting from a clean sheet gives advantages, although carriers sometimes have to do so in order to bypass unions.
Asian carriers will watch this space, seeing if they need a Germanwings-like operation or can follow Air New Zealand in maintaining a single brand but with a short-haul product that can accommodate all passenger types. (Critical to Air New Zealand, unlike Qantas, is that it has a relatively efficient cost base.)
Execution is critical – but airlines tend to forget to communicate
The hesitation of SIA to work with Scoot is telling. The premise of telling passengers they can have a low fare in exchange for flying a LCC, with different service standards, is easy for passengers to understand. The problem is communicating that.
Airline systems are clunky; passengers may have to look for a different coloured shape and then legend to find out what airline they are in fact flying on – if they bother to participate in this game. Many airlines already do not effectively and clearly communicate their own fare levels, let alone those of subsidiaries. It is these final details that can upset all other plans airlines have to leverage brands and networks.
What Germanwings is doing is effectively replicating strategies proven elsewhere around the world.
Given limitations on the industry – the number of suppliers, for example – significant product differentiation is not to be expected. Where airlines can leave a difference is in effective and clear communication. Germanwings is showing promising signs of having learned this lesson, given the extensive information that is being distributed well in advance of its repositioning (unlike Iberia Express, whose website was not available until launch). That is often a process management remembers to do after decisions are made.
The bottom line though, having passed this hurdle, will be whether the ultimate product has made a sufficiently large step change to be able to compete cost-for-cost with the specialists. Lufthansa has allowed some cost creep in the expansion process with Germanwings and this may well come back to bite it sooner than later.