Asian aircraft lessor numbers grow as investors begin to recognise benefits and growth demand
Analysis
There has been considerable interest in 2014 from the higher profile of aircraft lessors based in Asia, and specifically the emerging sector in China. A number of existing Chinese leasing companies are are being joined by new ones, including some affiliated with airlines, such as China Eastern and Spring Airlines. The move by Hong Kong billionaire Li Ka-shing and his Cheung Kong Holdings to enter the leasing sector has further stimulated interest for consumers looking to invest outside the traditional, and waning, property area.
Airbus firm orders from all lessors for the first ten months of 2014 have outpaced those of Boeing, but so far Asian lessor orders are about in line with 2012 levels at Airbus. Boeing meanwhile is accruing an increase in direct, disclosed orders from Asian lessors. Asia holds the single largest order backlog of commercial aircraft, with 3,517 according to CAPA's Fleet Database.
Opportunities within Asia could be mixed, although airline behaviour is changing: Chinese carriers are giving preference to Chinese lessors while Korean Air has only 17% of its fleet leased compared to 39% at Singapore Airlines and 67% at Qantas.
Increased direct purchases of aircraft follow the growing role of lessors
The share of leased aircraft in the global fleet has grown from under 2% in 1980 to 40% in 2014, according to Boeing statistics. The industry expects this figure to rise to 50% by the end of the decade. Most of the aircraft in lessors' fleets are not originally sourced as direct orders with manufacturers but rather through sale and leaseback transactions.
Other methods include a lessor purchasing a delivery position from an airline and ultimately delivering the aircraft to another carrier. This gives inherent limitations in data to see the trends of lessors purchasing aircraft.
At Boeing, the share of total orders (excluding VIP and defence purchases) from lessors in the year to Oct-2014 is slightly above 2013 levels, but down from 2012 levels, about equal with 2011 and significantly down from 2010 (when there were fewer non-lessor orders). Boeing's orders from lessors that are publicly disclosed are above 2013's level as well, but so far down from a peak in 2012.
In 2012 and 2013, Airbus' performance broadly measured that of Boeing. Airbus achieved a slightly higher share of orders from lessors in 2012 and 2013. In 2012 Airbus had fewer orders from lessors than Boeing, but in 2013 Airbus had more than Boeing. In 2014, Airbus has greatly outpaced Boeing in terms of orders from lessors and the share that represents. These figures through Oct-2014 are for firm orders and exclude recent developments, such as China Aircraft Leasing Company (CALC)'s 100 A320 family MoU in Nov-2014.
Airbus and Boeing direct orders from lessors (left axis), and lessor share of total orders (right axis): 2010-10M2014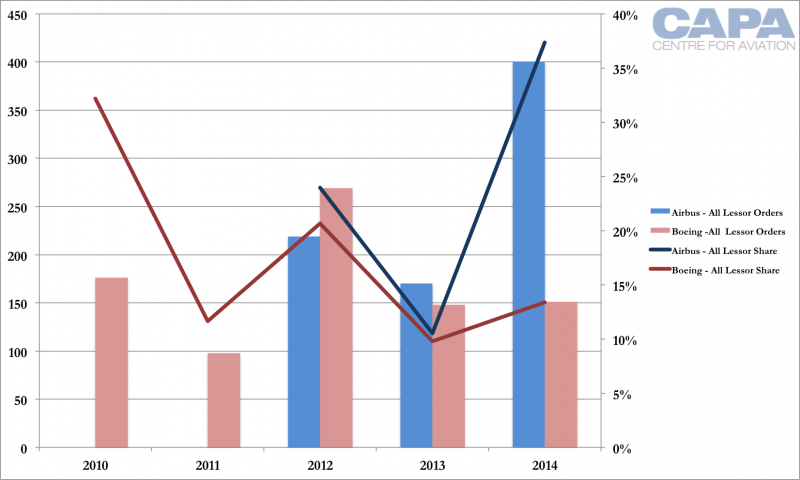 There is greater variability in confirmed aircraft orders from Asian lessors, but again there are data limitations. Boeing received only a handful of direct aircraft orders from Asian lessors in 2010 and 2011 but none in 2012 and 2013. Airbus data are unavailable for 2010 and 2011, but in 2012 received nearly 140 aircraft orders from Asian lessors, accounting for 60% of total leasing orders that were directly placed and disclosed. Airbus' performance was slower in 2013.
In the year to Oct-2014, Airbus' aircraft orders directly placed from lessors is approaching 2012 levels. However, the share this represents has fallen to about 30% because Airbus is concluding a greater number of orders with lessors outside Asia.
Airbus and Boeing direct orders from Asian lessors (left axis), and Asian lessor share of total lessor orders (right axis): 2010-2014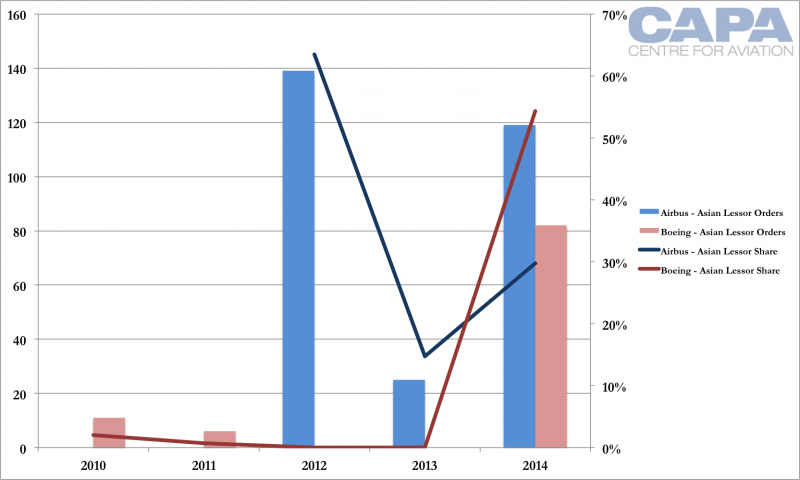 Asia finally appears attuned to the benefits of leasing
A confluence of factors is seeing Asian interest in the leasing sector. First, Asia – and China especially – have been seeking outlets to invest outside of the traditional property market. Leasing typically offers high and consistent yields.
Annual yield of select lessors: 30-Jun-2014

Second, some liberalisation in China is generating a record number of start-ups, including in the LCC sector.
See related report: China's 19 new passenger airlines will be mostly full service and along the east coast
Also at play are moves from Li Ka-shing – Asia's richest person, and a highly visible one at that – and his Cheung Kong Holdings to enter the leasing sector. When Asia's richest person enters aircraft leasing, it gives others some confidence that following his move even on a smaller scale can be beneficial.
There are hurdles to clear. Investors can be wary about aviation. And with 80% of Southeast Asia's unprofitable in the first half of 2014, these fears are not entirely misplaced. But leasing can be separated out from the airline sector. And, despite their poor financial performance, airlines tend to pay their debts.
Other groups – as diverse as the Church of England – have taken to aircraft leasing.
See related report: Southeast Asian airlines: 80% were unprofitable in 1H2014 but conditions are starting to improve
Asia holds the single largest order backlog. Opportunities are not necessarily as they seem
The interest from Asia comes as that regions holds the largest backlog of aircraft on order, 3,517 as of 15-Nov-2014, according to CAPA's Fleet Database.
Aircraft fleet orders by region: 15-Nov-2014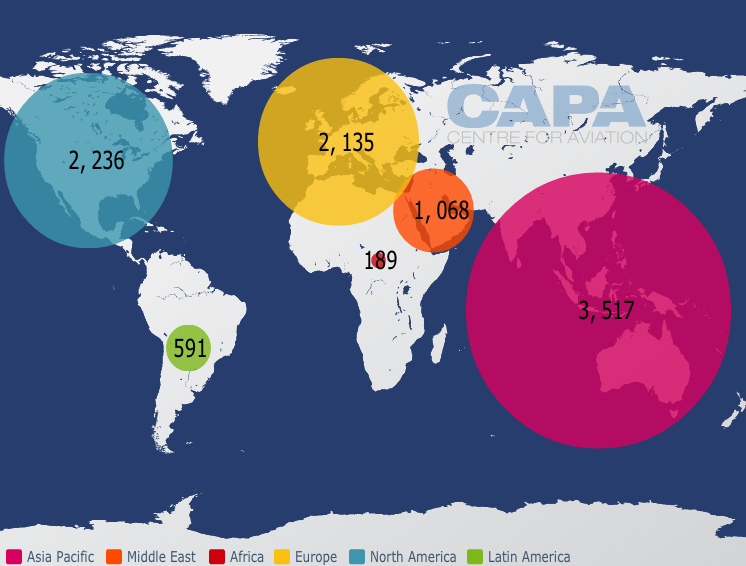 While China may capture attention, the opportunities are not necessarily as they seem at first blush. Japan may be considered a low-growth market, but All Nippon Airways has 126 aircraft on order and Japan Airlines 76. These will need financing, although about 14% of ANA's in-service fleet is currently leased, compared to 35% for Japan Airlines. Qantas is larger than Virgin Australia with 121 aircraft in-service compared to Virgin's 95, but Virgin has 53 aircraft on order compared to Qantas' 10.
Chinese carriers have a range of aircraft orders, from 173 at China Eastern to only three at Shenzhen Airlines. But the China market is different due to the approval process of aircraft; Xiamen's order for 787s was only approved in 2013 despite being announced some time earlier.
Fleet profile of top 20 Asia-Pacific airlines ranked on fleet size: 15-Nov-2014
Some airlines – GoAir, Shandong, VietJet – that are not among Asia's top airlines (or at least not yet) have some of the largest backlogs. Potentially high-yield leases from start-ups could also mean high risks.
Top 21 Airlines Based on Fleet Order Backlog: 15-Nov-2014
Chinese lessors are growing - and leasing outside China
The rising number and activity of Chinese lessors follows express government encouragement to grow. In 2007 China permitted state banks to have leasing units, but the more recent activity in the sector follows Dec-2013's central government increased urgency for Chinese lessors to become some of the world's largest by 2030.
Local lessors are increasingly accounting for the lease deals in mainland China, at the expense of foreign lessors. This may be an increased challenge for those attracted to enter the leasing sector because of the excitement surrounding China's growth. While Chinese lessors are gaining market share in China, there has also been a push for them to lease to airlines outside of China.
There have been a few deals and other airlines report the lease rates offered by new Chinese lessors tend to be very favourable. As their cost of capital is lower, their lease rates can be lower, too.
A challenge will be whether leasing companies can fulfil their longer-term and more difficult objective of re-marketing aircraft after initial leases end. There is also the - until now relatively infrequent - matter of addressing a more disruptive force, such as an airline collapses, and the lessor needing to quickly take its aircraft and then re-market them at short notice. Ordering and placing new aircraft is the simple part, the argument goes; re-marketing is where expertise and connections are needed. But no doubt Chinese lessors will address this, with some learning curves along the way.
Spring Airlines too has announced its intention to start leasing aircraft. Unlike Lion Air or Norwegian (or past examples) leasing out aircraft, Spring intends to set up in Shanghai's new free trade zone and lease from there to generate its own tax benefit.
China Eastern is part-owner in its already-established leasing arm, China Eastern Airlines International Finance Leasing, which is also based in the Shanghai free trade zone. China Eastern Leasing disclosed in Nov-2014 a deal to lease 14 aircraft to China Eastern in arrangement with China Development Bank. The Shanghai free trade zone follows one in Tianjin, the Dongjiang free­trade port (DFTP), that has been seeing leasing activity.
Ten Largest Chinese lessors: Sep-2014
1. CDB Leasing
2. BOC Aviation
3. ICBC Financial Leasing
4. Minsheng Financial Leasing
5. CMB Financial Leasing
6. Bank of Communications Financial Leasing
7. CCB Financial Leasing
8. ABC Financial Leasing
9. Changjiang Leasing
10. AVIC Leasing
Shift to Asian leasing was inevitable and probably a positive for the airline industry
The enhanced interest in leasing is beneficial for the airline industry, and is a considerable contrast considering the lack of interest a few years ago. There will no doubt be some learning curves along the way. But as China becomes an increasingly powerful voice in global aviation, China's vision for having its airlines, some of the world's largest, complemented by some of the world's largest lessors, appears merely a logical progression.
That opens another avenue to a marriage of Asian aviation growth and the fast-expanding wealth in the region. Entering the value chain at the leasing level allows Asia, and China in particular, the opportunity to participate more actively and broadly in the industry's financial activity.