Ancillary charges; we're mad as hell about them. The consumer (and agent) backlash
The growing backlash against ancillary charges in the airline industry has been gaining voice. Now, with a little nudge from the American Society of Travel Agents, action is about to be added to the rhetoric. A website, entitled madashellabouthiddenfees, is providing a focal point for consumer action. The US DoT is about to be bombarded with petitions against the practice, on Mad as Hell Day, 23-Sep-2010. And, as the airlines fall short of making a good public case, regulation is staring them in the face.
One of the iconic moments of cinema in the second half of the 20th century was Peter Finch's outburst in Network in which he yells from a window in New York that he is "mad as hell" and "not going to take this anymore."
ASTA, BTC and CTA are mad as hell, for starters

Those words have been co-opted by a new web site, http://madashellabouthiddenfees.com, a cooperative effort between the American Society of Travel Agents (ASTA), the Business Travel Coalition (BTC) and the Consumer Travel Alliance (CTA).
Prior to establishing the site, the three organisations collaborated on a nationwide survey which revealed that amongst travelers;
66% had been surprised at the airport by unexpected fees or charges
29% said that they were repeatedly surprised most or all of the time by such fees
65% complained that the fees caused unexpected financial strain
99% believe that airlines should be required to post disclosures on every booking site
When asked about specific charges, the following fees were ranked as being especially odious;
91% objected to carry-on fees
88% disliked seat reservation fees
74% were annoyed by checked baggage fees
67% found telephone reservation fees annoying
ASTA's Senior vice President for Legal and Industry Affairs, Paul Rudin, cited the problems encountered by travel agents in assessing total journey cost, "We must level the playing field to ensure that travel agents and their customers can make apples-to-apples comparisons of the costs of each trip."
Kevin Mitchell, Chairman of the BTC, noted the increasing complexity of establishing corporate travel budgets when so many unexpected expenses affect the cost of travel.
23-Sep-2010 to be "Mad as Hell Day"
As a result of continued frustration with the airlines and their burgeoning, and often unrevealed fees, the three partners introduced the website and designated September 23rd as "Mad as Hell Day" when they intend to bombard the USDOT with petitions, complaints and examples gathered on the site.
The site provides opportunities for all manner of complaints and stories, which can be submitted as written complaints or as a YouTube video. There is a media center as well, which posts numerous stories and links that have appeared in the public media concerning both customer complaints as well as chronicling the efforts made thus far to correct the problem.
This cannot be good news for the airlines. Rising yields and increased ancillary revenue have helped to move many US carriers into profitability. A high profile campaign to highlight customer dissatisfaction is certainly not an appealing prospect and has the potential to raise critical awareness amongst a larger group of consumers.
Conversely, those carriers that have resisted or limited fees may get a welcome bit of positive re-enforcement for their restraint.
Airlines one step short of making a case

While financially stronger, the campaign highlights the fact that airlines have done a poor job of justifying the fees, and are generally seen as making capricious and opportunistic decisions that provide a weak cost/benefit case to consumers. They are perhaps reaping the results of trying to present the fees as "services" that can be purchased as desired.
The carrier policies have also put them at odds with some of their primary sales channels, travel agents and corporate travel departments, which is an interesting and complex position. This is hardly a novel situation in airline-intermediary dealings, but this one could prove very costly
Depending on the number of complaints submitted on September 23, the airlines' efforts to boost the bottom line might also be the catalyst for a backlash that constrains those very efforts.
The GAO report acted as a trigger for reaction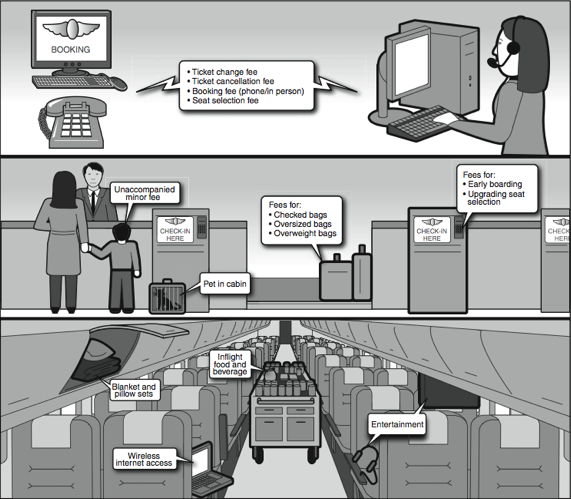 The recent GAO report on ancillary charges was given a loud voice in House Transportation and Infrastructure Committee Aviation Subcommittee hearings, a somewhat onesided show, used to allow Committee members to express strong displeasure on behalf of their constituencies. Despite the bad media arising from that, it seems that the industry has really done little to explain the case.
That is a dangerous shortfall in communications, given the reliance that most airlines now have on this burgeoning source of revenue. More regulation - which is where this appears almost inevitably to be heading - is the last thing they want.