ANA Mar-2011 traffic hit by earthquake and tsunami
All Nippon Airways (ANA) domestic traffic dropped to a two-year low in Mar-2011 as the earthquake and tsunami which struck Japan affected demand during the last three weeks of the month.
ANA transported 2.992 million domestic passengers in Mar-2011, a 20.2% decrease compared to Mar-2010. This represents the lowest ANA monthly domestic passenger tally since Apr-2009, when 2.834 million passengers were transported, according to CAPA's online airline traffic database.
All Nippon Airways Passenger Numbers (Domestic, mill) (Jan-2009 to Mar-2011)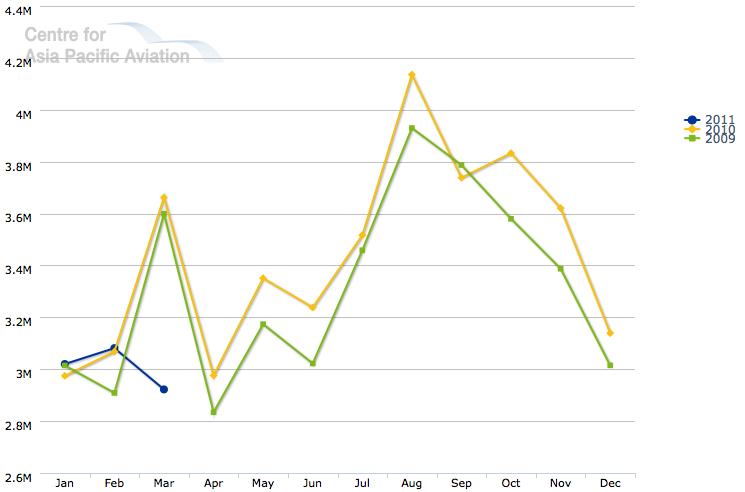 The domestic figures include a 20.1% drop in traffic on 'main routes' to 1.213 million passengers and a 20.3% drop on 'local routes' to 1.709 million passengers. On an RPK basis, domestic traffic was down 20.7% while domestic capacity (ASKs) was still up by 1.4%. As a result ANA's domestic load factor for the month was only 54.3%, a 15.2 percentage point drop compared to Mar-2010. ANA's domestic load factor has not been so low since April-2009, when it was 53.6%.
All Nippon Airways Passenger Load Factor (Domestic, %) (Jan-2009 to Mar-2011)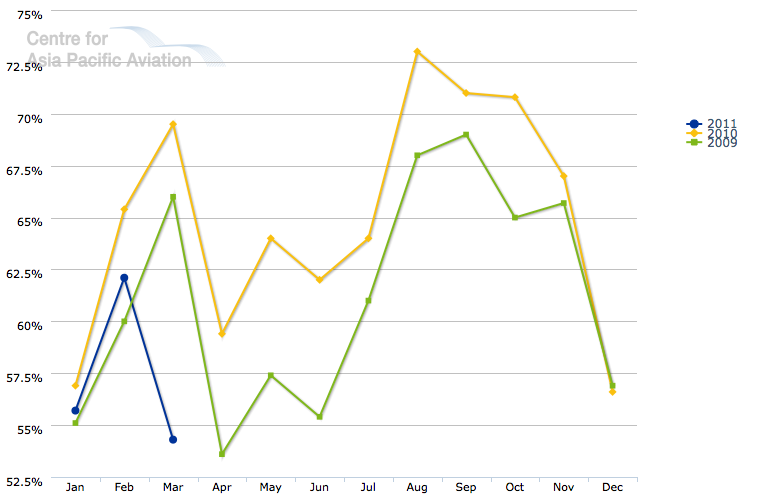 Demand for domestic travel has been impacted since 11-Mar-2011, when a major earthquake and tsunami struck Japan. International travel to and from Japan also has been impacted.
ANA recorded a 9.1% drop in international passenger traffic for Mar-2011 to 413,000 passengers. International RPKs were down 3.6%. As capacity was up 20.7%, driven by new international routes at Tokyo's Haneda Airport, ANA's international load factor slipped 16.3 percentage points to 64.8%. ANA has not reported such a low international load factor since May-2009, when it was 63.3%.
March marks the end of the fiscal year for ANA. Despite extremely tough conditions during the last three weeks of the year, for the 12 months ending 31 Mar-2011 ANA still recorded a 1.7% increase in domestic traffic to 40.577 million passengers and a 10.8% in international traffic to 5.169 million passengers.
Domestic RPKs for the year were up 1.6% despite a 0.5% reduction in capacity while international RPKs increased by 10.9% with an 11.4% increase in capacity. As a result, ANA's domestic factor for the year was up 1.3 percentage points to 63.3% while its international load factor was down 0.3 percentage points to 75.4%
Cargo traffic was not as impacted by the earthquake and tsunami. ANA's international cargo traffic increased by 8.9% in Mar-2011 to 49.343 tons. However, this was the lowest year-over-year monthly increase ANA recorded for international cargo traffic for the entire fiscal year. For the fiscal year ending 31 Mar-2011, ANA's international cargo traffic surged 32% to 557,445 tons. Domestic cargo traffic was also up in Mar-2011 by 5.6% to 42,366 tons but for the fiscal year was down 1.2% to 453,402 tons.