American Airlines projects USD5 billion fuel cost savings in 2015, but flight crew costs to blow out
Analysis
Despite heightened low cost competition in numerous markets that began in 4Q2014, American Airline recorded strong financial results and has opted to initiate a USD2 billion share repurchase set for completion in 2016, after finishing an initial USD1 billion buyback a year early.

Like its US airline rivals, American is projecting a soft unit revenue performance in 1Q2015 driven by the growing pressure from low cost airlines, higher aircraft density and some currency headwinds from the strengthening USD.

American's projected decline is somewhat steeper than its rivals, but some of the pressure it experienced in certain geographies in 2014 should ease in 2H2015. At the same time the airline is projected to save a whopping USD5 billion in fuel expense during 2015, a benefit of its decision not to adopt a fuel hedging strategy.
American records a solid top line financial performance buoyed by lower fuel costs
Since the close of the merger between American and US Airways in late 2014, the combined new American has focused on its non-GAAP performance to reflect an accurate depiction of the results of the combined entity.

On a non-GAAP basis American recorded a USD1.1 billion profit in 4Q2014 excluding special charges, which was 153% higher than the USD436 million excluding special charges recorded the year prior. Its CY2014 profit excluding special items reached USD4.2 billon versus net income of USD1.9 billion in CY2013.

American's revenues grew by 1.8% in 4Q2014 to USD10 billion and by 5% in CY2014 to USD40 billion. The company's operating expenses in 4Q2014 fell 4% year-on-year during 4Q2014 to USD9.7 billion, and increased 1.5% for CY2014 to USD37.8 billion. Its mainline fuel costs in 4Q2014 dropped 17.6% as oil prices began their significant decline in latter part of 2014.
American Airlines revenue performance 4Q2014 vs 4Q2013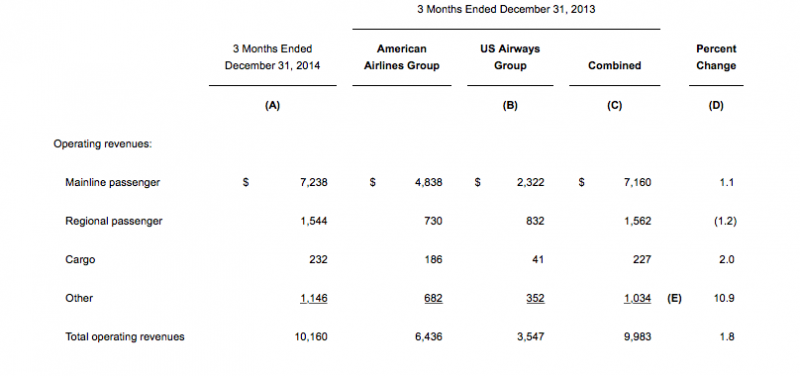 American Airlines group revenue performance: CY2014 vs CY2013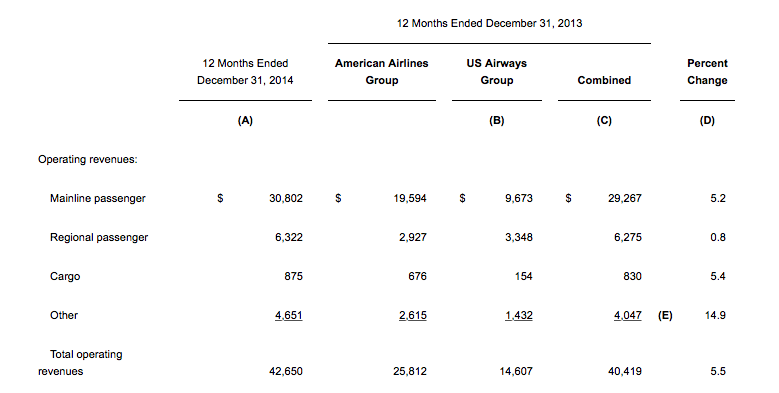 New LCC competition hurts American's 4Q2014 passenger unit revenues
American's passenger unit revenues fell 1% year-on-year in 4Q2014, which was below initial guidance of flat to 2% growth, as the airline faced heightened competition on 50 of its routes during the quarter.
Southwest made a push from its Love Field base in late 2014 after the dissolution of the Wright Amendment that prohibited certain long haul flights from its headquarters.
American Airlines unit revenue and yield performance (mainline and regional): 4Q2014 vs 4Q2013 and CY2014 vs CY2013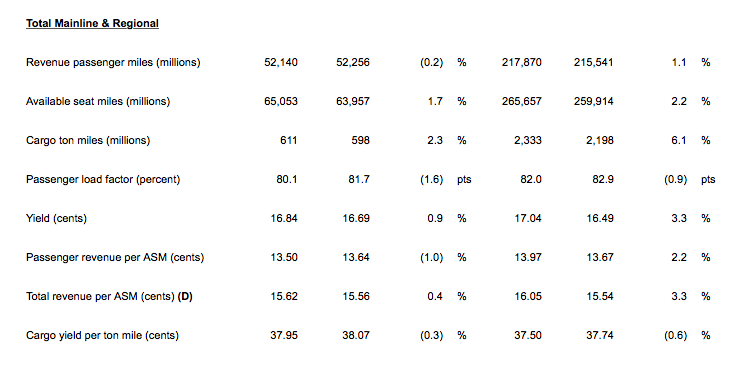 American president Scott Kirby also cited pressure from LCCs on some routes from Washington National, and in American's hubs in Philadelphia and Chicago O'Hare where Frontier Airlines has added flights.

Mr Kirby remarked the route additions were unusually high and concentrated and "something we didn't accurately forecast". He explained that in the Dallas market, local passenger volume remains stable, but local yields are being pressured. American is able to offset some of that pressure through improving connecting passengers and a rebanking of its hub in Dallas/Forth Worth set for Mar-29 should increase higher yielding connecting passengers.
American Airlines records its best performance in domestic markets during CY2014
American still recorded a strong performance in its domestic entity in 4Q2014 and CY2014 even as more LCC pressure started to emerge late in the year. For the last quarter of 2014 American's domestic yields increased 4.8% and unit revenues increased 3.6%. For CY2014 its domestic yields grew 6.3% and yields jumped 6.4%.
American Airlines unit revenue and yield performance in the domestic market: 4Q2014 vs 4Q2013 and CY2014 vs CY2013

The company continued to face pressure in Latin America due to largely in part to its pull-down of capacity in Venezuela as it still has USD656 million of frozen funds tied up in the country. American's Latin American yields fell 8.6% year-on-year during 4Q2014 and unit revenues dropped 11.3%. Yields fell 2.9% for CY2014 while unit revenues dropped 6.7%.
Mr Kirby declared that Latin America was American's most challenging region; but did estimate that absent the effects from pulling capacity from Venezuela, the company's unit revenues in Latin America would have fallen just 2% in 4Q2014.
American Airlines unit revenue and yield performance in Latin America: 4Q2014 vs 4Q2013 and CY2014 vs CY2013

American continued to post solid results in its Pacific network, which is considerably smaller than the Asian operations of its competitors United and Delta. The company's Pacific yields increased 2.1% in 4Q2014 and unit revenues slipped 1.2%. For the full year American recorded a 6.4% rise in Pacific yield and a 5% increase in unit revenues.
During the last year the airline has launched flights from its Dallas hub to Hong Kong Shanghai and Seoul, and new service to Beijing starts in May-2015.
American Airlines unit revenue and yield performance in the Pacific: 4Q2014 vs 4Q2013 and CY2014 vs CY2013

In the trans-Atlantic, American grew its yields by 4.1% in 4Q2014 and unit revenues dropped 1.2%. For CY2014 the airline increased yield by 6.4% and unit revenues by 5%.
American Airlines unit revenue and yield performance in the trans-Atlantic: 4Q2014 vs 4Q2013 and CY2014 vs CY2013

American braces for weak passenger unit revenue growth in 1Q2015
As the pressure from LCCs continues, American is estimating a 2% to 4% unit revenue decline year-on-year in 1Q2015, which is deeper than the flat performance projected by Southwest and the 1% drop to 1% rise forecasted by United.

See related report: Southwest finally exceeds its return goals with fuel windfall; but others want to share in it

Similar to Delta and United, American is also facing some pressure from the strengthening of the USD against weaker foreign currencies. Offering some insight into the pressure, Mr Kirby remarked that point of sale for American's China flights is more heavily weighted to the US - perhaps highlighting the need for a Chinese partner - while markets in deep South America have strong point of sale in those respective origin markets. Tickets sold for American's flights to the Caribbean and Mexico have stronger point of sale in the US. Mr Kirby estimated that the foreign exchange impact is less than 1% on passenger unit revenues, which is somewhat offset by some of American's expenses denominated in foreign currencies.

Overall, American expects that its unit revenues will fall across all regions in 1Q2015 with the exception of the trans-Atlantic, where it is cutting capacity by 8% year-on-year. The company is also reducing supply to Latin America by 7% in 1Q2015. As American moves into 3Q2015 and 4Q2015, the year-on-year comparisons in its Latin American performance become easier due to the lapping of the pull-down in Venezuela and some pressure American faced in Brazil and Argentina in 2H2014.

Mr Kirby predicted that if fuel prices remain at current levels American's Asian routes should be profitable in 2015. He also highlighted that American's expansion to Asia from Dallas is complete, but the airline would still pursue opportunities in the Pacific from elsewhere in its network, particularly Los Angeles.

See related report: Los Angeles airport at the heart of a fierce battle between American Airlines and Delta Air Lines

American's load factor fell 1.6ppt in 4Q2014 to 80.1% and 0.9% in CY2014 to 81%. At the same time yields increased 0.9% and 3.3% in each of those time periods. Mr Kirby explained American has taken a lot of steps to improve yields, and will look for ways to increase load factor without negatively impacting the gains it has made in yield growth.

The airline will also face some unit revenue pressure from a projected system wide capacity increase of 2% to 3% in CY2015, which is roughly a half point lower than original estimates. The rise is driven by larger aircraft gauge, and a higher projected completion factor. Mr Kirby remarked that the higher year-on-year completion factor "will be earnings positive, but will negatively impact PRASM". The airline expects a 3% rise in domestic capacity in CY2015 and a 1.5% increase in international supply.
Some cost creep accompanies American's fuel expense benefit in 2015 as flight crew costs blossom
American has adopted the legacy US Airways practice of not participating in any kind of fuel hedging scheme, and expects its fuel cost per gallon to range from USD1.73 to USD1.78 per gallon in CY2015, which should generate roughly USD5 billion in fuel cost savings. Some of the savings will be directed to shareholder return and general investment in the business, including product enhancements.

As it enjoys substantial fuel cost savings in CY2015, American also projects a 3% increase in unit costs excluding fuel and special items for the year as a new joint collective bargaining agreement reached with flight attendants results in USD200 million additional costs.
Pilots are set to complete a ratification vote on an agreement by the end of Jan-2015, and if the agreement is not ratified than the airline estimates it would not incur USD650 million in costs, or about 2.5ppt of consolidated unit cost projections.

American in an investor update stated that if the pilots do not endorse the agreement, then binding arbitration would commence in Feb-2015. In that case, the company "would anticipate no increase in its 2015 costs of pilot compensation and benefits resulting from the new contract because the agreement between the company and the union that represents the pilots provides that the arbitration would be limited to the determination of a cost neutral JCBA including no adjustments to pilot pay".
In a real world it would seem inevitable that pilot endorsement is a given, but the outcome is tough to predict, as the Dallas Business Journal reported that some pilots felt strongly that they should be paid for time away from their homes, even if they were not operating aircraft. If the pilots do accept, that will total USD850 million in additional expenses on flight crew alone.
American remains on a solid footing as pressure from LCCs lingers
Since closing the merger American has turned a strong financial performance and now has roughly USD8.3 billion of cash in its coffers. It is no doubt hoarding some of its cash to withstand any challenges that arise from the continued integration including the reservation system cutover scheduled for 4Q2015. But it has also quickly responded to new industry dynamics where shareholders are getting more vocal about rewards, evidenced by its latest USD2 billion share buyback programme.

The airline is starting 2015 on solid footing, but faces some formidable new competition from LCCs. As American works to fully exploit its scale and attain its merger synergies, some of the pressure should ease. But in the short term it is bracing for heightened competition from Southwest, JetBlue, Spirit and Frontier – all familiar foes that the new American is presumably equipping itself to face.