American Airlines opts to erect protective measures against Argentina's weak economy
Analysis
American Airlines is taking steps to protect itself against economic volatility in Argentina as it braces to face continuing headwinds from Venezuela's weakened economy and funds it has trapped in that country.

Argentina is in high profile dispute over the country's debt obligations, a factor which has understandably generated concerns about future economic performace. Although airlines do not have millions of dollars frozen in Argentina, American has opted to limit the sales window for travel to the country, which has angered the Argentinian government.

American could be taking steps to protect itself from the differential in black market rates in the value of the ARS to the official exchange rate, which created some of the revenue pressure the airline now faces from the service reductions to Venezuela.
CAPA's first America Aviation Summit will he held at the Hilton Lake Las Vegas Resort & Spa on 27/28 April 2015. To experience CAPA's unique aviation conference format and to meet the movers and shakers in the Americas and worldwide with 20+ airline CEOs, click here:
CAPA Americas Aviation Summit
Argentina's economic weakness drags down yields for airlines serving the country
Airlines serving Argentina cited soft demand in the market as the country has defaulted on debt, recorded rising inflation and suffers from currency devaluation. At the end of 2Q2014, LATAM Airlines Group estimated that the ARS had depreciated by 54%. Some estimates indicate Argentina's inflation rate is as high at 40%. The country's projected GDP growth for CY2014 is just 0.5%.
GDP Growth of Argentina (Percent change): 2009 to 2019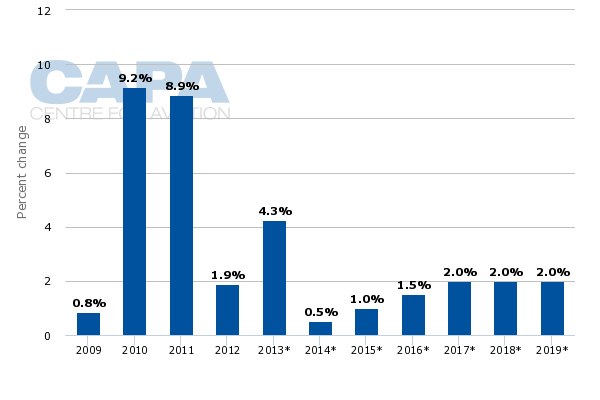 Both LATAM and Copa have endured weak yields on service to Argentina, with LATAM citing an 8% decline at the end of 2Q2014, while Copa estimated a 10% decrease in yields.

See related reports:
Macroeconomic weakness drags down LATAM Airlines Group's 2Q2014 results and could linger into 2015
Fallout from frozen funds in Venezuela dampens Copa Airlines' favourable 2Q2014 performance

LATAM explained the sudden devaluation of Argentina's currency pressured international travel. Tickets in that segment are generally priced in the USD, which results in higher costs for Argentinians to travel.

US Airlines have also cited weak demand in Argentina. American also at the end of 2Q2014 remarked that Venezuela was the weakest market in Latin America followed by Argentina.
American Airlines has the largest exposure among US airlines to the worst economies in Latin America – Venezuela and Argentina. Even after reducing its weekly frequencies from the US to Venezuela from 48 to 10, it still has the highest seat share of the US airlines serving the country. Data from CAPA and OAG show that for the week of 13-Oct-2014, American has a 18% share, followed by United with a 6% share and Delta's 2% share.
United States of America to Venezuela: seats per week, one way, 14-Oct-2013 and 13-Oct-2014

Delta has cut its daily Atlanta-Caracas service to weekly and United has also trimmed its flights from Houston Intercontinental from daily to four times per week. As a result of the cuts, American's seats deployed from the US to Venezuela have plummeted nearly 81% year-on-year, Delta's have dropped roughly 88% and United's seats on offer have fallen 56%.

Each of the three largest US global network airlines serve Argentina from their major hubs. American offers flights from Dallas/Fort Worth, JFK and Miami to Buenos Aires Ezeiza international airport. Delta operates service from its Atlanta hub to Ezeiza and United offers service from Houston Intercontinental to Ezeiza.

Presently, American holds a 44% seat share between the US and Argentina (based on CAPA and OAG data for the week of 13-Oct-2014). Delta holds a nearly 10% share and United has a 9% share. Overall, seat deployment between the two countries has grown 4.8% year-on-year driven by a 17.5% seat increase from Aerolineas Argentinas. During the last year Argentina's national airline has restarted service from Buenos Aires to New York JFK.
United States of America to Argentina: seats per week, one way, 14-Oct-2013 and 13-Oct-2014

American's seats on offer from the US to Argentina have grown almost 2% year-on-year while Delta's seat counts are down 2% and United's are roughly flat.
Black market rates in Venezuela create revenue pressures for American
As of 31-Jul-2014 American Airlines had VEF791 million frozen in Venezuela for repatriation, and it has warned that the service cuts would pressure passenger unit revenues in 3Q2014 by 1.5ppt and 2ppt during 4Q2014.

Some of that pressure stems from black market rates for the Bolivar from the summer 2013 timeframe. The airline recently explained during that time black market rates reached VEF60 versus the official exchange rate of VEF6.30.

American stated the Venezuelan government allowed individuals to purchase airline tickets at the official exchange rate, which was roughly a 90% discount to the black market rate. Those ticket purchasers were allowed to convert bolivars at the VEF6.30 rate into the USD.

"You could buy your ticket in Venezuela and go to the US and make money because of the differential in the exchange rate," said American. "So everyone was buying tickets...you wound up selling out every flight to the highest inventory class." Any way that citizens could leave Venezuela, they could make money, "and actually put dollars in your pocket to leave Venezuela," American stated.

Previously, American has explained that in Jul-2013, when Venezuela's unofficial exchange rate started to spike, Venezuela represented 2% of its 3Q2013 consolidated revenues, but just a half point of its total system capacity.

See related reports:
American Airlines holds a bullish view despite supply overhang in some geographies
American Airlines strong 2Q2014 results despite revenue headwinds from Venezuela suspensions
American opts to take protective measures against effects of Argentina's economy
The situation in Argentina is different from Venezuela; but given American's challenges with different exchange rates in Venezuela, it seems to be taking steps to stave off the possibility of any similar negative effects in Argentina.

American recently shrank its booking window for flights to Argentina to 90 days in advance. With Argentina's rising inflation rate, dwindling cash reserves and currency devaluation, it is not surprising American is looking at ways to mitigate some of its exposure to Argentina.

News outlet the Wall Street Journal has reported that the Argentinian government bans its citizens from buying dollars to protect their savings from high inflation rates; however, some of the country's residents have turned to the black market for dollars. In Sep-2014 Bloomberg reported that the black market exchange rate was ARS15 to the USD, which was 79% higher than the official rate of ARS8.42 to the USD.

Bloomberg quoted former Argentinian deputy economy minister Jorge Todesca, who explained that from American's standpoint, it is reasonable to protect themselves against a weaker peso. He stated that the airline took an indirect channel away from Argentinians of buying cheaper USDs.

American's decision to prohibit sales on flights to Argentina more than 90 days in advance triggered a strong response from the country's government. Bloomberg stated that President Christina Fernandez de Kirchner wrote on her website that American wanted to spook or annoy Argentinians that want to travel abroad.
Some economic unrest reflects Latin America's short term vulnerability
American's actions in Argentina and the economic unrest in Venezuela show that Latin America still has some vulnerable geographies even as it has been a rapidly growing air travel region during the last five years.

As CAPA recently concluded in Airline Leader, the IMF recently trimmed its 2014 GDP growth targets for Latin America and the Caribbean to 2.5% from 2.75%, and only projects modest 3% growth in 2015.
Please see: Airline Leader: Latin American special issue
Argentina and Brazil have the lowest projected growth in CY2014 at 0.5% and 1.8%, respectively. The tepid economic environment is a sharp reversal from the promise Latin America held just a few short years ago as the region emerged as a highly profitable growth market for airlines.

Latin America still holds much promise, but in the short term airlines such as American will see the need to take measures to protect themselves from economic volatility, despite reprimands from governments struggling to maintain economic viability.