American Airlines maintains higher leverage levels as its fleet revamp continues full steam ahead
Analysis
American Airlines is a stand-out among US airlines for the massive fleet restructuring it has undertaken during the past few years. Since the close of the merger between American and US Airways in late 2013, American has inducted 496 aircraft into its fleet, while retiring 469 aircraft.

It is a huge undertaking against the backdrop of other significant projects related to merger integration, including a complex reservations system cutover. Managing the financing of those aircraft is also no small task, reflected in American's projected capex in 2018 falling below USD5 billion for the first time in four years.

The result of American's dizzying pace of fleet replacement is an average mainline fleet age of 10 years, which is far below those of its major US rivals. However, the airline's leverage is significantly higher than at its peers, which is one factor in American's decision to hold higher cash balances than Delta and United.
Summary
American projects significant fuel efficiency gains from its younger fleet
American continues to issue debt as the primary means for financing aircraft, which results in the airline having higher leverage than its peers
American continues to boast its fleet as one of the youngest in the US
Even before American became a merger target for US Airways, the airline placed a massive order in 2011 for 460 narrowbody jets from Airbus and Boeing as it undertook an ambitious fleet replacement of its older MD-80 jets.

The fleet replacement continued after the merger between the two airlines, and now American's average fleet age of 10 years is significantly lower than United's average mainline fleet age of 14.4 years, and Delta's age of 17.1 years.
American Airlines average fleet age as of 27-Nov-2017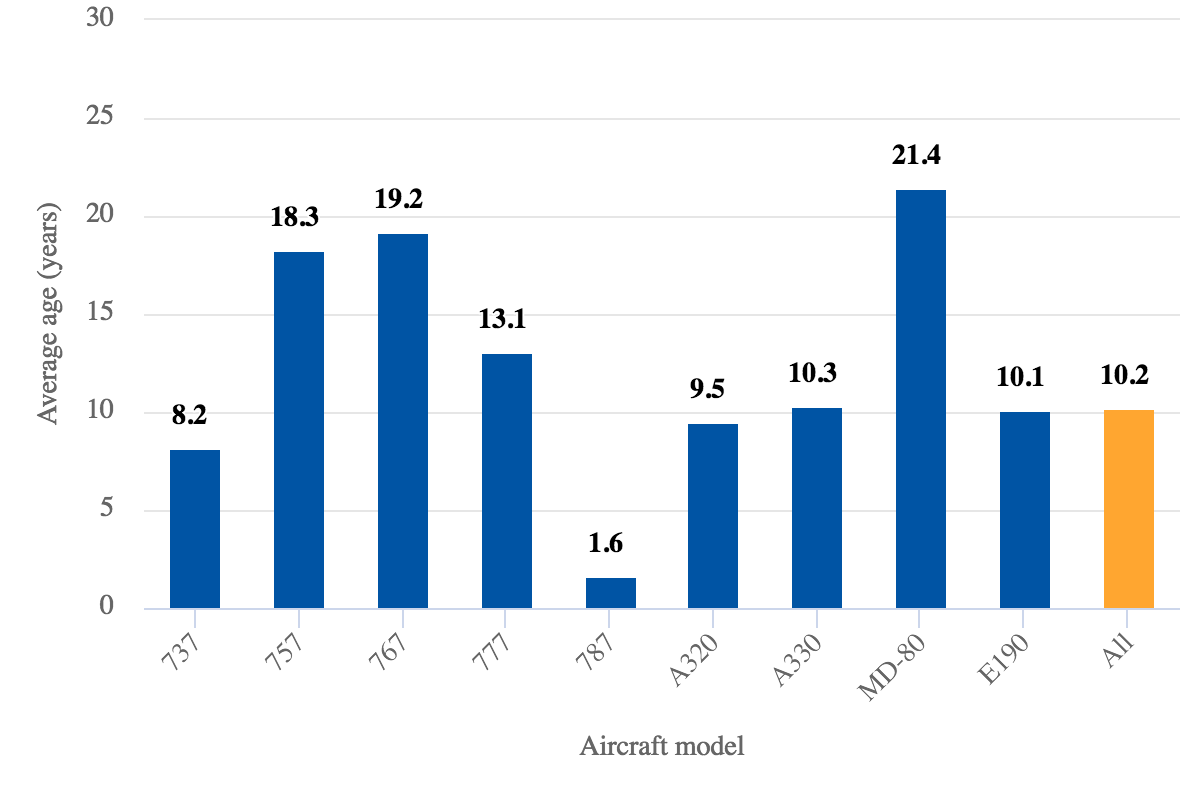 CAPA's fleet database shows American has 45 remaining MD-80 jets in its fleet, with an average age of 21.4 years. The airline has announced plans to retire those aircraft in 2019.
American Airlines fleet summary as of 27-Nov-2017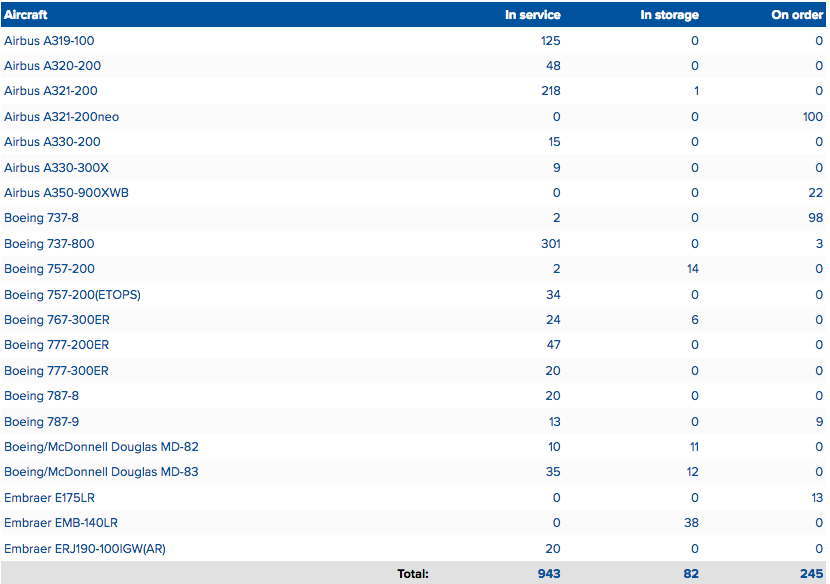 American touts its fleet efficiency as fuel costs maintain an upward trajectory
Employing a younger operating fleet is an advantage for any airline, but especially for American and other airlines that do not engage in fuel hedging. For the 9M ending 30-Sep-2017 American's top line fuel expense grew 19.9% year-on-year. The airline expects those costs to rise 16% year-on-year in 4Q2017.

American has estimated a 10% increase in fuel efficiency from its operating fleet between 2014 and 2021, which obviously helps mitigate some of the fuel cost headwinds the airline is facing in 2017 and beyond.

The airline's fleet upgauging is also pronounced during that period. The number of narrowbody jets in American's fleet with seats ranging from 161 to 200 seats will jump from 245 to 600, while the number of jets with 99 to 160 seats is projected to drop from 587 to 200. Two-class regional jets are growing from 238 to 400 to 450, and the company's fleet of smaller regional jets is falling from 328 to 150 to 200.
American reportedly examines its future widebody fleet needs
Between 2014 and 2021, the number of aircraft in American's fleet featuring 250 seats or more is growing from 40 to 100, while widebodies with fewer than 250 seats will dwindle from 111 to 50.

Airbus A350s represent the bulk of widebody orders for American. The airline has 22 of the twin aisle jets on order, but according to the news outlet Bloomberg, American is holding talks with Airbus about the fate of the order. American's logic is that 22 aircraft is a small number for an airline of its size.

American has pushed the deliveries of A350 jets back twice, and now expects to receive its first A350 in 2020.

Previously, American has estimated that the Airbus widebody deferrals would slash capex and pre-delivery payments by USD500 million in 2017, and USD700 million in 2018.

See related report: America's airlines adjust A350 commitments. United's order in doubt as used widebodies draw praise
American has financing in place for several deliveries through Apr-2018
American's projected total capex of USD3.8 billion in 2018 is the first time its capital expenditures will drop below USD5 billion since 2014. The airline's capex peaked in 2015, at USD6.2 billion, and will grow to approximately USD4 billion in 2019 and 2020.
American Airlines annual capex from 2014 to 2020

At the end of 2Q2017 American stated that its treasury team had raised USD645 million to finance 11 aircraft through private mortgages and sale-leaseback transactions. The airline also repriced a USD735 million financing package secured by is London Heathrow franchise.

As of 30-Sep-2017, American had financing commitments for aircraft scheduled for delivery through Apr-2018. The company did not have commitments for 11 Boeing 737 MAX jets and five 787 widebodies. CAPA's fleet database shows American is scheduled to take delivery of 16 MAX narrowbodies, six 787s and nine Embraer 175s in 2018.
American Airlines' projected delivery dates for aircraft on order from OEMs and leased from lessors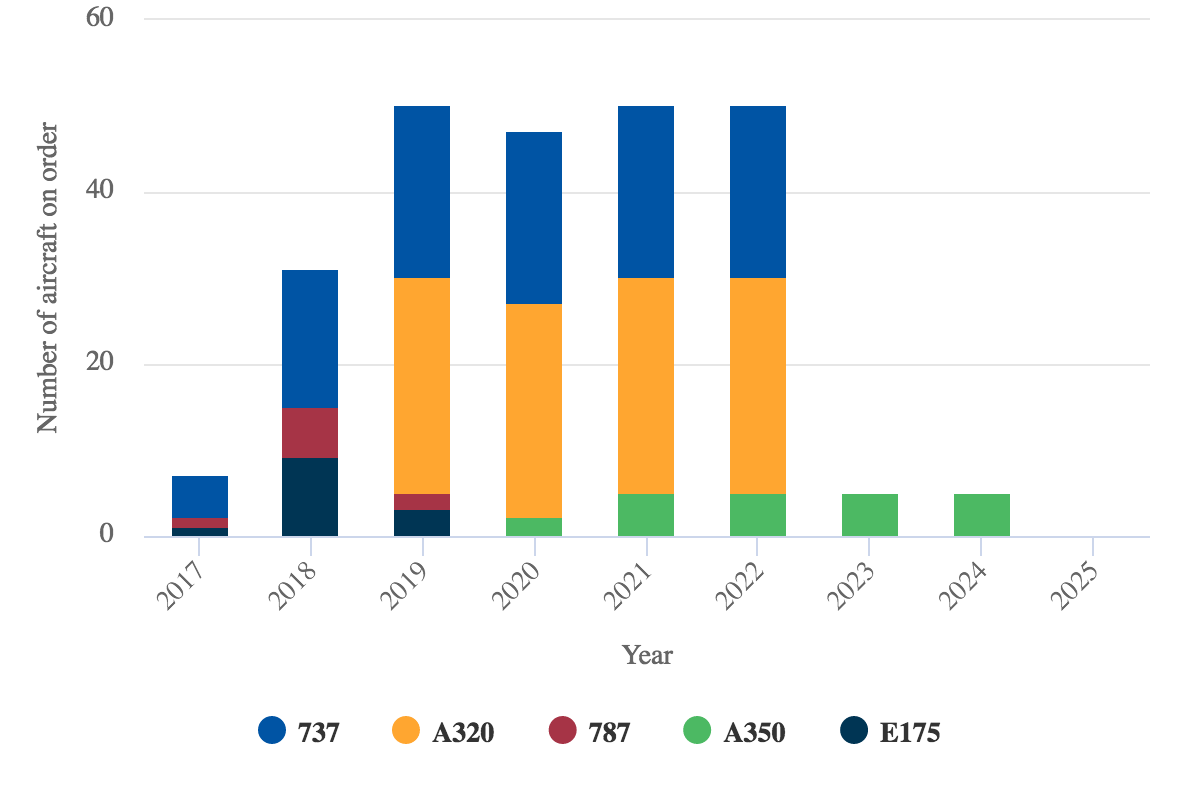 American estimates its aircraft capex for 2018 is approximately USD1.2 billion. The airline has stated that it may participate in some sale and leaseback transactions, depending on market conditions. The company has estimated it would use financing instruments for 75% of its 2018 aircraft capex commitments.
American keeps higher leverage, since most aircraft financing is through debt
Between 2014 and 2017, American's total capital expenditures will reach USD22.9 billion. Those levels are much higher than planned expenditures by Delta and United during that period.
American touts its capital expenditures as an unprecedented investment in its product, but most of its aircraft are financed through debt, and the result is that the airline has much higher leverage ratios than its peers.

Data from Morningstar show American's debt to equity ratio YE2016 was 5.94 compared with 0.50 for Delta, and United's ratio of 1.37. American's total debt as of Sep-2017 was USD24.68 billion, compared with USD13.94 billion for United and USD8.8 billion for Delta (based on Wall Street Journal data).
Part of the reason that American's total liquidity balance of USD9.3 billion is so much higher than Delta's or United's is its higher leverage levels. "We think it's a better way to protect ourselves against downturns or any unforeseen circumstances than being less levered", American CEO Doug Parker recently said.
At some point, American may need to address its leverage levels
American has done many things right in a merger process with US Airways that is winding down. The airline is undertaking a necessary refleeting that will make American more competitive and efficient over the long term.

But that refleeting process comes with certain trade-offs – namely a higher leverage that might be off-putting to some potential investors. American feels it has covered its bases with a comfortable cash cushion, with respect to its leverage, but at some point the company may need to pare down its leverage to match its largest rivals.