American Airlines, Delta and United are de-emphasising Japan in favour of other Asian countries
Analysis
Japan may be the land of the rising sun, but for US airlines the country is fading in importance. American Airlines, Delta Air Lines and United Airlines will have fewer seats from the continental US to Japan in 2014 than in 2013. Japan will also comprise a smaller share of their Asian network. American and Delta in 2003 had Japan as their sole Asian destination from the US, but in 2014 Japan will account for only 43% of American's Asia capacity and 66% of Delta's. United's Japan exposure has decreased from 67% in 2003 to 42% in 2014.
The carriers are adding capacity to Hong Kong, Korea and Taiwan, but the main beneficiary of their growth is mainland China. American and United in 2014 will have almost as much capacity to China as to Japan. The change comes as American and United settle into joint-ventures with Japanese partners while Delta looks for a partner of its own. Despite China's increase in capacity significance, the market still has to mature from a premium and outbound standpoint. And no doubt China-US JVs will emerge, and one day overtake the Japan-US JVs.
US carriers are shifting capacity from Japan, primarily to China
The Asian mindset in the US once seldom extended beyond Japan. In 2003 Japan was the only Asian country American Airlines and Delta (including merger partner Northwest) had non-stop flights to. Delta, however, did have connecting services from its Tokyo Narita hub to Asian points, a presence it largely maintains today. United was more diverse, but still had two-thirds of non-stop US-Asia flights terminate in Japan. (It also had flights beyond Japan, but these are being pulled back.)
In 2008 there were signs of change. American added Chinese routes while Delta added Chinese and Korean routes, but Japan still accounted for 83% of American's US-Asia capacity while Japan was 91% for Delta – a rather stunning amount.
The pace of change has quickened and 2014 will hardly resemble 2008, let alone 2003. Delta is still the laggard, with a network distribution similar to United's 2003 profile. American however has diversified to nearly match United in proportions: about 43% to Japan, 38% to China and the balance split, for American, between Hong Kong and Korea while United in 2014 will serve Hong Kong and Korea as well as Taiwan.
American, Delta and United Continental US-Asia available seat distribution share by country: 2003, 2008 & 2014
US capacity to Japan will be down in 2014 while China hits record highs
Japan is being de-emphasised not just as US carriers add non-stop routes from the US to other Asian countries but also as carriers decrease Japanese capacity. American, Delta and United will have less capacity to Japan in 2014 than 2003. American and United had more capacity to Japan in 2008 than 2003, but Delta in 2008 had already started its Japanese reduction.
American, Delta and United Continental US-Japan seat capacity: 2003, 2008 and 2014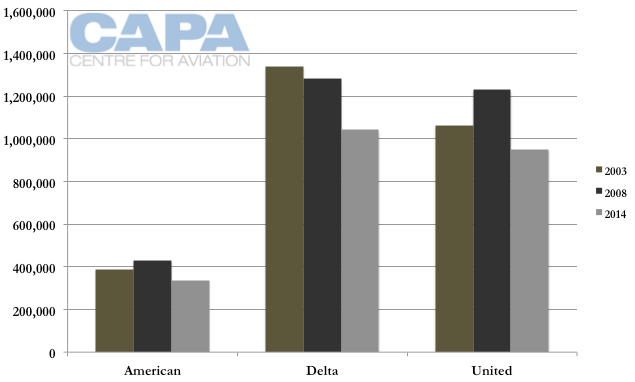 Between 2008 and 2014 American and Delta will have made about a three-fold increase in their capacity to China. United will have made more modest growth between 2008 and 2014, having made a huge leap between 2003 and 2008 when its capacity grew more than three-fold from 200,000 annual seats to over 700,000.
United's growth is more incredible as it started from a higher base than American or Delta, which had no US-China capacity in 2003. 2014 be another record year of capacity to China for US carriers – as it is for most other carriers.
American, Delta and United Continental US-China seat capacity: 2003, 2008 and 2014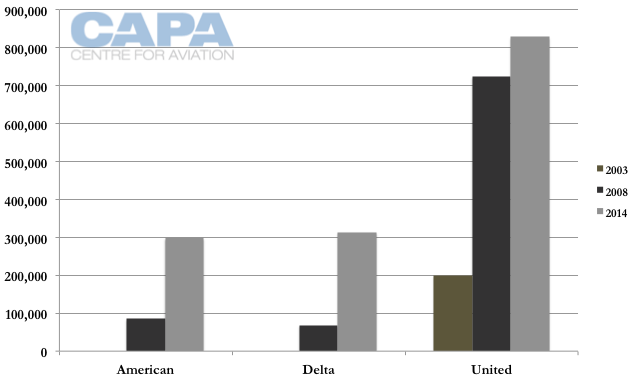 American Airlines makes largest change with Japan exposure decreasing to 43% in 2014
American and Delta in 2003 both had all of their US-Asia capacity in Japan. But American has has more rapidly changed, and in 2014 its share of Asian capacity in Japan will only be 43% compared to 66% for Delta. While Delta has previously diversified, American's push is relatively new. In 2013 it inaugurated flights to Korea with a Dallas-Seoul Incheon service and in 2014 will open its first Hong Kong flight, served from Dallas, while Shanghai will be boosted with a service also from Dallas.
See related reports:
American is the baby in Japan with nearly a third the capacity of Delta or United. In China it holds its ground better, having in 2014 about 300,000 seats, just under Delta's. (Figures are in flux due to route launches occurring at various times during 2014.) While American may be the smallest of the three in Japan, it has Japan Airlines as its JV partner. While JAL is a fraction of the size it once was, it is still larger than All Nippon Airways.
In China American will face a tougher environment. There is no oneworld member in China but American has a deepening relationship with independent Hainan Airlines, although Hainan is smaller than Air China (in Star along with United) as well as China Eastern and China Southern (in SkyTeam along with Delta).
Those carriers also have large subsidiaries (Shenzhen Airlines, Xiamen Airlines) in their alliances. One advantage for American is that Hainan is leaner and more international than its peers, which may provide for a closer relationship than what Air China, China Eastern or China Southern could offer in the short-term.
American is smaller than Delta and United in Asia, both in terms of seat capacity and routes.
American Airlines Continental US-Asia routes ranked on frequency: 11-Nov-2013 to 17-Nov-2013
Delta Air Lines is still reliant on Japan, where two-thirds of Asian seats go
Delta's Japan capacity in 2014 is down compared to 2003 and 2008, but it still comprises the bulk of its Asian network, with 66% of Delta's Continental US-Asia services going to Japan. There have been mis-starts, with Delta pulling Detroit-Hong Kong, leaving its only Hong Kong presence via Tokyo Narita. In 2014 Delta will launch Seattle-Hong Kong in addition to Seattle-Seoul, which combined with its Nov-2013 suspension of Seattle-Osaka Kansai has helped diversify its network.
Further diversification remains uncertain, unlike at American which is bullish on China and Hong Kong, and could see more additions there.
Delta is mulling a non-stop service to Taipei (currently served via Tokyo Narita) but for China prefers to concentrate on the main cities of Beijing and Shanghai while United is launching into secondary cities. Delta is also looking for a Japanese partner – namely Skymark – which could see it narrow the gap with American/JAL and United/ANA. But any gains in Asia from such a partnership would surely be limited to Japan, as Skymark does not have scheduled service to any foreign points. Partnership gains outside Japan could be made through China Eastern and China Southern, with whom Delta has spoken broadly of wanting to form a deeper partnership.
See related reports:
Delta is the second-largest US and global carrier between Asia and the US in terms of seat capacity. It has twice the number of routes as American.
Delta Air Lines Continental US-Asia routes ranked on frequency: 11-Nov-2013 to 17-Nov-2013
United Airlines is still the most diverse – and largest – US carrier around Asia
Accolades all around go to United Airlines, which is the largest carrier bar none between Asia and North America. It also has the most diverse presence of US carriers and the largest footprint in China, more than twice – nearly three times – that of American and Delta. On the partnership front it has both an anchor in Japan via its JV with ANA while in China it has as a partner (but not beyond codesharing) none other than Air China, the flag carrier and most international of China's airlines.
While American and Delta are catching up on some innovations – service to Hong Kong and Taiwan – United is looking farther ahead with plans to introduce service to Chengdu, being the first US carrier to serve a Chinese point other than Beijing or Shanghai. Chengdu-San Francisco will be the first service from the US to a secondary Chinese city, and the second between North America and a secondary Chinese city (the first example being Sichuan Airlines' Chengdu-Shenyang-Vancouver service).
United's Asian footprint is also diversifying as it intends to launch non-stop Taipei service in 2014 and down-gauge San Francisco-Osaka Kansai to a 787-8 from 777-200 (which only in 2013 took over a 747-400).
United Airlines Continental US-Asia routes ranked on frequency: 11-Nov-2013 to 17-Nov-2013
United may be the first to have both a Japanese and Chinese partnership on a deep level. Others will be looking to see how balance is brought.
The importance of China is shown from the fact that in 2003 United had more capacity to Hong Kong than mainland China, but in 2014 will have about three times the amount of capacity to mainland China as Hong Kong.
After shifting of capacity, partnership change is in order
The US-Japan alliances occurred after than Japanese market peaked. While mutually beneficial, they have become uneven as US carriers look at their Japanese capacity from the perspective of onward connecting traffic while ANA and JAL primarily see high-yielding point-to-point traffic.
See related report: US-Japan airline alliances become lopsided as JAL, ANA expand while US to shift to other markets
Although important now, if the Japanese market does not show marked improvement while potential Chinese suitors are agreeable to a partnership and on good commercial and strategic terms, it is not difficult to see US-Japanese partnerships wither in favour of Chinese links. How or if they run concurrently will be the subject of experimentation.
There will be some requirements, and these will take time. Japan is still high-yielding, especially in the corporate sector, whereas that market sector is still maturing out of China. Outbound traffic is heavily leisure-focused. Full realisation of partnership benefits can occur only when additional slots at China's congested airports are made available.
Whereas Japanese and US carriers were relatively late to JVs, there is an opportunity for a China-US JV to kick off while growth is still young - although, so long as that depends on having an open skies agreement in place, anti-trust immunity will not be granted by the US.
This appetising thought should not distract from the many other Asian markets that will see growth. US carriers are gaining momentum in Asia, but there is still ground to be made in terms of growth, balance of countries and perhaps most importantly mindset: it was only in 2012 United made reference to "non-Japan Asia". The risk to American, Delta and United is that their counterparts are also clued in to the fortunes to be made across the Pacific.
See related reports: