American Airlines and US Air down, GOL and TAM surge – Stock Wrap
American Airlines' shares dropped back 0.9% on Friday, as the carrier forecast a 16-17% reduction in 2Q2009 mainline unit revenue (see below). The reduction is not as bad as United's expected up to 18.9% reduction in PRASM this quarter.
Shares in Brazilian carriers, GOL and TAM, surged 5.5% and 4.0% on Friday on an improving demand outlook. ANAC stated domestic demand in Brazil was down (only) 5.4% year-on-year. GOL's shares closed at their highest level since 19-Jan-2009.
NB: America Airline Daily is now ON SALE! Buy an annual subscription by the 4th of July for just USD395 p/a!
North & South America selected airlines daily share price movements (% change): 19-Jun-09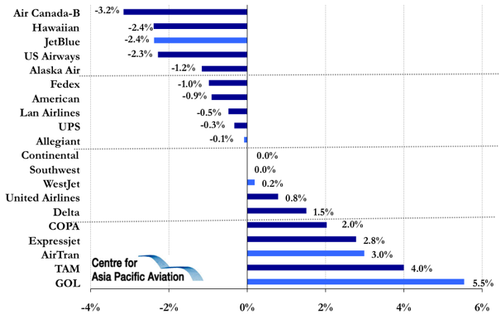 American Airlines' Securities Exchange filing, 18-Jun-2009
The following is an extract from American Airlines' Securities Exchange filing on 18-Jun-2009:

"Revenue: Second quarter mainline unit revenue is expected to decrease between 16.0% and 17.0% year over year while second quarter consolidated unit revenue is expected to decrease between 16.2% and 17.2%. In total, Cargo and Other Revenue is anticipated to decrease between 7.8% and 8.8% relative to second quarter 2008.
Liquidity: We expect to end the second quarter with a cash and short-term investment balance of approximately USD3.3 billion, including approximately $460 million in restricted cash and short-term investments. Our expected cash balance includes the impact of nearly USD400 million in principal payments on long term debt made during the second quarter. We also expect to end the second quarter with approximately USD50 million of hedge collateral posted with counterparties; this amount is not included in our cash balance expectations".
American stated its mainline unit costs are projected at USD 11.84 cents per available seat mile (ASM), down from USD 15.8 cents a year earlier. Excluding special items, the 2Q2009 unit costs are expected to be USD 11.66 cents, compared to USD 13.29 cents a year earlier.
Fuel prices have fallen dramatically since last year. In 2Q2008, American paid an average of USD3.17 per gallon. In 2Q2009, this is expected to average USD1.91.