17-Mar-2009 2:10 PM
American Air, US Airways and United decline steeply. Westjet recovers lost ground.
American Airlines (-15.3%) shares fell steeply yesterday, despite another above-water performance on Wall Street. There is a lot of negative talk about American, which hasn't been through the Chapter 11 douche, unlike most of its competitors. It is running out of cash and hasn't got the cost base of the more aggressive neighbours.
The negative effect is also infecting other majors, with US Airways (-10.8%) and United (-10.7%) the worst affected, with the latter apparently about to suffer union aggravation.

But Canadian LCC, WestJet, (+5.9%) showed its colours by restoring much of its recent losses.
North & South America airlines daily share price movements (% change): 16-Mar-09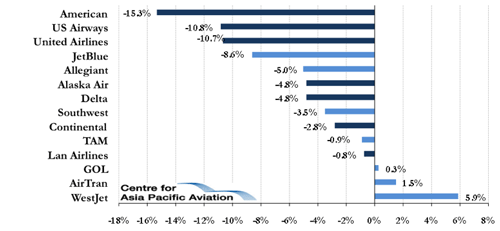 Of suppliers, Babcock and Brown (+20.7%) shares leapt, on news that the lessor will repurchase out of current cash USD100 million of its securitisation notes for $48 million in a private purchase.
Selected Aviation suppliers daily share price movements (% change): 16-Mar-09