Allegiant nearly triples net profit in 3Q2009
Analysis
Allegiant's shares were up 4.6% on Tuesday, as the carrier reported a nearly tripling of net profit to USD14 million in the third quarter (three months to Sep-2009), on a 14% revenue increase.
Chairman and CEO, Maurice J Gallagher Jr, stated the carrier was "pleased with these strong results" in the quarter, which he described as "not only our historically weakest quarter, but also in what has been an exceptionally trying economic environment".
The carrier also reported a record third quarter 16% operating margin (and a 170% jump in operating profit to USD22 million), with Mr Gallagher stating the results validated the LCC's decision to return to a 'business-as-usual' approach in the quarter. The carrier, which increased system capacity by 43% in the third quarter, plans to increase capacity by approximately 23% in the fourth quarter, for a full year capcity growth of "about 26%".
Looking forward, Mr Gallagher stated the carrier is "cautiously optimistic that better times are in the offering". He added that while "it's a little early to declare victory…we certainly like the trend, which is continuing into the fourth quarter".
Selected LCCs daily share price movements (% change): 20-Oct-09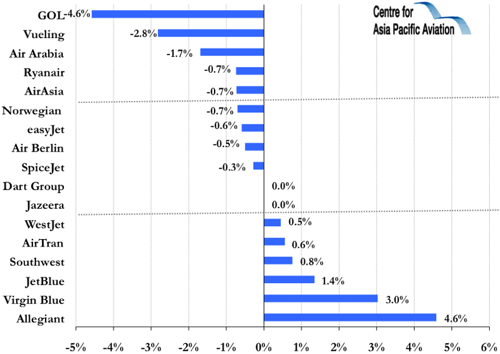 JetBlue and Southwest upgraded, due to competitive position and valuation
JetBlue's and Southwest's shares were up by 1.4% and 0.8%, respectively, yesterday, after Citigroup initiated a 'buy' rating on the two US LCCs, primarily based on the companies' competitive positioning and valuation.
Citigroup added, "we anticipate airlines will enter a recovery phase in 2010-2011 where sticky capacity remains disciplined during the initial industry revenue upturn and translates into unit revenue/yield/profit improvement".
The analysts set a USD13 price target on Southwest Airlines and stated the company's positives included a "best in class" unit cost structure, balance sheet to weather the economic storm and a number of revenue opportunities.
JetBlue's set price target was USD7.50, with Citigroup added that the company's key competitive attributes included a leading product offering and network that helps the company in outpacing peers' unit revenue performance.
Virgin Blue upgraded on improved economic conditions
Virgin Blue's shares were also up yesterday, by 3.0%, after the carrier was raised from "hold" to "buy" by Royal Bank of Scotland Group, who cited improving economic conditions and benefits from a rising Australian dollar.