Allegiant Air's model not easily duplicated. Does that guarantee a (bigger) niche in the US market?
Analysis
Although Allegiant Air has encountered its share of challenges in 2015 – labour unrest and some operational issues – its business model arguably is emerging as one of the most watertight, reflected in its 1H2015 earnings growth of 76% to USD119 million and is trading at a P/E ratio of over 33.

Allegiant is facing similar unit revenue degradation that much of the US industry is battling, but for entirely different reasons than domestic competitive capacity increases. Its decreases are driven by a higher mix of off-peak flying, new route introductions and continued growth. The airline's shift into more mid-size markets is continuing, and the airline is forecasting additional expansion into those types of markets for at least the next couple of years.

The model adopted by Allegiant for the moment seems to be one that is withstanding the changing dynamics in the US domestic market, and despite some internal challenges, the company's business strategy generates strong sentiment from Wall Street. Allegiant's earnings multiples are more than triple some US major airlines, and its stock price is among the highest of US publicly traded airlines.
Allegiant continues to target medium market opportunities created by US consolidation
Despite some overhang from pilot unrest earlier in 2015 that triggered heightened surveillance from the US FAA, Allegiant continues to deliver strong top line financial results driven by its low operating costs and a network that is shielded from high levels of competition.

See related report: Allegiant navigates pilot unrest as it records healthy profits and works to achieve growth targets

Allegiant has been one of the largest beneficiaries of consolidation among the large US major airlines, seizing on opportunities created in mid sized markets after those airlines opted to funnel traffic through their major hubs, with airports including Cincinnati, Memphis and Pittsburgh reeling from the effects of major service reductions by the large US network airlines.

See related report: Allegiant Air works to exploit opportunities created by consolidation in medium sized markets

During the last couple of years Allegiant has made a push to link larger markets than it has historically served with its leisure-focussed bases that include, Las Vegas, Orlando Sanford, Phoenix Mesa and St Petersburg-Clearwater. (see background info)
Allegiant Air global top 10 hubs/bases/stations by seats: 10-Aug-2015 to 16-Aug-2015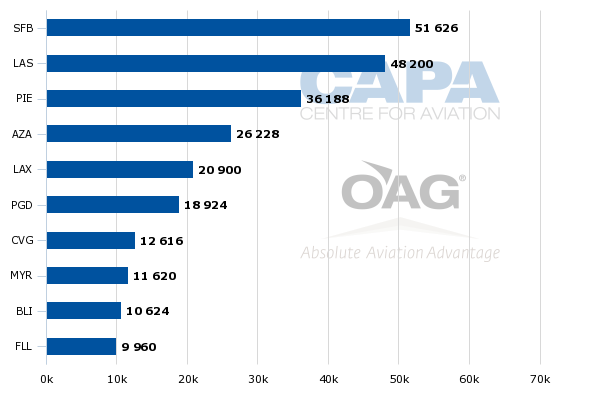 Medium sized markets where Allegiant has made a push include Cincinnati, Memphis and Indianapolis. It launched service in Feb-2014 and the roll-out from Cincinnati was the fastest in the airline's history. Allegiant plans to establish its 14th base in Cincinnati in Jan-2016 with three Airbus A319s. As of Jul-2015 Allegiant operated 35 weekly flights to 11 seasonal and year-round destinations from Cincinnati.
Data from CAPA and OAG for the week of 10-Aug-2015 to 16-Aug-2015 show that Allegiant offers nearly 8% of the seats available from Cincinnati (which is typically high for Allegiant). The airport has risen to become Allegiant's seventh largest base by frequency deployment.
Cincinnati/Northern Kentucky International Airport capacity by airline (% of seats): 10-Aug-2015 to 16-Aug-2015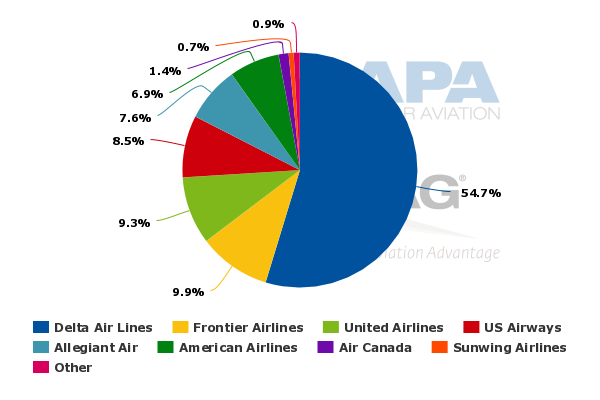 Allegiant Air global top 10 hubs/bases/stations by frequency (to/from): 10-Aug-2015 to 16-Aug-2015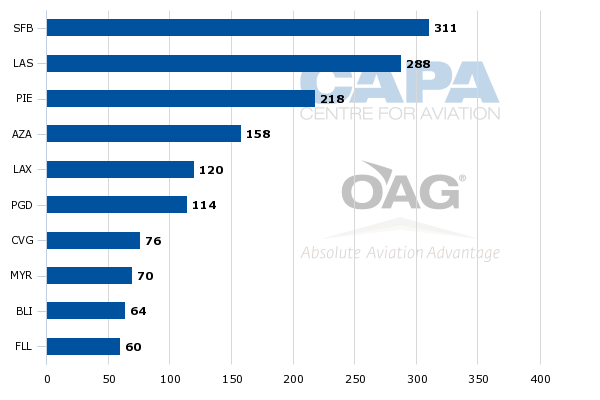 Schedule projections show that in mid-Aug-2015 Allegiant's markets from Cincinnati include Punta Gorda, Orlando Sanford, Fort Lauderdale, Phoenix Mesa, Las Vegas, St Petersburg-Clearwater, Myrtle Beach, Savannah and Jacksonville.

Allegiant also recently tabled new service from Memphis to Austin and Tampa Bay scheduled to start in Oct-2015. Those new routes join Allegiant's existing markets from Memphis that include Fort Lauderdale, Las Vegas and Orlando. Allegiant has seized on some interesting opportunities from Austin, opting to enter routes that seem atypical from its standard route profile. It has launched flights from Austin to its base in Las Vegas, competing directly with Southwest Airlines.

Previously, Allegiant has explained that its presence on that route has not had a marked effect on Southwest. The logic is that Allegiant was targeting spill traffic on peak days at a price point where it could turn a profit. Allegiant likely used that same rationale on another route it launched in direct competition with Southwest, Indianapolis-Las Vegas. (Allegiant also serves Fort Lauderdale, Myrtle Beach, St Petersburg-Clearwater, Punta Gorda and Orlando Sanford from Indianapolis.)

In both those cases, Allegiant serves the routes less than daily. Unlike ULCCs that offer a couple of daily flights in markets where they compete directly with US majors, Allegiant targets the niche passenger segment that aims for the lowest price, and is less concerned about schedule. Data from CAPA and OAG show for the week of 10-Aug-2015 to Aug-2015 the bulk of Allegiant's flights have two weekly frequencies.
Allegiant Air routes served by frequency per week: 10-Aug-2015 to 16-Aug-2015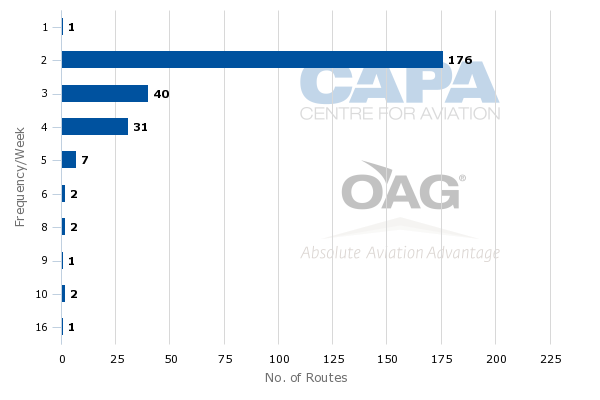 Allegiant aims to further exploit the hole in US domestic medium sized markets
Allegiant is assuming an abandoned Delta route when it debuts service between Austin and Memphis in 4Q2015. Memphis, a former Northwest hub, officially lost that status in late 2013 after the mergers of Northwest and Delta in 2008. Delta progressively whittled away service in Memphis to build up strength elsewhere in its network, including its main Pacific gateway in Seattle.

Austin-Memphis seems out of character for Allegiant. Neither market is a base for the airline, and it appears that it would generate a mix of leisure and business travellers rather than just Allegiant's typical, cost-conscious leisure travel passenger.

Offering some insight into Allegiant's rationale for launching the route, company SVP of planning Jude Bricker stated that Austin-Memphis shares many characteristics with all of the airline's markets. A passenger wishing to travel on that city pair needs to fly into a hub, he explained, "and it's not priced appropriately for a non-stop customer that pays with their own wallet", Mr Bricker concluded.

Looking across the mid-size market place, Mr Bricker stated that "there is not a lot of connectivity between those markets" and that the trend of adding larger cities would continue. He cited the growth during the last year in Cincinnati, Memphis, and Indianapolis and more recently Austin. "So we're really looking hard at those kind of markets and I think that's going to be the story for the next 24 months or so."
Allegiant's unit revenue declines are driven by unique dynamics versus the US industry
Similar to most US airlines, Allegiant is facing unit revenue degradation in 2015. During 2Q2015 its scheduled service passenger unit revenue per available seat mile fell 16% year-on-year and total revenue per available seat mile (TRASM), which includes ancillary products, decreased by 7%.

Deconstructing the TRASM decline, Mr Bricker explained that same store sales without any growth would be down 4% year-on-year driven by increased taxes year-on-year, and changes in credit card surcharges and debit card discounts. He concluded that 4ppt of the decline was essentially associated with "other things" and that a 3% decline on 20% growth was indicative of solid demand.

Allegiant is forecasting a 3Q2015 TRASM decline of 7% to 9% on system capacity growth of 21% to 25%. New city growth will account for 17% of its 3Q2015 ASMs and off peak flying will increase by 66% year-on-year.

Mr Bricker explained that Allegiant logs roughly 20% to 30% less unit revenue on a flight operated on Tuesday, Wednesday or Saturday relative to peak days of Thursday, Friday, Sunday or Monday. That does create some pressure on unit revenues, but as fuel prices come down it allows Allegiant to better use assets that are under utilised on off peak periods. "It's a big catalyst for our growth to be able to take advantage of these off-peak opportunities," said Mr Bricker, "and it does put pressure on our unit revenues."

But obviously the higher utilisation also creates some cost benefit. Allegiant's projected unit cost decline excluding fuel for 3Q2015 is 8% to 10%.
Does Allegiant have the most sturdy business model? Wall Street seems to think so...
In May-2015 Allegiant estimated that 33 of its 239 routes as of Nov-2015 (based on published schedules as of Nov-2015 and announcements or cancellations as of Apr-2015) had competitive overlap. Even if that increases, its model is so vastly different from majors and other ULCCs that Allegiant can arguably maintain its solid financial performance.
Unlike Spirit and Frontier, Allegiant offers less than daily service, which results in the airline almost targeting a subset in the ULCC space – the highly cost conscious traveller than is not constrained by schedule.

Perhaps in this environment, where Spirit has even felt unit revenue pressure from competitive capacity increases, Allegiant has the most steadfast business model. Its P/E multiples far outstrip the US majors and its stock price at USD221.99 as of 10-Aug-2015 is also solidly above the trading prices of the large US major airlines.
P/E multiples and stock prices of Allegiant versus the large US airlines
Allegiant is also targeting growth in the mid-teen ASM growth over the long term in order to ensure its growth does not tax its system operationally. Its financial performance, coupled with slower but steady expansion should create more opportunity for Allegiant in the consolidated market place as its largest strength remains a business model that is not easily copied, or threatening to the majority of US domestic airlines.
The Allegiant Business Model: Background Information
Basic tenets of Allegiant Air's business model
Targets leisure travellers that are not overly concerned about schedule
Opportunistic in purchasing used aircraft to keep capital investment low (Allegiant is slowly migrating from MD-80s to Airbus A320s). This implies higher than average fuel cost per ASM.
Allegiant's targeted passenger segment and network structure results in little competitive overlap
Its low frequency network structure allows for flexibility to move capacity around as necessary
Allegiant Air average fleet age: Aug-2015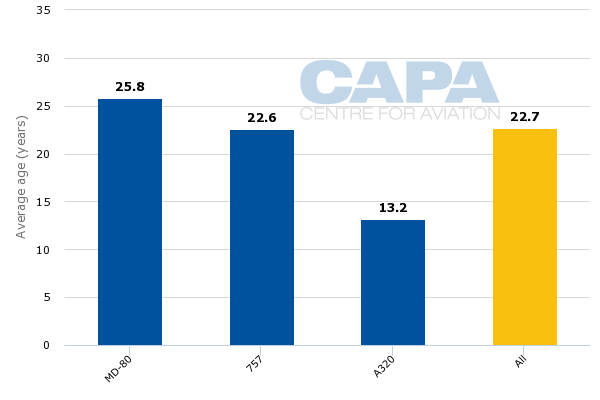 (Sensitivity features defining the Allegiant model, as laid out by the airline in a filing with the SEC in 2013 and reported by CAPA on 27-Feb- 2013 are:
Fuel: Allegiant names fuel as one of its most volatile operating risks which represents 48.7% of the carrier's operating expense during 2012. Rising fuel costs have had a significant effect on the carrier's operation which is amplified by using a fleet of 58 MD80 aircraft;
Fleet expansion: Allegiant Air has moved from a single aircraft type business model of MD80s by adding Boeing 757-200s and used A319s and A320s. The acquisition of new aircraft types could increase the complexity of Allegiants operations with crews, flight schedules, parts provisioning and maintenance and repair. Higher purchase prices of the new fleet types also creates a risk to the carrier's business model;
Labour costs and unionisation: Allegiant Air's labour costs could rise as its flight attendants, pilots and flight dispatchers opt for union representation by labour organisations. The carrier noted a potential risk of strike action should parties be unable to agree on collective bargaining agreements.)