Allegiant Air weathers the prickly dynamics of a low fuel environment. Expects steady growth ahead
Analysis
Although Allegiant Air has tweaked its unique business model during the last couple of years to capitalise on vacancies in medium-sized markets, opportunities remain for the airline in the more typical small markets that it links to its large leisure destinations. Its growth strategy is to operate a mix of those smaller routes and continue to add medium-sized markets when the opportunity arises.

The company may find increasing competition from US ULCCs that contemplate entering larger markets, but Allegiant believes that it can continue to grow in markets that Spirit and Frontier do not find attractive, and also that it has other structural advantages over those airlines.

Allegiant has not escaped the unit revenue pressure plaguing US airlines, but similarly to those airlines the company believes that it can achieve improvement in that metric during 2016. As it has previously noted, some of the revenue weakness is driven by Allegiant's own growth which, the company stresses, is earnings accretive.
Allegiant believes Cincinnati could be a blueprint for future growth
Allegiant's network is vast, in the sense that the airline operates to numerous small markets from large leisure markets, such as Las Vegas and Orlando Sanford. Based on schedules for Aug-2016, Allegiant has stated that it will operate 322 routes to 92 small and medium cities from 19 leisure destinations. (See background information for route map)
Most of its top bases are leisure destinations, including Orlando, Las Vegas, St Petersburg (Florida) and Phoenix Mesa.
Allegiant Air global top 10 hubs/bases/stations by seats: 2-May-2016 to 8-May-2016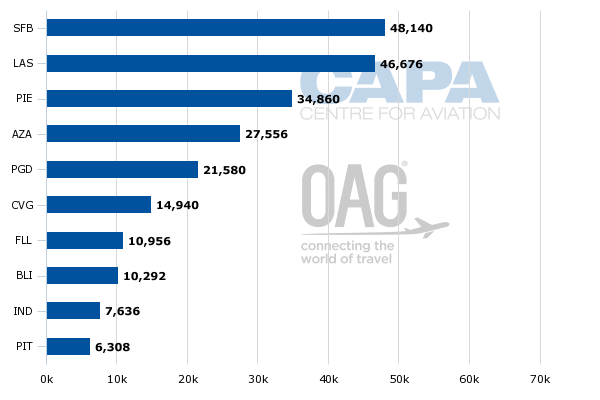 Beginning in 2014 the company made a huge push from Cincinnati, a Delta hub that has endured a massive capacity reduction by that airline. Cincinnati, which is squarely in the medium-sized market category, is Allegiant's sixth largest base measured by seats.

Allegiant's route profile from Cincinnati includes smaller and more medium-sized markets. Data from CAPA and OAG for the week of 2-May-2016 to 8-May-2016 show that Allegiant offers service from Cincinnati to Austin, Baltimore/Washington, Fort Lauderdale, Jacksonville, Las Vegas, Myrtle Beach, New Orleans, Orlando Sanford, Punta Gorda, Phoenix Mesa and St Petersburg.

The company SVP planning and chief operating officer, Jude Bricker, recently stated that Cincinnati is an example of "where we can take growth over the next several years...if you take the Cincinnati network an put that into a bunch of other mid-sized cities into which we're building our presence today. That's the growth thesis for Allegiant for the next several years".

But Mr Bricker also believes that there are more growth opportunities for Allegiant in smaller markets. Offering examples, he said that other airlines had exited Flint, Michigan and Dayton, Ohio. Other opportunities have arisen due to structural changes at airports that Allegiant can now serve, but could not operate to in the past.
Mr Bricker cited Santa Rosa, California as an example. Allegiant is launching flights from Las Vegas and Phoenix Mesa to Santa Rosa in May-2016. A local news outlet, The North Bay Business Journal, stated that Allegiant's ability to serve the airport was due to a recent runway extension.

Allegiant serves the majority of its routes with a low-frequency structure of twice weekly service. But as Allegiant targets a 10% annual growth rate, and as the airline grows larger, "it's difficult to find enough twice a week markets that can provide that 10% growth rate. So, inevitably, we will have some larger markets in our network over time", Mr Bricker has stated.
Allegiant Air routes served by frequency/week: 2-May-2016 to 8-May-2016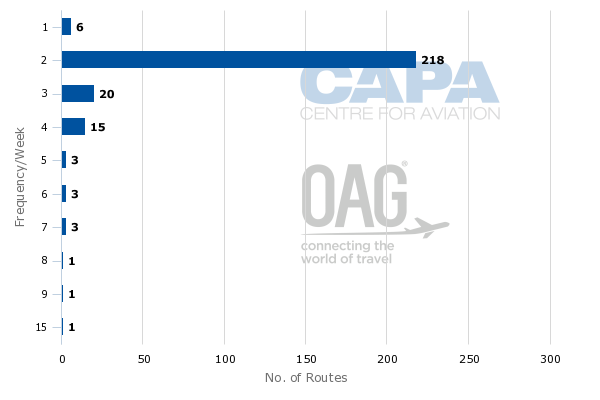 Allegiant promotes its strengths as competition with Frontier and Spirit could intensify
Other more traditional US ULCCs are also moving into some medium-sized markets that have lost service. As an example, Frontier has added service from Cincinnati during the last couple of years and competes with Allegiant on flights from Cincinnati to Las Vegas. Frontier also serves the Orlando and Phoenix markets with flights to the larger airports: Orlando International and Phoenix Sky Harbor.

Spirit Airlines has recently cited opportunities in more mid-sized markets, and has opted to retain a number of smaller-gauge Airbus A319s for potential allocation to those routes.

See related reports:
The result of some network moves by Frontier and Spirit could be increased competition with Allegiant from those airlines.
Mr Bricker believes that Allegiant has certain structural advantages over the two large US ULCCs, including ancillary revenues "that are trending in the right way[,] as opposed to what Spirit is experiencing today", he has said. Spirit has started feeling pressure on its non-ticket revenue, which dropped 3.7% year-on-year in 1Q2016, to USD53.23. Allegiant's average fare from ancillary air related charges notched down just 0.3% to USD47.10. Mr Bricker stated that the 3Q2016 launch of Allegiant's loyalty programme is driving ancillary revenue in the right direction.

See related report: Pricing pressure now on Spirit's non-ticket revenues. Falling oil prices test the ULCC model

More importantly, said Mr Bricker, Allegiant can create peaks in its schedule without affecting unit costs, which for Allegiant during 1Q2016 (excluding fuel) fell 3.5%, to USD5.79 cents.

"Spirit and Frontier, they depend on high utilisation to achieve their unit cost objectives, and that requires them to put a lot of flying into unproductive times of day and days of week and seasons," Mr Bricker explained. As long as Allegiant maintains its low fixed cost base it will be successful, he assured.

Allegiant also continues to examine growth opportunities that may not be so attractive for Frontier and Spirit, said Mr Bricker. "Cincinnati to Orlando, that's definitely on their radar, but I don't think Cincinnati to Destin [Florida] is anything they would intend to do any time soon," he explained. Allegiant is launching seasonal flights from Cincinnati and St Louis to Destin in May-2016 and Jun-2016.
Allegiant joins other airlines in believing its unit revenue performance will improve in 2016
Allegiant's total unit revenues fell 10.5% year-on-year in 1Q2016, and for 2Q2016 the company is forecasting a decline of 8% to 10%.

Mr Bricker offered several reasons for the unit revenue pressure, including Allegiant's own capacity growth, which is projected to increase 12% to 16% in 2016. "That's absolutely logical and earnings accretive," he explained. Allegiant's 1Q2016 profits increased 11% from the year prior, to USD72 million. Allegiant's capacity in 2013 and 2014 was in the high single digits before jumping to 17% growth in 2015. Mr Bricker remarked that Allegiant's level of flying had increased year-on-year, versus having aircraft idle a year ago.
Allegiant Air annual - Available seat miles: 2012 to 2015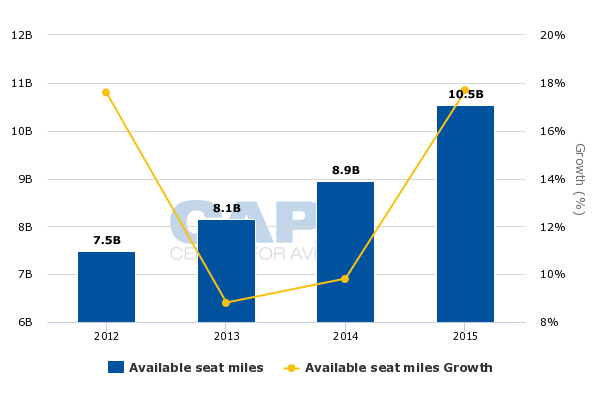 Other pressures on Allegiant's unit revenues include Canadians and Mexicans choosing not to travel from US border airports due to the appreciation of the USD. Mr Bricker also cited some pressure in the Philadelphia catchment area, which has very low fares. Allegiant operates services from Allentown, Pennsylvania, and some passengers are deciding to drive 99km to Philadelphia for the lower fares.

Larger US airlines, including Delta and United, are hoping to achieve flat to positive unit revenue growth by YE2016 as investors continue to monitor progress the ability of airlines to post improvement in that metric.

Based on Allegiant's current schedules, Mr Bricker believes that Allegiant can improve its total unit revenue decline to the low single-digit range by 4Q2016.
Allegiant is arguably handling changing US market dynamics reasonably well

Falling oil prices have created an interesting set of dynamics in the US market. Cracks are emerging in the once rock-solid business models of the ULCCs that compete directly with the US majors. Record profits continue to be overshadowed by investor concern that fares will not rebound as oil prices rise.

Allegiant seems to have weathered the changing dynamics relatively well.
It has not drastically altered its business strategy and believes that many markets remain that are suited to its business model, and perhaps more importantly, are shielded from competitors that act differently in a low fuel cost environment.
background info
Allegiant Air route map as of Aug-2016