Alitalia's "new" strategy realigns it to feed Etihad, but needs to change loss-making mindset
Analysis
Alitalia has announced a new strategy to accompany its newest incarnation, following Etihad Airways' acquisition of a 49% stake in the Italian airline from 1-Jan-2015. The strategy includes the aim to return the company to profit in 2017, after a long period of losses. The five main elements of Alitalia's strategy focus on the network, cooperation with partner airlines, the fleet, "guest services" and the brand.
Alitalia's statement does not contain much of consequence that has not previously been flagged. Rather, it reiterates adjustments to its network designed to complement that of Etihad.
There will be less direct flying to Africa, a little more to Asia and a lot more to the Middle East to feed Etihad's hub. Alitalia will also increase its operations in the Americas and in Europe, where Etihad's own presence is smaller.
The crucial question that the statement does not address is how Alitalia will go about changing the mindset, developed over many years, that regards perpetual losses as the norm. Even if the necessary cuts can be achieved, such an entrenched culture is not easily redirected. Yet, for Alitalia, this is surely the last throw of the dice.
Alitalia says that its network will be built on three hubs: Rome Fiumicino, Milan Linate and Milan Malpensa.
By far the biggest of these, in terms of Alitalia's seat capacity this summer, is Rome Fiumicino, although its weekly seat capacity at the airport in summer 2015 will be around 10,000 seats lower than in summer 2013 (based on week of 29-Jun-2015 versus week of 8-Jul-2013).
Alitalia's seat capacity at Milan Linate will be around 15,000 seats higher than two years previously and a little over one third of its capacity at Rome. By far the smallest of these three airports for Alitalia operations is Milan Malpensa, which is only its eighth largest base and is not a hub in the true sense.
Alitalia top 10 bases by seats 29-Jun-2015 to 5-Jul-2015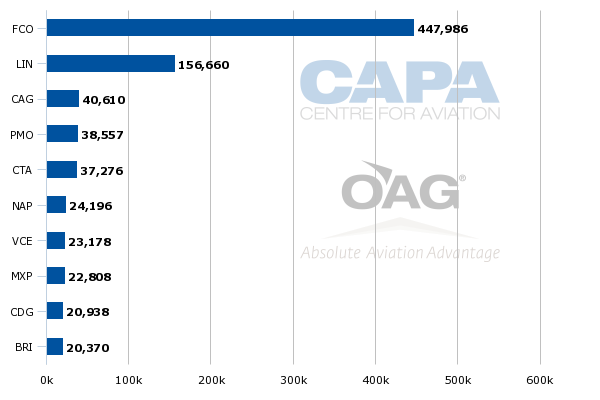 Rome: new routes both short/medium-haul and long-haul
At Rome Fiumicino, where Alitalia is the largest airline by seats with a share of 39% based on schedules filed for this summer (week of 29-Jun-2015, source: OAG), the airline will increase its long-haul flying and continue to expand short/medium-haul. New short/medium-haul routes from Rome are to include Berlin and Duesseldorf.
On long haul, new routes from Rome will mainly be to the Americas, with services to San Francisco, Mexico City, Santiago (Chile), but also in Asia, with the addition of Beijing and Seoul. Currently, Alitalia can only offer these destinations via partner airlines. No details are yet available regarding planned frequencies and the equipment to be deployed on these routes.
The long haul network will also increase frequencies to New York, Chicago, Rio de Janeiro and Etihad's hub Abu Dhabi (which becomes a daily service at the end of Jan-2015).
Rome Fiumicino Airport seat capacity by carrier 29-Jun-2015 to 5-Jul-2015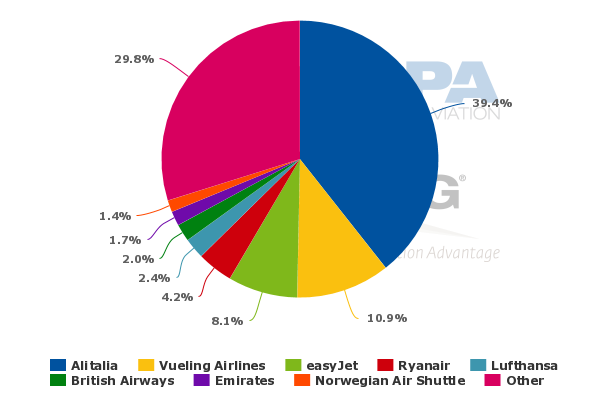 Linate: increased connectivity to European partner hubs
Alitalia is the largest airline at Milan Linate (closer to the city than Malpensa), where it will have 61% of seats this summer and from where it only flies to European destinations. As part of its new strategy, Alitalia says that it will use this airport to increase connectivity with the hubs of partners, although no significant route changes have yet been announced in relation to this (it will launch a Copenhagen service in Mar-2015, but this is the hub of a rival, rather than a partner).
In what could hardly be called a strategic move, Alitalia has only said that it is to operate 10 peak summer seasonal routes from Linate in late Aug-2015 (Bordeaux, Corfu, Dubrovnik, Ibiza, Menorca, Mykonos, Palma de Mallorca, Rhodes, Santorini and Split).
In addition, Alitalia says that schedules will be adjusted across its network to improve connectivity, both with its own services and with those of its codeshare partners.
Milan Linate Airport seat capacity by carrier 29-Jun-2015 to 5-Jul-2015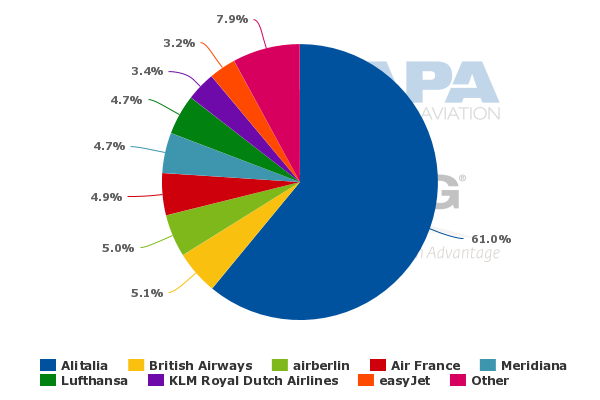 Malpensa: new Abu Dhabi and Shanghai services, frequency increase to Tokyo
At Milan Malpensa, Alitalia has only 5% of seats, having lost market share over a number of years to LCCs, in particular number one-ranked easyJet. It uses the airport for a limited number of mainly long-haul destinations. Nevertheless, it will increase the number of long-haul flights from Malpensa, with the addition of 13 weekly frequencies from summer 2015.
These will include a new daily service to Etihad's hub at Abu Dhabi (Etihad already operates on Malpensa-Abu Dhabi), a new four times weekly service to Shanghai (currently only served through partner airlines) and an increase in frequency to Tokyo Narita to a daily service.
Presumably, as with its existing Malpensa destinations, these new services will mainly be aimed at Milan-originating traffic. Malpensa is not a true hub for Alitalia, which has no western European destinations from the airport (other than Rome).
Milan Malpensa Airport seat capacity by carrier 29-Jun-2015 to 5-Jul-2015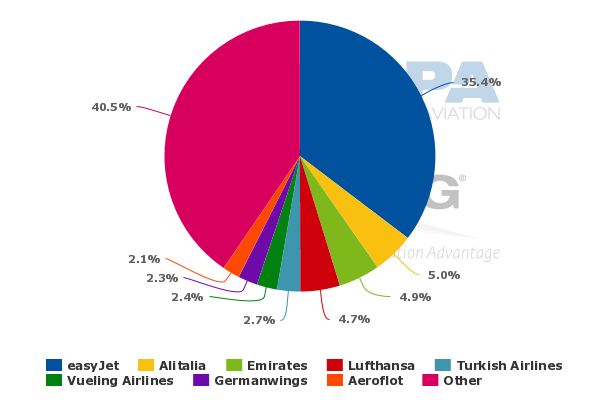 New Abu Dhabi services from other network points
Alitalia will add connectivity to Abu Dhabi from other points in its network, in addition to the new service from Malpensa and the increased frequency from Rome. Starting with the summer 2015 schedule, there will be new daily services from Venice, Bologna and Catania.
As with Alitalia's Rome-Abu Dhabi operation, the Venice-Abu Dhabi service will deploy A330 equipment, while Milan-Abu Dhabi will be a Boeing 777-200 route. From Bologna and Catania, Alitalia will operate to Etihad's hub with narrowbody (A320 family) aircraft.
Some intriguing possible partnerships, as Etihad Equity Partners meet SkyTeam and Delta
At this most interesting phase of global airline alliance and partnership evolution, Alitalia's future relationship options are intriguing. At seemingly opposite ends of the spectrum, Delta and Etihad are necessarily Alitalia's closest allies. Yet putting Etihad and Delta together, even by proxy, seems an unlikely combination. Alitalia's strategy says it will look to deepen its relationships with other SkyTeam members, particularly Air France-KLM and Delta, with whom Alitalia is part of an immunised North Atlantic joint venture agreement. Other than the increased capacity to North America, there are no details of new initiatives to deepen these relationships.
Given Delta CEO Richard Anderson's outspoken and not always specific criticism of Etihad, the prospects of the two coordinating over a common interest would seem remote. Although Etihad has formed a number of relationships with other SkyTeam members - even a reluctant Air France - an Etihad-Delta team seems a step too far. It will require considerable skill on all sides to manouevre a part Etihad-owned Alitalia through the contortions necessary to maintain the Italian flag carrier's position in the immunised JV.
As CAPA analysis has previously suggested, there is considerable potential upside for each of the parties if common ground can be found. There is limited logic to Delta's forthright opposition to Etihad's partnerships and, on a technical level, there is little difference between Delta's 49% shareholding in Virgin Atlantic and Etihad's in Alitalia that would provide grounds for opposition. In short, there is more complementarity between Delta and the Gulf carriers than there is conflict.
See related report: US airlines take aim at the Gulf carriers when perhaps they would be better woo-ing them
Deeper relationships with Etihad and its Equity Partnerships airlines
There are two other main areas addressed in the partnership strategy, although the announcement contains little of significance that is new in either.
Second, Alitalia will increase connectivity with its largest shareholder, Etihad. In this area, the increased frequencies and connections to Abu Dhabi that are described above had all been flagged previously (and the new Milan-Abu Dhabi service was originally planned for this winter). This connectivity will be an eastern-facing counterbalance to the western-facing JV on the North Atlantic.
Third, like other Etihad Airways Partners, Alitalia has growing relationships with other Etihad associated airlines. The most significant of these is the airberlin group, including NIKI, with whom Alitalia has already announced a new codeshare agreement. Alitalia also plans to work more closely with Air Serbia and the Swiss regional airline Etihad Regional (formerly Darwin Airline). It already has codeshare agreements with both of these Etihad investments, but has not yet given details of its increased cooperation.
See related report: Airberlin's new codeshare with Alitalia is no substitute for the loss of Etihad codeshare routes
Fleet: "opportunities to improve jointly fleet efficiency"
Fleet is another area in which there is significant potential for cooperation among the Etihad equity partners, including Alitalia. Alitalia's new strategy announcement says that they are "exploring opportunities to improve jointly fleet efficiency".
For example, Alitalia is relocating 14 A320s to airberlin and considering with Etihad options to add aircraft to its long-haul fleet. Alitalia may also receive aircraft currently on order for Etihad.
"Guest services" and brand: like motherhood and apple pie
The final two elements of Alitalia's new business strategy, "guest services" and brand, are like the proverbial motherhood and apple pie: nobody can argue against them. However, they appear to have been included mainly for completeness. Every strategy must say that the business will have a "customer-first" culture and every business relaunch must include a "new brand and visual identity".
In the area of "guest services", there is some concrete action in the form of the establishment of a new Customer Excellence Training Academy and plans for new food options and new-look lounges. With regard to the re-branding, there will be no name change, but Alitalia says that it will "seek to capture and embody the essence of Italy".
Overall shape of network: Middle East up, Asia and Africa down
The route changes announced as part of the new strategy have mainly been flagged previously, but this is a useful opportunity to review the overall shape of Alitalia's network.
The planned new routes are not yet all reflected in schedules data filed with OAG, but, based on the currently available data, Alitalia's network will offer ASK growth of 4% in summer 2015 compared with summer 2014. However, this growth will be far from even across the different regions that it serves. The additional capacity to Abu Dhabi will help to drive its Middle East ASKs up by 92% year on year. It will also increase ASKs to North America (+6%), Latin America (+8%) and Europe (+2%), while making significant cuts in ASKs to Africa (-15%) and Asia (-23%).
The capacity cut currently shown to Asia reflects Alitalia's withdrawal from Rome-Osaka and Venice-Tokyo. The new routes to Beijing, Seoul and Shanghai are not yet included in OAG's statistics and so the data for capacity to Asia this summer will likely be revised upwards to show some growth. The new Abu Dhabi routes from Bologna and Catania are also not yet in the data and so Alitalia's Middle East capacity growth will be even higher than already shown. Growth to both North America and Latin America will also be higher.
Alitalia has been growing in Latin America since 2013, especially in Brazil following a codeshare partnership signed with GOL in Jul-2013. Its capacity growth to North America is within the immunised joint venture on the North Atlantic that also includes Delta, Air France and KLM.
Based on the existing OAG data, the Middle East will account for more than 8% of Alitalia's ASKs in summer 2015, a higher proportion than for Europe's Big Three legacy airline groups. Asia and Africa will account for 11% of its ASKs, much smaller proportion than for the Big Three. Even after Alitalia's new routes are fully reflected in the OAG data, it will remain overweight in the Middle East and underweight in Asia and Africa by comparison with Europe's leading long haul airline groups.
The existing OAG data on the absolute number of ASKs in summer 2015 versus summer 2014 show that the capacity cuts to Africa and Asia (as currently reported) are roughly equal to the capacity additions to the Americas and Europe. Even when the new routes are fully reflected in the data, Alitalia's additional ASKs to the Middle East will account for most of the additional ASKs across its entire network in summer 2015.
Alitalia year on year change in available seat kilometres (ASK) by destination region Summer 2015 versus Summer 2014

Alitalia distribution of available seat kilometres (ASK) by destination region Summer 2014 and Summer 2015

717" height="278" />
The influence of Alitalia's 49% shareholder Etihad on its network changes is clear. In effect, Alitalia's growth this summer versus last summer will mainly consist of new capacity to Abu Dhabi. From there, Etihad can offer Alitalia passengers extensive connections to Asia and Africa. This reduces the logic for Alitalia to serve Asia and Africa directly, although it is adding routes to Asia on a targeted basis as noted above.
Alitalia's capacity growth in Europe will help Etihad to grow its indirect footprint in the continent as a means of feeding its Abu Dhabi hub and its Asian/African networks.
See related report: Etihad raises its Europe profile with codeshares and equity, expanding indirect connections
Alitalia is taking more of a lead only in the Americas, where Etihad is not a significant player and where Alitalia has other partnerships to support its growth.
Italy is one of western Europe's top four nations by population, smaller than Germany and similar in size to the UK and France. However, while the other large nations are home to Europe's Big Three legacy airline groups (or, at least, to the largest airlines within those groups), Alitalia does not rank among the top tier of European airline companies.
Many years of under-investment, industrial relations challenges and weak management have left it with a withered long-haul network, leaving it more reliant on partners for global connections than is the case for the national airlines of other big European countries.
Its partnership with Air France-KLM, which remains in place, had some logic when considering destinations across the Atlantic, but a direct connection is always preferable to a stop-over and Alitalia's capacity growth to the Americas should be welcomed by the market.
Moreover, Air France-KLM's Paris and Amsterdam hubs always had a geographical disadvantage when offering Italian passengers destinations in Asia Pacific and Africa. Alitalia would not be able to build an eastward facing long-haul network organically, and so its new relationship with Etihad would seem to improve its offer to its passengers in this respect.
Nevertheless, as noted in a previous CAPA analysis of the Alitalia-Etihad partnership, the market between Italy and the Gulf has become highly competitive. In addition to the capacity growth of Alitalia and Etihad, the two other Gulf carriers are also putting a large amount of additional seats into this market. Emirates will remain the largest airline between Italy and the Gulf, followed by Qatar Airways.
Only together will Alitalia and Etihad rival Qatar's seat capacity in the Gulf market. Their partnership establishes them as serious participants, but they face formidable opponents.
See related report: Alitalia and Etihad complete deal as Emirates and Qatar add seats. Record growth for Italy-Gulf
Downward traffic trend from 2011 to 2013; losses persist
Alitalia has not publicly reported financial figures since announcing losses in its annual results for 2012, on which CAPA carried out analysis in a report in Mar-2013.
See related report: Alitalia battles for survival in 2013, again, despite operational improvements
Its website does display some charts indicating passenger numbers, load factor and revenues up to 2013. It carried just under 24 million passengers in 2013, down by a little more than 1% versus 2012 (which was 1% less than in 2011). Alitalia's passenger load factor was around 75% in 2013, fractionally up on 2012.
Revenue was around EUR3.4 billion in 2013, down by 5% versus 2012, implying a fall in total revenue per passenger of approximately 4%. The revenue figure is not broken down by activity, but pricing weakness is not surprising given the highly competitive nature of Alitalia's markets. Unit revenue weakness reflects both the fierce level of competition from LCCs in short/medium-haul and the weakness of Alitalia's underweight intercontinental network.
Alitalia passenger numbers (million) and passenger load factor (%) 2009 to 2013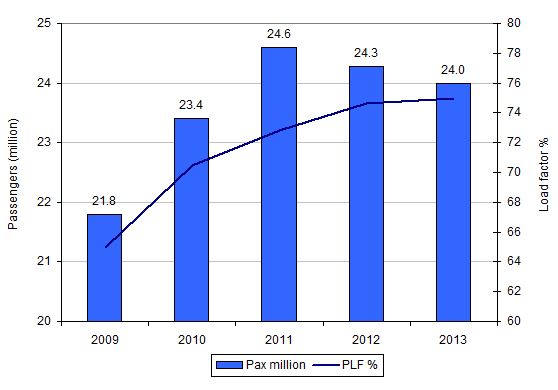 No profit figures are available for Alitalia since 2012, but it reported losses (both at the operating and the net level) in each of the years from 2009 to 2012, when its net loss was EUR280m million. According to a number of media reports, its net loss more than doubled in 2013 to EUR569 million.
Alitalia has not reported any figures for 2014, traffic or profitability, but OAG schedules data indicate that it returned to modest capacity growth in the 2014/2015 winter schedule. Given that the new strategy document includes a target to reach profitability in 2017, we can safely assume that Alitalia continued to be in loss in 2014, a state that lasted the full period of its previous incarnation, which began in 2009. At that time, it went into administration and was then sold to a consortium of Italian industrial and financial investors and Air France-KLM. It reportedly recorded EUR3.7 billion of net losses over the ten years prior to 2009, when it was controlled by the Italian government.
During the 2009 to 2014 period, Alitalia required additional funds from shareholders and banks on more than one occasion to avoid collapse (Air France-KLM did not participate in the capital increases, successively diluting its shareholding from 25% to below 1% today). Over many years, the Italian government has raised the practice of ensuring the national airline's survival to an art form (whether through direct investment, or through persuading others to invest).
The last publicly announced industrial plan for Alitalia during the 2009-2014 period, in Jul-2013, aimed for a "balanced budget" (presumably break-even at the net profit level) in 2015 and a "balance sheet profit" (presumably a positive net profit) in 2016. In a CAPA analysis report at the time, we said that its profit targets were achievable, but not very ambitious. In fact, they have turned out not to be achievable.
The newest version of Alitalia aims to return to profit in 2017, repeating the previous pattern of aiming for a profit two to three years out. Its track record suggests that achieving this may not be easy. Etihad's CEO James Hogan has acknowledged this, saying in a press release that the "coming months and next few years will not be easy, but if everyone pulls together as one team, Alitalia can grow again."
But, unlike in the past, when Alitalia lurched from loss to loss and from recapitalisation to recapitalisation, Mr Hogan is attempting to persuade Italy's perennial loss-maker that it must now stand on its own two feet: "…there should be no doubts at all: we have made a commercial investment that must deliver a commercial return." He has also said: "There are no free kicks. We don't have an endless reserve on cash".
Alitalia operating profit, net profit and revenue (EUR million) 2009 to 2013*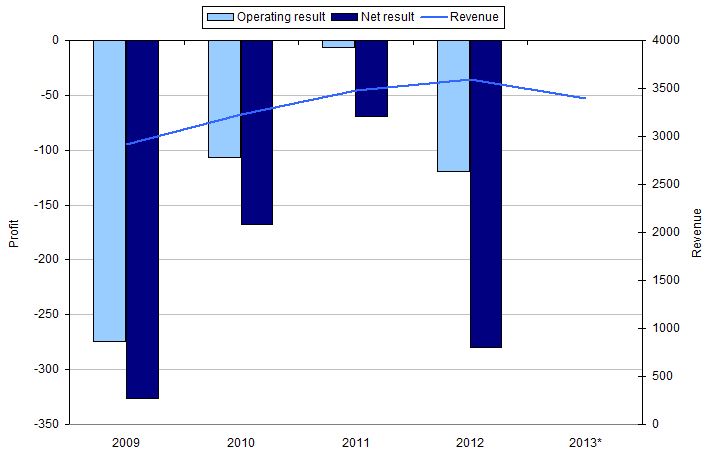 "…anything other than rapid, decisive change is simply not an option"
Alitalia's return to profit will turn on its ability to manage the relative development of unit revenues against unit costs better than it has done in the past. The strength of unit revenues is a function of the balance between supply and demand. The indirect network benefits offered by its partnership with Etihad should be positive in this respect, but demand is much more closely related to macroeconomic factors than it is to a brand that embodies the essence of Italy.
Demand is less in the control of management than is the supply of its product. The real key to its future profitability will likely lie in finding significant cost efficiency gains.
The most important change needed will be to shed Alitalia's deep-rooted dependency culture, bred by years of coming back from the dead. As Mr Hogan said, "anything other than rapid, decisive change is simply not an option".
In financial and practical terms, the opportunity this time around for Alitalia to rescue its pretensions of national pride are the best they have ever been. All that is needed is to change the ancient culture.