Alaska posts strong CY2014 results, prepares for softer revenues in 1Q2015, but outlook strong
Analysis
Alaska Air Group benefitted from a strong domestic environment in 2014 that helped the airline continue execute a solid financial performance and deliver an impressive 18.6% return on invested capital for 2014.

Even as Alaska believes the US economy remains strong, like to the country's other airlines, it appears to be bracing for some revenue headwinds in 1Q2015 driven by what seems to be unique factors that should not linger throughout the year.

Alaska is also forecasting flat unit cost growth year-on-year in 2015, which is somewhat better than other large US airlines, but not as strong a performance as Alaska has delivered in the past.
Alaska logs solid revenue growth and keeps expenses in check
On a GAAP basis Alaska's 4Q2014 profits were USD148 million versus USD78 million the year prior. Its GAAP net income for CY201 was USD605 million compared with profits of USD508 million in CY2013.

Its operating revenues for 4Q2014 reached USD1.3 billion compared with USD1.2 billion in the year-ago period. Alaska's operating expenses in 4Q2014 were USD1.1 billion, which was the same amount recorded in 4Q2013.
Alaska Air Group select financial results: 4Q2014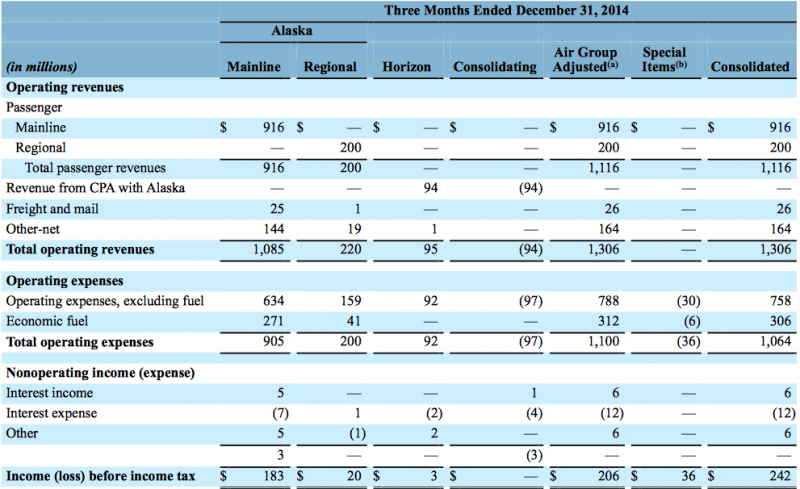 Alaska Air Group select financial results: 4Q2013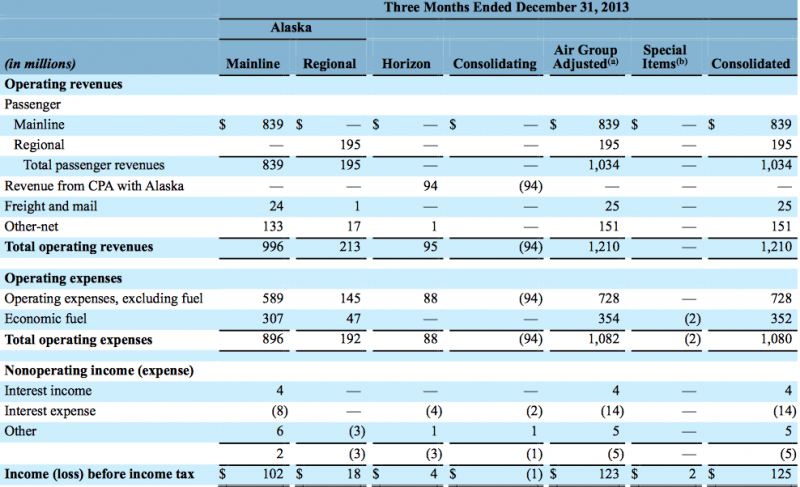 For CY2014 Alaska's top line revenues were USD5.4 billion, up from USD5.1 billon the year prior. The company's total operating expenses were USD4.4 billion compared with USD4.3 billion in CY2013 (see below).
Alaska Air Group select financial results: CY2014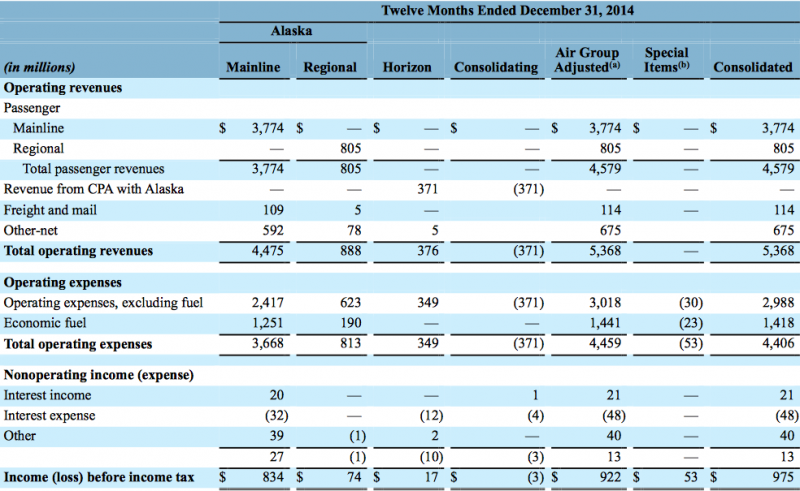 Alaska Air Group select financial results: CY2013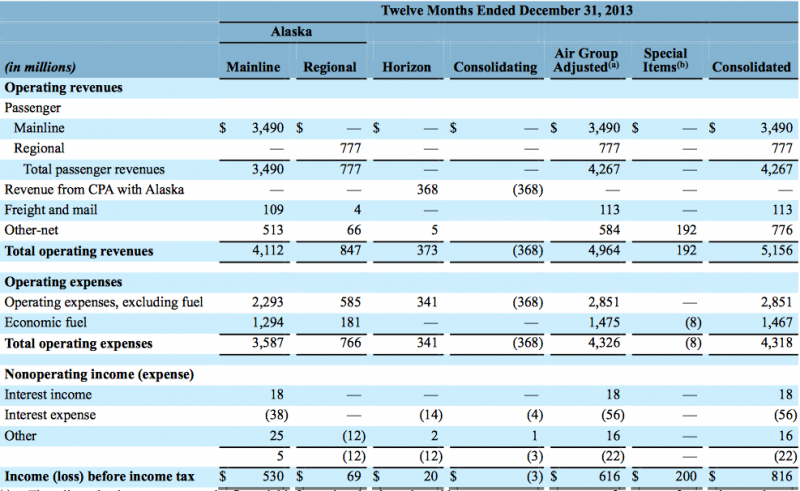 Competitive capacity and increased stage lengths pressure Alaska's unit revenues
On a unit basis, Alaska's passenger unit revenues fell 2.4% in 4Q2014 and notched up 0.2% year-on-year in CY2014. Yields fell 1.3% in 4Q2014 and increased 0.7% during CY2014.
Alaska Air Group unit revenue, unit cost and yield performance: 4Q2014 vs 4Q2013 and CY2014 vs CY2013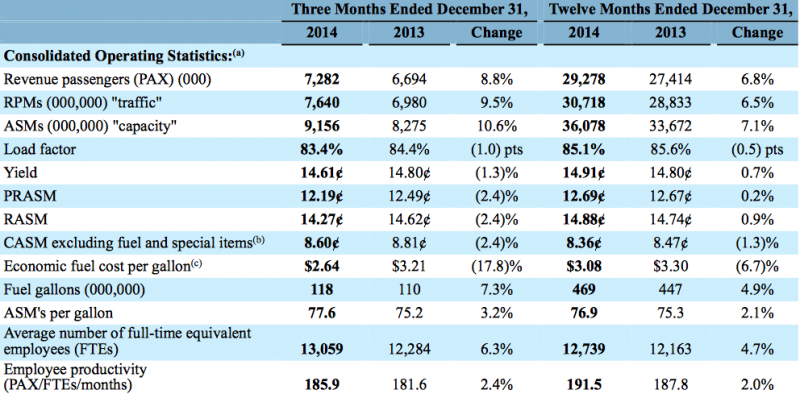 Alaska attributed the fall in passenger unit revenues in 4Q2014 to an 8% increase in competitive capacity. Falling passenger unit revenues was a scenario Alaska faced throughout much of 2014 as Delta continued to make a large domestic expansion from Alaska's hub and headquarters in Seattle to feed long-haul markets. Delta recently estimated its capacity was up by 33% in Seattle year-on-year during 4Q2014.

See related report: Delta Air Lines finishes a solid 2014 ready to face currency headwinds and macro pricing pressure

A 1.1% increase in average stage length also pressured Alaska's passenger unit revenues during 4Q2014. But the airline stressed that roughly 90% of its flying is in the US domestic market, where the economy remains strong.
Company senior vice president of planning and revenue management Andrew Harrison also reassured that while declining fuel costs have "been a nice tailwind in the fourth quarter several of you [analysts and investors] have asked us if we are pricing to account for the lower fuel prices and the answer is no" - a clear response to those groups' fears that the benefits of lower fuel costs would pass straight through to passengers.
Alaska joins other airlines in citing unit revenue pressure in 1Q2015
Despite concluding that overall demand remains strong, Alaska foresees some revenue headwinds in 1Q2015 fuelled in part by its 11% capacity growth, 4ppt of which is driven by aircraft upgauge. However, Mr Harrison stated that 1Q2014 was one of Alaska's lowest capacity growth quarters as supply grew 4.5%. He also highlighted that Alaska had a 3.5% bump in passenger unit revenue growth during Jan-2014 driven largely by traffic the company carried for other airlines that faced high levels of cancellations due to winter storms.

Alaska has also undertaken a special promotion that entails the waiving of first bag fee for its loyalty programme members for the month of Jan-2015. "New customer acquisition has far exceeded our expectation that the foregone bag revenue equates to nearly a point of RASM for the quarter," said Mr Harrison.

Other US airlines are also sighting revenue headwinds in 1Q2015. Southwest is forecasting flat growth driven by increased stage length and upgauge. United projects is passenger unit revenue performance will range from a 1% drop to a 1% increase resulting from currency pressure and some softening in the US domestic market place.

See related report: Southwest Airlines finally exceeds return goals with fuel windfall; but others want to share in it

Alaska is seeing some relief in competitive capacity additions in its network as other airline capacity is projected to grow 15% year-on-year in 1Q2015. "That's a two point reduction from three months ago and a seven point reduction from published schedules six months ago" Mr Harrison concluded. "We've seen carriers adjust their capacity given some of the changes going on in Seattle," he added. Along with Delta, Alaska has also been adding capacity in Seattle, and expects an 11% increase in the market year-on-year in the spring of 2015.

See related report: Alaska Airlines preserves its enviable financial foundation while persevering in Seattle
Alaska foresees flat unit cost growth in CY2015 as a new labour contract takes effect
After recording a 2.4% drop in unit costs excluding fuel and special items during 4Q2014 and a 1.3% fall for CY2014, Alaska is estimating that its unit costs for CY2015 will remain flat year-on-year.

The company highlighted several factors for the flat cost performance including a new flight attendant contract that will add USD25 million in structural expense, and about USD15 million in incremental expense after 2015. However, Alaska stressed the new pact includes important work productivity enhancements.

Alaska also forecasts a USD20 million increase in pension expense resulting from lower discount rates and higher life expectancy assumptions. The company is also projecting a 14% rise in depreciation during 2015 and a 12% increase in maintenance expense in 2015 as a significant portion of its Bombardier Q400 turboprop fleet is undergoing engine overhauls.
Alaska stresses its favourable top-line performance - even with a menacing Delta
Alaska's warnings of revenue and cost headwinds coupled with the now well known pressure from Delta at its Seattle hub may make investors somewhat jittery. But 2014 was the second consecutive year of heightened competition in Seattle, and Alaska CEO Brad Tilden highlighted the fact that 2014 was Alaska's fifth consecutive year of profitability in every single quarter and the second year in a row the company was profitable every single month.

The airline is sticking to previous projections of 8% capacity growth in 2015, and highlights that it has grown ASMs on average by that amount for roughly the last five years. During that time, "we've grown both net income and cash flow from operations by USD150 million per year," said Mr Tilden.
Alaska's track record shows it has considerable resilience
Alaska faces some challenges heading into 2015 in the areas of cost, revenue and the ever present threat from Delta in Seattle. But those are challenges the airline has faced on multiple occasions while managing to remain profitable and achieve investment grade status – a noteworthy accomplishment while it was facing unprecedented competition from Delta.

But Alaska obviously understands it needs to eventually move its costs in the right direction and ensure that it can shore up revenue in the mid- to long-term. Given its track record it is safe to give Alaska the benefit of the doubt that it will improve its performance in those metrics while sustaining its profitability.