Alaska and Delta: the end of a partnership, but the start of new competition on the US west coast
Analysis
A decision by Alaska Air Group and Delta Air Lines to dissolve their codesharing partnership in late 2016 was not surprising, given that the demise of their relationship began about four years ago when Delta opted to build Seattle into a strategic trans Pacific hub. Since that time the financial benefit Alaska has enjoyed from the relationship has dwindled as Delta has built up its own network in Seattle to feed its long haul flights, rather than rely on passengers from Alaska.

After the two airlines formally announced their split: through the planned launch of seven new markets from the airport in 2017 Delta sent a clear message that it had no intention of backing down in Seattle, breaking an Alaska monopoly in several of those markets. However, Delta's international expansion from Seattle appears to be on hold until the airport completes a new customs facility at the airport in 2019.

Even as their relationship officially ends, competitive dynamics between Alaska and Delta will intensify on the US west coast as Alaska embarks on its merger integration with Virgin America. Alaska will find itself competing with Delta and numerous other airlines in the strategic and fragmented Los Angeles market, and the merged entity retains a solid presence on numerous key routes from the airport.
Delta makes a concerted push in Seattle as the formal partnership with Alaska dissolves
The demise of Alaska and Delta's relationship is well documented. During the past few years Delta has aggressively built up Seattle to feed its long haul trans-Atlantic and trans-Pacific flights from the airport, rather than relying on a long standing codeshare with Alaska for feed in those markets.
Throughout that period numerous routes have been dropped from the codesharing pact, and the revenue Alaska garnered from the relationship fell from USD235 million in 2013 to USD65 million in 2016.

See related report: Alaska Airlines preserves its enviable financial foundation while persevering in Seattle

Alaska has weathered the competitive onslaught from Delta fairly well, adding some mid continent and transcontinental flights from Seattle, and generally continuing its growth from the airport – its largest hub and headquarters.
Alaska maintains a 54% seat share at the airport. Although fuel prices have been a factor, buoying airline profits for the past couple of years, Alaska has maintained solid profitability during Delta's build up in Seattle. The company's profits jumped 61% year-on-year in 2013, 19% in 2014 and 40% in 2015.
Seattle-Tacoma International Airport capacity by airline (% of seats): 16-Jan-2017 to 22-Jan-2017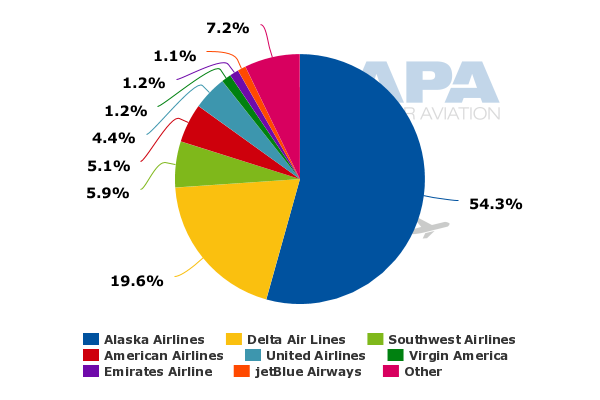 Shortly after Alaska and Delta announced plans to end the codeshare formally in May-2017, Delta outlined plans to add seven new markets from Seattle during 2017, all being served by Alaska.
Delta will challenge Alaska's monopoly on service to Raleigh, Eugene, Nashville, Lihue, Milwaukee and Redmond. Data from CAPA and OAG for the week of 16-Jan-2017 show that Southwest operates service from Seattle to Austin, holding a 28% seat share compared with Alaska's 72% share.

Delta has tripled its service levels from Seattle since 2012, and data from CAPA and OAG for the week of 16-Jan-2017 show that the airport is the airline's eighth largest measured by destinations offered.
Delta Air Lines global top 10 hubs/bases/stations by destinations served: 16-Jan-2017 to 22-Jan-2017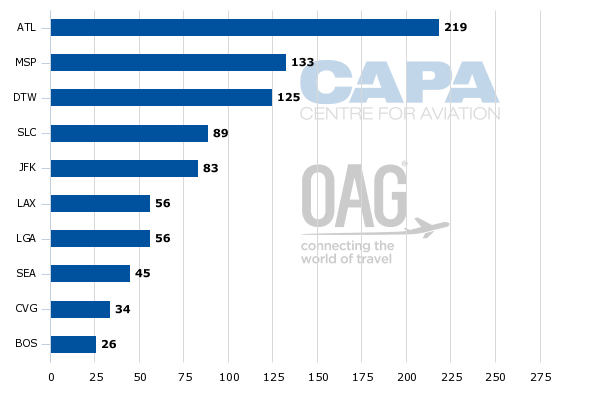 As the US market begins to climb out of a challenging revenue environment, Delta recently advised that both Seattle and Los Angeles had posted positive passenger unit revenue for 4Q2016.

The airline's strategy in Seattle has been to use the airport as a west coast gateway to Asia and Europe, to rival United's San Francisco gateway. Delta's long haul flights from Seattle include Amsterdam, Beijing, London Heathrow, Paris, Hong Kong, Seoul, Shanghai and Tokyo Narita.
Delta represents approximately 29% of Seattle's international seats, and 31% of the airport's international ASMs.
Seattle-Tacoma International Airport international capacity by airlines (% of seats): 16-Jan-2017 to 22-Jan-2017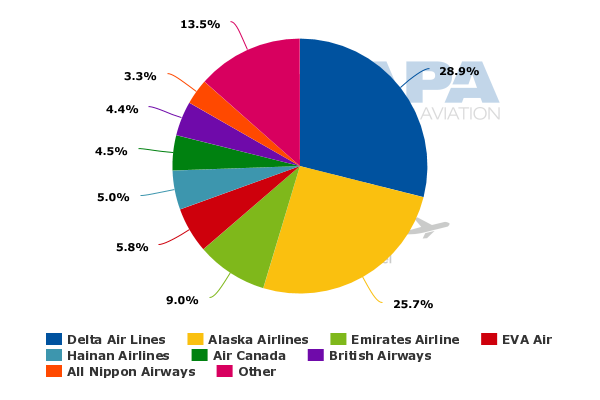 But Delta's international expansion from Seattle appears to be on hold until a new customs facility is completed at the airport in 2019.
Delta CEO Ed Bastian has told the local news outlet the Pugent Sound Business Journal that Seattle is facility constrained, and it would be difficult to expand international traffic at the airport due to the challenges for passengers clearing customs.
Delta is largely responsible for the 22% spike in Seattle's international passenger growth between 2013 and 2015 – from 3.6 million to 4.4 million.
Also, its aspirations for Asia are likely to be tempered as airlines from both the US and China brush up against caps in the bilateral agreement between the two countries.
Alaska and Delta face a new phase of competition with Alaska-Virgin America merger
As Delta shows no signs of relenting on increasing competition with Alaska and Seattle, the Alaska-Virgin America merger is creating new competitive dynamics on the US west coast, with the combined airline holding eight gates at Los Angeles International airport – a key market for most US airlines.
Given Virgin America's positioning in Los Angeles and San Francisco (where it holds the position of second largest airline, with a 10% seat share), Alaska has calculated that together with Virgin America it will represent a 22% seat share of US west coast seats, compared with 21% for Southwest, 16% for United, and 12% each for American and Delta.

See related report: Airline JVs under scrutiny in Qantas-American; Delta-Aeromexico; Alaska-Virgin America merger

Combined, Alaska and Virgin America hold a 9% seat share in the fragmented Los Angeles market, while Delta has a 15% share. American and Delta have both been bolstering their presence in Los Angeles, while United has focused on strengthening and rebanking some of its major hub to shore up its revenue.
Los Angeles International Airport capacity by airline (% of seats): 16-Jan-2017 to 22-Jan-2017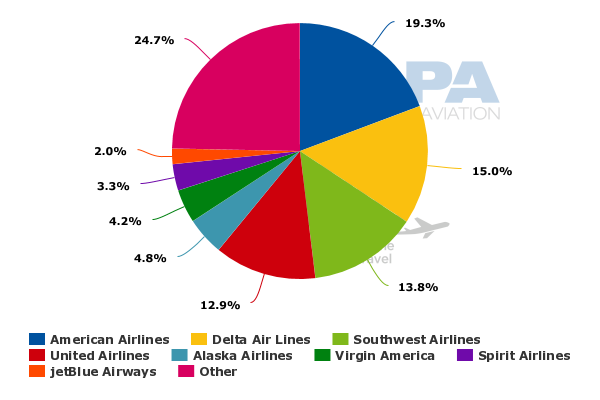 See related report: United Airlines Part 1: New management declares ambitions to usher in a new competitive era

Los Angeles has been strategic for Virgin America from its launch in 2007. The airport is Virgin America's second largest base, and also serves as a key cog in Alaska's west coast network.

As Delta has placed greater emphasis on Los Angeles during the past few years its competitive overlap with Alaska has grown in the market, and will intensify once the Alaska-Virgin America merger is completed.

Predicting growth patterns at Los Angeles is tough given the airport's space constraints, which stem largely from scarce gate space. Delta is embarking on a massive overhaul of its space at the airport, after growing its daily departures from the airport by 75% during the past six or seven years. The airline also operates a shuttle product from Los Angeles to San Francisco and Seattle.

Virgin America serves all the top O&D markets from Los Angeles, with the exception of Denver and Honolulu. In some of those markets, Virgin America is more dominant based on seat share, and the company will not retrench on those key routes once the merger is complete.
Airline seat share: eight of ten top O&D markets from Los Angeles, 16-Jan-2017 to 22-Jan-2017
Of the five next largest O&D markets from Los Angeles – Portland International, Sacramento, Salt Lake City, Phoenix and Houston – Alaska and Virgin only serve a single route from the airport: Alaska's service to its hub in Portland. Those markets offer some clues to potential expansion points for Alaska and Virgin America once they begin determining where they can deploy their combined fleet to drive revenue.
Alaska is already planning to add some of its smaller Embraer E175s on routes from San Francisco, and those aircraft could be one useful response in the arsenal for Los Angeles.

San Francisco and Seattle will continue to play more dominant roles in the West Coast strategy of the combined Alaska-Virgin America, but Los Angeles is also important for the combined network as the company works to sustain and grow its footprint in Southern California. As a result, competition between Alaska and Delta will continue to grow on the US west coast.
Alaska's new scale on the US west coast changes the competitive dynamics in the region
The unravelling of the Alaska-Delta relationship has created a new and intense level of competition in Seattle that shows no signs of abating as Delta continues to build its domestic network from the airport to support its international ambitions.

Now, as Alaska starts to absorb Virgin America and significantly bolster its presence on the US west coast, the competition between the familiar rivals will encompass a much broader base than Seattle.
Alaska's acquisition of Virgin America will allow it to compete with its larger rivals on a much broader scale, changing the overall competitive dynamics on the strategic US west coast.