Alaska Air faces competitive capacity pressure in early 2016 after making its own ASM push in 2015
Analysis
Alaska Air Group is planning capacity expansion of 8% in 2016 after growing nearly 11% in 2015, including a 12.5% expansion in 4Q2015. Much of the push during the final three months of 2015 is additions to existing markets where Alaska concludes demand remains robust.

Although Alaska's YE2015 capacity growth may be outsized compared with other US airlines, its ASM expansion between 2009 and 2014 was in the mid to high single digits, and its 2016 projections are in line with those trends. It also remained profitable during that time period, which featured soaring fuel prices and a global economic downturn.

During early 2016 Alaska is facing some headwinds from capacity growth by its competitors, but concludes much of that growth is the annualisation of new route launches that occurred in 2H2015. With the competitive onslaught Alaska has endured in Seattle during the last couple of years, it is clear the airline can handle the industry capacity growth in its markets. Its own network development during 2015 reflects a strengthening of its presence in Seattle in both small and large markets to leverage both connecting and local traffic.
Alaska plans a capacity push in 4Q2015 driven by longer stages and increased gauge
Significantly lower fuel prices have resulted in most US airlines expanding their capacity in 2015, and Alaska is no different. It now expects 2015 capacity growth of roughly 10.6% versus original estimates of approximately 8%.

Offering a top-line view of Alaska's planned capacity growth, company EVP and chief commercial officer Andrew Harrison recently remarked the airline continues to accelerate growth in markets where it sees new opportunities.

Breaking down Alaska's capacity growth for 4Q2015, Mr Harrison stated that half of the growth is driven by longer stage lengths and the operation of more higher gauge aircraft. Alaska's Boeing 737-900ERs feature a 181 seat configuration versus 163 seats on its 737-800s and 144-seat on the -400 variant.
Two points of Alaska's capacity growth in the last three months of 2015 is attributable to new markets and the remaining 4.5 points is dedicated to additions in existing markets.

Alaska does not offer forward guidance for passenger unit revenues. But company executives recently estimated load factors were down 0.8 points in Oct-2015, up 0.5 points in Nov-2015 and flat for Dec-2015.

Due to the unique competitive situation in Seattle, Alaska's passenger unit revenue performance compared with industry averages have been weaker for about a year. But in 3Q2015 its 4% decline was in line with Southwest, and lower than the decreases posted by the large three global network airlines. Virgin American and JetBlue have been the strongest US airlines in 2015 measures by passenger unit revenue performance.
Passenger unit revenue performance for select US airlines: 3Q2015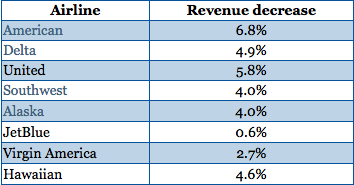 Although Alaska is similar to those airlines in that it has no exposure to the weak global economies and f/x pressure that is dragging down PRASM at larger airlines, it has faced a huge push by Delta in its largest hub and headquarters, Seattle.
Alaska Airlines global top 10 hubs/bases/stations by seats: 9-Nov-2015 to 15-Nov-2015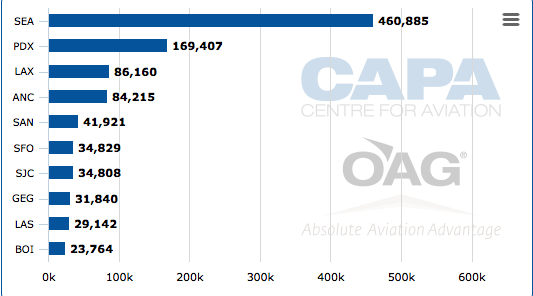 Alaska Airlines' planned 8% 2016 capacity growth is lower than its initial plans
Near the end of 2Q2015, Alaska was not offering capacity guidance for 2016, other than concluding it would trend in the high single digits. Two months prior to that declaration, Alaska was considering more robust capacity growth for the year, but opted to drop its growth calculations by two to three percentage points.

See related report: Alaska Air Group maintains Seattle market share while hinting at reduced 2016 capacity growth
Alaska executives pointed out that the company's average ASM growth for the last five years was roughly 7.2%. The largest increase was in 2011 when its capacity grew by 8.5%.
Alaska Airlines annual available seats miles: 2009 to 2015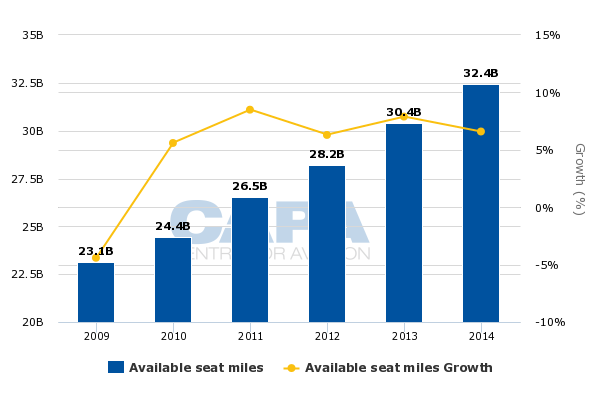 Between 2010 and 2014 Alaska more than doubled its annual net profit even while growing capacity at a larger clip than most US airlines.
Company CEO Brad Tilden recently stated that the 8% planned capacity expansion in 2016 is a little high, but is basically in line with Alaska's overall strategy.
Alaska Airlines net profit: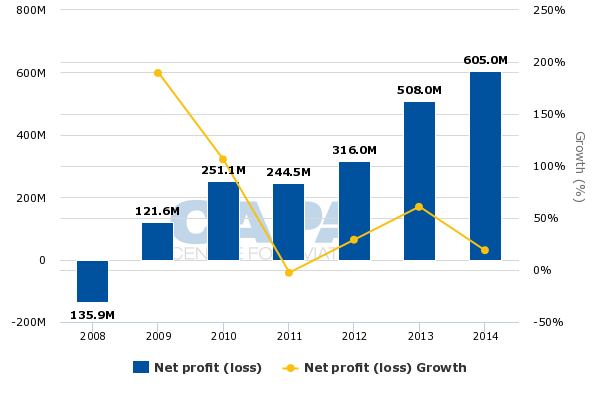 Alaska Airlines continues to bolster Seattle, focusing on connections and local traffic
Although Alaska has branched out with new service from San Diego and Salt Lake City during the last two to three years, much of its growth has centred in its largest hub at Seattle Tacoma International airport. It undertook a strategy to fortify Seattle as Delta Air Lines made a massive push from the airport, intensifying competition with Alaska on domestic routes to feed its new long haul services from Seattle to Europe and Asia.

See related report: Alaska Air Group continues to face investor trepidation as Delta's growth in Seattle continues

In 2015 alone Alaska has added at least seven new markets from Seattle – Washington Dulles, Milwaukee, Oklahoma City, New York JFK, Nashville, Raleigh-Durham and Charleston, South Carolina. Alaska is uncontested in four of those markets. Two of those routes – Milwaukee and Oklahoma City – are flown with Embraer E-175 regional aircraft. It competes with Southwest on service to Milwaukee, United on flights to Dulles and American, Delta and JetBlue on service to JFK.

Some of the route additions in Seattle reflect Alaska's strategy of adding non-stop destinations that customers flew from its hubs with one or more stops on other airlines, said Mr Harrison. During 2015 it has introduced service from its hub in Portland to St Louis (another Embraer 175 route) and Austin, and is uncontested in each market.

Other new routes Alaska has introduced in 2015 where it has no competition include service from Orange County to Cabo San Lucas and Puerto Vallarta, San Diego to Kona, Eugene to San Jose and Boise to Reno. "About 40% of seats on our new flights are filled with Mileage Plan members, which is in line with our system average for mature routes. This demonstrates strong support for our brand and natural demand for our new non-stop markets," Mr Harrison concluded.

Alaska has introduced 15 new markets since 3Q2014, and 75% of those markets are not only profitable, but achieving returns within excess of Alaska's cost of capital, said Mr Harrison.
The Embraer 175s were introduced in 3Q2015, and are recording nearly 90% load factors consistently and reaching profitability during the first quarter of operation, he stated.

Alaska's network moves are driven in part to bolster its already strong brand in Seattle as Delta continues to grow from its Seattle gateway. Although the competition with Delta remains intense, it is looking for network opportunities to sustain profitability exploit its strength in Seattle while steering clear of Delta. It is competing with Delta on only one route launched from Seattle during 2015, the aforementioned New York JFK.

The number of regional seats Alaska offered from Seattle grew 12% year-on-year in 3Q2015, and as a result connecting passengers increased by 15%. Mr Harrison remarked that the expanded regional traffic from states including Montana, Washington, Oregon and Alaska will help fill some of Alaska's incremental capacity expansion.
Alaska faces a now familiar challenge in early 2016 – amped up competitive capacity
Alaska is bracing for some large competitive capacity actions in early 2016. It expects a 15% jump in competitive capacity in 1Q2016 and 8% in 2Q2016. The airline estimates that 40% of the incremental competitive ASMs are driven by annualisation of new route introductions by its competitors in 2H2015.

Mr Harrison also estimated that new competitive routes launched in 2H2015 "are materially smaller as measured by passengers per day....in fact, the average size of the impacted market is 50% smaller compared to the same period last year". Some of the smaller routes that Delta is introducing from Seattle in 2015 include Billings and Missoula. Presently, Alaska has a monopoly on those routes.
There is little reason to doubt Alaska's ability to weather competitive headwinds in 2016
Although demand appears to remain robust throughout Alaska's network, the competitive capacity pressures the company faces in early 2016 could create a scenario where the company's passenger unit revenue performance will again lag the industry.

This may cause investors some trepidation. But Alaska during the last couple of years has arguably weathered the fiercest competition that any US airline has faced. Its profits, ROIC and return to shareholders have grown during that time.
It is a fact that lower fuel prices have helped its performance, but even without the advantages created by lower fuel prices, Alaska has proven its ability to thrive under an onslaught of competitive pressures. There's little reason to doubt its ability to do the same in 2016.