Airways NZ loses its golden glow as airlines baulk at big price increases
Analysis
Airways NZ was once held up as a model monopoly by its airline customers for its open approach to negotiate prices while ensuring an appropriate commercial return to its government shareholder.
But steep price increases implemented from 01-Jul-2013 for the next three years coming on top of an 18% increase over the previous four years has truly taken the shine off the IATA Golden Eagle Award bestowed in 2008 recognising Airways NZ's outstanding performance in customer satisfaction, cost efficiency and continuous improvement. The corporation had not increased charges for the past 10 years.
Today the ANS provider which manages some 30 million square kilometres of airspace stands accused by its airline customers of profiteering. But Airways NZ says the price increase is necessary to fund NZD97 million (USD76 million) capital expenditure on essential infrastructure planned for the next three years, most of which had been approved by airlines. In addition the corporation had worked with airlines during the global financial crisis by suspending non-vital infrastructure investments to keep prices down.
Airways NZ raises prices by 15.7% over next three years
Airways NZ on 01-Jul-2013 implemented its prices for the three years to Jul-2016 with a 10.6% increase in the first year, rising to 15.7% by 2015. While this is a sizeable reduction from a cumulative 23% price increase originally proposed, it is still nearly double the 8% airlines had proposed through their lobby group the Board of Airlines Representatives of New Zealand (BARNZ).
Airways NZ final price increases v proposed price increases for FY2014 to FY2016



The new prices follow an 18% increase over the previous four financial years and according to BARNZ are "completely unjustified and would simply represent an unwarranted impost by a monopoly supplier".
Airways NZ says the price increases are needed to allow for increased capital expenditure over the next three years as part of a programme to replace aging core assets over the next 10 years. A total of NZD97 million (USD76 million) in capital expenditure had been originally been programmed for the next three years for essential seismic strengthening of operational and contingency facilities, a new control tower at Wellington International Airport and navigation aid replacement.
But following feedback from airlines to defer a small number of projects and for some others to instead be treated as specific business cases the total value of capital expenditure used to determine pricing has been pared back to NZD88 million (USD69 million).
Fixed costs prevented Airways NZ's from reducing cost as demand fell during the GFC
Airways NZ's largely fixed costs meant the organisation had not been able to significantly reduce costs in response to declining traffic volumes during the global financial crisis, leading to a NZD4.7 million (USD3.7 million) shortfall in revenue in FY2013 compared to what had been forecast. This shortfall needed to be caught up in the current pricing round.
Airways NZ points out that it has generated significant customer value in the past four years through the implementation of fuel savings initiative such as performance based navigation (PBN) and collaborative arrival management which have delivered a total of NZD48 million (USD38 million). The corporation also estimates that those and future initiatives will save airlines a further NZD70 million (USD55 million) over the current pricing period, fully offsetting the price increase.
Estimated real price net of fuel benefits compared with real price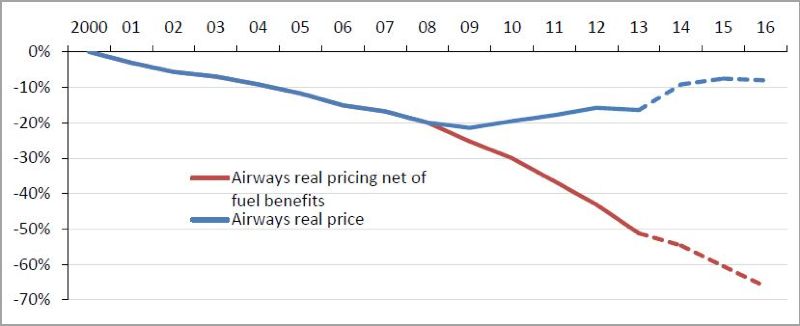 BARNZ has labelled the Airways NZ's argument that the price increases will be neutralised by equal value in fuel savings as "specious". It says the projects that enabled those savings were introduced in the past four years and airlines had paid (and continued to pay) Airways NZ the full costs associated with them. BARNZ also calculates the cumulative price increases from 2010 to 2013 equalled or outweighed the value of fuel savings in every year other than 2010.
"It is nonsensical to attempt to justify future price increases as against fuel savings achieved by past projects, the full costs of which have been met by airlines. In a competitive market firms deliver productivity improvements in order to make their products or services more attractive to customers and thus increase their share of the market. In a competitive market productivity improvements achieved by customers are not normally able to be used to justify price increases. Price rises are usually driven by unavoidable cost increases," BARNZ says in its submission.
IATA secretary general Tony Tyler in a speech delivered in Auckland on 02-Jul-2013 suggested that price controls may be warranted for Airway NZ. Airlines have no recourse to the Commerce Commission or any avenue to appeal final pricing decisions made by Airways NZ.
See related report: IATA's Tony Tyler calls for greater regulation of NZ's "badly behaved" airports and ATM provider
The increases are in stark contrast to the decade long price reductions during which time Airways NZ's prices fell by 16% in real terms due to productivity improvements and efficiency measures in the early to mid-2000s including the use of technology to provide more efficient services. Over that period airlines received a total of NZD26 million (USD20 million) in rebates.
Airways NZ's real pricing: 2000 to 2013

A new pricing framework ensure prices to airlines reflect the cost of specific services
A new pricing framework, developed in consultation with the industry in 2012, ensures that prices reflect the cost of specific service delivery and that there is no cross-subsidisation between customer groups or Airways Global Services.
Prices have also been rebalanced to reflect the underlying cost of individual services including for approach, aerodrome, oceanic enroute and domestic enroute. The effect of the rebalancing means that the actual cost increases for individual airlines will vary according to their operations.
Impact of Airways NZ price rebalancing in 2014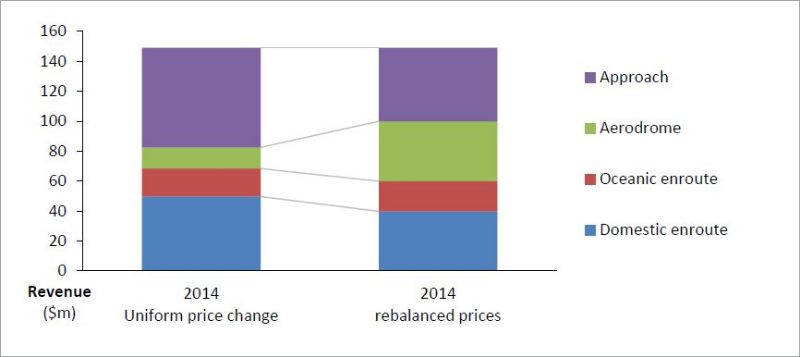 In addition Airways NZ has also changed its MCTOW price curve which will result in heavier aircraft being subject to larger percentage increases than lighter aircraft.
Airways is under increased pressure to provide an economic return to the Government
Airways NZ says it is under increased pressure to deliver an economic return to the Government. That corporation states that: "As a state-owned enterprise (SOE), Airways is expected to provide a commercial return. While this requirement has not changed from previous years, the shareholder has become more explicit in its expectations that Airways must deliver a commercial return. Any previous tolerance of a negative economic value added (EVA) position or less-than-commercial-return, no longer exists."
The organisation also points out that it is among the top five most cost-effective ANS providers within CANSO. However, an Ernst & Young report on SOE's to the Government in Nov-2011 assessed that Airways NZ provided an economic profit in every year but one in the last decade, which suggests according to BARNZ that the corporation has no need to increase its profitability.
Airways NZ has revised down its fair commercial return to 7.8%
In its pricing proposal Airways NZ calculated its cost of capital at 8.49% as being a fair commercial return, using the Commerce Commission's input methodologies that guide pricing for other New Zealand infrastructure providers and the practice of ANS industry regulators.
However, under pressure from airlines the corporation sought expert advice which led to the rate of return being lowered to 7.8% in its final pricing decision, though this is still above the 5.2% that the airlines considered appropriate.
Airways NZ's zero air traffic volume growth over the next three years was implausible
BARNZ considers Airways NZ's overstated cost of capital was one of two key means by which the corporation was seeking to increase charges by an unjustified magnitude and with no discernible benefit to airlines. The other was through the implausibly low no growth forecast for the next three years.
Airways NZ initially took the unrealistic position of forecasting zero traffic volume growth over the next three years based on expectations of slow global economic growth with significant economic risk due to the European sovereign debt issues, China's slowing economic growth and political uncertainty in the Middle East. Neither did it see any firm indications that aircraft capacity would grow over the next three years. Airline capacity growth was expected to come from increased passenger capacity rather than more aircraft, according to Airways NZ.
This forecast was at odds with the industry outlook and failed to take into account known airline fleet upgrades, including key customer Air New Zealand (ANZ) replacing its domestic 737-300 fleet with larger A320s as well as acquiring additional ATR72-600s turboprops for domestic regional services and 787-9s for long haul operations.
Demand would also be driven by the Christchurch post-earthquake rebuild as well as organic growth supported by marketing activities. BARNZ called for Airways NZ to allow for a growth forecast of between 2% and 3% per year based on average annual international and domestic MCTOW growth forecast by the three main airports, Auckland, Wellington and Christchurch.
New Zealand major airport MCTOW forecasts: FY2014 to FY2016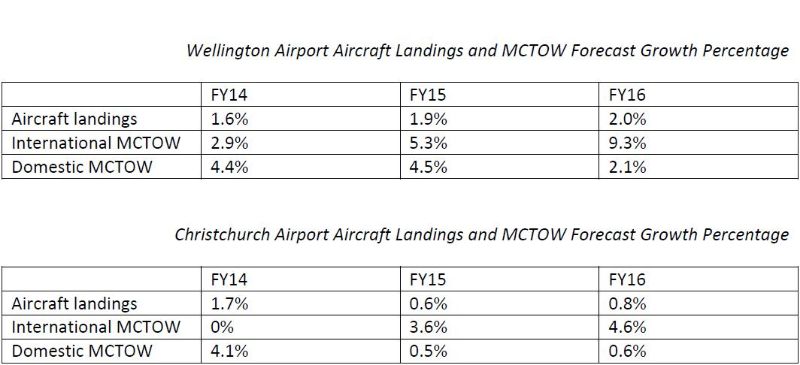 Source: BARNZ
Airways NZ responded in its final pricing decision by amending its outlook and now assumes traffic growth will revert to the long term average of 1.7% by year three of the pricing period, resulting in growth rates of 1% in FY2014, 1.4% in FY2015 and 1.7% in FY2016.
BARNZ calls for a review of Airways NZ's costs and audit of cost allocation processes
BARNZ has also asked Airways NZ's to review its costs with the average NZD143,000 (USD112,280) cost per FTE "needing particular scrutiny". It also wants an independent review or audit of Airways NZ's cost allocation processes to provide comfort that costs associated with the corporation's consultancy business are not being loaded onto core activities funded by airlines.
Wage increases for air traffic controllers have been settled at an average of 2.5% for the next two years under their collective employment agreement. But a strong union and airlines wary of the potential impact that industrial action would have on their operations means there is little bargaining power to reduce wage costs.
Airways needs to develop a means of ensuring that air navigation services are able to be delivered efficiently, as was the case from 2000 to 2009. In competitive markets firms are continuously striving to improve efficiency and productivity. The on-going increases in Airways' costs indicates that the focus on efficiency is not as strong as it was previously, according to BARNZ.
"The price increases which Airways is passing onto airlines would simply not be tolerated in a competitive environment," BARNZ stated in its submission.
Airways find itself in a difficult position of needing to invest in essential infrastructure to meet safety standards and the demands of its airline customers while also maintaining a commercial return to the government. Price rises are necessary to fund a number of substantial deferred projects, but it is also untenable for Airways NZ as a monopoly provider to take advantage of its position by effectively clawing back fuel efficiency gains delivered from improved services through price increases of a similar magnitude.