AirTran, Continental, Southwest, Alaska Air fall, but United Airlines stronger
AirTran (-9.7%), Continental (-7.4%), Southwest -5.9%) and Alaska Air (-5.8%) showed the biggest falls yesterday, as the reporting season got into full flow. United Airlines (+6.0%) however rose on a positive result and outlook, with more capacity cuts planned.
Spooking the market, Southwest Airlines (see below) announced that "we are not immune to the effects of the debilitating economic environment. Based on weak travel demand and fuel price volatility, we cannot predict a profitable third quarter 2009."
So, even though it is not due to report till today, AirTran and several other stocks were dragged down, as sentiment turned south.
United Airlines (see below) however benefited from reporting a smaller loss than expected, announcing more international capacity cutbacks and offering a relatively more optimistic outlook.
In many cases, the vagaries of mark to market fuel hedging costs are distorting the day to day operational cost performance of most airlines, as the oil price fluctuates and the projected forward price falls. In United's case this was a positive, for Southwest apparently a negative.
North & South America selected airlines daily share price movements (% change): 21-Jul-09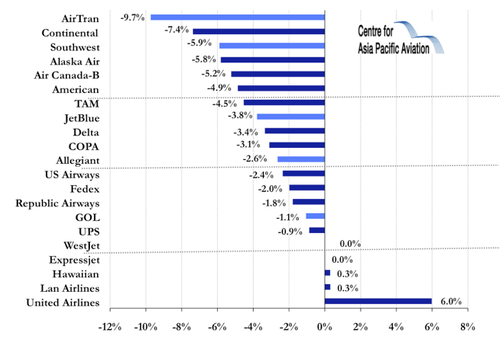 Southwest contracting, but still looking to a 3Q loss.
Southwest has instituted a "voluntary early-out program", which it launched during the second quarter. Approximately 1,400 employees have elected to participate in that programme, with departure dates falling between 31-Jul-09 and 15-Apr-10. This will lead to additional costs of some USD40 million in 2009 and USD30 in 2010.
However, the market leader actually reported a small net profit for 2Q09 of USD59 million, in, "without a doubt, one of the worst revenue environments for the airlines", according to CEO Gary Kelly. Hence the pessimistic outlook for 3Q09.
Continental continues cutbacks as losses mount
Continental's loss did not impress the market. Excluding USD44 million of previously announced special charges, the carrier recorded a net loss of USD169 million. Continental will also be eliminating "approximately 1,700 positions across the company, including management and clerical positions." The carrier previously announced it was reducing 500 reservation agent jobs, as well as special leaves of absence for 700 flight attendants.
United Airlines – costs contained, yields still under pressure and more international cutbacks
United reported a 2Q09 net loss of USD323 million. It had a year on year decline of 17.2% in PRASM for the quarter. International PRASM was down 25.9% and domestic down 14.7%. Pacific routes showed a whopping 28.9% fall in yield.
And, "in an effort to better match supply with demand, the company will further reduce international capacity by 7% in the last four months of 2009."
But containment of the carrier's costs apparently impressed the market: "Consolidated expense, excluding fuel, impairments and certain accounting charges, was down USD288 million or 8.9%, as the company continued its efforts to successfully reduce costs as capacity declined."
Cargo revenue was however down by almost half. The report noted: "Cargo revenue for the quarter decreased 49% year-over-year as a result of lower demand, softer yields, lower fuel surcharges and reduced international capacity. United's significant presence in the Pacific export markets, which have been particularly impacted by the weakness in the global economy, continues to disproportionately affect its cargo revenue."
Putting a positive spin on the results, Glenn Tilton, UAL Corporation Chairman, President and CEO said, "This is a resilient industry, and we are a resilient company. While there is much outside our control - including the state of the economy and the price of oil - we are focused and executing against those things we can control. We're running a good airline, with industry-leading cost control and best-in-class operational performance."