Airports of Thailand slumps, Fraport falls, Auckland Airport gains on hotel deal
Worldwide airport shares were mixed yesterday, with Airports of Thailand slumping 5.2%, on concerns over the traffic outlook. Mexico's airport operator, ASUR (-3.5%) and Australian Infrastructure Fund (-2.2%) also dropped back. Positive performers included the operator of Rome Airport, Gemina, Macquarie Airports and Shanghai Airport, which rose 5.0%, 3.0% and 2.8%, respectively.
Auckland Airport's shares gained 2.6% following the signing of a JV with Accor Hospitality and Tainui Group Holdings to develop and operate a 260-room Novotel at the airport (see below). The airport also announced the appointment of Simon Robertson as the company's new CFO.
In Europe, Fraport's shares went against the Frankfurt Dax index (+0.5%), falling 1.6%, while Aeroports de Paris outperformed the Paris CAC index (+0.1%), gaining 1.2%.
Selected airports daily share price movements (% change): 22-Jul-2009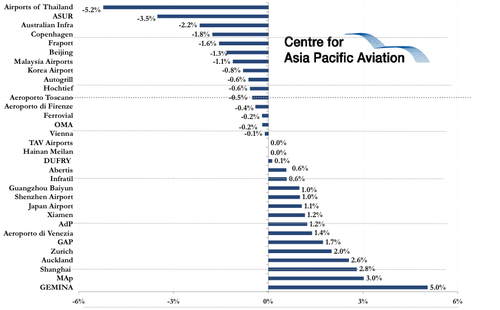 Joint venture formed to build Novotel hotel at Auckland Airport – edited press release
Auckland International Airport has signed a joint venture with Accor Hospitality and Tainui Group Holdings to develop and operate a 4 Star plus, 260 room Novotel Hotel at the airport, scheduled for completion in time for the Rugby World Cup in 2011.
Tainui will act as lead developer and investor in the JV, with Auckland Airport holding a minority interest. The hotel will be developed on a long term ground lease granted by Auckland Airport and will be managed by Accor. The total forecast completed cost is USD65 million, including hotel construction estimated at approximately USD45 million. The deal remains conditional on project finance and construction tender.
Novotel Auckland Airport will be designed by Warren & Mahoney Architects, and the final design will infuse subtle references to NZ culture and heritage.
Tainui Group Holdings CEO, Mike Pohio, stated "this deal represents a significant development opportunity for Tainui that we believe will complement our existing successful hotel investments. The Airport hotel will also generate considerable long-term economic growth and provide many new jobs for the Auckland region. The hotel will assist Auckland and New Zealand tourism and trade. It will cater for the inevitable economic recovery and growth when it returns."
Auckland Airport General Manager Property, Peter Alexander, also stated, "there has been a clear demand from the tourism industry and travellers for a hotel in the airport terminal precinct for some time. We are exceptionally pleased to bring together such a strong group of partners, each bringing a strong track- record, skills and experience. The outcome will be a great hotel and will deliver yet another string to the bow of Auckland Airport, one of the 10 best airports in the world."