Airports of Thailand loses half its value in five months - share wrap
Analysis
The global economic crisis is having a major impact on Thai aviation. The country's international airports operator, Airports of Thailand, has seen is share price drop back below lows hit at the end of Oct-08. Escalating political tensions led to the closure of airports in Southern Thailand and the capital Bangkok, which have damaged the country's tourism reputation.
Thai Airways is facing bleak financial times, which is rubbing off on AoT, whose shares fell a further 6.2% yesterday.
Airports of Thailand share price: 01-Oct-08 to 27-Feb-09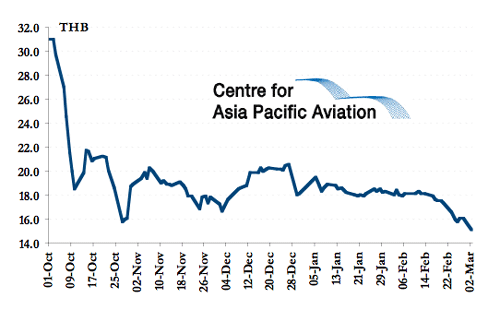 Elsewhere, Macquarie Airports shares were savaged, losing 9% yesterday, amid concerns at the fund's parent, Macquarie Bank, whose shares have lost 35% over the past 11 trading days to lows not seen since 1999. Macquarie Bank is expected to write down investments in MAp and Macquarie Infrastructure Group - a move the bank has been attempting to avoid.
Selected airports daily share price movements (% change): 02-Mar-09