Airports in north-east Japan affected by earthquake and tsunami: Airline responses - UPDATE 1
Several airports in north-east Japan have been affected by Friday's devastating earthquake and tsunamis. None more so than Sendai Airport, which was flooded when the tsunami struck, and remains closed. Major gateways including Tokyo Narita and Haneda resumed normal operations on Saturday.
Click here for the latest CAPA Update on Japan, Monday 5pm
Sendai Airport is located adjacent to the coastline.
The following airlines have scheduled services to Sendai: Air China, Air Do, ANA, Asiana Airlines, China Southern Airlines, Continental Airlines, EVA Air, IBEX Airlines, JAL, JAL Express. Airlines serving the airport via codeshare include British Airways, KLM, Shenzhen Airlines and United Airlines.
Prior to the earthquake, ANA was the leading carrier at the airport, accounting for almost 60% of weekly seats.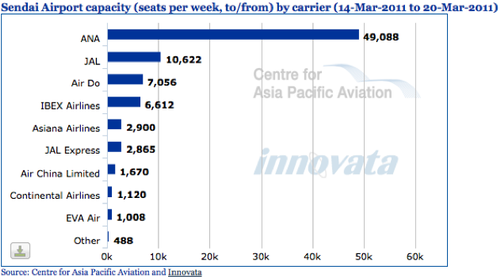 The airport's services were mostly domestic.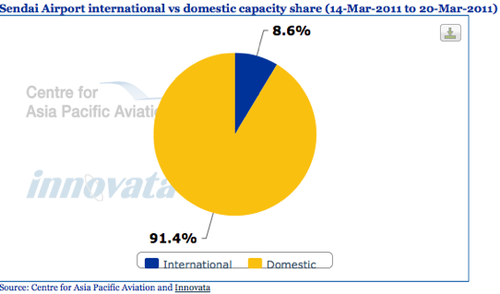 Click here for more information on Sendai Airport
Other airports in the region are functioning. The Tohoku (Northeast) Shinkansen high-speed railway is not operating to Northern Honshu and domestic airlines are responding by operating extra flights to airports such as Fukushima.
Japan Airlines issued a press release on Saturday, detailing its service suspensions:
March 11 (Friday): Domestic flights cancelled 143, passengers affected 25,530; international flights cancelled, 15 passengers affected 2660
March 12 (Saturday): Domestic flights cancelled 130, passengers affected 21,000; international flights cancelled 17, passengers affected 2440
March 13 (Sunday): Domestic flights cancelled 24, passengers affected 1560; international flights cancelled 2, passengers affected 230.
Japan Airlines operated eight extra flights on March 12 between Osaka (Itami) and Yamagata, Itami and Aomori, Sapporo and Aomori, as well as between Tokyo (Haneda) and Aomori. Additionally, Japan Airlines plans to schedule extra flights to the Tohoku region (northern Japan) from either Tokyo (Haneda) or Osaka (Itami) on March 13.
All Nippon Airways cancelled 131 services as a result of the earthquake, affecting 32,700 passengers, while a further 24 flights were diverted.
CAPA expresses its deepest sympathies to the families affected by this event. Our thoughts are with the people of Japan and for those involved in the recovery effort.
Airline updates
Japan's earthquake and tsunami have resulted in international carriers issuing the following responses: