Airline losses to balloon as 'green shoots' fail to bud
IATA is preparing to significantly revise its loss forecast for the international airline industry after carriers reported deep first quarter losses and few signs have emerged of a real economic recovery. IATA reports around 50 (mostly listed) carriers reported combined net losses of USD3.3 billion in 1Q2009. IATA's current industry forecast for the full year (set in March) is for a USD4.7 billion combined loss.
Airline earnings (USD million): 1Q2009

IATA stated the "collapse" in revenues, due to the global recession, is having a larger impact on financial performance than the drop in fuel prices. Director General & CEO, Giovanni Bisignani, told Bloomberg, the revised loss forecast (to be revealed on 08-Jun-09) would be "substantially worse" than the March estimate. He added, "the economy isn't moving forward, despite some optimism in the financial markets" and predicted losses for the sector for the next "couple of years".
Cargo volume stabilisation, but revenues and yields still falling
Separately, IATA reported that April marked the "fourth consecutive month of stability" in freight tonne kilometers (FTKs) since the low point was reached in December, but the level of FTKs is "now moving sideways". It added volumes have been achieved at the expense of yields, "since there is no sign that the fall in revenues has slowed". IATA stated, "most of the strain of 20% loss of volumes [in 2009] is being taken by a 7% point fall in freight load factors".
IATA estimates excess cargo capacity caused worldwide international cargo yields to slump 17% in 1Q2009. Revenues from cargo are expected to show a "record decline" in 2009 on both lower volumes and yields. The airline body stated the air cargo market is also losing market share to ocean shippers.
The worldwide freighter fleet has reduced by 99 aircraft so far this year, according to Ascend fleet data, but widebody cargo capacity is up, as older aircraft are no longer being parked.
Passenger aircraft fleet growing again
In the passenger segment, the commercial fleet was shrinking late last year as the parking and retirement of older aircraft exceeded new deliveries. But this process moved into reverse from February, according to IATA.
In Apr-2009, the worldwide fleet expanded by over 100 aircraft. 27 aircraft were retired, but 30 were taken out of storage back into active service and 109 new aircraft were delivered, according to data sourced from Ascend.
Aircraft parking and deliveries: 2006 to Apr-2009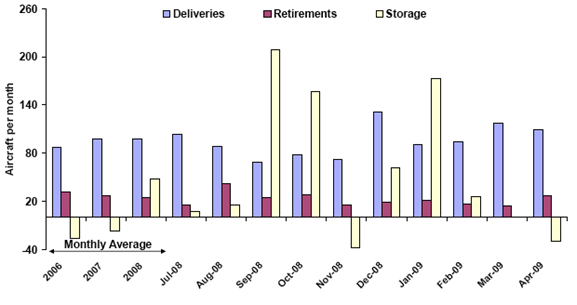 Despite the growing fleet, worldwide international passenger capacity was still shrinking in Apr-2009, falling 2.5% year-on-year. IATA stated, "airlines are continuing to cut hours flown to achieve this, adding to the detrimental impact on profitability of lower load factors".
Outlook: Frozen green shoots
All the evidence from the airline sector suggests market anticipation of an economic recovery is premature.
IATA stated, "markets and forecasters are now looking ahead to recovery, rather than further decline, but there is no visibility yet of any robust improvement, though leading indicators are positive".
Cathay Pacific CEO, Tony Tyler, stated yesterday that while the carrier's cargo business is showing signs of stabilising, a recovery would depend on improving economic fortunes in the US and Europe.
In the absence of an economic recovery, airlines will have to battle against weak demand, excess capacity and higher fuel prices. Revenues are shrinking and more red ink will flow. The next IATA forecast could be grim indeed.