Airline earnings weaken in 2Q, shares down 15% so far in 2011: IATA
A deterioration in consumer confidence and a concerning economic outlook is placing further pressure on the world's airlines, with IATA warning of a possible slowdown in business travel. The association also noted that airline industry earnings suffered the first year-to-year decline for two years in 2Q2011, based on a small sample of airlines globally, while airline share prices have taken a battering, weakening 15% this year on economic concerns. Meanwhile, high jet fuel prices continue to pressure airlines, which are also now faced with a moderation in travel volumes, weakening load factors, softer utilisation rates and yields which are yet to recover to their pre-recession levels.
Airline shares down 15% so far in 2011
IATA, in its Jun/Jul-2011 Airlines Finance Monitor, stated airline share prices are 15% down so far this year, compared with a 1.6% rise in equity markets over the same period, as airlines continue to be hit more than most sectors by the economic slowdown
The Bloomberg global airlines index was down 4% last month, while equity markets declined 0.5%. IATA noted that in the past month confidence in the economic outlook has deteriorated. Debt and inflation forced governments to tighten economic policy and business confidence declines.
Bloomberg Airlines Index: Jan-2007 to Jul-2011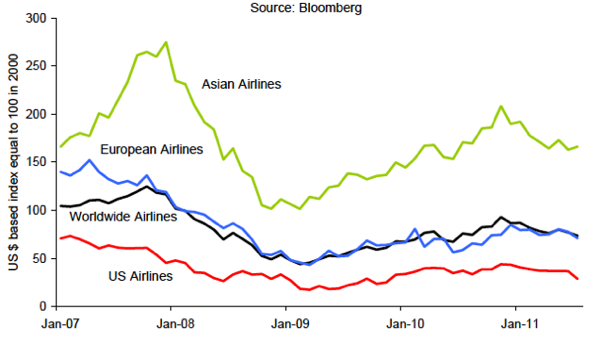 Jet fuel prices back up above USD130 a barrel despite fears of slower economic growth
IATA reported that jet fuel prices headed back up above USD130/barrel last month, despite concerns about the strength of the economic expansion and after previously trending downwards from a peak in Apr-2011. Worries about supply, including the situation in Libya, have more than offset potential demand reductions. So far this year Brent oil prices have averaged USD112/b and jet fuel USD128/b, which are close to the levels IATA assumed for the year as a whole. Current prices are USD6-7/b higher.
Jet fuel and crude oil prices (USD/barrel)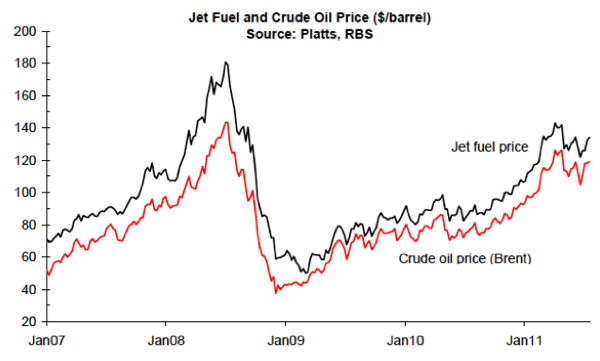 Early 2Q results show first year-on-year decline in airline profits in eight quarters
The effect of rising fuel prices on profitability was seen in 2Q2011. IATA noted that early results on 2Q2011 airline financial performance shows, with the exception of Europe, the first year-on-year fall in profits since 2Q2009.
After losses of USD1.8 billion in 1Q2011, net profits in 2Q2011 for the small sample of 16 airlines reporting so far total USD1 billion. IATA noted that while the sample is too small as yet to come to clear conclusions, it has highlighted that "Asian airlines appear to have been under most pressure, whereas European airlines have improved operating profits (partly because 2010Q2 results were hit by the ash cloud last year)".
IATA airline net and operating profitability: 2Q2010 vs 2Q2011 (USD million)

IATA, when it halved its forecast for airline industry net profits in 2011 to USD4 billion in Jun-2011, stated the cost of fuel is the main cause of reduced profitability for the industry in 2011. IATA raised its forecast for the average price of Brent crude from USD96 to USD110 per barrel (Brent), marking a 15% increase over the previous forecast.
Every USD1 increase in the price of Brent crude adds USD1.6 billion to industry costs, IATA said. The rising price of oil means that fuel will account for 30% of industry costs this year, compared with 13% a decade ago. The industry 2011 fuel bill will rise by USD10 billion to USD176 billion in 2011, despite an estimated 50% of airline fuel requirements in 2011 being hedged at 2010 levels.
On a more positive note, Director General emeritus Giovanni Bisignani stated the industry has "built enormous efficiencies over the past decade. In 2001, we needed oil below USD25 per barrel to be profitable. Today, we are looking at a small profit with oil at USD110 per barrel."
Passenger yields back to pre-recession levels in US; remain 10% weaker industry-wide
Passenger yields, at least for US airlines, are now back to pre-recession levels, as tight supply-demand conditions have allowed US airlines to reflect rising fuel costs in their passenger yields. Yields have not been quite as strong outside the US, where load factors have not been as high, supply-demand conditions not as tight. Meanwhile, IATA estimates that industry wide passenger yields are still 10% or so below pre-recession yields.
Average international return fare and US passenger yields (seasonally adjusted): 2007 to 2011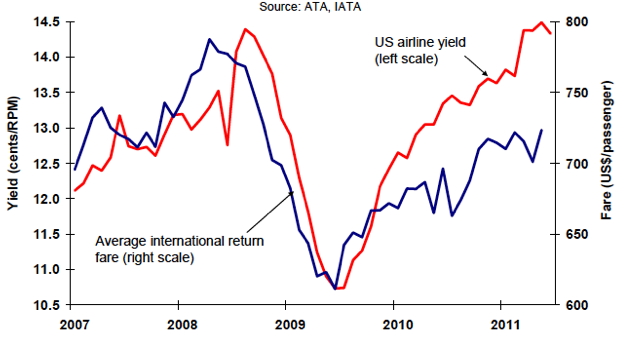 Deliveries of new jets and turboprops remained above 100 aircraft in Jun-2011, with these aircraft joining by an increasing number of aircraft being taken out of storage. The impact on capacity of these new deliveries has been held down for much of this year by a fall in the utilization of the existing fleet.
With over 1300 aircraft scheduled to be delivered this year, representing an additional 5-6% of the existing fleet, the pace of new capacity additions is expected to increase over 2H2011. This will have a positive impact on fuel efficiency but potentially impacted fleet utilisation and hence profits.
Aircraft retirements and deliveries: 2007 to 2011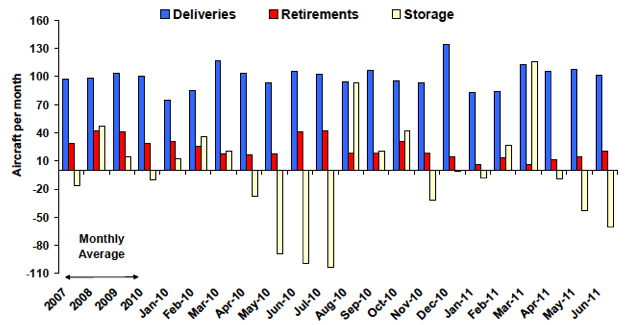 Air travel is trending upwards at a 4-5% pace but air freight markets have stagnated
Air travel markets are now above pre-recession peaks, although the trend rate of improvement has slowed since 4Q2010 and volumes dipped lower in Jun-2011. The trend in air travel volumes looks to be expanding at a pace of 4-5% p/a. IATA also commented that the recent sharp falls in business confidence are a worry, since business travel has been a major growth factor. This is also a concern for air freight markets which remain stagnant, below the 2010 peak.
Meanwhile, capacity continues to be introduced onto air travel and freight markets at a faster pace than the growth in demand. The trend in capacity on passenger markets has slowed a little but remains over 5% a year so far, with published schedules suggesting growth in capacity at a slightly faster pace this year, according to IATA.
IATA international passenger and freight capacity (seasonally adjusted): 2007 to 2011
International passenger and freight traffic volume (Seasonally adjusted): Jul-2005 to Feb-2011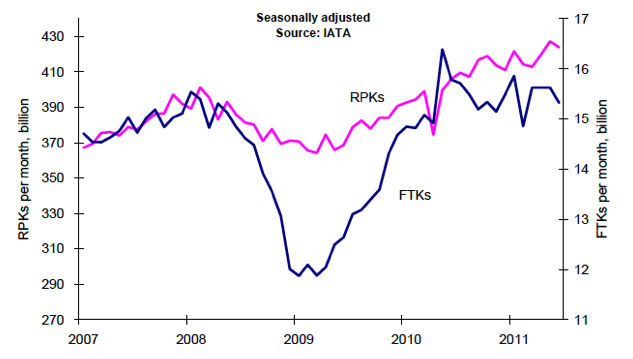 Accordingly, load factors are weakening, with the rapid post-recession improvement in load factors clearly over, as it has been for some times. Load factors are still at historically high levels, but there has been no improvement now for over a year. Meanwhiel, concerns lie in the reality that slipping load factors will start to undermine unit revenues and yields.
Passenger load factor on International markets: 2007 to 2011