Airline CEOs expect fuel prices to rise - IATA
A recent survey of airline CEOs by IATA showed that expectations for the next 12 months have now shifted back to input cost increases over that period, with 42% of respondents (four times the number from last survey) expecting upward pressure. IATA stated, "the mixed blessing of potential economic recovery is seen here – recovery may well be good for traffic growth down the line, but ahead of that fuel prices are likely to rise on expectation of increased energy demand as economic activity accelerates".
Overall airline operating costs continued to fall for over three-quarters of respondents to IATA's survey during the last three months. The industry body observed that while oil is already over 50% more expensive than the low point at the end of 2008, it is still well below the peaks seen 12 months ago. IATA stated, "fuel prices are significantly below their record levels and this has now fed through to the bottom line for most airlines as previous hedges have come off".
But the industry body added that the benefits from lower fuel costs have been outweighed by several other factors, such as passengers trading down to lower priced seats.
How have your unit input costs changed? How do you expect them to change over the next 12 months?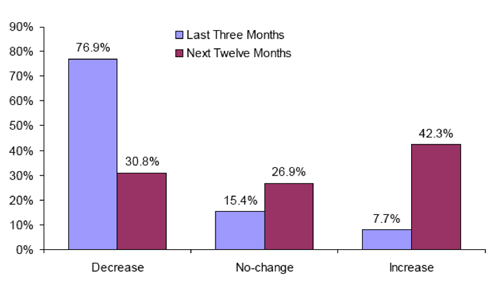 Outlook: Long-term level of fuel prices worrying airline bosses
Overall, IATA stated that the timing of economic recovery and the longer-term level of fuel prices are the "main uncertainties affecting the outlook" for airlines. IATA added, "even the optimistic respondents don't see significant recovery before Q4 this year and others not until early 2011…While fuel prices are expected to rise as economic growth picks up, the likely level is a matter of considerable debate.
Oil prices stay low in past week, despite Wall Street's strong run
After slumping 17% the previous week, oil prices have hovered around USD60 per barrel, despite a spurt on Wall Street, suggesting some underlying pessimism about future oil demand.
Oil prices closed down slightly overnight in New York, despite another healthy increase in equities markets.
In the week ended 14-Jul-09, jet fuel spot prices fell 2.0% at New York Harbor, -3.9% at the US Gulf Coast, -3.2% at Los Angeles, -2.0% in Amsterdam and -6.1% in Singapore – following on from double-digit declines the previous week. The underlying crude price fell 5.2% in the week to 14-Jul-2009.
Daily jet fuel prices (kerosene, cents per gallon) at New York, US Gulf Coast, Los Angeles, Amsterdam, Singapore vs Crude Spot price (WTI, USD per barrel): 07-Jul-09 to 14-Jul-09
07-Jul-09

08-Jul-09

09-Jul-09

10-Jul-09

13-Jul-09

14-Jul-09

one week
Change

12 month
Change

New York Harbor

165.45

159.89

160.22

161.5

161.42

162.08

-2.0%

-62.0%

U.S. Gulf Coast

162.95

159.14

158.72

158.25

156.42

157.08

-3.6%

-62.2%

Los Angeles

170

164.67

167.05

166.11

166.13

164.54

-3.2%

-59.9%

164.29

160.67

161.35

160.59

160.22

161.05

-2.0%

-61.9%

170.24

166.76

163.33

162.86

159

159.88

-6.1%

-61.5%

WTI Spot

62.88

60.15

60.36

59.93

59.69

59.62

-5.2%

-58.9%
Daily jet fuel prices (kerosene, cents per gallon) at New York, US Gulf Coast, Los Angeles, Amsterdam, Singapore: 02-Jan-09 to 14-Jul-09