Airbnb becomes a mainstream corporate option as Qantas adds it to its FFP partners
Analysis
On 4-Oct-2016, Qantas announced it had concluded a partnership with Airbnb, the world leader in the sharing economy's accommodation revolution. According to Qantas this represents "the first time Airbnb has worked with an airline in this way to reward Frequent Flyer members when booking accommodation through Qantas' website – and is the next step in Qantas' partnerships with innovative digital and technology businesses".
The partnership, along with deals with the major global TMCs and growing adoption among corporate travellers, has moved Airbnb from the realm of couch-surfing to an accepted corporate travel option, forcing travel managers to adapt or risk alienating their staff.
Airbnb has become the world's largest supplier and a massive disrupter
Airbnb has claimed 2.3 million listings worldwide as at 11-Oct-2016, putting it at more than twice the size of the combined entity of Marriott International and Starwood Hotels & Resorts Worldwide.
Although the number may be on the high side as, unlike hotels, not all the Airbnb properties or space are permanently available, even adjusting for availability and removing shared rooms, the 'sharing economy' accommodation channel has been estimated at close to one million units, which still places it at the upper end of the supply chain – just behind Marriott/Starwood. Moreover it continues to grow rapidly.
Figure 1: Accommodation companies, ranked by room numbers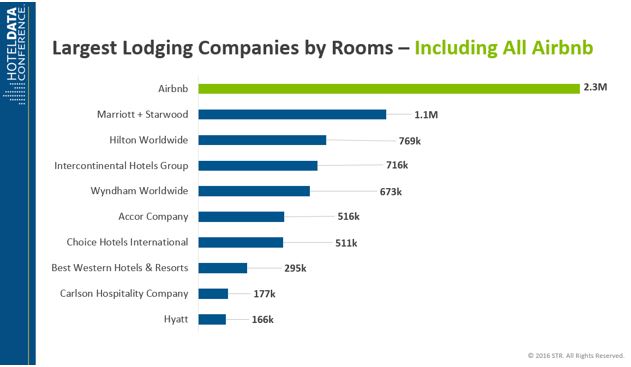 Regardless of the actual number, Airbnb is transforming the accommodation market, with analyst STR reporting that Airbnb occupancy mirrors the patterns of hotels.
The markets with the highest Airbnb occupancy are also the markets with the highest hotel occupancy, suggesting that Airbnb is helping to meet excess demand.
Figure 2: Airbnb occupancy (compared with hotels)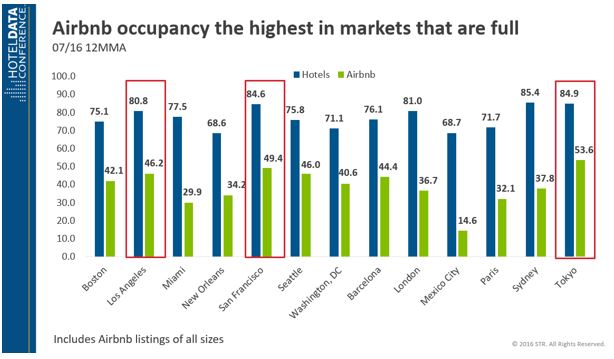 Business has adopted Airbnb after its travel management suite was launched
Since the founding of Airbnb in 2008, Airbnb hosts have welcomed more than 100 million guest arrivals at Airbnb listings worldwide.
Approximately 10% of those stays are by business travellers in a trend largely driven by a desire to experience cities and neighbourhoods rather than stay at impersonal hotels.
Airbnb attracted 500 corporate clients within 24 hours of launching its new global travel management suite on 20-Jul-2015. A month later that had risen to more than 1,000 businesses in over 35 countries. Customers like Google now include Airbnb in their accommodation inventory.
Airbnb claims its Business Travel programme enjoyed 700% growth in its first year, assisted by a suite of business-friendly tools to "provide visibility into employee travel itineraries booked through Airbnb, financial reporting data, and central billing to improve the business travel experience for travellers and travel managers".
While the Airbnb for Business inventory is the same as the leisure offering, the essential difference is the management tools.
There are three components:
Activity Tab: this catalogues current and upcoming employee trips, including trip dates, location, date booked, trip status, number of people in each party, and an interactive map.
Reporting Tab: collects and manages booking reports for the entire organisation and exports financial data and reports.
Employees Tab: manages approved and pending employees who have been permitted to book business travel using Airbnb.
TMCs add legitimacy to the offering
Airbnb at a glance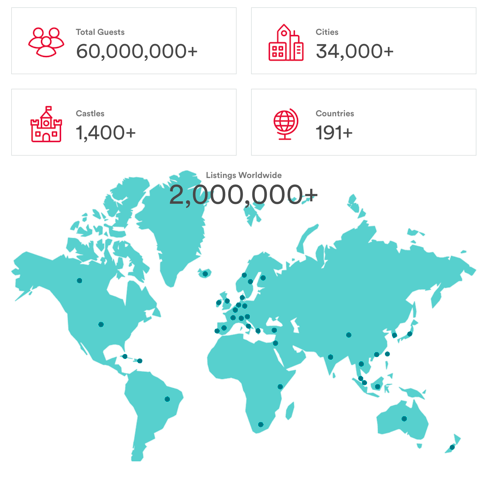 Airbnb's corporate travel credibility took a giant leap in July-2016, when three of the largest global TMCs (Travel Management Companies) signed agreements with the hospitality provider.
At the time American Express Global Business Travel (GBT) said its referral partnership "will make Airbnb for Business more accessible to GBT customers and allow data transfer and traveller tracking".
GBT pledged to fully integrate Airbnb booking information into its reporting platform so that GBT customers can easily track their travellers' Airbnb bookings.
Simultaneously CWT signed a partnership agreement with Airbnb, promising to "make Airbnb bookings for our clients and integrate those trips into CWT's Off Channel Reporting programme".
"Through our partnership with Airbnb, we're providing travel managers with additional lodging choices which reflect the changing needs of the market," a TMC spokesman said at the time.
Meanwhile, the Dutch-based global BCD Travel confirmed it is now working with Airbnb for Business to provide corporate travel clients with rich data in a new security and risk management offering that can track the location and trip patterns of business travellers who book Airbnb listings.
BCD has told clients that Airbnb's data will be integrated into BCD Travel's proprietary DecisionSource business intelligence and security solution, allowing them to interact with maps and detailed reports in real time and bringing Airbnb accommodation bookings into view for managed travel.
By integrating Airbnb into their management systems and tools, the 'big three' TMCs have acknowledged that the sharing economy is not a fad, but rather a source of new, innovative travel options for business travellers.
GDSs withhold inventory (for now), but partnerships loom
While some major TMCs have entered into arrangements with Airbnb, many observers believe that GDS access is the last barrier to growing corporate use of the sharing economy accommodation offering.
To date, Airbnb content has been absent from the major GDS companies Sabre, Amadeus and Travelport, with only the latter indicating any inclination towards collaboration. Commenting on Travelport's Q1 2015 results, president and CEO Gordon Wilson indicated that the company "could be willing to work with the likes of Airbnb". He acknowledged that travellers are increasingly looking at other types of accommodation when booking a trip.
While the GDSs may not yet have connections with Airbnb, the technology innovator Concur has had a partnership with the accommodation aggregator since July 2014.
Concur boasts that its partnerships with Airbnb (together with Uber and platform partners like United, Marriott, IHG and Avis) "bring seamless connections to our travellers, for direct bookings and spend management".
Through the partnership travellers from companies using Concur's TripLink service can seamlessly link their Airbnb and Concur accounts to ensure that their Airbnb reservation receipts automatically upload to their Concur account.
Airbnb embraces its loyalty with Qantas
Corporate adoption of Airbnb took another step on 4-Oct-2016 when Qantas and Airbnb entered into a world-first partnership to give Qantas Frequent Flyer members the opportunity to earn Qantas Points - when they book Airbnb accommodation through qantas.com.
Australia's national carrier and the accommodation leader have partnered to reward Qantas Frequent Flyer's 11.4 million members with one Qantas Point for every dollar they spend on any of Airbnb's 2.5 million accommodation listings across 191 countries.
The partnership marks the first time Airbnb has worked with an airline in this way to reward Frequent Flyer members, in what Qantas CEO Alan Joyce described as "a natural fit for two global brands with a track record of wanting customers to feel at home when they travel, as well as using technology to create great experiences for their customers".
Future corporate adoption growth has become inevitable
As organisations seek to contain travel budgets and satisfy the changing needs of their travellers, options like Airbnb are increasingly attractive. Airbnb's corporate-friendly product enhancements such as corporate logins, sophisticated reporting and expense tracking have elevated the offering to near-hotel levels.
Corporate acceptance has been further enhanced by the agreements between Airbnb and major global TMCs, and integration into systems such as Concur's TripLink.
The future for sharing economy business travel accommodation options therefore looks bright, but travel managers do need to remember that it is not just about price and keeping travellers happy; they still have duty of care obligations.
Airbnb's efforts to grade properties and specify those appropriate for business travel should allay some concerns in this respect, while the partnerships with TMCs are also addressing other duty of care objections by providing services like traveller tracking for those staying with Airbnb hosts.
But there is no doubt that risk planning remains a key requirement – even more so when sending travellers off to strange houses in unfamiliar locations.