Airberlin: new restructuring plan appears not radical enough as 3Q profitability slips
Analysis
After narrowing its operating loss in 1H2014, airberlin's 3Q result was in profit, but at a lower level than last year in what is the seasonally strongest quarter. Unit revenues continued to fall and the airline was unable to reduce unit costs sufficiently to compensate for this (even after allowing for restructuring costs). Another heavy loss is on the way for FY2014.
Airberlin has also given a further update on its new restructuring programme. In spite of indications earlier this year that the new programme might lead to fundamental strategic change, there is also little, if anything, that appears radical in the plan. Airberlin will remain in the same business segments, but redouble its efforts to do the same things more efficiently. Moreover, it has not really addressed one of the key themes we have identified in our analysis of the airline for some time, namely establishing its core purpose.
Underlying operating profit down 28% year on year in 3Q
In 3Q2014, airberlin's net income more than halved to EUR50 million, with revenues down 2.6% to EUR1,312 million. Operating profit, or EBIT, fell by 35% to EUR75 million.
Excluding the item 'other operating income', which consists of gains on the disposal of long term assets, insurance claims and other sources of income that are not regular elements of the day to day business, underlying 3Q operating profit fell by 28% from EUR100 million to EUR72 million. Even allowing for EUR15 million of restructuring costs, the figure was still below last year's.
Airberlin's 3Q profits were not enough to offset losses in 1H. For 9M2014, its net loss widened by 14% to EUR151 million, its reported operating loss increased by 42% to EUR115 million, but its underlying operating loss (ie excluding other operating income) narrowed by 13% to EUR125 million.
See related report: Airberlin's first 2Q profit since 2009 shows promise from its business model restructuring
Airberlin financial highlights 3Q2014

Balance sheet still has negative equity, but liquidity is healthy
Compared with the end of 2Q2014, shareholders' equity improved by EUR160 million, mainly due to the second tranche of EUR102 million of the subordinated convertible bonds subscribed to by Etihad (accounted for as equity), but also due to the profit recorded in 3Q. The improvement in shareholder's equity since 31-Dec-2014 was less, at EUR76 million. The balance was still negative to the extent of EUR111 million at the end of 3Q2014.
Net debt was EUR730 million at the end of Jun-2014, down from EUR796 million at the end of Dec-2013, but slightly up on the EUR708 million level at the end of Jun-2014. Gross cash stood at EUR599 million (53 days of revenue) at the end of 3Q2014, almost unchanged from the end of 2Q, but up from EUR223 million (20 days of revenue) at the end of 2013 thanks to new bond issues.
There is still a further tranche to come from Etihad of the subordinated convertible bond and this will further improve airberlin's balance sheet. Moreover, as we have previously noted, it has sufficient liquidity to pursue its restructuring without the short term fear of bankruptcy. Nevertheless, airberlin will need to start recording full year net profit figures if it is to rebuild its equity without seeking further investment from Etihad and/or other shareholders.
Airberlin balance sheet structure 31-Dec-2013 and 30-Sep-2014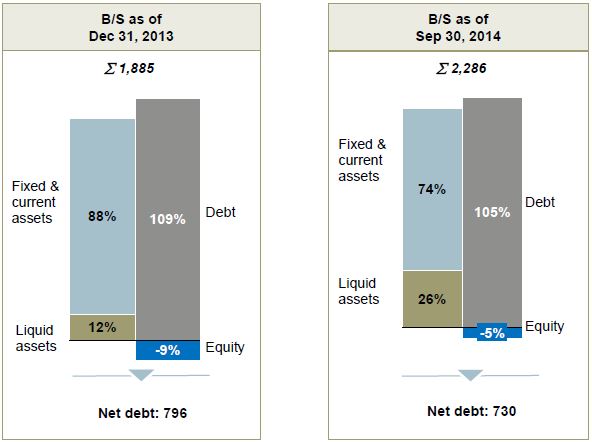 ASKs up 0.9%
Airberlin's capacity growth has slowed through the year. In 3Q2014, ASKs grew by just 0.9%, after an increase of 4.4% 1Q2014 and 3.5% in 2Q2014. The tightening of capacity growth seems to have helped airberlin's load factor, which was almost flat (-0.1 ppts year on year) at 87.2% in 3Q, compared with a fall of 3.8 ppts in 1Q and a fall of 1.3 ppts in 2Q.
The number of destinations as at 30-Sep-2014 was 12% lower than a year earlier, highlighting airberlin's focus on increased frequencies as its growth driver.
Airberlin operating figures 3Q2014

Etihad codeshare bookings accelerate modestly, but may be threatened by LBA
Common codeshare bookings with Etihad were up by 4% year on year in 3Q2014, a modest acceleration on the growth of 2% in 2Q2014, but still significantly less than the 12% growth reported for 1Q2014 and 74% growth for FY2013. Airberlin's winter 2014/15 schedule should see a boost to this growth rate, with additional Abu Dhabi services from Stuttgart and Vienna and increased frequencies from Berlin Tegel.
Airberlin common codeshare bookings with Etihad Airways ('000) 3Q2013 and 3Q2014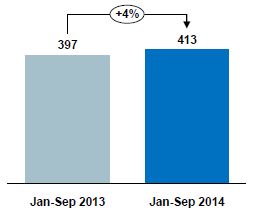 A threat to the airberlin/Etihad codeshare agreement surfaced in Oct-2014, when the German Federal Aviation Authority (known as LBA) declined to approve codeshare rights on 34 routes operated by airberlin, including Berlin and Stuttgart to Abu Dhabi and a number of routes between Abu Dhabi and other destinations in Europe. The LBA eventually did approve the codeshare rights for the coming winter season, but there is still a risk that it may not continue to do so in future seasons.
Airberlin has concerns that the LBA may be taking a new interpretation of the bilateral between Germany and the UAE, an interpretation that it considers to be "unjustified and incorrect". According to airberlin, the annual revenue impact of any future decision by the LBA not to grant these codeshare rights could be in the mid double digits.
Partnership revenues are a key element of airberlin's recovery plan and their reduction by what could be somewhere in the region of EUR50 million in annual sales would be keenly felt. Nevertheless, CEO Wolfgang Prock-Schauer was keen to stress on a conference call with analysts that he was "confident" that the LBA will continue to approve all these codeshares in the future.
See related report: Airberlin's new codeshare with Alitalia is no substitute for the loss of Etihad codeshare routes
Oneworld codeshare bookings up 5%
Common codeshare bookings with oneworld partner airlines also accelerated their growth modestly, increasing by 5% year on year in 3Q214, after growth of 2% in 2Q2014. As with the Etihad codeshare, these growth rates are slower than the 1Q2014 rate of 12% reported and a more than tripling of numbers in FY2013.
Of course, slower growth rates are inevitable with increasing maturity of the relationships, but the addition of a new codeshare with US Airways in Jun-2014 appears to have had a positive impact on airberlin's oneworld common booking numbers.
Airberlin common codeshare bookings with oneworld 3Q2013 and 3Q2014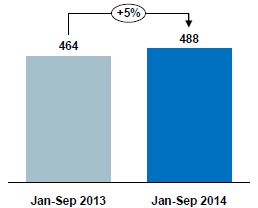 Revenues fall 2.6%
Airberlin's 3Q2014 revenues fell by 2.6% year on year, bringing the 9M revenue decline to 1.0%. The fall in 3Q revenue contrasts with the 1.8% increase in ASKs and reflects a 3.4% drop in flight revenue, which accounted for 93% of revenue. Ground and in-flight revenues both grew by 9%.
Flight revenue per passenger fell by 4.4% and total revenue per ASK (RASK) fell by 3.4% in 3Q2014. It seems that airberlin was unable to keep hold of the stabilisation in RASK that it achieved in 2Q (after a significant drop in 1Q). CFO Ulf Huettmeyer told analysts on a conference call to discuss the 3Q results that RASK had been up in Oct-2014 and the outlook for 4Q was positive.
Airberlin revenues (EUR million) 3Q2014
| | 3Q2013 | 3Q2014 | Change |
| --- | --- | --- | --- |
| Flight revenue | 1,261.0 | 1,218.6 | -3.4% |
| Ground and other services | 76.6 | 83.8 | 9.4% |
| Duty free/in-flight sales | 8.7 | 9.5 | 9.2% |
| Total revenue | 1,346.3 | 1,311.9 | -2.6% |
Airberlin development of yield (flight revenue per passenger, EUR) and RASK (EUR cent) 3Q2014 vs 3Q2013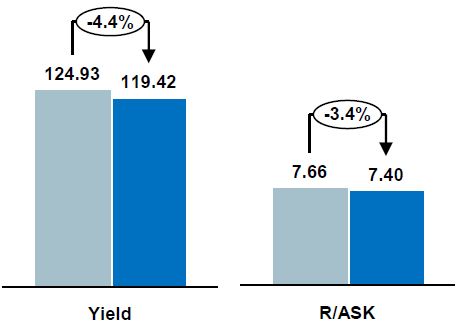 Costs fall 0.5%
Operating costs fell by 0.5% year on year in 3Q2014, less than the increase in ASKs, but also less than the drop in revenues. Fuel costs, down 2.4%, were the major contributor to the cost reduction, while non-fuel costs were flat (+0.1%). Labour costs increased by 6.4%, in spite of lower headcount (down 4% year on year at 30-Sep-2014). This was due to wage increases and also EUR8.5 million of costs related to the re-stationing of crews (without this latter item, labour costs would have been flat year on year, in spite of the ASK increase).
Overall cost per ASK (CASK) fell by 1.4% and ex fuel CASK was down 0.9%. There were EUR15 million of restructuring costs in 3Q (EUR10 million of which was labour-related). Without these restructuring costs, CASK fell by 2.6%, although this was still not enough to compensate for the 3.4% drop in RASK.
Airberlin cost development 3Q2014 vs 3Q2013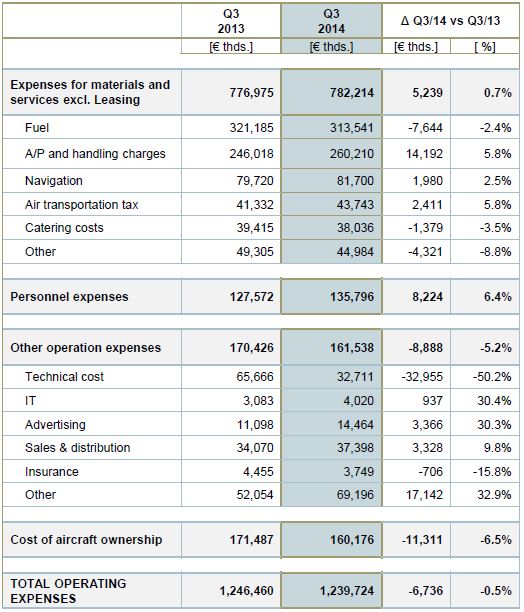 Airberlin's restructuring update
Airberlin also gave an update on the restructuring of its business model that was first announced in Apr-2014. An initial indication of its new thinking was given at the time of 2Q results in Aug-2014, but the review process continued through to Sep-2014 and this was its first presentation following its completion. In fact, many of the elements of the new plan now revealed were already presented in Aug-2014.
See related report: Airberlin's first 2Q profit since 2009 shows promise from its business model restructuring
These include the decision to remain in the three segments of Europe, leisure and long haul; to focus its European network on the top ten markets in the DACH region (Germany, Austria and Switzerland) and on its base in Palma de Mallorca; to reduce the seasonality in its schedule; to increase cooperation with partners (in particular Etihad, Alitalia and American Airlines); and to improve efficiency through the closure of five crew stations (Muenster/Osnabruck, Hanover, Dortmund, Erfurt and Dresden).
Perhaps the most significant additional details now announced by airberlin of its latest restructuring are a numerical target of EUR400 million in profit benefit by 2016 and the harmonisation of the fleet.
EUR400 million target contribution from the new plan
Regarding the EUR400 million target of additional contribution from the new restructuring programme, it expects an equal contribution of 40% towards this total from both costs and revenues, with the balance of 20% coming from network improvements. There will be significant one-off restructuring costs in the next two years, but airberlin's goal is to achieve "sustainable profitability" from 2017 onwards.
This generally means sufficient profit to pay for capital investment and to earn a further return that is attractive to investors in the company.
Airberlin restructuring programme targets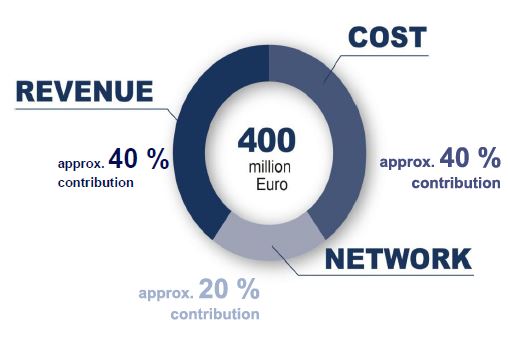 Airberlin moves towards an all Airbus fleet
Airberlin plans the simplification of its fleet to a single aircraft family in each of short/medium haul and long haul to the A320 family and the A300. The group's narrow body fleet currently includes 45 Boeing 737s, which will be phased out gradually over the next two years, and it will also cancel 18 737 orders. It will introduce 20 A320/A321 aircraft that are on order and secure an additional 14 used A320s from the second hand market. On long haul, it has cancelled an order for 15 Boeing 787 Dreamliners and will continue with its current A330 fleet.
The list prices of the aircraft in the cancelled orders with Boeing amount to USD5 billion in total. Although airberlin may not have been contracted to pay list prices, the cancellation of these orders, with no penalties, will lead to significant savings in capital expenditure and help to preserve the company's liquidity.
More fundamentally, moving to an all Airbus fleet will provide greater efficiencies in terms of aircraft deployment, maintenance, crew rostering and training. Mr Huettmeyer said on the 3Q conference call that there were benefits to operating a dual fleet, including "not having all eggs in one basket". Nevertheless, a review by airberlin of its fleet plan had concluded that "the disadvantages [of a dual fleet] are higher than the advantages".
New restructuring plan has nothing radical
In Apr-2014, when airberlin first indicated that it was planning a new restructuring programme to follow its Turbine programme, CEO Wolfgang Prock-Schauer said "Even though the Turbine efficiency program has delivered according to plan and will take full effect in 2014, we have to increase the pressure during implementation, drive further measures as well as thoroughly evaluate our possible courses of action including airberlin's long-term business model".
This suggested a possibly radical change of strategic direction. Certainly, there is little in airberlin's new restructuring plan that could be regarded as anything other than beneficial in terms of improving its efficiency, both in terms of costs and revenue generation. However, there is also little that appears radical. Airberlin will remain in the same business segments, but redouble its efforts to do the same things more efficiently.
Arberlin does not really seem to have resolved the fundamental question of what its true purpose is. Short haul point to point LCC, or full service long haul carrier? Leisure operator, or high frequency business airline?
See related reports:
Etihad's presence on the share register has perhaps added to the confusion over airberlin's role. Although the Abu Dhabi-based airline has helped ensure airberlin's survival, its priority is to secure access to as wide a network as it can through its German investment. Etihad can also help airberlin's efficiency through joint procurement, the sharing of best practice and codeshare arrangements, but its influence may also blur airberlin's strategic focus.
See related reports:
Restructuring plans are undertaken by every legacy carrier in Europe and, while some involve root and branch strategic reform, many are little more than a focus on the kinds of efficiency improvements that should anyway be part of management's agenda. In airberlin's case, the new EUR400 million benefit target is even the same figure targeted under its 2012-2014 Turbine programme.
While it says that Turbine has delivered, airberlin is heading for another big operating loss in 2014, the fifth successive year of operating loss (although this year's loss may be narrower than last year's).
Achieving sustainable profit as soon as 2017 will be a major challenge.