airberlin: another record loss, but "Jack of all trades" may have a chance to escape Groundhog Day
Analysis
The German airline airberlin made another record loss in 2016 and has reported net losses in eight of the past nine years. It has lost a cumulative EUR1.9 billion in the five years since Etihad became a shareholder. The only small net profit, in 2012, was because Etihad bought its loyalty scheme. The first results for this year show that losses worsened in 1Q2017.
The better news is that, with shareholder Etihad's support, airberlin has sufficient liquidity to continue, and it has a restructuring plan with a new CEO. If the story of losses, Etihad support, restructuring and a new CEO sounds familiar, it is because it is. Airberlin has been through this almost as many times as Bill Murray in Ground Hog Day.
Crucially, though, the latest restructuring does seem genuinely radical. As new CEO Thomas Winkelmann has said, airberlin used to be a "Jack of all trades", but master of none. Past restructurings made it a Jack of fewer trades, but never fully resolved this lack of focus. The current plan brings it focus as a network airline – scaling down, and largely exiting from leisure. There is still much execution to be done, and competitive conditions are unlikely to ameliorate, but Mr Winkelmann may have a better chance than his predecessors.
Airberlin's 2016 net loss widened again
In 2016 airberlin's net loss widened by 75%, to EUR781 million, from a loss of EUR447 million in 2015.
Its reported EBIT figure was a loss of EUR667 million, more than double its EBIT loss of EUR307 million in 2015. The 2016 result was more heavily affected by one off and restructuring costs, amounting to EUR335 million, compared with EUR92 million in 2015. Stripping out these items, the adjusted EBIT loss in 2016 was EUR332 million, versus EUR215 million in 2015.
Revenue fell by 7.2%, to EUR3,785 million, and airberlin's adjusted EBIT margin declined by 3.5ppts to -8.8%.
2016 was airberlin's ninth successive year of negative underlying operating results and its eighth year of net losses in the past nine years. The only positive net result reported in that period, in 2012, was achieved only thanks to the sale of its topbonus loyalty programme to Etihad, shortly after Etihad became airberlin's biggest shareholder in late 2011.
In the five full years since Etihad's investment in airberlin, the German airline group has lost EUR1.9 billion in aggregate at the net income level, on aggregated revenue of 20.5 billion. Moreover, there has been no sign of improvement in the trend, in spite of a series of strategic reviews, restructuring programmes and new CEOs.
Air Berlin PLC revenues, net profit and operating profit (EUR million) 2005 to 2016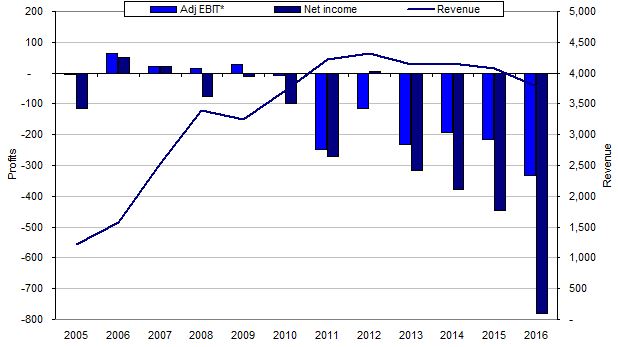 In Europe, only Alitalia had a lower operating margin in 2016
Among the 27 European airline companies and their principal subsidiaries for which financial results are available for 2016, airberlin's operating margin was ranked in 26th place. Only Alitalia, another Etihad investment, recorded a lower margin: -18.3%.
See related report: Alitalia: defying gravity again - another loss, another turnaround plan, maybe another last chance
Among the 15 of these companies that are stock exchange listed airline groups, airberlin was again the weakest performer and the only one located in Western Europe to make a loss.
The airline's -8.8% adjusted EBIT margin in 2016 came at a time when the world's airline industry reached a new peak, estimated by CAPA to be 8.3%, and the European airline sector was estimated by IATA to have made an EBIT margin of 5.7%.
See related report: CAPA airline profit outlook: 2016 was top of cycle, but margins to stay above past cyclical peaks
As with Alitalia, the failure by airberlin to make a profit in a year when jet fuel prices were at their lowest for well over a decade highlights the fundamental lack of sustainability in its old business model.
Operating margins for European airline companies and subsidiaries (% of revenue) 2015 and 2016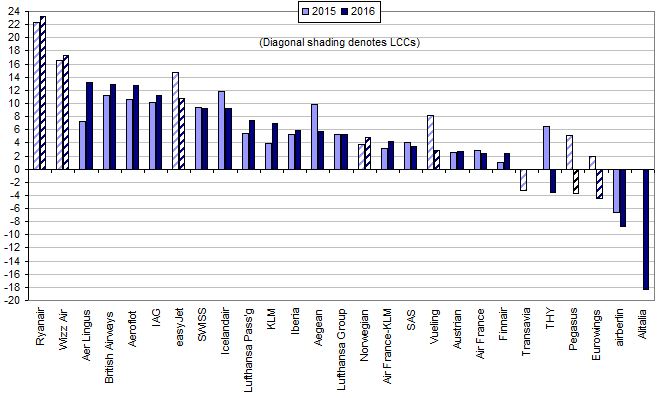 Debt continues to grow, but with Etihad support airberlin has enough cash to survive
Unlike Alitalia, and fortunately for airberlin, the German airline has sufficient liquidity to continue with its restructuring, according to its CFO Dimitri Courtelis.
Nevertheless, the Air Berlin group's balance sheet remained in a fragile state at the end of 2016.
Its net debt grew by 34% year-on-year to close the year at EUR1,176 million, while the book value of its equity declined further into negative territory, to -EUR1,470 million (a fall of EUR671 million year-on-year).
Growing debt and negative equity aside, the key to survival is liquidity, and airberlin's year end cash balance grew in 2016 by one third to close the year at EUR220 million (thanks to raising more debt). This was equivalent to only 21 days of revenue, but that was an improvement from the 15 days as at the end of 2015.
During 1Q2107 Air Berlin PLC refinanced EUR140 million of convertible bonds and sought additional convertible bond financing, supported significantly by Etihad.
At the time of writing, balance sheet data was not yet available for the end of 1Q2017, but further losses for the period are likely to have led to further deterioration in debt and equity levels, even if liquidity remains adequate.
Air Berlin PLC gross year end cash balance and year end net debt 2007 to 2016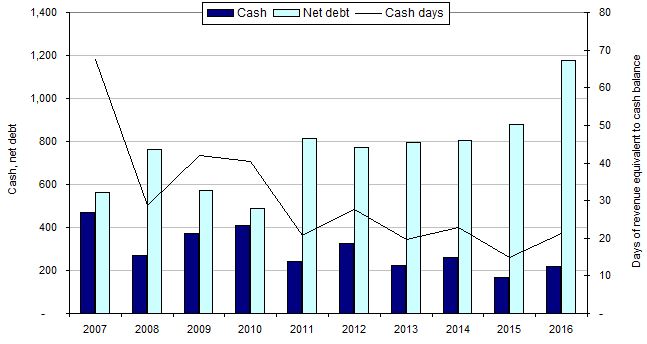 2016 was another year of capacity cuts
In 2016 the Air Berlin Group's ASKs were cut by 2.7% – its fourth capacity cut in five years – and its passenger numbers fell by 4.4% to 28.9 million (the consolidated Air Berlin Group included airberlin, NIKI and Belair Airlines).
Although passenger growth did not match ASK growth, average sector length grew modestly so that RPKs fell at the slower rate of 2.5% and load factor was stable at 84.3% (+0.1ppts). On a conference call to discuss the 2016 results on 28-Apr-2017, CFO Dimitri Courtelis told analysts that load factor had increased in the long haul network, but declined elsewhere.
A more detailed analysis of airberlin's historic capacity trends by region, in addition to the outlook in 2017, can be found in the following CAPA report from Mar-2017:
airberlin restructuring: summer capacity minus 31%; long haul growth; threat of Eurowings looms
airberlin passenger numbers (million), ASKs (billion) and passenger load factor* (%) 2005 to 2016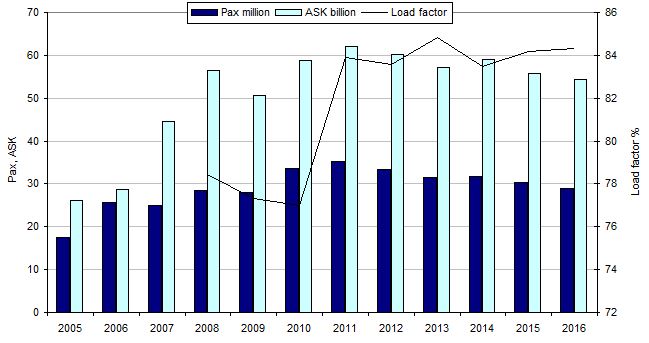 Falling unit revenue in spite of improved ancillaries
In spite of the capacity cut, total revenue per ASK (RASK) fell by 4.7%. Average fares fell by 3.8%, to EUR115.5, and yield per RPK fell by 5.6%, reflecting the very competitive environment leading to soft pricing in airberlin's markets. Mr Courtelis attributed the weakness to market overcapacity and geopolitical events.
There was some good news in the area of unit revenue from ancillaries, which increased by 20.1% on a per passenger basis to EUR7.58, helped by a new buy on board product and improved seat reservation revenues, but this was not enough to offset weak air fares.
airberlin yield and unit revenue data 2015 and 2016

Unit cost cut failed to match fall in unit revenue
In an environment of falling unit revenue, it is essential to lower CASK (cost per available seat kilometre) more rapidly than RASK. Unfortunately, and in spite of lower fuel prices, airberlin was unable even to match its 4.7% RASK decline with its reduction in CASK, which fell by only 2.3%.
That CASK fell at all was only due to lower fuel prices: fuel CASK fell by 27.3%, but it can be calculated that ex fuel CASK increased by 4.4%.
For many years airberlin has been unable to keep its CASK growth below its RASK growth. Since its last positive operating result in 2007, RASK has grown by 22%, while CASK has grown by 34% (and ex fuel CASK is up 45%).
Air Berlin PLC – index of operating cost per ASK (CASK) and revenues per ASK (RASK), each indexed to 100 in 2007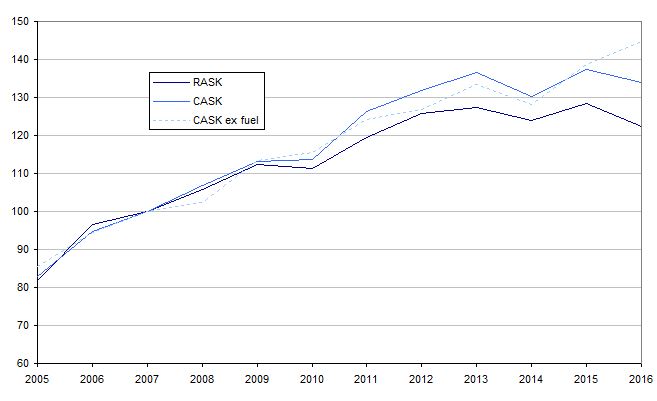 Losses continued into 1Q2017
Losses have continued to widen into 2017 so far. The airline made a net loss of EUR293 million in 1Q2017 – 61% wider than the net loss of EUR182 million in 1Q2016. Revenue fell by 11.8%, to EUR650 million, and the EBIT loss widened by 58%, to EUR272 million.
The airline's RASK fell by 7.0% in 1Q2017 while its CASK jumped up by 7.5%, or by 6.5% excluding one off and restructuring costs. Capacity (in ASK) was cut by 7.9%, reflecting the beginning of the transfer of 38 aircraft to operate under wet lease for the Lufthansa Group. A 2.7ppt fall in load factor was suffered in the quarter, to 80.6%.
As can often be the case at the start of a restructuring programme, airberlin was also unable to remove costs as quickly as capacity.
"The cost level is clearly not acceptable," said Mr Courtelis, who only joined the airline in Sep-2016. "Historically, airberlin was not able to flex costs as capacity was added or removed, but we are addressing this."
airberlin laid the groundwork for its new structure in 1Q2017
To be fair to airberlin and its new CEO Thomas Winkelmann, appointed on 1-Feb-2017, the new turnaround programme was only started at the end of 2016. In 1Q2017 the Air Berlin Group continued to include NIKI and, for part of the period, the aircraft wet leased to Lufthansa prior to their reassignment.
The 1Q2017 results were also adversely affected by a strike by ground staff at Berlin Tegel, and problems with airberlin's new ground handling agent.
Nevertheless, the quarter laid the groundwork for airberlin's most radical restructuring programme, which has been assessed in previous CAPA reports.
See related reports:
The new scheme reduces the core operation to a fleet of 75 aircraft from 137 at 30-Sep-2016, prior to the programme's announcement.
This core network airline is to focus on the Duesseldorf and Berlin hubs, with an emphasis on long haul expansion on the North Atlantic. Due to capacity problems at Tegel and delays to the new BER airport in Berlin, Mr Winkelmann said that there would be a stronger focus on Duesseldorf for its long haul expansion.
Airberlin has adapted its network to the reduced fleet size, cutting the number of routes from 387 to fewer than 100. The Lufthansa wet lease agreement commenced in Feb-2017 and 35 out of 38 aircraft have now been transferred – the majority to Lufthansa's Eurowings LCC operation.
See related reports:
From the start of the summer 2017 schedule, right at the end of 1Q2017, 35 aircraft operating leisure routes were transferred to NIKI, prior to the Austrian carrier's sale to a new airline joint venture company involving Etihad and TUI.
The new leisure airline awaits regulatory approval and airberlin's consolidated results will continue to include NIKI until that transaction completes.
Winkelmann: looking "to collect the fruits of our labours" in 2018
It is tempting to be sceptical about yet another restructuring programme under yet another CEO at airberlin. However, there are some signs that the latest attempt deserves a fair hearing.
Mr Winkelmann certainly seems to understand the failings of airberlin's past. Echoing consistent criticism from CAPA that airberlin tried to be all things to all people, he told analysts on the 2016 conference call that it used to be a "Jack of all trades" and labelled it a "former general store airline".
See related reports:
He called the financial results "highly unsatisfactory", but said that he believed in airberlin and planned to accelerate the pace of change.
The business has a new focus as a network airline, but Mr Winkelmann also said that airberlin's strategy was "under the microscope", adding that "nothing is set in stone". He is open to new partnerships and cooperations, but also stressed that airberlin has a good and supportive relationship with its shareholder Etihad.
With airberlin's new structure not yet fully in place, it expects that the KPIs will only start to show improvement towards the end of 2Q2017. Productivity and utilisation improvements are expected to be visible from 4Q2017 as the new winter schedule comes into operation and the carve out of the leisure airline is complete.
A return to profit may take longer, and airberlin has not given an explicit target date for this vital milestone, but support from Etihad means that it still has time.
Mr Winkelmann hinted at what could be an ambitious target time frame for returning airberlin's results from red ink. Noting that he had not seen another European airline implement a bigger restructuring, he said he expected to "collect the fruits of our labours" in 2018.