Airberlin: a game of two halves. Can Turbine power it to breakeven in 2013 after 1H losses?
Analysis
Airberlin narrowed its losses in 2Q2013 versus 2Q2012, but the EBIT loss of EUR197 million for the first half was wider than last year's loss of EUR179 million. Its balance sheet continues to look undercapitalised and, although a recently announced aircraft sales transaction should provide much needed cash, the issue of new capital cannot be completely excluded.
Airberlin is confident that its Turbine cost-reduction programme, which has already achieved 80% of its savings target for 2013, will deliver improved results in 2H2013. With market conditions remaining challenging and airberlin admitting that its breakeven EBIT target for the year now looks more difficult, further savings may be required in order to keep the company on course.
See related report: airberlin 1Q losses widen, but restructuring will deliver benefits later. Pain now for gain later
Airberlin's 2Q-2013 losses narrowed
Airberlin narrowed its EBIT loss to EUR8 million in 2Q2013, which was an improvement of EUR21 million from the loss of EUR29 million in 2Q2012. However, this year's result included a EUR24 million increase in 'Other operating income', the detail of which was not provided in airberlin's results statement (but, on a conference call with analysts, CFO Ulf Huettmeyer said that this included a range of items). Revenues fell by almost 2%, following capacity cuts.
The net result was a loss of EUR38 million, versus a EUR100 million loss in 2Q2012. The net result also benefited from a EUR36 million swing from negative to positive in the result on foreign exchange and derivatives (a negative result of EUR34 million last year and positive EUR2 million this year).
Airberlin financial highlights: 2Q2013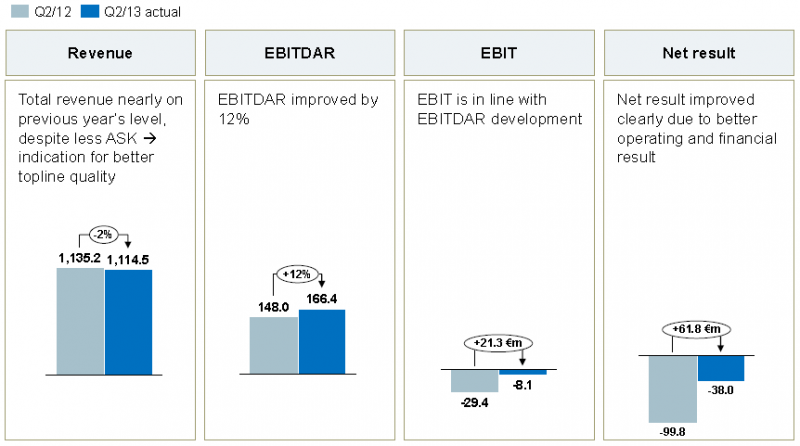 Negative equity
Airberlin's balance sheet continues to be strained. Although net debt fell from EUR770 million at the end of 2012 to EUR706 million at the end of Jun-2013, accumulated losses pushed its equity into negative territory (-EUR116 million). Airberlin remains confident that this will turn positive once more, as the second half should bring profits and a reversal of negative mark to market valuations of derivative hedging instruments.
Following the issuance to Etihad and other shareholders of a convertible bond in Mar-2013, which raised net proceeds of EUR137 million, airberlin's cash balance rose by 33% to EUR437 million at the end of Jun-2013 from EUR328 million at the end of 2012.
This cash balance is equivalent to just over five weeks of revenues and should be enough to fund operations in the short term, particularly given that the third quarter should be profitable and cash generative. After the 2Q2013 results announcement, airberlin signed a Letter of Intent with a newly established leasing company named Minsheng Commercial Aviation. This includes the sale and leaseback of five used A320 family aircraft owned by airberlin and two new deliveries in 2014 of one A320 and one 737.
Minsheng would also have the option to buy four 737s from airberlin. Airberlin CFO Ulf Huettmeyer told analysts on a conference call to discuss the 2Q results that the transaction, if confirmed, would have a value of around USD400 million and would reduce net debt to around EUR540 million. This would make its year end target net debt level of EUR500 million look feasible.
Nevertheless, while this deal would further relieve airberlin's balance sheet in the short to medium term, requests for further injections of cash from investors (including Etihad, which has provided airberlin with around EUR490 million since early 2012) cannot be ruled out at some stage.
Airberlin balance sheet structure: 31-Dec-2012 and 30-Jun-2013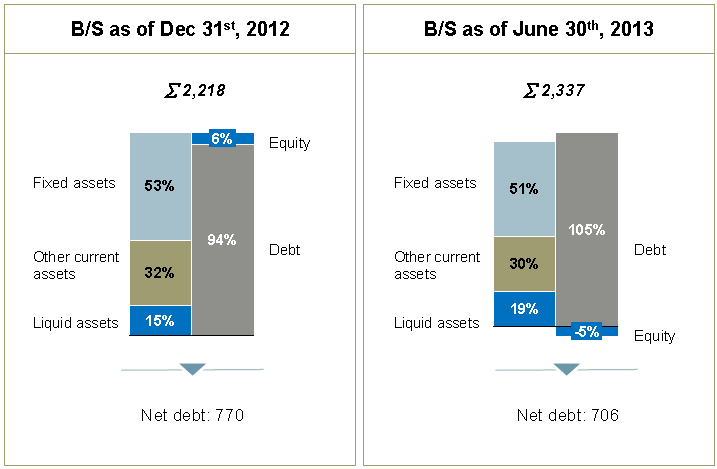 717" height="469" />
Capacity cuts and load factor gains
In the second quarter, airberlin cut seat capacity by 8.4% and ASKs by 6.4%. Passenger numbers fell by 4.0% and RPKs by 1.8%. Capacity cuts helped passenger load factor to increase by 4.0 ppts to a very creditable 83.7% in 2Q2013 (84.5% for 1H2013). Average sector length increased by 2%. In spite of the capacity cut, revenues fell by 1.8% compared with 2Q2012, with flight revenues (92% of the total) down by 3.4%. Unit revenue, RASK, increased by 4.8% year on year in 2Q2013.
Airberlin operating figures: 2Q2013

Airberlin ASK, RASK and CASK development: 2Q2013 vs 2Q2012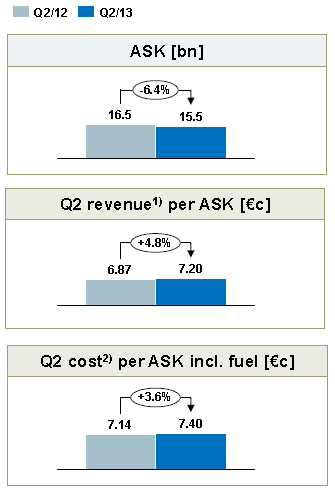 Airberlin revenues (EUR million): 2Q2013
| | 2Q2012 | 2Q2013 | Change |
| --- | --- | --- | --- |
| Flight revenue | 1,061.4 | 1,025.6 | -3.4% |
| Ground and other services | 65.2 | 81.0 | 24.3% |
| Duty free/in-flight sales | 8.6 | 7.9 | -9.2% |
| Total revenue | 1,135.2 | 1,114.5 | -1.8% |
Costs were down by less than capacity
Operating costs fell by 1.5%, which was slightly less than the reduction in revenues and considerably less than the reduction in capacity, but the EBIT result improved due to higher 'Other operating income'. Fuel costs fell by 6.4%, in line with the reduction in ASKs, while non-fuel costs were broadly flat year on year.
Labour costs were cut by 3.7%, reflecting cost reduction initiatives within the company's Turbine programme. Employee numbers at the end of the quarter were 4% below their level a year earlier. The capacity-related reduction in airport and handling charges was partly offset by increased charges in Spain, while catering costs were virtually unchanged due to the increased proportion of long-haul passengers. Sales and distribution costs increased by 36% due to the implementation of new booking systems and distribution channel inventory.
Costs per ASK increased by 5.2% in 2Q2013 compared with the same period a year earlier. Adjusting for EUR10 million of one-off restructuring costs, CASK increased by 3.6%, less than the increase in RASK.
Airberlin cost development: 2Q2013 vs 2Q2012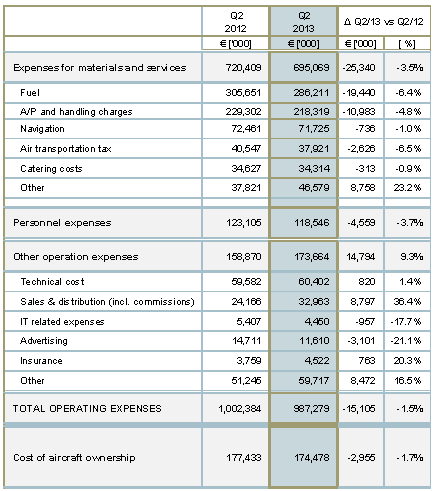 Alliances are delivering growth in common bookings
Airberlin's codeshare with its strategic partner (and 29% shareholder) Etihad Airways continues to progress. In 1H2013, common bookings with Etihad increased by more than 250% to reach 267,000. Airberlin expects common codeshare bookings with Etihad to double in 2013 versus 2012 on a full year basis. In Jul-2013, Airberlin announced codeshares with two other members of the Etihad equity alliance, Virgin Australia and Air Serbia.
Common codeshare bookings with oneworld partners more than doubled, also reaching 267,000 in 1H2013. Airberlin expects to continue this growth, mainly through partnerships with American Airlines, S7 and IAG.
Airberlin common codeshare bookings with Etihad Airways ('000)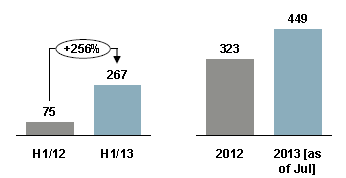 Airberlin common codeshare bookings with oneworld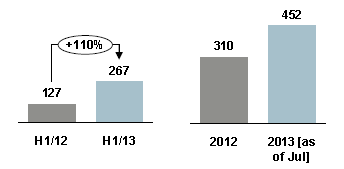 Turbine cost programme on track
Airberlin says that the group's Turbine 2013 cost reduction programme had already secured 80% of its planned earnings improvements for 2013 by the end of 1H. In terms of positive EBIT impact compared to 2012, the target is for more than EUR200 million this year. From the beginning of 3Q2013, Turbine is continuing with significantly less support from external consultants, so that Turbine-related costs will be lower, while its benefits should be felt to a greater extent, in the second half.
The Turbine programme aims to achieve a cumulative EUR 400 million of savings by the end of 2014. The benefits will come both from internal factors, such as network and fleet, commercial, product/service and operations, and from external negotiations with suppliers. Examples of Turbine initiatives include the cutting of 80 routes from the summer 2013 schedule compared with summer 2012, with an increase in frequency per route of 14% on the remaining 440 city pairs.
Turbine also includes service initiatives such as the improvement of internet services, excess baggage payments at check-in and tracking of lost luggage through the internet. In addition, there are commercial projects around ancillary revenues and travel agent incentives.
In terms of human resources, headcount has been cut by around 300 full time equivalents as of end Jul-2013 and the outsourcing of around 200 FTEs in customer services is planned for 4Q2013. Turbine targets an overall reduction of 400 FTEs.
New collective wage agreements have been reached with unions representing all employee groups. These include a salary freeze in 2013 and productivity improvements. Better terms have also been negotiated with airports, lessors and maintenance service providers.
Fleet has been reduced in accordance with network
Airberlin's fleet was reduced to 147 aircraft at the end of 2Q2013, down from 155 at the end of 2012 and 149 at the end of 1Q2013. The year end 2013 target is 143 aircraft. The cuts have concentrated on the narrow-body fleet (both A320 family and 737 family), while the smaller wide-body and regional fleets have been broadly constant.
Airberlin number of aircraft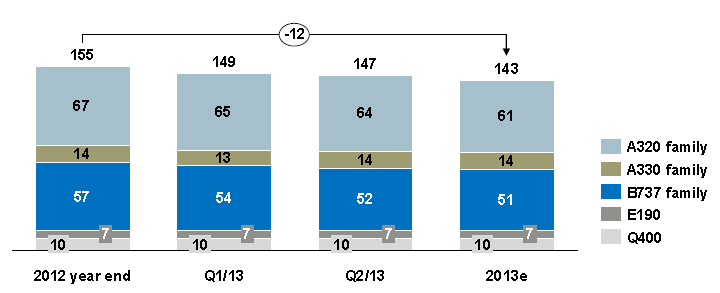 Airberlin fleet as at 30-Jun-2013 versus 30-Jun-2012

2013 breakeven now 'more challenging'
Airberlin's expectations for its operational and financial performance in 2013 are largely unchanged and are summarised in the chart below. Relative to its previous guidance, issued at the time of its 1Q2013 results in May-2013, the key change is one of wording: it now targets a breakeven EBIT result, compared with its previous target of "operational profitability". T
This is a subtle change, but, more significantly, airberlin also now says that its target is "more challenging".
Airberlin guidance for 2013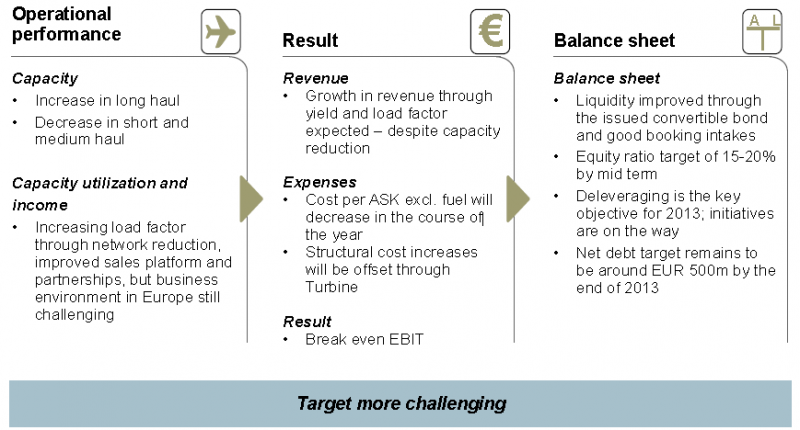 Airberlin's network rationalisation, focusing on more profitable routes and cutting under-performing routes, while shrinking its fleet and reducing capacity, is leading to impressive levels of utilisation as evidenced by its 1H2013 passenger load factor of 84.5%.
Utilisation has also been assisted by airberlin's codeshares with Etihad and oneworld partners. These factors have contributed to the positive development of unit revenues. The performance of unit costs has not been so impressive, but airberlin insists that its Turbine cost-reduction programme will lead to more noticeable benefits in 2H2013.
What airberlin refers to as the "generally muted economic conditions and the market environment" may put some downward pressure on unit revenues in 2H2013 and so the achievement of its "increasingly challenging" EBIT breakeven target will likely depend more heavily on cost savings. The Turbine will need to achieve maximum thrust if airberlin is to power itself without further help from shareholder Etihad.
See related report: airberlin: in need of a cap that fits after another underlying loss