AirAsia Group 2017 fleet analysis: fleet reaches 200 aircraft, expansion reaccelerates
Analysis
The AirAsia Group significantly accelerated expansion in 2017, growing its fleet by 16%. The total figures of the group, which consists of six short haul low cost airlines, exceeded 200 aircraft and 60 million annual passengers in late 2017.
AirAsia took delivery of 31 A320s in 2017, being 24 new aircraft and seven second hand aircraft. The group is now the world's largest operator of the A320ceo and the second largest operator of the A320neo (after IndiGo).
Only three A320s exited the fleet in 2017, resulting in a net increase of 28 aircraft. Only in one other year in its history has the AirAsia Group fleet grown by more than 25 aircraft.
Summary
The AirAsia Group expanded its fleet by 28 aircraft in 2017, which marked the second biggest fleet expansion in its history
The group took delivery of 24 new aircraft in 2017: 17 A320ceos and seven A320neos
Seven secondhand A320s were also added to the fleet – these were mainly delivered to its Indian affiliate – while three aircraft were retired
AirAsia Group passenger traffic was up 13% through the first three quarters of 2017, and exceeded 60 million for the full year
IMPORTANT NOTICE: CAPA will convene the World LCC Summit in Singapore on 1/2 March, 2018. For further details please see CAPA LCC SUMMIT
The AirAsia Group ended 2017 with a fleet of 204 aircraft, consisting of 22 186-seat A320neos and 182 180-seat A320neos, according to the CAPA Fleet Database. These aircraft are made up of 202 aircraft that are currently operated by the group's six airlines and two A320ceos that have been subleased to Pakistan International Airlines since 2015.
The AirAsia Group began 2017 with a fleet of 176 aircraft, consisting of five A320neos and 171 A320ceos. The fleet therefore expanded by 28 aircraft in 2017.
The group took delivery of 24 aircraft from Airbus during the year, consisting of 17 A320neos and seven A320ceos, according to the CAPA Fleet Database. The group also took delivery of seven secondhand A320s from leasing companies, for a total of 31 deliveries. Three A320s exited the fleet, resulting in a net gain of 28 aircraft.

All the above figures exclude AirAsia X, which operates as a separate airline group with a different ownership structure. AirAsia X's fleet was flat in 2017, at 30 aircraft (all A330-300s), but a resumption of fleet expansion is planned for 2018.

See related report: AirAsia X further delays London relaunch due to A330neo setback, adjusts fleet plan with more ceos
AirAsia Group fleet's most rapid expansion since 2013
The AirAsia Group operating fleet expanded by 30 aircraft (rather than 28 aircraft) in 2017, as two previously inactive A320ceos with AirAsia Japan were put into service. The group began 2017 with 172 operating aircraft, when the two aircraft at AirAsia Japan and the two A320s in Pakistan are excluded.
AirAsia Japan began operations in late Oct-2017, following a much longer than expected approval process. The new affiliate took delivery of two A320s in late 2015 and early 2016, in anticipation of launching operations in 2016.
The expansion of the AirAsia Group fleet by 28 to 30 aircraft (depending on how you count the AirAsia Japan aircraft) in 2017 marked the fastest expansion since 2013. The AirAsia Group fleet expanded by 36 aircraft in 2013, representing the most aircraft AirAsia has ever added in its 16-year history.
The group slowed its fleet expansion in 2014, when it added 18 aircraft, and had virtually no fleet growth in 2015 and 2016. The AirAsia fleet expanded by just one aircraft in 2016 and by three aircraft in 2017.
The 28 or 30 aircraft added in 2017 represent the second highest number of aircraft the group has added to its fleet in a single year. Previously the year 2007, when 23 aircraft were added, had this distinction, although 2007 is still a record year in terms of percentage fleet growth.
AirAsia achieves double-digit passenger growth for three consecutive years
From a traffic standpoint, AirAsia has grown consistently at a rapid rate, even during periods of slower fleet growth.
For example, AirAsia Group passenger numbers grew 11% and 12% in 2015 and 2016 respectively, despite virtually no fleet growth – driven by higher average aircraft utilisation rates and load factors. Passenger growth was 7% in 2014, a very low figure for AirAsia standards and the only time annual traffic growth was in the single digits.
AirAsia Group annual passenger numbers and year-end fleet size: 2001 to 2016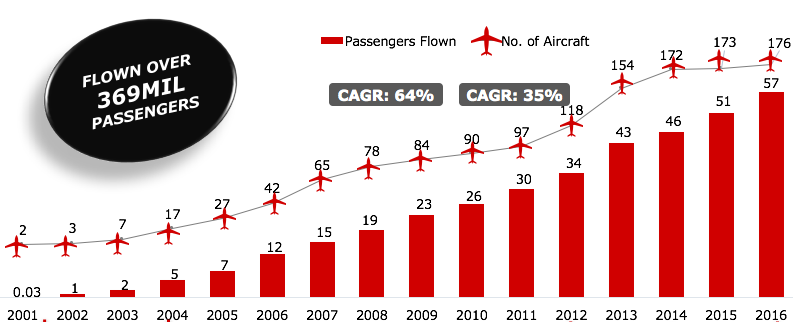 The AirAsia Group does not report its 2017 figures until late Feb-2018. For the first three quarters of 2017, passenger traffic increased by 13%, to nearly 47 million.
Traffic growth for the full year was likely slightly less than fleet growth, since a majority of AirAsia's new aircraft deliveries were in the fourth quarter, impacting the rate of seat capacity growth. However, AirAsia traffic growth exceeded seat capacity growth as the group's average load factor improved further in 2017.
In 2016 AirAsia decided to reaccelerate fleet expansion
Faster growth in 2017 was expected, as AirAsia decided at the end of 2016 to reaccelerate fleet expansion significantly
Initially, AirAsia had decided in 2014 to slow down fleet expansion in response to challenging market conditions. A string of deferrals resulted in significantly fewer deliveries than initially planned for three years, and slower traffic growth.
AirAsia also initially negotiated several aircraft deferrals for 2017. As of Nov-2016, its fleet plan for 2017 consisted of only 10 aircraft deliveries.
However, in Jan-2017 AirAsia disclosed a new fleet plan for 2017 that consisted of 32 deliveries. The new fleet plan had the group ending 2017 with 205 aircraft, taking account of three retirements, with the result of a projected net gain of 29 aircraft. As the AirAsia Group ended up with 204 aircraft on 31-Dec-2017, it came within a hair of meeting the plan outlined at the beginning of the year.

See related report: AirAsia Group fleet analysis: expansion to resume in 2017 with 32 deliveries including 15 new leases
AirAsia tweaked 2017 fleet plan as the year progressed
In early Mar-2017 the AirAsia Group presented a slightly revised fleet plan at the CAPA Airline Fleet and Finance Summit, and that plan envisaged a net gain of 27 aircraft. Included were 17 A320neo deliveries from its order book with Airbus, 13 A320ceos deliveries from leasing companies, and three retirements.

The group ended up taking all 17 A320neos and retiring three A320ceos. However, it took 14 A320ceos (seven new aircraft and seven secondhand aircraft), or one more aircraft than in the March plan.
The group made several adjustments to the fleet during the year, slightly changing the delivery figures and the allocation between the six airlines in the portfolio. AirAsia Malaysia ended up expanding at a faster rate than initially planned, and most of the overseas affiliates grew more slowly than expected.
Malaysian fleet grows by 13 aircraft
AirAsia Malaysia's fleet grew by 13 aircraft in 2017, from 77 to 90 aircraft, according to the CAPA Fleet Database. The group's original and largest airline subsidiary had been originally planning to grow its fleet by a more modest eight aircraft.
AirAsia Malaysia took delivery of 18 new aircraft in 2017, consisting of 13 A320neos and five A320ceos. Five A320ceos were transferred – four to the Philippines and one to Indonesia – for a net gain of 13 aircraft.
Thailand fleet grows by five aircraft
AirAsia Thailand, previously known as Thai AirAsia, was the only other airline in the group to take delivery of new aircraft in 2017. AirAsia Thailand took delivery of four A320neos and two A320ceos, but phased out one A320ceo, resulting in a net gain of five aircraft for a total of 56.
AirAsia Thailand was initially planning to add six aircraft in 2017. The retirement of one aircraft in Thailand appears to have been a last-second decision, as the aircraft that left the fleet is only three years old.
The AirAsia Group has generally been looking to retire its oldest A320s. The A320 that exited the fleet in Thailand is now operated by China's Longjiang Airlines, according to the CAPA Fleet Database.
Philippines fleet grows by three aircraft
AirAsia Philippines operated the other two A320ceos that exited the AirAsia Group fleet in 2017. These aircraft were 20-year-old aircraft inherited from the Zest Air acquisition, and powered by a different engine (the IAE V2500) from the rest of the AirAsia fleet (which is CFM56 powered).
AirAsia Philippines still has two CFM powered aircraft that are 20 years old. The rest of the fleet in the Philippines (and at the group) is 14 years old or less.
AirAsia Philippines took delivery of five A320ceos in 2017, resulting in a net gain of three aircraft for a total of 17. Four of the aircraft were transferred from Malaysia and one aircraft was leased in used, from GECAS. The latter is a 10-year-old aircraft that was previously operated by Aeroflot, according to the CAPA Fleet Database.

AirAsia Philippines was initially planning to expand its fleet by four aircraft in 2017, for a total of 18.
Indonesia expands by one aircraft, and India by six
AirAsia Indonesia added only one aircraft, which was transferred from Malaysia, for a total of 23 aircraft. The Indonesian affiliate had initially planned to expand its fleet in 2017 by two aircraft.
AirAsia India expanded its fleet by six aircraft in 2017, for a total of 14, meeting the target provided at the beginning of the year. All six aircraft were secondhand A320ceos delivered from leasing companies.
Three of the aircraft added in India are six-year-old aircraft leased from Macquarie that were previously operated by Frontier Airlines, according to the CAPA Fleet Database. The other three aircraft are leased from Avolon; one is an eight-year-old aircraft previously operated by Portugal's Orbest, one is a six-year-old aircraft previously operated by Chile-based LAN, and one is a five-year-old aircraft previously operated by Brazil's TAM.
AirAsia Japan was initially allocated three aircraft for 2017 but did not add any – likely due to its later than expected launch.
AirAsia Group fleet size (number of A320s) by country: end 2017 vs end 2016
AirAsia Group planning more rapid fleet expansion in 2018
In 1H2018 AirAsia Japan will likely add the three aircraft that were initially planned for 2017.
Overall, the group is planning similar fleet growth in 2018. AirAsia Group expects to end 2018 with more than 230 aircraft.
Rapid traffic growth is again likely, given the number of deliveries and the fact that a large portion of the 2017 deliveries came in the fourth quarter. Of the 24 new aircraft delivered in 2017, 13 were handed over in 4Q2017, including seven in Dec-2017 alone.
AirAsia could reach 300 aircraft and 100 million annual passengers in 2021
The AirAsia Group expects to surpass 300 aircraft by the end of 2021, which should enable it to approach, and potentially reach, 100 million annual passengers.
However, how fast, and where, Asia's largest LCC group grows in any individual year can vary. The group has a lot of flexibility with its fleet and order book. It often adjusts the delivery schedule and changes allocations within the group – sometimes at the last moment.
Aircraft retirements as the fleet ages, and having a leasing subsidiary (which the group has been seeking to partially sell), provide an even greater level of flexibility.
Fleet flexibility is a key strength for AirAsia, and enables the group to respond quickly to changing market conditions. The sudden and strategic acceleration of fleet expansion in 2017 is a testament to this strength.