AirAsia exploring future opportunities in Northeast Asia: Chinese affiliate enticing, but difficult
Analysis
AirAsia is doubling down its focus on North Asia with a regional office in Hong Kong overseen by former AirAsia executive Kathleen Tan, who is widely credited for AirAsia's strong Chinese relations and growth in China: AirAsia is the largest non-greater China airline company in the country. Across North Asia the opportunities are large, but the challenges equally big. A China-based AirAsia affiliate would appear to be a long term ambition.
More immediately, AirAsia is regaining a local Northeast Asia presence with the launch of AirAsia Japan Mk II in 2017. Although delayed from initial 2015 start-up projections, AirAsia Japan gives the group relevance in a large domestic market and significantly growing short haul international market.
Elsewhere in Northeast Asia the opportunities are mixed. Korea and Hong Kong are becoming saturated and remain protectionist. Macau and Taiwan are unlikely to be big enough to support a local AirAsia unit.
AirAsia focuses on Northeast Asia as Kathleen Tan returns
Over the years AirAsia has had a team focussed on growing the group's business in North Asia. Earlier in 2016 AirAsia doubled down by moving the North Asia team to Hong Kong and placing it under the leadership of Kathleen Tan, who has rejoined AirAsia. The office in Hong Kong could also mean that the group is considering a listing on the Hong Kong stock exchange, Reuters has reported.
During her time at AirAsia Ms Tan was often seen as the number two, commercially, to AirAsia founder Tony Fernandes, with Ms Tan wielding greater day-to-day responsibilities than regional AirAsia CEOs. Besides her general commercial function, Ms Tan is credited with bedding down positive relations with Chinese authorities and facilitating AirAsia's China growth.
AirAsia is the largest non-greater China airline group in China. At the most extreme of AirAsia's very future ambitions would be a local AirAsia China unit. Some industry observers reckon that if anyone can have a foreign airline group establish a local passenger airline in China, it is AirAsia's Ms Tan.
LCC affiliates are uncommon in Northeast Asia
LCC affiliates are more common in Southeast Asia. Southeast Asia is home to 17 LCCs, 12 of which are members of LCC groups. These 12 units account for approximately 73% of intra-Southeast Asia capacity in Aug-2016, according to OAG data. The chart below denotes 14 airlines based in Southeast Asia that are part of an LCC group. This includes Thai VietJet (proposed) and Malindo – the full service Malaysian unit of the LCC group Lion Air.
Northeast Asia has 23 airlines that identify as LCCs. This includes a number of Chinese airlines that are converting to the LCC model, as well as Japanese hybrid airlines. Of the 23, only four are part of an LCC group (this excludes various Hainan LCCs, where synergies across the group are still growing and they do not operate as a single brand). Two of them are from a Northeast Asian LCC group – Spring Airlines with units in China and Japan – while the other two are Jetstar Japan and Tigerair Taiwan. Tigerair Taiwan is already a very distant unit of Tigerair; it is expected that the airline will come under full ownership of its already majority owner China Airlines and then drop the Tigerair brand. A fifth affiliate, AirAsia Japan, is due to launch in 2017. The four LCC group units account for 20% of intra-Northeast Asian LCC capacity (Spring Airlines alone is 13%).
There are more Northeast Asian LCCs affiliated with a full service airline group than with an LCC group. Spring is the only Northeast Asian LCC group. Japan's Peach has considered overseas units but has not implemented any. Spring's reasons for forming an LCC group are different from those of the LCC groups that are prolific around Southeast Asia.
Spring Airlines Japan enables Spring to serve China-Japan routes that Spring China cannot, because of Chinese restrictions that protect incumbents. Spring Japan's interest in the Japanese domestic market is minimal, and Spring Japan has not yet entered other international markets from Japan.
Location of affiliates (active/proposed) of LCC parent owners in Southeast and Northeast Asia: Aug-2016
The largest markets are in Northeast Asia, where LCC rates are lowest
The interest in Northeast Asia from AirAsia (and those before it, such as the failed Seoul-based Incheon Tiger Airways and Jetstar Hong Kong) is natural. The 20 largest international market pairs within Asia are predominantly in Northeast Asia.
Intra-Northeast Asia pairs make up seven of the 10 largest markets in Asia. These markets have lower LCC penetration rates than in Southeast Asia, creating even greater opportunity for LCC stimulation.
Although full service airlines are stronger in Northeast Asia than in Southeast Asia, they are not immune to LCC effects. The Japan-Korea market has quickly amassed LCC market share and caused significant pain to full service incumbents.
See related report: LCCs rapidly grow to account for 30% of Japan-Korea market. full service airlines need new strategy
LCC share of available seats within the 20 largest international Northeast and Southeast Asian markets: 05-Jun-2016 to 11-Jun-2016
There is also considerable interest in Northeast Asia's domestic markets. Korea has the highest penetration but is also one of the smallest, and now has limited growth opportunities due to slot constraints at Jeju. The Japanese domestic market is slowly warming up to LCCs while China is the largest opportunity.
LCC share of available seats within selected Northeast and Southeast Asian domestic markets: 05-Jun-2016 to 11-Jun-2016
See related report: LCCs in North Asia: low average LCC penetration disguises achievements and intense competition
China is AirAsia's largest opportunity – and greatest challenge
China is already the single largest international market for AirAsia. The question for local Chinese AirAsia units is not if, but how and where. There are no foreign-affiliated passenger airlines in China. There have been foreign cargo JV airlines (with market exits) but China does not protect cargo as much as the passenger segment.
AirAsia is the largest non-greater China airline group in China. This accomplishment did not eventuate without very close relations to Chinese authorities. As significant as AirAsia's growth has been, it is a leap multitudes greater to go from serving China with healthy access to having an airline in China flying under a foreign (albeit neutral) brand.
There is the question of geography. AirAsia would likely look for a local government to take part in the JV and, more importantly – advocate on its behalf at government levels. A smaller, lower-profile city may be easier to set up base in, but also has a smaller market (although this is "small" by Chinese standards). More lucrative markets will be even more challenging to enter.
Aside from the big three airline groups, all state-owned, there is no pan-Chinese airline.
Every other operator has a region, or a few throughout the country. Spring Airlines' largest bases after its home in Shanghai (PVG for Pudong, SHA for Hongqiao) are significantly smaller; Spring remains predominantly a Shanghainese, not Chinese, airline in terms of network reach. This is different from airlines such as the more mature Southwest, JetBlue or Ryanair, which have significant bases across their respective regions.
Spring Airlines top 10 hubs/bases/stations/focus cities ranked on available seat capacity: 15-Aug-2016 to 21-Aug-2016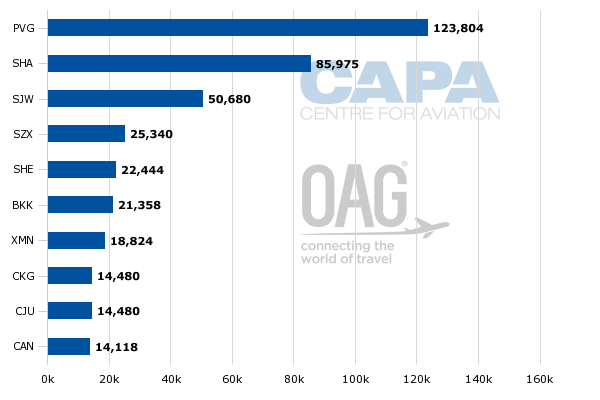 Southwest Airlines top 10 hubs/bases/stations/focus cities ranked on available seat capacity: 15-Aug-2016 to 21-Aug-2016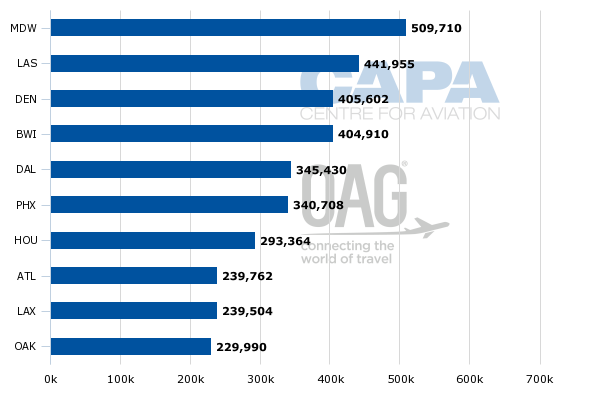 AirAsia will regain a Northeast Asian presence when it re-enters the Japanese market in early 2017. AirAsia exited in 2013 when its JV unit, AirAsia Japan, was dissolved in a shareholder dispute with its majority owner All Nippon Airways, which relaunched the airline as Vanilla Air.
AirAsia Japan plans to operate with two Airbus A320 aircraft in its launch phase. The airline aims to expand its fleet to six by 2017, with five aircraft to be added each year onwards, for a fleet of 11 aircraft (including nine A320s and two A330s) by 2018. This will then increase to 14 A320s and six A330s by 2020. By year-end 2020, AirAsia Japan aims to operate 30 round-trips from Nagoya Chubu and 10 round-trips from Tokyo Narita with an average load factor of 75%.
AirAsia Japan's initial base at Nagoya is a 24/7 facility, unlike Tokyo Narita where AirAsia Japan Mk I was based. Although Nagoya is a smaller market, there is less competition. Nagoya also has only one airport, unlike Tokyo and Osaka where LCCs have been disadvantaged by operating from the further out, less convenient airports of Narita and Kansai.
See related reports about the re-launch of AirAsia Japan:
Japan may appear more crowded than Korea, and also expensive, but costs are relative; AirAsia Japan will be lower cost than the full service incumbents.
Japan's inbound tourism growth is lucrative. In 2015 Japan overtook Korea for inbound visitor arrivals (19.7 million to Japan, 13.2 million to Korea and was Japan likely to have surpassed Korea even without the MERS crisis). Japan has ambitious tourism targets set to reach 60 million in 2030. Most visitors will be short haul from nearby regional markets, which AirAsia Japan can serve. Japan will need to diversify away from the situation that Tokyo and Osaka are the main tourism entry points. This is potentially advantageous for AirAsia Japan and Spring Japan, which have developed notable international network strategies around smaller cities.
Japan visitor arrival development: 1990-2030F
China illustrates one opportunity for AirAsia in North Asia. From a group perspective AirAsia already has many points in China, but there is a section of the country beyond narrowbody range from Thailand and Malaysia (and some of these points are too thin for the widebody AirAsia X franchise).
A Nagoya base opens up a new section of China to AirAsia. Most traffic will be point-to-point, but from a group perspective the AirAsia brand is extended. Personal and government networks are established that could later be of use to other AirAsia affiliates – perhaps even a local AirAsia China.
Approximately four-hour flying range from Nagoya (AirAsia Japan hub) and Bangkok (Thai AirAsia hub) and selected Chinese cities
See related report: China-Japan aviation: LCCs Peach, Jetstar Japan gain traffic rights, raising overcapacity concerns
AirAsia has been informally rejected in Korea
Over the year AirAsia has explored the possibility of having a local unit in Korea but has been dissuaded by regulators – effectively being told that an application would be rejected. Korea remains highly protectionist and AirAsia even with (on paper) majority local ownership and control.
AirAsia was not the first to try: last decade Tiger Airways (as it was called then) tried to establish Incheon Tiger Airways but did not receive regulatory approval. Similarly, Korea informally rejected Singapore Airlines' investment in Korean LCC Jeju Air.
Over the past year the Korean market has lost attractiveness. It has six LCCs with a seventh in the start-up phase The domestic market is anchored around Jeju, where there are no more slots. Unlike the situation in Japan, there are notable bilateral constraints with mainland China and Taiwan. Elsewhere, LCC competition is strong. Buying an existing airline may not be preferable, but it could be politically easier for entering the Korean market than creating an all-new airline.
See related reports:
Hong Kong was sufficiently attractive that Jetstar worked for over 3.5 years on the project until it was rejected – essentially in order to protect the hub. Hong Kong has one LCC – HK Express – but the LCC market remains under-penetrated, and a second LCC would benefit the Hong Kong aviation market. But there are significant obstacles in the way.
Firstly, the rejection of Jetstar Hong Kong set a precedent, although the outcome may have been different if the LCC had been entirely backed by Asian (and not also Australian) owners. Secondly, slots are constrained enough that a new entrant would be unlikely to run a schedule until the third runway (which brings more slots) opens next decade.
See related report: Jetstar Hong Kong licence application rejected: Hong Kong becomes an island of protectionism in Asia
Taiwan is a smaller but potentially lucrative market. Then again, Taiwan can be accessed via Southeast Asian AirAsia units and from AirAsia Japan. Additional traffic from a local AirAsia Taiwan unit may not be significant enough. There are questions about the market following the collapse of the LCC V Air, which leaves Tigerair Taiwan as the only Taiwanese LCC. V Air's collapse was a problem not of the market but because its owner TransAsia did not properly manage the dual brand strategy. Tigerair Taiwan is still working towards profitability. Taiwan would be unlikely to be a high priority.
See related report: TransAsia & V Air dual brand strategy collapses: TransAsia to become hybrid and V Air to shut down
Macau is often the wildcard in the discussion of LCC markets. Macau has similar hub geography to Hong Kong's and is only a one hour ferry ride from the city – which becomes more interesting as Hong Kong airport becomes more congested. Surface links will improve with the new Hong Kong-Macau-Zhuhai bridge, which could enlarge Macau's practical catchment area. Despite this theoretical opportunity, Macau has not prevailed. Even the flights of foreign airlines to Macau have not had consistent success.
Outlook: no easy or fast answers for AirAsia to expand its JVs in Asia
AirAsia's North Asia focus reflects the group's long-term ambition and willingness to put in the effort – potentially over years – to benefit in the long term. Such strategic positioning can be rare at LCCs, but it may prove worthwhile.
If a foreign airline achieves what is arguably an aviation holy grail of establishing itself in China, AirAsia appears well-positioned to make that accomplishment. There have been hints that such an arrangement may be the subject of continuing discussions and there is probably no-one better than Kathleen Tan to be heading the charge, if that is the case.