AirArabia posts first-ever reduction in quarter profits; JetBlue RASM outlook for Nov-2009 positive
Analysis
AirArabia's shares fell 1.9% on Friday, as the carrier warned of "significant" short-term challenges after posting its first-ever reduction in quarterly profit, following the global swine flu pandemic, the economic downturn and the fasting month of Ramadan over Aug/Sep-2009.
During the three months ended Sep-2009, the LCC reported a 12% reduction in revenues, with double-digit reductions also for operating and net profits, which slipped 10.5% and 33.1%, respectively, to USD29 million and USD39 million.
Selected LCCs daily share price movements (% change): 13-Nov-09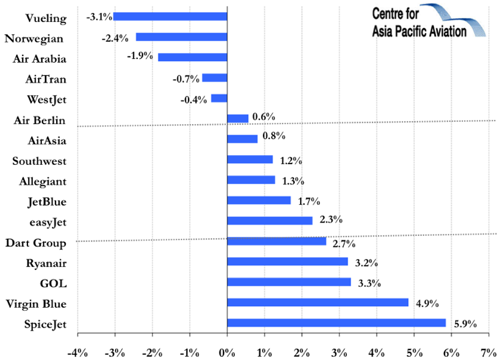 JetBlue expected to report unit revenue improvements in Nov-2009
In the US, JetBlue's shares were up 1.7% on Friday, as FTN Equity Capital Markets stated it expects the LCC to report the best unit revenue change in Nov-2009, compared with Oct-2009 levels.
On a more general basis FTN stated it expects "significant sequential improvement in unit revenue change in the month of November compared with October as the airlines begin to lap easier (comparisons), capacity remains tight and bookings appear solid for the upcoming holiday periods".
In the Asia Pacific, SpiceJet shares gained 5.9%, while Virgin Blue was also stronger, up 4.9%, on Friday.